How to make your TV sound better instantly - the tricks you never knew you needed
Knowing how to make your TV sound better will do justice to movie nights at home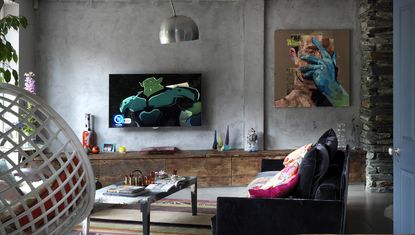 (Image credit: Future)
If you've invested in an impressive new flatscreen, but the sound feels a little underwhelming, there are several ways to make your TV sound better instantly. While TVs get slimmer and larger in design - with stylishly thin bezels and advanced screen technology - unfortunately, the built-in sound isn't quite as impressive.
Manufacturers are striving to find ways to pack in TV speakers that can fire audio effectively around the room. Still, not all are delivering the immersive audio you'd want to fill a standard family room - let alone an open-plan living area. 'While many TVs from the likes of Sony, Panasonic, Philips, Samsung, LG and alike have better bespoke audio systems, not everyone has the money to splash out on a brand new top of the range TV,' says Steven Concannon from Beyond Sound. 'Luckily, there's a range of ways to make your TV sound better, from improving the acoustics and layout of your room to purchasing a surround-sound system or a decent set of speakers.'
The good news is you don't even have to invest in one of the best TV brands to make use of these suggestions. Depending on your budget, there are ways to make your TV sound better instantly.
How to make your TV sound better instantly
1. Adjust your TV settings
Before shelling out more cash for the best surround sound system, try following some of the tips below to see if you can change any audio settings on your TV. Hopefully, these will improve the sound quality and make for a more enjoyable viewing experience without spending a dime.
It may sound obvious, but if when you're watching a show, the dialogue sounds too tinny, or the music and sound effects feel too loud compared to the speech, you may need to tweak your audio settings. Each TV is different in terms of settings, but look at the menu and see if there are different sound modes you can adjust. Look for presets for specific viewing modes such as cinema, sports, music, and games.
2. Add a soundbar
A TV without a soundbar is like a cinema without popcorn - you need one with the other, or things just don't feel right. And adding a soundbar to your screen setup is one of the most obvious ways to enhance the audio on your TV. If you're in the market for a new TV, you can consider one of the select few TVs that have sound systems built into their screens – such as the Philips OLED+986 TV that has a Bowers & Wilkins sound system built in (pictured above). But if you want to add to an existing screen, you will need to buy a separate soundbar, which is basically a long narrow speaker that you hang on the wall underneath your TV.
Some of the latest soundbars come with a separate wireless subwoofer to pack an extra punch to the sound quality. But some soundbars have a built-in bass driver, so you no longer need a separate subwoofer. Try the Bowers & Wilkins Panorama 3, for example, or brands such as Sonos and Sennheiser.
You can buy a mount to add to your TV so the soundbar can sit directly underneath your TV. Alternatively, you can mount your soundbar onto the wall beneath your screen and ensure the forward-firing speakers are roughly at head height for the best listening experience. You can follow our guide on how to mount a soundbar on a wall.
Find out more about how the best subwoofers can boost your home audio system's bass.
3. Consider a soundbase
A sound base works similarly to a soundbar, but the key advantage is its size. It's slightly different from a soundbar in that it is designed to sit underneath your TV or on the media unit just in front - as opposed to on the wall. Like some soundbars, you can also find a sound base with base drivers packed in to give it extra oomph, so you won't need an extra subwoofer.
'The basic connection for a soundbar or sound base would be via an optical cable, but the best thing to look for is an HDMI Arc socket on the TV and the bar because then the connection becomes really simple,' explains John Swatton, marketing director at Philips TV and Sound.
'The latest e-Arc connector is even better. You also need to check what the bar or base accepts as an audio stream. At the bare minimum, you want Dolby Digital or DTS 5.1 because many sound bases and cheap soundbars just accept a stereo input and then simply divide it up among the multi-drivers as best they can. For the best sound, try a device with Dolby Atmos with elevation drivers included - and a TV that can pass Dolby Atmos to the bar or base.'
4. Choose a home-cinema surround-sound system
You will need a room with floor space for speakers to get the best from a home-cinema system. It gives you the best chance of filling your room with audio from all directions so you can lose yourself in what you're watching.
Go for a 5.1 or 7.1 system depending on your room size, including a range of primary and satellite speakers and a separate subwoofer. For the best sound, look for systems that support Dolby Atmos® and DTS:X™, to pour in sound effectively.
For help choosing a system or fitting in-ceiling speakers, you can contact a tech specialist in your area via the CEDIA website. You can also read more about how to create a home theater here.
5. Hook up to a speaker or hi-fi system
If you don't want to fork out for a new soundbar, sound base, or home cinema system, you can consider hooking up to your existing desktop speaker or hi-fi system.
'This isn't the most straightforward idea, however, partly because the stereo is often placed off center away from the TV,' advises John Swatton. 'You need to consider the connections on the hi-fi and what formats the hi-fi can decode. Can it work with Dolby etc?'
If you own a smart speaker such as the Echo Studio or Echo (4th Gen), you'll be pleased to know it can be paired with a Fire TV device and set up Alexa Home Cinema to achieve Dolby Atmos-quality sound. You can then make use of 'routines' and set up a process whereby your TV will pause mid-movie when you say, 'Alexa, I'm getting a snack'.
If you're looking to invest in a stylish pair of new speakers, we like the AIO TWIN pair of active connected speakers from Triangle (pictured above). Use them to stream music from your smartphone or tablet, play your records by connecting your turntable directly or hook up to your TV and enjoy stereo sound in Hi-Fi quality.
6. Think about positioning
While adding gadgets will help, also think about the effect the placement of your living room TV and audio system has on the overall experience.
'Place your TV above a surface like a table to ensure you're sending audio throughout the room,' says Rob France, Head of Home Content Engineering at Dolby Laboratories. 'Most new TVs have speakers placed behind the panel and are pointed downward. If you don't have a surface directly under to help reflect sound, the audio quality will get buried.
'If your room is too reflective, consider putting down a rug or hanging up a piece of art on your walls. This will help absorb sound. Unsure where to place a subwoofer? Subs are omnidirectional, meaning they reverberate sounds all throughout a room. So, you can put it anywhere - but don't place it against a wall or near an object that will rattle - your significant other and neighbors thank you in advance.'
How can I get the best sound on my TV?
One way to get the best sound from your gadgets is by looking for tech that supports Dolby Atmos. 'This is our most advanced type of surround sound found in cinemas, soundbars, and TV, and on movie and boxset soundtracks,' says Rob France, Head of Home Content Engineering at Dolby Laboratories. 'It uses something called object-based audio to allow soundtrack creators to place individual sounds in specific locations – such as overhead or to the sides.
'It's designed to engage you in the content in a way that's never been done before. For movies or gaming, it can really take you out of this world and put you in that space.'
The Livingetc newsletter is your shortcut to the now and the next in home design. Subscribe today to receive a stunning free 200-page book of the best homes from around the world.
One of the UK's most respected tech and smart homes writers, Emily Peck also covers everything from interiors style to decorating trends. She is a contributor to Wired UK, and has also had a column in House Beautiful. She has written for publications such as Grand Designs, Stylist, Shortlist, Woman&Home, BBC, Ideal Home and House & Garden. She was once the Features Editor of Ideal Home.