'Help me decide if I need one in my bedroom!' We settle the headboard vs no headboard debate for good
Is no headboard a design faux-pas? Or can it look good in the right bedroom? Interior designers offer their verdict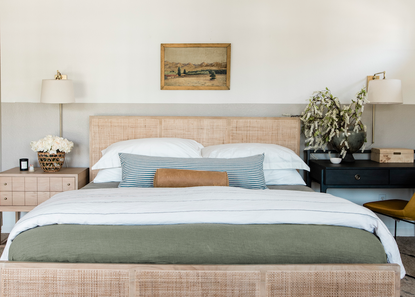 (Image credit: Anastatia Casey. Design: Madeline Harper Photographer)
The Livingetc Newsletter
For style leaders and design lovers.
Thank you for signing up to LivingEtc. You will receive a verification email shortly.
There was a problem. Please refresh the page and try again.
Let me paint you a picture. In my bedroom, my bed sits in the center of the room, flush against a chimney breast with no headboard. On the chimney breast is a large print of David Hockney's A Bigger Splash which I've long loved for its cheery colors, with a smattering of bed cushions on the bed below acting as a sort of DIY headrest.
But I'm in two minds about whether to ditch my makeshift cushion headboard and go for something more permanent. I'm on a quest to create a more minimalist bedroom look, so I'm considering ditching the framed print altogether and opt instead for a headboard as a more calming, minimalist, and sophisticated alternative, giving my Hockney a new home in the downstairs bathroom.
I find myself questioning - does a bed need a headboard? To help me get to the bottom of this bedroom design conundrum, I've spoken to the interior designers to fight the case for and against.
4 reasons you should embrace a headboard
So what do the experts say? Well, it's a split camp, but for many designers, it's a definite yes. 'Headboards are to beds what frames are to paintings,' says architect Pauliina Lauri of Saukkonen + Partners.
1. Headboards add a focal point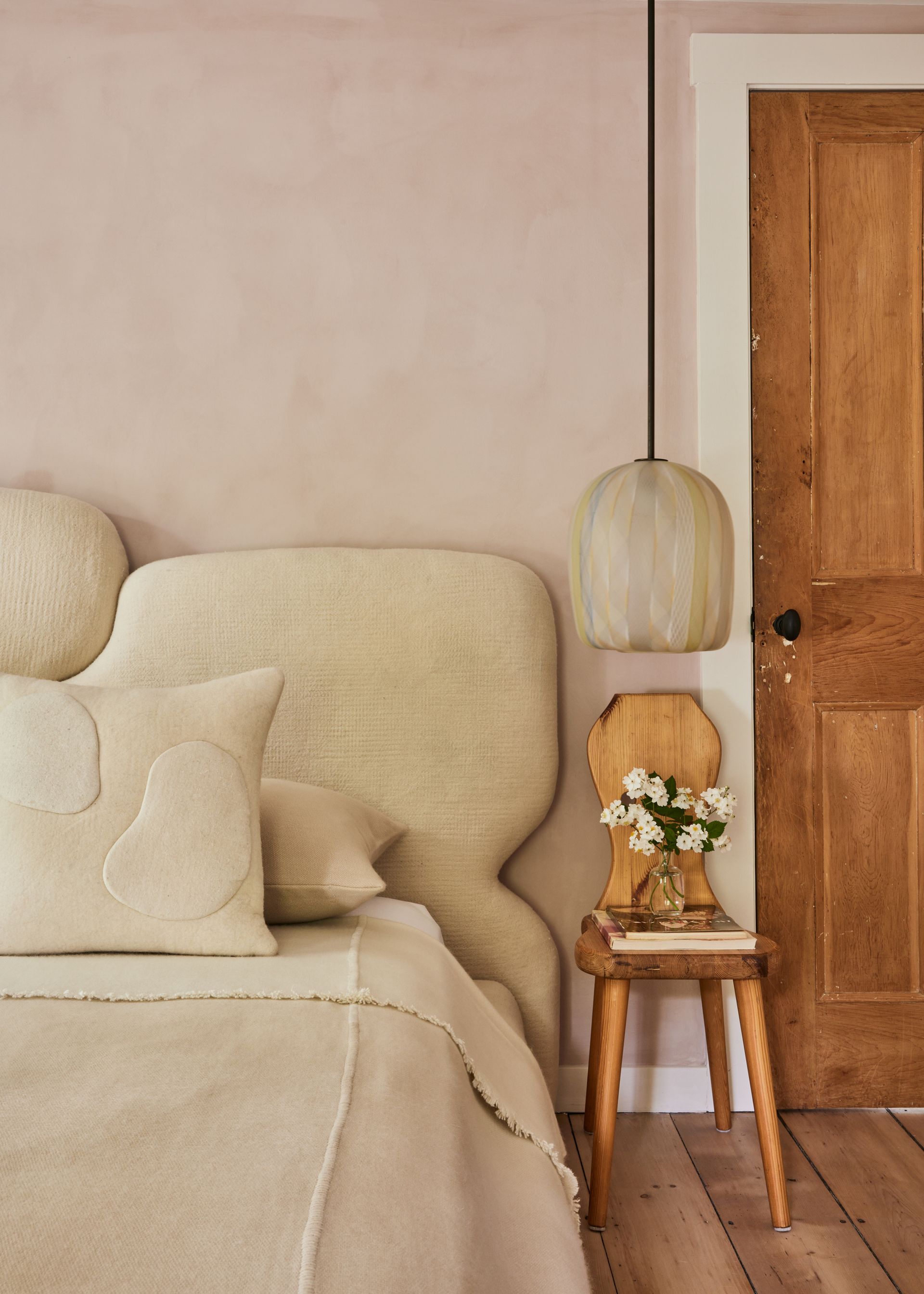 First up, a headboard can add an attractive focal point to your bedroom, drawing the eye to the center and putting attention on the big ticket item - the bed. 'Aesthetically, headboard design is an endless opportunity for creativity and setting the stage for all sorts of environments… it is the heart of the room no matter what the overall vision,' says Kristin Fine, co-founder of The 1818 Collective.
'I believe headboards are an important tool to define the room both aesthetically and spatially,' says Amy Hart of residential interiors studio based in Melbourne, Little Brick Studio.
'Let's be honest – the main piece of bedroom furniture is the bed, so why not take advantage of this by creating a statement and drawing the focus with a fabulous headboard which matches your style, or elevates the comfort and cozy feeling of the room.'
What's more, they are key furniture tools that you can use to help anchor the space. 'A headboard can also help define and anchor the bed within the bedroom area – providing structure to the space and delineating the sleeping area, particularly for open plan or larger bedrooms.'
2. They can act as a bedside table too
Sometimes, headboards are more than purely decorative, and can actually combine to create a bedside table too.
'Clever headboards can be designed to store books and lighting,' says Elise Wiart from Peggy Bels. 'If deep enough you can also place decorative elements on it like candles, I would definitely say yes to headboards.'
In this SoHo loft, designer Kimberley Peck opted for a custom-designed headboard that spanned the length of the bedroom. 'The purpose of the headboard was multifold. It grounds the bed in the room while creating open and closed storage space for the owner to place and store objects and books to help organize the room,' says Kimblerley.
'The area immediately on either side of the bed was designed to act as a bedside table with a deeper drawer and integrated electric for reading lights or to charge cellphones.'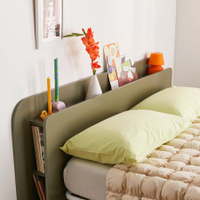 3. Headboards can add support and comfort
An upholstered headboard can be a way to add softness to your bedroom, with upholstered headboards making a great place for you to lean while using your bed, and making it more than just a space for sleep but a place to relax. 'Headboards are a great way to add texture and cozy textile to the room,' says Elise. They are also functional for additional comfort to rest your back.' Add softness to a spare bedroom with an upholstered piece of furniture.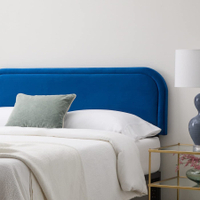 Edenbrook Miller velvet headboard
For a queen size bed, this velvet headboard is soft and adds texture to your bedroom. Pick from a range of colors, I like this on-trned electric blue shade.
4. They are helpful for practical reasons too
You might not notice it when your bed is sat flush against the wall, but when it comes to the moment to rearrange your bedroom, you might see scuffs, wall damage, and even paintwork that has come away. A bedhead acts as a barrier between the bed and the wall, preventing damage that might occur as a result.
What's more, Holly A Kopman of Holly A Kopman Interior Design points out that your headboard helps almost soundproof the room, acting as a layer to the wall to insulate sound.
'Yes to headboards! They anchor a room and can be a decorative piece,' says Holly, 'but the most important reason is that upholstered headboards help the acoustics in a room. It keeps the space quieter and in a bedroom this is key.'
3 reasons you don't need one
For architect Don Lannicelli of Glasshouse Projects, it's not so black and white. 'Whether to have a headboard or not is really dependant on what else is going on in the space,' Don says.
1. No headboards allow more space for personal decor
Headboards are a great addition if you want to fill the space, but if, like me, you want to make the most of your precious wall space for wall art, they might not be the best use of the space. 'There are sometimes benefits of not having a headboard, like more room for wall art - is there ever enough wall space?' questions Amy.
In this example by Interior Fox, the designer has allowed a small headboard to bring that focus and structure to the room, but allowed enough space still for a small but stylish gallery wall collection to shine.
2. Are headboards a little dated?
Some headboard ideas just aren't very stylish, and quilted headboards, headboards in a grey upholstery or anything too tall can just look a bit out of touch or dated. If you still want a little detail and the structure of the bed to give you something to lean against, but don't want anything too dramatic, perhaps a full bed frame is a better option for a more simple aesthetic.
You might also want to combat this problem by going for something a little more modern and interesting, shapely and colorful - adding your personality.
3. Headboards can take up valuable space
If you have a small bedroom, one common issue with headboards is space, with the headboard perhaps pushing your bed further out into the bedroom and making that slight difference in terms of available space. But modern manifestations of headboards are being cleverly designed so as to combat this - evolving from an aesthetic item of furniture into a functional piece.
For style leaders and design lovers.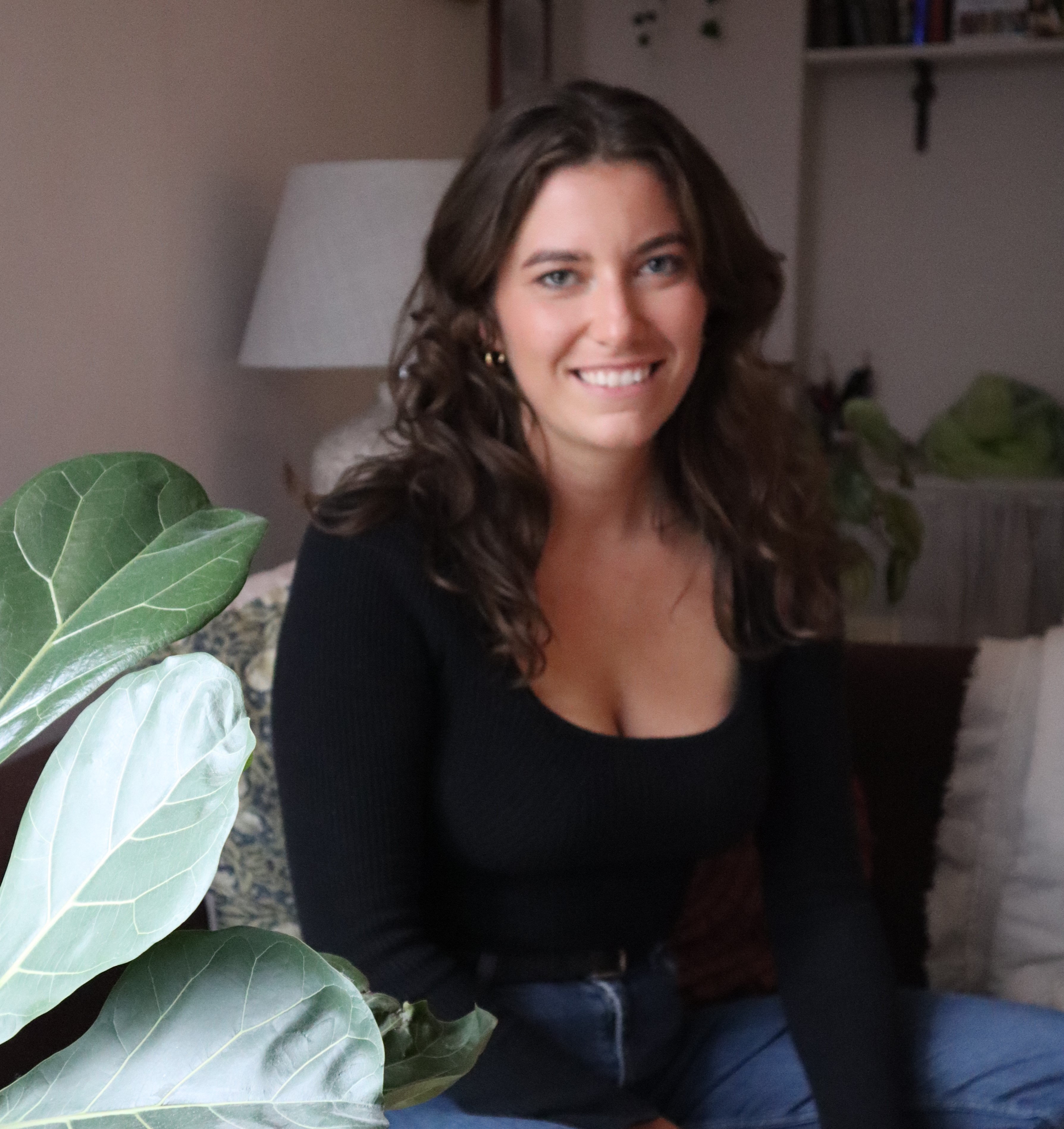 Livingetc content editor and design expert
Oonagh is a content editor at Livingetc.com. Previously, she worked on a London property title, producing long-read interiors features, style pages and conducting interviews with a range of famous faces from the UK interiors scene, from Kit Kemp to Robert Kime. In doing so, she has developed a keen interest in London's historical architecture and the city's distinct tastemakers paving the way in the world of interiors.