5 genius things robot vacuums can do in 2023 that'll convince you to save time and go smart
The robot vacuum has come a long way since clunky early models. Here are five things they can do in 2023.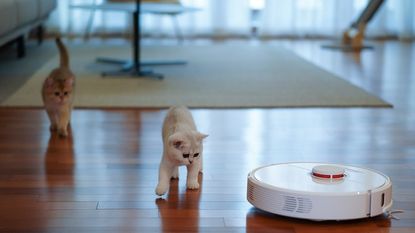 (Image credit: YoonJae Baik / Unsplash)
The Livingetc Newsletter
For style leaders and design lovers.
Thank you for signing up to LivingEtc. You will receive a verification email shortly.
There was a problem. Please refresh the page and try again.
As with all nascent technology, the earliest robot vacuums were wonderful proof of concept, but an awful lot of trouble for something supposed to make lives easier.
Nowadays, the best robot vacuums are packed full of features that make them a valuable tool in keeping your house dust-and-debris free. And while you'll still need a traditional vacuum to deal with stairs and a deeper clean, a robot vacuum is a must if you have the money.
Here are five of the genius features robot vacuums can pack in 2023. Just like all things automated home they've come a long way since the first Roomba rolled into living rooms 21 years ago…
1. Mop as well as vacuum
To this day, robot vacuums still work better on hard floors than they do on carpeted areas, and hard floors need more than just dust removal. Sometimes, only cleaning with water will make the floor truly shine.
But before you reach for the mop and bucket, you should know that some robot vacuum cleaners, like the Shark AI Robot Vacuum & Mop, can take care of the mopping for you as well. They do this with a refillable water tank, and the best models can automatically avoid carpets and area rugs for water treatment.
2. Self-empty bins
Robot vacuums are deliberately low profile so they can slip under beds and sofas to get every hidden dust bunny. The problem with this is that it means the built-in dustbin tends to be quite small, and that essentially means emptying it every time you want to run it.
That's a hassle for something automated, and nowadays the best robot vacuums come with their own self-emptying mechanism. The dock comes with a larger bin built into it, and when the robot parks, the contents of its bin will be automatically sucked up, meaning less frequent maintenance. Some of the models with built-in mops also use the dock for self-cleaning, too.
3. Evade obstacles with AI
One of the most frustrating experiences of being an early robot vacuum adopter is having to ensure your floors are completely clear before you begin. Otherwise, you may have to rescue your mechanical helper if it runs into trouble with a stray USB lead, or a shoelace.
But modern robot vacuums are clever enough to dodge such obstacles, cleaning around them rather than getting caught and needing human assistance, thanks to built-in cameras and a little artificial intelligence. True, this means your whole floor won't get vacuumed every time, but it does mean you can automate cleaning without worrying about the state your floor is in.
4. Automatically dodge pet mess
On a similar note, the nightmare scenario is for pet owners — specifically owners of pets that frequently disregard their toilet training. Without getting too gross, if a dog has an accident on the carpet, the last thing you want is for an overzealous robot vacuum's wheels to roll it everywhere. Yes, this has happened. Often.
Fortunately, such incidents are a thing of the past if you get an iRobot Roomba with P.O.O.P technology. That stands for Pet Owner Official Promise, and iRobot is so sure of its robots' ability to identify and avoid both cat and dog waste that it'll replace your robot free of charge if it doesn't.
5. Keep out of trouble with no-go zones
That needn't be a worry with modern robot vacuums. Even the most basic models now have the ability to programme no-go zones once an initial map has been built. And if you don't want a robot straying into these areas even while it's training, some — like the Neato Botvac series — come with physical boundary strips that the robot vacuum simply won't cross at any point.
Despite robot vacuums' clever ability to avoid running over obstacles, there are areas you simply don't want your mechanical assistant straying into. Like behind your computer desk, where a myriad of wires is just asking for trouble.
For style leaders and design lovers.
Freelance contributor Alan has been writing about tech for over a decade, covering phones, drones and everything in between. Previously Deputy Editor of tech site Alphr, his words are found all over the web and in the occasional magazine too. He often writes for T3 and Tom's Guide. When not weighing up the pros and cons of the latest smartwatch, you'll probably find him tackling his ever-growing games backlog. Or, more likely, playing Spelunky for the millionth time.