10 best vegetables to grow in pots - easy crops that'll flourish no matter how small your outdoor space
The best vegetables to grow in pots mean you can go harvest your own produce even with only a tiny outdoor space. Perfect for a porch or patio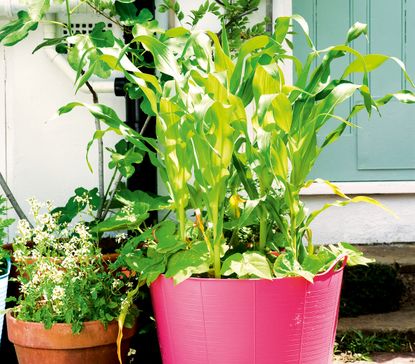 (Image credit: Future)
Growing your own food is not only the best way to cook with fresher ingredients, it's a more sustainable way to eat too.
It'd be fair to assume that you'd need a big backyard to grow your own veg. But anyone with a balcony, terrace or even a sunny windowsill can grow a number of veggies in containers.
"I grow my entire rooftop garden in New York City in pots and planters," says Julie Wilson, a gardener based in NYC. "Generally, people are surprised that it's possible to grow fruits and veggies in an urban environment, but it just takes some TLC. Because the weather and climate are slightly different every year, the type of vegetable that thrives varies."
10 best vegetables to grow in pots
With the right care, and variety of veg to suit the local climate, anyone can grow their own potted veg patch.
Here are 10 of the best plants for vegetable container gardening, plus care tips from experts to make sure they thrive.
1. Tomatoes
Tomatoes are one of the best edible plants you can grow in pots – just make sure you get the bush variety. "The binding ones can get out of control and you have to stake them up really high," says Karly Ray, a horticulturalist at PlantHero. "A more compact Bush variety is much easier to contain in a small area."
As tomato plants can grow quite large, Ray advises a using a pot that's around 14 inches in diameter. "The general rule is you want about six inches growing room," says Ray.
Another watch out is to make sure you don't start growing your tomatoes too early in the year, as they'll need the warm weather to thrive. To find out the best time to plant each crop in your local area, you can type your zip code into the Farmers Almanac.
Certain varieties of tomatoes also work better in certain climates – for example, heirloom varieties tend to crack in hotter climates, whereas hybrid varieties will do better in higher temperatures.
For all vegetables in pots, Ray recommends high quality compost and feeding them plant food throughout the year.
$7.99
Czech Bush variety tomato seeds
2. Eggplant
Eggplant is often used as a meat substitute in dishes, thanks to its hearty, meaty texture. This makes it a great vegetable to grow if you're vegetarian or would like to try a more plant-based diet.
This plant can get pretty big, however, so if you're short on space make sure you get a smaller variety. Indian or baby eggplants, for example, are small and round compared with more traditional varieties. Perfect for indoor vegetable gardens.
"My favorite vegetable to grow in pots is eggplant," says Julie Wilson. "You'll want to make sure to have trellises for when your plants really start to grow. These will support the stem and branches as the vegetables grow bulbous and heavy. The other key ingredient is consistent watering. In areas like New York City, we get flash heat waves that can suck up the water from pots fairly quickly. Pay attention to your soil and make sure it doesn't dry out completely between waterings."
3. Okra
If you're not familiar, okra is a delicious vegetable that's widely used in Caribbean, Indian, Creole and Cajun cuisines. When you're growing them in pots, make sure you water regularly. These are "sun lovers" according to Ray, so they can get thirsty when in pride of place on the patio. "Okra comes in red and green varieties," Ray adds. "The green tend to be not as fibrous, whereas the red ones tend to be heartier."
Wilson is also a big fan of growing okra in pots. "Okra is a beautiful vegetable to try," she says. "I love growing them in the city because they resemble the Empire State Building in the Manhattan skyline. Just be sure to pick them before they grow too large and their texture turns woody."
$2.85
Clemson Spineless okra seeds
4. Chillies and peppers
Chillies and peppers are another group of vegetables that love the sunshine, so make sure you don't start them too early in the year. "Sometimes they just won't grow if the temperatures are too low," says Ray.
If you don't want to wait for good weather, you could try growing chillies and peppers from seeds indoors during the winter. "Then by spring, they've already had a head start," says Ray. "I know a lot of people like to do this as a project with their kids."
$9.99 for ten packs
5. Runner beans (aka scarlet beans)
Runner beans are a brilliant addition to any diet, providing fiber, iron, protein and antioxidants. Put them in a spot that gets at least eight hours of sunlight each day and make sure you keep the soil moist but not wet.
"Beans are one of the easiest vegetables to grow and there are so many different varieties," says Ray. "The one thing you want to do is put a trellis in the pot."
'I love growing runner beans,' says Livingetc's editor Pip Rich. 'They're the first vegetable I ever grew and now I do them every year because they're so easy, and so simple to have success with. Plus they are delicious, and with their pretty red flowers are good for attracting beneficial garden insects, too.'
$5.99
6. Cucumber
Grow your own cucumbers, and you could have salads to hand all summer. If you get a bumper crop, you could even try making pickled cucumbers which taste amazing when added to burgers and sandwiches.
Cucumbers are another trailing plant. "I've seen some people with pergolas let them trail from a pot up over the roof," says Ray. "It's great to get creative in small spaces."
$4.95
7. Zucchini
Zucchini can grow happily in pots and bring a pop of color to your outdoor space. Their bright yellow flowers are also edible. "The flowers are actually very delicious," says Ray. You can stuff the blossoms with rice or ricotta, and then either oven bake or lightly fry them.
Zucchini plants will need lots of water, so it's always a good idea to put the pot near a water source. "For urban gardening, I recommend purchasing a garden hose that you can hook up to any nearby faucet," says Wilson. "As your garden grows, you'll reach a point when watering cans just won't cut it anymore. A garden hose will cut down on the number of trips you take in and out of your house."
8. Carrots
Most of the vegetables we've explored so far favor warmer, sunnier climates. If you're based somewhere cooler, root vegetables – like carrots – will be happiest in your mini veg patch.
"Root veggies are better for people who live in colder climates who can't grow a lot of sun loving crops like tomatoes and peppers," says Ray. "You want to make sure you have a deep container because they're going to take up a lot of room. If you grow carrots in a short little pot, you'll get rolled chunky short carrots!"
$6.98
9. Potatoes
Among the root veg family are potatoes – one of the most popular and versatile veggies around. Just make sure you water them regularly, especially in the growing season. As potatoes in containers can't spread their roots to find moisture in the ground, they rely on you to give them a soak every few days.
Most potatoes will mature in 70–90 days, but some can take up to 120 days before you can harvest. Before they mature, potato plants will flower – but unlike zucchini flowers these are poisonous, so definitely don't try them!
$13.99
Multicolor seed potato mix
10. Radishes
Radishes are another colorful root vegetable that grow happily in deep containers - in fact, should wish, they're one of the vegetables you can grow indoors all year. They're one of the fastest growing vegetables – ready to eat in 25 days – making them an ideal choice if you're not the most patient gardener.
Radishes come in an array of colors, shapes and sizes. Green and crimson watermelon radishes look stunning when chopped up, and black radishes can give side salads a playful kick. Different types of radishes will also vary in taste, from spicy and peppery to sweet, so you can grow whatever appeals to your taste buds.
$6.99
What to buy now for a vegetable-in-pots starter kit
The Livingetc newsletter is your shortcut to the now and the next in home design. Subscribe today to receive a stunning free 200-page book of the best homes from around the world.
Kate Hollowood is a freelance journalist who writes about a range of topics for Marie Claire UK, from current affairs to features on health, careers and relationships. She is a regular contributor to Livingetc, specializing in reporting on American designers and global interiors trends. Based in London, Kate has also written for titles like the i paper, Refinery29, Cosmopolitan and It's Nice That.