10 edible plants you can grow in pots indoors or out - be a chef/gardener no matter how small your space
These easy edible plants you can grow in pots not only bring flavor to your dishes, but can add color and fragrance to your indoor or outdoor space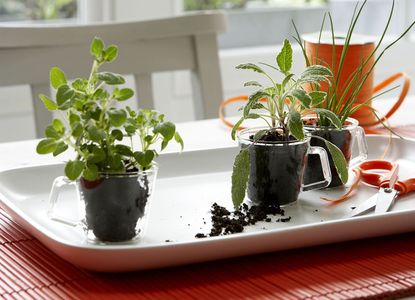 (Image credit: Future)
The Livingetc Newsletter
For style leaders and design lovers.
Thank you for signing up to LivingEtc. You will receive a verification email shortly.
There was a problem. Please refresh the page and try again.
There's something uniquely wholesome and satisfying about growing your own food. But, of course, not everyone has the luxury of a sprawling kitchen garden.
If you've not got much space, don't be disheartened – many delicious plants can thrive in small containers. "Leafy greens and herbs don't have an extensive root system," says Karly Ray, a horticulturalist at PlantHero. "They're small growing, so you can get away with an eight to 12 inch pot."
Not only will your cooking taste better with fresher ingredients, but adding pot plants to your balcony, patio or window can make your space look more inviting too. Here are ten edible plants that are easy to grow in pots and full of flavor - the best fruits and vegetables for beginners to grow with ease.
10 edible plants you can grow in pots
1. Basil
Basil is a staple of any modern kitchen garden, adding depth and a fresh fragrance to salads, pastas and pizzas. This herb is sun-loving, so make sure you place the pot in a bright spot.
Another watch out is when the plant starts to flower. "Basil will start getting woody and tastes bitter once it goes to flower," says PlantHero's Karly Ray. "Chop off the flowers as soon as they start."
Ray adds that the herb is a fantastic companion plant. When you grow it alongside vegetables like peppers, cucumbers and tomatoes, it can improve their flavor.
It's also a good herb to ward off unwanted pests. "If you have a problem with mosquitoes in the summertime, plant fragrant herbs like basil, rosemary and mint around your seating area," says Ray.
$5.29
2. Mint
Mint can freshen up many dishes, but goes especially well with lamb. It's also a key ingredient of a Mojito – an ideal cocktail to serve friends from your backyard bar. Meanwhile, drinking fresh mint tea has multiple health benefits, helping to soothe indigestion and promote a sense of calm.
"Mint is almost stupidly easy to grow, and is always delicious," says Cate Kowalsky of NYC-based Dahing Plants. "From the commonly known spearmint, to the chocolate variety with beautifully dark foliage, this plant is a fantastic addition to any indoor garden. Pluck the leaves and chew them for fresher breath and to settle an upset stomach, or cook them to add a kick to any recipe. Plant mint in their own container away from your other plants – this plant WILL spread and take over every space they find."
$4.99
3. Oregano
Oregano is an essential ingredient in many Mediterranean dishes, as it goes particularly well with tomatoes and olive oil. When cooking with fresh oregano, it's best added at the end.
It's another easy herb to grow in a container - it will work well in a small backyard or on a window sill. "Smaller herbs like mint, oregano and thyme can all be bunched together in a small pot, and they don't need a lot of room to grow," says Ray.
The best time of year to plant oregano seeds is in the spring – however, if you want to plant it during the cooler months you can try getting it started indoors. Just remember that this is another herb that needs lots of sunshine.
$5.99
4. Lavender
If you live in a climate that's hot and dry, certain herbs are more drought resistant than others, like lavender. While adding a welcome wash of purple to your space, this fragrant herb has been used to remedy insomnia, anxiety and fatigue.
It prefers to be outside, so if you have sunny stoop, porch or patio you'll be fine - and it's great for the bees. However it can be grown on a really sunny windowsill.
Our editor Pip Rich, who wrote The Herb and Flower Cookbook loves to use lavender in food. 'Roasting stone fruit like plums or peaches with a couple of sprigs of lavender, some sugar and water is such an easy dessert or breakfast,' he says. 'But be warned, lavender is notoriously hard to grow from seed - much better to buy as a young plant.'
$19.99
5. Rosemary
Rosemary is another aromatic and drought-resistant herb, with a delicious piney flavor. While it can grow into a large plant, rosemary can also be happy in a pot when placed in a sunny spot with well-draining soil.
'Rosemary is brilliant in pots,' says Pip Rich. 'It grows well when the roots are contained. It can stay out all year, and has wonderful edible flowers in late winter. Like lavender, I'd be impressed if anyone managed to grow it from seed though. Buy a young plant to start you off instead.'
The best time of year to plant rosemary will depend on your local climate. The Farmers Almanac has a handy online tool revealing the best time to plant specific crops according to your zip code.
$23.99
6. Lettuce
To seriously elevate your working from home lunches, try growing your own salad. Lettuce can easily be grown in a pot. Loose-leaf lettuce is thought to grow best in a container, but the most important thing is to look out for a variety that is well suited to your local climate.
"Leafy green vegetables don't need a tonne of sunshine," says Ray. "You can grow them in a shady area and they'll do just fine. They also don't need a tonne of moisture. Keep them in a shady area and they won't absorb as much water."
Lettuce is also super easy - and satisfying - to grow from seed.
$15.95
7. Kale
Kale is another leafy green that can be easily grown in pots, and is packed full of nutrients like vitamin A and vitamin C.
To encourage more leafy growth, make sure you regularly harvest the outer leaves of the plant once it reaches about 6 inches tall. This will allow the plant to focus its energy on producing new leaves and help prevent it from becoming too tall or leggy.
'Kale can grow all through the winter if you look after it - and it doesn't need much looking after,' Pip Rich says. 'Just prune or harvest it regularly and it'll keep growing.'
8. Chrysanthemums
Certain flowers aren't just lovely to look at, but can add a pretty flourish to cocktails, cakes and salads. There are practical benefits to growing edible flowers in pots, too. "If you plant them around your crops, edible flowers deter bugs," says Ray. "They put out a toxin that bugs like aphids don't like, so they can protect any veggies you're growing."
Chrysanthemums have showy blooms that range from being small and daisy-like to large and pom-pom shaped. The flowers come in many colors, including pink, purple, white, yellow, red, and bronze. You'll also need our guide for how to take care of chrysanthemums in a vase.
9. Nasturtiums
Coming in an array of sunset hues – from orange, to yellow, to crimson – nasturtiums are a fantastic way to add a bold pop of color to your balcony or terrace.
"Nasturtiums have some stunning blooms and not many people know that they are also edible," says Dahing Plants' Kowalsky. "They've got a slightly peppery taste and are perfect as a little something extra in your salad. There are two kinds of nasturtiums: bush and trailing. Both are edible, but the latter is much better for indoor gardens and pots. To get the most blooms, plant the nasturtiums in a well-draining soil mix, with plenty of full sun. Add some extra support – a trellis or moss pole – to let the vines explore for an even fuller plant."
The trend for dry gardens comes from not wanting to have to use too much water, and as nasturtiums are relatively self-sufficent they'll thrive even if left fairly unattended.
10. Daylilies
While yellow or orange daylilies can be the most common, this edible flower also comes in vivid reds, blues and near-whites.
"Daylilies are another surprise for most people looking for edible plants," says Kowalsky. "The entire plant is edible: the young shoots have a sweet flavor after you blanch them, you can boil the tubers like potatoes, and you can pop the flower (bud or petals) right in your mouth or sautee them if you're feeling fancy! Be aware though, not all lilies are edible – as long as you have correctly identified a plant as a Hemerocallis variety, you can eat it. Plant in a spot that gets plenty of sun for at least six hours, in a planter big enough to give the flowers room to grow and expand."
Our shopping editor picks the best pots to buy now
For style leaders and design lovers.
Kate Hollowood is a freelance journalist who writes about a range of topics for Marie Claire UK, from current affairs to features on health, careers and relationships. She is a regular contributor to Livingetc, specializing in reporting on American designers and global interiors trends. Based in London, Kate has also written for titles like the i paper, Refinery29, Cosmopolitan and It's Nice That.