5 simple tips for how to take care of chrysanthemums in a vase - make this blowsy bloom last longer
Tending to these unsung horticultural heroes is easy with this expert advice for how to take care of chrysanthemums in a vase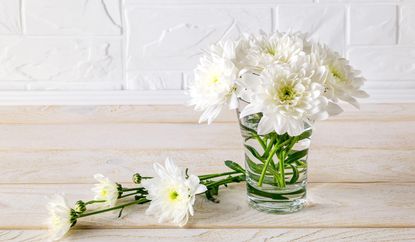 (Image credit: Alamy)
The Livingetc Newsletter
For style leaders and design lovers.
Thank you for signing up to LivingEtc. You will receive a verification email shortly.
There was a problem. Please refresh the page and try again.
Often referred to as 'chrysanths' or 'mums', these long-lasting flowers are popular for their kaleidoscope of colors and array of bloom types. In fact, some varieties are so different, it's hard to believe they're the same species. Whichever your favorites, discover the simple ways to take care of chrysanthemums in a vase, with advice from our experts.
From incurve and pompons to spoons, spiders, cascades and quills, chrysanthemums can look elegant and formal, simple and stylish (like giant daisies) or spectacular (with giant dual-toned florets). Chrysanthemums are one of the best cut flowers for floral arrangements as they're so pretty and last ages. Cut flowers have an average life expectancy of 7-14 days, so they're a great choice as a gift or to enliven your home.
How to take care of chrysanthemums in a vase
Whatever the variety, these expert tips for knowing how to take care of chrysanthemums in a vase will ensure they stay looking lovely for longer.
1. Trim the stems at an angle
Once cut, chrysanthemum stems will reseal, so it's important to give them a quick snip before plunging them into water. Trimming the stems helps to feed the bloom.
'Floral stems, including chrysanthemums should always be trimmed before arranging them,' says Valerie Ghitelman, Vice President of Sourcing and Design at flower delivery company, 1-800-Flowers.
'Cutting the stems at an angle will help the blooms absorb more water and nutrients from their flower food, so they'll last longer.'
'Fortunately, chrysanthemum are naturally, long lasting, flowers and this is common across all varieties,' says Gary Wallis, co-founder at British and New York-based florist, Jane Packer. 'To ensure their longevity, cut at least 2cm/an inch from the stem at a 45 degree angle before arranging in the vase,'
2. Ensure there are no leaves below the water line
Chrysanthemums have a lot of leaves along the length of the stems - and soggy leaves become smelly pretty quickly. So trim off leaves on the part of the stems that will be submerged in water. They have long stems, which makes them one of the best flowers for a tall vase and an impactful display.
Trimming leaves will keep the water fresher for longer, and slow down any wilting of your blooms.
'Be sure to remove any leaves that have fallen below the water line in the vase,' says Valerie at 1-800-Flowers. 'If you don't, they will create bacteria - which can shorten the lifespan of your flowers.'
3. Change the vase water regularly
As with how to take care of lilies in vase, another good way to prevent bacteria build up is to change the water in your vase. Chrysanthemums don't like to sit in stagnant water (who can blame them), so keep them topped up with fresh H20.
'As with all flowers, the first step in keeping them in top condition is to start with a clean vase,' says Gary Wallis at Jane Packer. 'Use a gentle anti-bacterial cleaner to make sure that there is no danger of bacteria multiplying in the water and attacking the stems. Fill the vase to approximately one third with clean water that has been pre-mixed with flower food.'
'We recommend changing the water every two to three days,' says Valerie at 1-800-Flowers. 'Cut flowers will continue to soak up the water they live in and rely on hydration to stay fresh.
'Use moderately warm water each time it's replaced, as well as cutting the stems on an angle, one to two inches from the bottom, to give it more space to receive water and improve hydration levels. Flower food should be replaced whenever your florals receive new water.'
$9.99
StaFresh cut flowers food
This concentrated flower food goes a long, long way - so it's easy to add a dash to the vase each time you change the water.
4. Place away from draughts and direct heat
Cut flowers do need a little care and who can blame them. Plucked from their natural home, they thrive best when those conditions are recreated. For chrysanthemums, this usually means somewhere that's not too hot and not too cold.
'Another important tip is to keep chrysanthemums away from direct sunlight, as well as heating sources, as both of those will dry out the arrangement,' says Valerie at 1-800-Flowers. 'A cooler environment will preserve the life of the florals and keep the vase free from bacteria.'
5. Keep away from the fruit bowl
Much like how to take care of daffodils, chrysanthemums don't fair well near the fruit bowl. They are another flower that is sensitive to ethylene, a gas given off by ripening fruit and vegetables, which will make them wilt and die sooner than they should.
For style leaders and design lovers.
Jacky Parker is a London-based freelance journalist and content creator, specialising in interiors, travel and food. From buying guides and real home case studies to shopping and news pages, she produces a wide range of features for national magazines and SEO content for websites
A long-time contributor to Livingetc, as a member of the team, she regularly reports on the latest trends, speaking to experts and discovering the latest tips. Jacky has also written for other publications such as Homes and Gardens, Ideal Home, Red, Grand Designs, Sunday Times Style and AD, Country Homes and Interiors and ELLE Decoration.