The 10 best flowers for cut floral arrangements - top florists on blooms that look good and last longest
Our favorite florists share the best flowers for cut floral arrangements, giving you the most beautiful bouquets and the most long-lasting sprays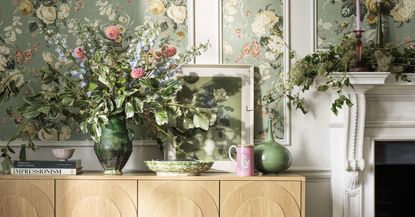 (Image credit: Furniture Village)
The Livingetc Newsletter
For style leaders and design lovers.
Thank you for signing up to LivingEtc. You will receive a verification email shortly.
There was a problem. Please refresh the page and try again.
Filling our homes with colorful, seasonal blooms is joyful, and it's fun to experiment with different florals and foliage. Especially as the best flowers for cut floral arrangements can change over time.
Like everything, there are flower trends - both the species of blooms and how to display them. Classics, such as chrysanthemums and dahlias, that your grandmother may have grown are now gracing fashionable interiors. At the same time, firm favorites have sadly slipped down the style stakes - usually due to over exposure.
10 best flowers for cut floral arrangements
We've canvassed opinion from florists and floral stylists to find the 10 best flowers for cut floral arrangements - from the classics to the current cult favorites.
1. Cloni (Clooney) Ranunculus
These classic blooms are loved for their densely packed, delicate petals and are available in an array of beautiful colours and different varieties.
'Clooney ranunculus (which is currently in the height of its season) is fabulous mixed with other varietals or as a stand alone,' says Andrea Halliday, florist at Boston-based Table & Tulip. 'I love mixing them with sweet peas or flowering viburnum.
'Each color is more beautiful than the last, but I definitely have a tendency to reach for flowers in the peach or coral family. Styling them in a shorter vase or multiple bud vases really helps to give the flowers space to open up fully.'
'Ranunculus also have an amazing vase life, typically lasting 10 to 12 days, although we've seen them put on a show for over two weeks,' adds Jessica Hall, co-founder of Harmony Harvest Farm.
2. Dahlias
Dahlias are a former grandmother's favorite that has seen a resurgence with a younger fanbase, a big current flower bed trend that we're seeing in a lot of cut flower gardens. With its beautiful and wide-ranging choice of varieties, shapes, sizes and spectacular (often multi-colored) hues, it's hardly surprising the dahlia is back as a darling of the horticultural world - and with a huge social media following.
They look particularly beautiful displayed in a tonal palette, as home gardener and dahlia grower Jen of @blushingbloomsto has done.
'Dahlias are one of the most popular cut flowers and come in a huge range of stunning varieties including the show-stopper, Cafe Au Lait,' says Jessica at Harmony Harvest Farm. 'They can have a shorter vase life than other blooms, but are still so worth it.'
3. Mimosa
This beautiful, bright flowering branch is abundant in springtime and adored for its proliferation of tiny yellow pompoms. It represents strength and femininity. Equally striking on its own or mixed with other spring blooms, mimosa dry well too, so can continue to look good long after its vase life.
'We love to use what is in season,' says Emily Mathison, creative director of McQueens Flowers in New York. 'So coming into spring, we love mimosa, plus all the gorgeous varieties of narcissus. Mimosa has gorgeous bright yellow ball shaped flowers, and I love playing with colors, so a few stems of mimosa with a short blue wispy delphinium is gorgeous for a side table or credenza.'
4. Hydrangeas
This blousy summer bloom easily maintains its spot at the top of the petal popularity stakes. Just three simple stems makes a beautiful arrangement but you can branch out and get creative with them too. Just make sure they have adequate clean water.
'With their massive, beautiful blooms, hydrangeas are a summer staple in our bouquets,' says Jessica at Harmony Harvest Farm. 'What's more, these babes are perfect for drying too.'
You do need to know how to take care of hydrangeas in a vase. Be mindful where you place an arrangement - these delicate flowers do not like to be anywhere near candle flames, essential oils or a fruit bowl and will wilt in an instant if close by.
5. Tulips
A spring staple that never loses its allure, tulips were bound to be in our florists' top ten. What's more, they're quick to arrange, easy care for and available in a kaleidoscope of color, and it's quite easy when it comes to how to take care of tulips in a vase.
'The best flowers for me are always those that are at the height of their season,' says Whitney Bromberg Hawkings, Founder of Flowerbx. 'In the early spring, I love parrot tulips styled loosely and cut at slightly different heights in a vase, so they create a magical, moving display as they grow and open throughout the week.'
6. Peonies
Prized for their pretty shades of pink and packed delicate petals, peonies are another surefire winner when it comes to the best flowers for cut floral arrangements. Peonies care is fairly straightforward, too.
Beautiful, even in bud, these flowers look spectacular at every stage as they slowly unfurl into their full majesty. It's no surprise they attract such floral fandom on instagram.
'In the late spring, peonies are hands down the most magical flowers for cut floral arrangements,' adds Whitney at Flowerbx. 'Again, I like them arranged loosely, in single stem bunches. It is always mesmerizing to watch as they put on their own colour show as they open.'
'Peonies are an amazing cut flower because they are beautiful and incredibly versatile,' adds Jessica at Harmony Harvest Farm.
7. Narcissus (Daffodils)
For seasonal simplicity, Daffodils are a firm favorite in early spring, but look beyond the traditional yellow to other types and tones such as Narcissus Delnashaugh and Narcissus Actaea. Knowing how to care for daffodils in a vase will ensure they last longer too.
'Seeing daffodils bloom after a long winter is like looking at the light at the end of a tunnel,' says Jessica at Harmony Harvest Farm. 'There are some double bloom varieties that are even more fun than the classic yellow ones that will leave you stunned.'
'For all cut floral arrangements, I work as seasonally as possible and have relationships with local flower growers for the freshest, most spectacular blooms,' says florist Hilary Horvath.
'In Spring, novelty daffodils are great but as a bunch on their own. They have a sap that not many flowers enjoy sharing the same water with. I often work in subtle color palettes of peaches, coral and blush to keep things harmonious and light.'
8. Chrysanthemums
Having languished in the floral fashion doldrums for decades, chrysanthemums are back in favour. A popular late season crop, these flowers are a good option for fall. With tons of species to choose from, go for the blousy and beautiful pompon varieties to create a spectacular display.
'Mums are the best vase stems, they last weeks in arrangements,' says Jessica at Harmony Harvest Farms. 'They are my absolute favorite flower and keeping them looking good is super easy. Just keep the vase water clean, trim their stems daily, and enjoy unopened buds as they bloom and reveal an impressive show.'
9. Cymbidium orchids
With a reputation for being difficult to tend to, orchids may not be your first choice for a cut floral display. Yet orchids have much to offer and some species, such as cymbidiums (aka boat orchids) are a little more hardy than others.
'One flower I am particularly fond of is the cymbidium orchid because of its shape, beauty, and color,' says Valerie Ghitelman, Vice President of Sourcing and Design, 1-800-Flowers. 'It's a statement flower that if cared for correctly, can last a while.
'I recommend arranging cymbidium orchids (or any cut orchid, such as dendrobium) as a single variety because the flowers are unique and compelling. If you do choose to pair this floral with another variety, I would recommend simple greenery.'
10. Roses
How could a list of the best flowers for cut floral arrangements not feature roses? Symbolising love in all its forms, this classic flower is perennially popular and available in a mind-blowing spectrum of shades and shapes.
'Roses, (as well as chrysanthemums and lilies), are amongst my favorite florals for cut flower arrangements,' says Valerie at 1-800-Flowers. 'As well as their beauty, they have a longer vase life than other more tender varieties.
'These florals also come in many colors, and I love working with the different varieties because each flower and color can tell their own story – which provides an array of offerings for any occasion. Mixing these beautiful blooms with foliage is essential in design - and greenery has great longevity too.'
Our shopping editor picks her 3 favorite vases right now
For style leaders and design lovers.
Jacky Parker is a London-based freelance journalist and content creator, specialising in interiors, travel and food. From buying guides and real home case studies to shopping and news pages, she produces a wide range of features for national magazines and SEO content for websites
A long-time contributor to Livingetc, as a member of the team, she regularly reports on the latest trends, speaking to experts and discovering the latest tips. Jacky has also written for other publications such as Homes and Gardens, Ideal Home, Red, Grand Designs, Sunday Times Style and AD, Country Homes and Interiors and ELLE Decoration.