Ask Athena: living room inspirations
Athena Calderone is here to answer your questions, and has some living room inspirations for one reader's small and tricky space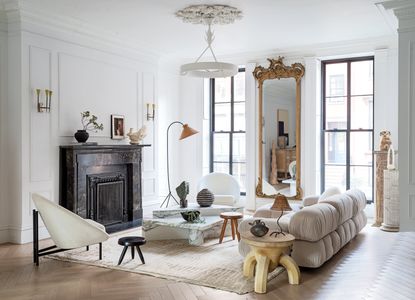 (Image credit: Matthew Williams)
The Livingetc Newsletter
For style leaders and design lovers.
Thank you for signing up to LivingEtc. You will receive a verification email shortly.
There was a problem. Please refresh the page and try again.
Hi Athena!
I'm so excited about this! I have both your books and literally cooking a dessert and meal at the moment from "Cook Beautiful."
So I am looking for some living room inspirations. We just moved in and are slowly getting pieces, but I don't want to buy the wrong thing.
I'm attaching pictures of it.[see below] It's a small one for sure and so far the new things here are the couch, the white center concrete tables (they are meant to be side tables but I liked them as center tables for now) and the two small side tables from Ikea.
The floor lamp is old, (although I just bought a double swing arm black wall light fixture I'm thinking of placing on the wall on that same corner and removing this floor lamp) - I don't know. And the rug is old too but I love the vibe.
My trouble is finding more comfortable seating for when people come over, that doesn't clutter the space.
I was thinking of a diamond wire chair on one side by the floor mirror, and two wooden lounge style chairs by the French doors? But I mean I have no clue. I wish we could fit a bench but I've measured and it would just be too much and it would cut the space, unless it is a small bench? No clue. Also what should I hang above the couch, and what would you recommend for a tv console? Since the couch is black I want something not black where the tv is. Eventually we would get a bigger tv and mount it on the wall.
But yes this is our space- I love Nordic, neutrals, minimal and modern style. But also I love everything about yours!! How would you Athena-ize my place? Any small living room ideas greatly received.
Lizette
Hi Lizette,
I completely understand wanting to get that design dialog and alchemy just right. I think you're on the right track by going slowly. A highly personal space is one that can only be achieved by trusting your instincts and investing in pieces you absolutely cannot live without. And that is always an exercise in patience and restraint.
First of all, I love where you're heading with these living room ideas already, Lizette. I appreciate the concrete tables with their varied heights. It's super smart to have a duo as opposed to a singular monolithic form as it adds visual interest and dimension to the space.
My first suggestion is to source a large area rug that will contain all of the new pieces you hope to collect. Not only will this help to ground the space but it will also offer some intimacy, too. Ideally this rug would go beneath the sofa, at least one third of the way, and definitely be wider than the sofa in length to allow a side table next to it.
I also recommend seeking two additional chairs to provide the extra seating you mentioned—these will also go on the rug. I think one can be a touch more substantial and cozy, upholstered in a plush tactile fabric that's in direct opposition to the black leather. The other can be more of a petit accent chair, also upholstered but in a subtle color that still reads as a neutral like sage or a dusty rose. A fun tip to help guide you is to play with proportion and scale and always think of how something connects to the floor. For example, if your statement chair is weightier at the base, the accent chair or side table might want a more delicate, leggy base.
As for above the sofa, I think a tonal and textural painting would be beautiful here. I have been known to create these myself (like in my Brooklyn office) so if budget is a concern, I highly recommend getting a blank canvas and some paint, then engage in a fun and crafty experiment—you might surprise yourself!
For your console conundrum, this really depends if you need storage. If you don't, this might be a nice place to introduce a warm, wood vintage piece which would offset the slicker, black sofa beautifully.
You're already on the right track so keep going, don't be afraid to experiment, to play, and above all, have fun with design.
To Ask Athena a question of your own, email our editor with as detailed a query as possible, on pip.mccormac@futurenet.com. Please note, not all questions can be answered, and no private correspondence can be entered into.
Sign up to Athena's newsletter here.
For style leaders and design lovers.
Athena Calderone is an award winning author, interiors writer, stylist, designer and curator. She has had her home featured on the cover of Livingetc twice.