Ask Athena: how to source and style the perfect area rug
Athena Calderone is here to answer your questions, and this week she advises on sourcing and styling the ideal area rug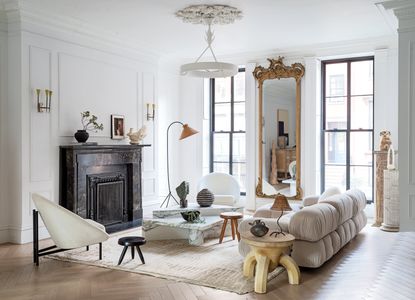 (Image credit: Matthew Williams)
The Livingetc Newsletter
For style leaders and design lovers.
Thank you for signing up to LivingEtc. You will receive a verification email shortly.
There was a problem. Please refresh the page and try again.
I love your Brooklyn townhouse living room rug which I believe you sourced in Morocco. With an active family and a pet, what type of rugs do you recommend for the living room? How do I best source a rug given travel is not possible to make selections in person?
Thank you!
Linda
Great question, Linda. There is nothing more joyful than welcoming a pet into your home. I cannot imagine our lives without our beautiful dog Tuco now but I will say, one of the most frequently asked questions I get is "how do you keep your home clean with his black hair?" First of all, I'm not one to be so precious about the things in my home. Just like the marble counters in our kitchen, I love things to feel lived in, to have a time-worn patina which is why I typically gravitate towards vintage. I really don't mind the stains, scratches, and marks made via their daily use—it's a home after all, not a museum.
Now, when it comes to rugs, I am a big fan of the wool Moroccan variety because they are very forgiving, particularly with an active family and a dog. At their essence, Moroccan rugs are imperfect and prewashed. They often have a melange of fabric colors and subtle patterns all of which really help to mask staining, dog hair, or spills, ideal for family living room ideas. Vintage rugs are also a great option because they're already worn in and marked with character from years past so once again, any new scuffs, blemishes, or scrapes will be mostly unnoticeable and just add to that aged look which I love.
When it comes to choosing the right one for your home, travel is no longer necessary. So many online sites now will show really detailed images of vintage and new Moroccan rugs. In fact, I would say that 90% of my rugs were purchased online and are mostly new from Soufiane Zarib in Marrakech or Beni Rugs.
I know it's scary but a helpful tip is to always measure and tape out the exact size of the rug on your floor— this is unbelievably helpful as Moroccan rugs can often be oddly shaped. If it's a new rug, I also suggest asking them for a color sample of the yarn. The vendor should be able to send one so you can see the color with the other fabrics in the room, against the wall color, and the light. I hope these tips are helpful as you embark on your rug-sourcing journey. Above all, don't be too precious and always go with the rug that you really love the most because that's the home you'll want to live in.
Athena
To Ask Athena a question of your own, email our editor with as detailed a query as possible, on pip.mccormac@futurenet.com. Please note, not all questions can be answered, and no private correspondence can be entered into.
Sign up to Athena's newsletter here.
For style leaders and design lovers.
Athena Calderone is an award winning author, interiors writer, stylist, designer and curator. She has had her home featured on the cover of Livingetc twice.