3 once-popular kitchen countertops that have fallen out of favor with designers, and what they're using now instead
Planning a kitchen reno? You might want to consider giving these outdated countertop styles a miss, and pick one of these new favorites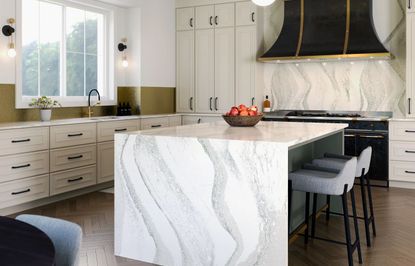 (Image credit: Cambria)
The Livingetc Newsletter
For style leaders and design lovers.
Thank you for signing up to LivingEtc. You will receive a verification email shortly.
There was a problem. Please refresh the page and try again.
When it comes to kitchen trends, the ebb and flow of what's popular is a little bit slower than the rest of the house. After all, these spaces are an investment, so designs tend to be less trend-led, and more timeless.
However, that doesn't mean that things don't fall out of favor with designers in the kitchen, even with significant investment pieces like the countertops. In fact, there are a few styles that most designers will always avoid for a scheme that feels fresh and contemporary.
These countertops often don't match with the aesthetics of a modern home, or don't fulfill functional needs. To understand which kitchen trends are on the wane when it comes to countertops, we asked the experts for the ones they avoid, and what they're doing instead.
1. Epoxy surfaces
Those sparkling, glittering epoxy kitchen countertops were once a bit of a trend for kitchens, but perhaps unsurprisingly, they're a bit of a faux pas in modern kitchen design. They're messy to install, require you to get things right on the first try, and are not nearly as durable as countertop materials like quartz.
'I never advise using glitter epoxy for kitchen countertops,' says Kashi Shikunova, director at Yam Studios. 'Instead, I always recommend opting for more durable materials that have a timeless style. I find the glitter epoxy countertops to be a bit tacky, and they don't age well over time. Additionally, people may grow tired of the glittery look more quickly.'
Use instead: 'I think we are moving into a more minimal, organic direction with the use of natural materials like marble, quartzite, soapstone, and granite rather than epoxy or resin,' says interiors consultant Veronica H. Speck 'We are also seeing more matte and raw materials with naturally occurring veining like wood or marble rather than artificial glittery, shiny materials.'
Marble kitchen countertops might stretch the budget, but for surfaces that have movement to them, they're our top pick. The natural stone has natural veining and looks organic, smart, and always on trend. 'It's better to choose a counter style that will remain aesthetically pleasing for a long time, ensuring your kitchen maintains a great appearance in the years to come,' says Kashi.
'Also, light-colored marble countertops have a more open and airy feel, making the space appear larger and brighter and they work very well with a current trend for more earthy and warm colors,' says Kashi.
2. Speckled Granite
You'll find speckled granite countertops in a lot of kitchens that haven't seen a remodel in the past 10 or 15 years. This countertop was one of the most popular picks for homes of yesteryear, but over time, sleeker and more subdued granites have made their way on the scene (and granite is still a great marble alternative if you still want a natural stone).
'My least favorite counter is a polished speckled granite in the brown, tan, or pink flecks,' says Jennifer J. Morris, founder of JMorris Design. 'I love natural stone but I am personally drawn to the stones that have a lot of figure and movement. The flecky polished granites always bring me back to the '80s and are so hard to elevate with the right cabinet colors or woods.'
Use instead: Replacing it as possibly the most popular modern kitchen countertop material, quartz surfaces have become the new standard for practical, beautiful kitchens.
Quartz offers the look of a natural stone with a lovely luster and is available in a huge variety of colors and styles. Quartz is more durable than concrete and granite, as it is better resistant to scratches, cracks, and chips. It's also non-porous so it resists staining much better than granite, marble, and concrete. Cleaning and maintaining it is easy.
Because quartz is a manmade material too, you don't face the same challenges in sourcing as you might with natural stones like marbles, in trying to find the right slabs for your project.
3. Linear edges
'I believe that currently, sharp-angled edges are not as popular as they used to be,' says Kashi. 'These are slightly more impractical and not the best in homes with kids and older people.'
Sharp edges also tend to give the kitchen a colder and stark look. This is especially avoidable in a small kitchen layout where the space to walk around and work is limited, and chances of banging into the worktop are more.
Current countertop trends lean toward a more rounded edge. 'Many people are leaning towards countertops with rounded edges or curved corners instead,' says Kashi. 'The trend seems to be shifting towards a softer and more streamlined look.'
The other advantage of a rounded edge is that it goes to the bottom of the floor, which prevents spills from dripping onto the floor, and instead runs down cabinet fronts. Beveled edges also offer a nice detail for countertops, where the flattened corner is at approximately a 45-degree angle for a softer feel. This type of edge is easy to clean and compliments contemporary designs.
For style leaders and design lovers.
Aditi Sharma Maheshwari is an architecture and design journalist with over 10 years of experience. She's worked at some of the leading media houses in India such as Elle Decor, Houzz and Architectural Digest (Condé Nast). Till recently, she was a freelance writer for publications such as Architectural Digest US, House Beautiful, Stir World, Beautiful Homes India among others. In her spare time, she volunteers at animal shelters and other rescue organizations.