Garden trends 2022 revealed: 12 key trends you'll be seeing in gardens everywhere this year
Garden trends for 2022 are covering everything from what to plant to how to plant to what materials to use alongside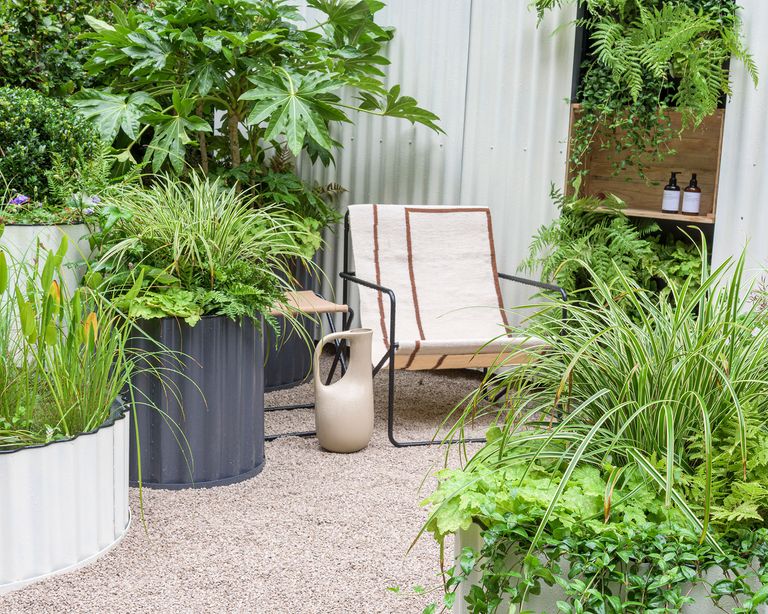 (Image credit: RHS/Tim Sandall)
Garden trends are now officially a thing like never before. The shift to utilising our outdoor spaces has accelerated lately as we're spending more time at home both for work and leisure. This means we all want to know what's trending when it comes to style inspiration for outdoor living.
As within many interior design trends, where functionality is key, the garden/patio/balcony/terrace is now a multi-purpose space, often including an essential 'gazebo office' area as more of us transition to a hybrid style of working.
"Because so many people are now working from home, there is more emphasis on styling up and furnishing our outdoor spaces," say the horticulture experts at the Flower Council, who have just released a 2022 garden trends report that confirms WFH is here to stay.
What are the garden trends for 2022?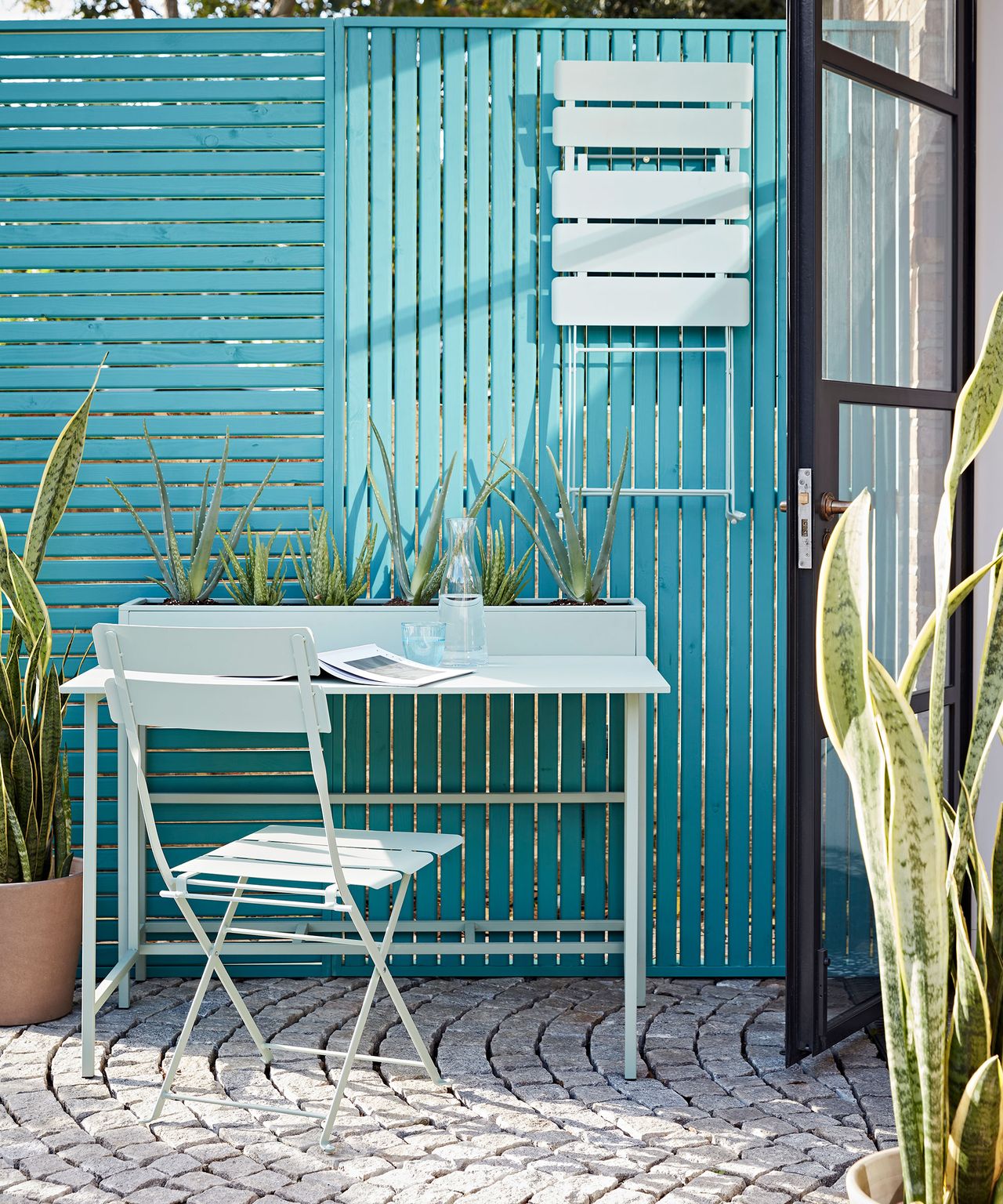 1. Natural materials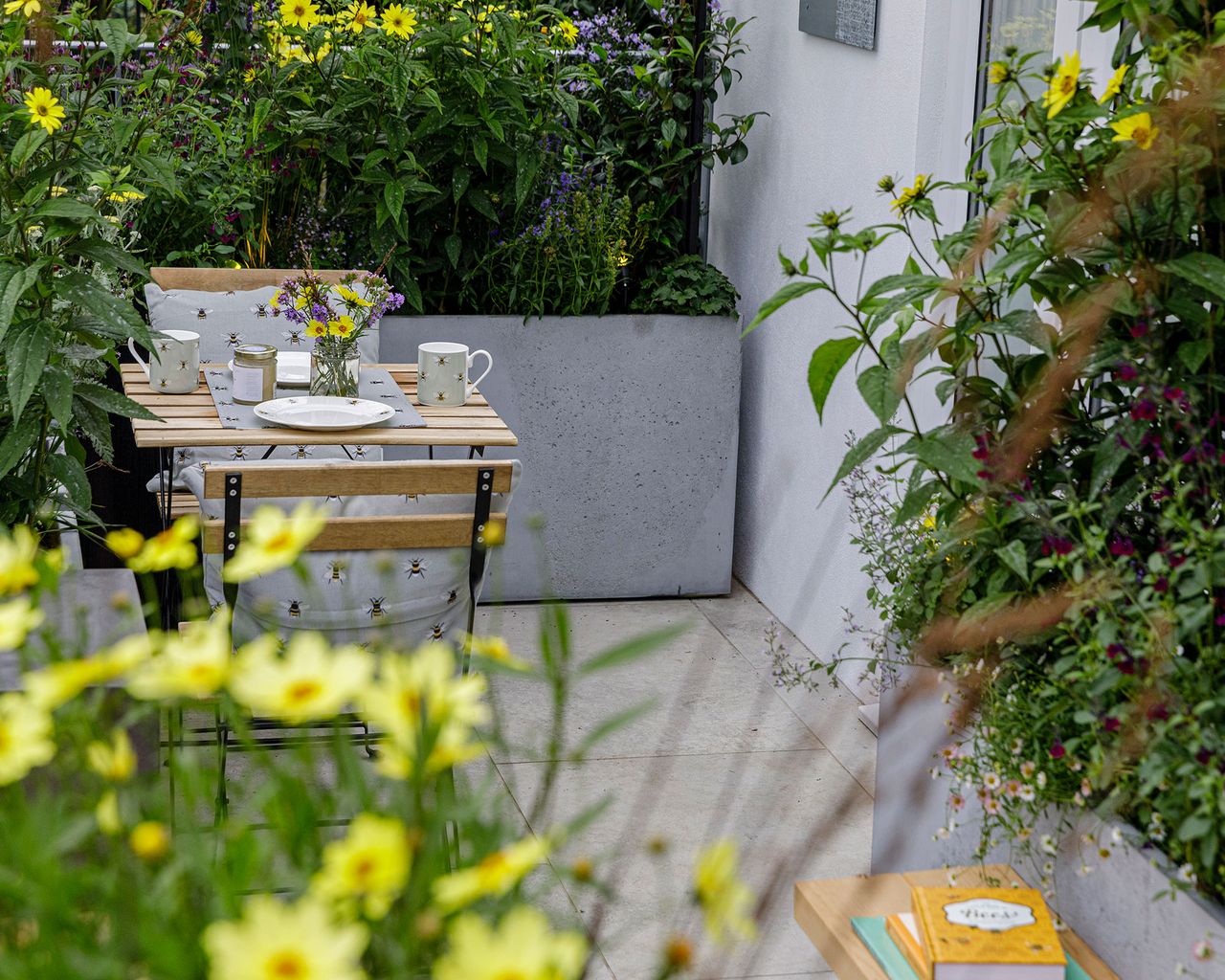 Tasteful touches help to establish a seamless indoor-outdoor feel. "When it come to patterns and materials in the garden," according to the Flower Council report, "2022 will see a surge in popularity for ceramics, coloured glass, practical plastics, textiles, raffia and granite. It's all about materials that can be natural, artisan and practical at the same time."
2. Sustainability
What else is on the radar? Sustainable living has never been more important, with biodiversity, naturalistic planting and bio-based materials that put the planet first at the heart of this trend.
"Sustainability has never been more important than now," says acclaimed garden designer Charlotte Rowe. "We recognise the need for irrigation in the first year or so in a new garden design to help the plants get established but after that plants should be able to stand on their own two feet, except for a bit of extra water in drought conditions. It's that old adage that works every time – choose the right plant in the right place."
Creating somewhere to enjoy moments of stillness in the garden is also important to boost mindfulness and mental wellbeing. Our gardens are a pocket of peace and quiet, a place where we can find refuge in a 'wellness bubble' and escape our hectic days. It's the ultimate form of stress relief and we all want one right now.
3. Pastels mixed with fire tones
Talking of moods, fresh color accents can help to bring energy to your outdoor space too. Similar to what we've seen in color trends generally for 2022, The Flower Council's 'bright and breezy' trend chart consists of pastel tones such as pink, blue, mint green and pale orange, alternated with more vivid accents. "Coral red plays a fresh and softening role, and is important for both flowers and plants."
Meanwhile at Chelsea, a beautiful sunset provided the inspiration for the colours used and the ways that people were playing with the orange, red and yellow palette felt new and fresh. Alongside pastels, 2022 is all about hot and fiery colours.
So whether you want to freshen up the look, introduce some retro blooms or go for a complete overhaul here are the key garden design trends you need to know about.
Garden trend 4: naturalistic planting
London-based award winning garden designer Charlotte Rowe speaks on landscape design around the world and is very much ahead of the curve when it comes to spotting the latest trends.
The right mix of soft (planting) and hard (materials) landscaping is key to all good garden design and the natural starting place for a considered scheme. A look that's trending is naturalistic planting paired with textured hard landscaping, which was big at Chelsea. Over to Charlotte to tell us more.
"A combination of structural planting intermingled with softer perennial/herbaceous planting is the new go-to. I think it's about less formality and more sustainability," says Charlotte. Great advice for anyone wondering how to start a flower garden. "What's trending with clients is using grasses mixed with perennials and bulbs alongside more structural planting. Grasses are popular as they look good for a lot of the year and do not need masses of maintenance."
5. Gravel and wood chip paths
"Solid paths and paving is giving way to gravel, wood chip and other natural materials," says Charlotte Rowe on the latest landscaping trends. "I'm hoping that more gravel might be used as sustainability is such a key trend now. We designers love gravel for its permeability and flexibility. It's also really good for drainage and great for planting in, as well as being an affordable choice.
"People are beginning to understand that drainage is key to good sustainability, in particular in our cities where flooding is becoming increasingly common. Paving over front gardens is not a good idea and we always encourage good drainage, permeable ground surface and as much planting as possible in front gardens."
6. Textured stone
"We use a combination of brushed or slightly textured limestones and sandstones and smooth or honed stones to give additional interest," says Charlotte Rowe, talking of her latest garden border ideas. "Clearly you can't use polished stone outside in gardens as they become too slippery but honed is fine though some designers only used textured paving.
"We recommend the use of stone with traceable provenance. We prefer to know where the stone we use has come from."
7. Organic gardening
"People are becoming more aware of 'organic' in gardening terms and I think organic gardening and growing are now much more popular and mainstream," says Your Garden Made Perfect expert and leading designer Tom Massey. His Chelsea design for Yeo Valley Organic won a Gold medal and the BBC People's Choice award, and he highlights this idea that goes hand in hand with no dig gardening, which has been gaining popularity too - the idea of not interfering too much.
Tom's Chelsea garden featured an open perennial meadow brimmed with flowering plants full of colour and texture. Silver birch, medlar trees and native hedging give the garden a leafy, natural framework. Sweeping log walls divided the space, formed of carbon-rich biochar logs, charcoal being a great soil improver, and highlighting the importance of keeping carbon in the soil. An egg-shaped oak hide provided a place to relax, unwind and observe the natural environment and visiting wildlife.
"Organic principles are a set of guidelines that people can follow to garden organically," Tom explains. "They include nurturing soil health, encouraging biodiversity, using resources such as water responsibly and avoiding the use of chemicals. Even if you only adopt a few of these principles, it can make a big change to the heath and sustainability of your garden."
8. Successional planting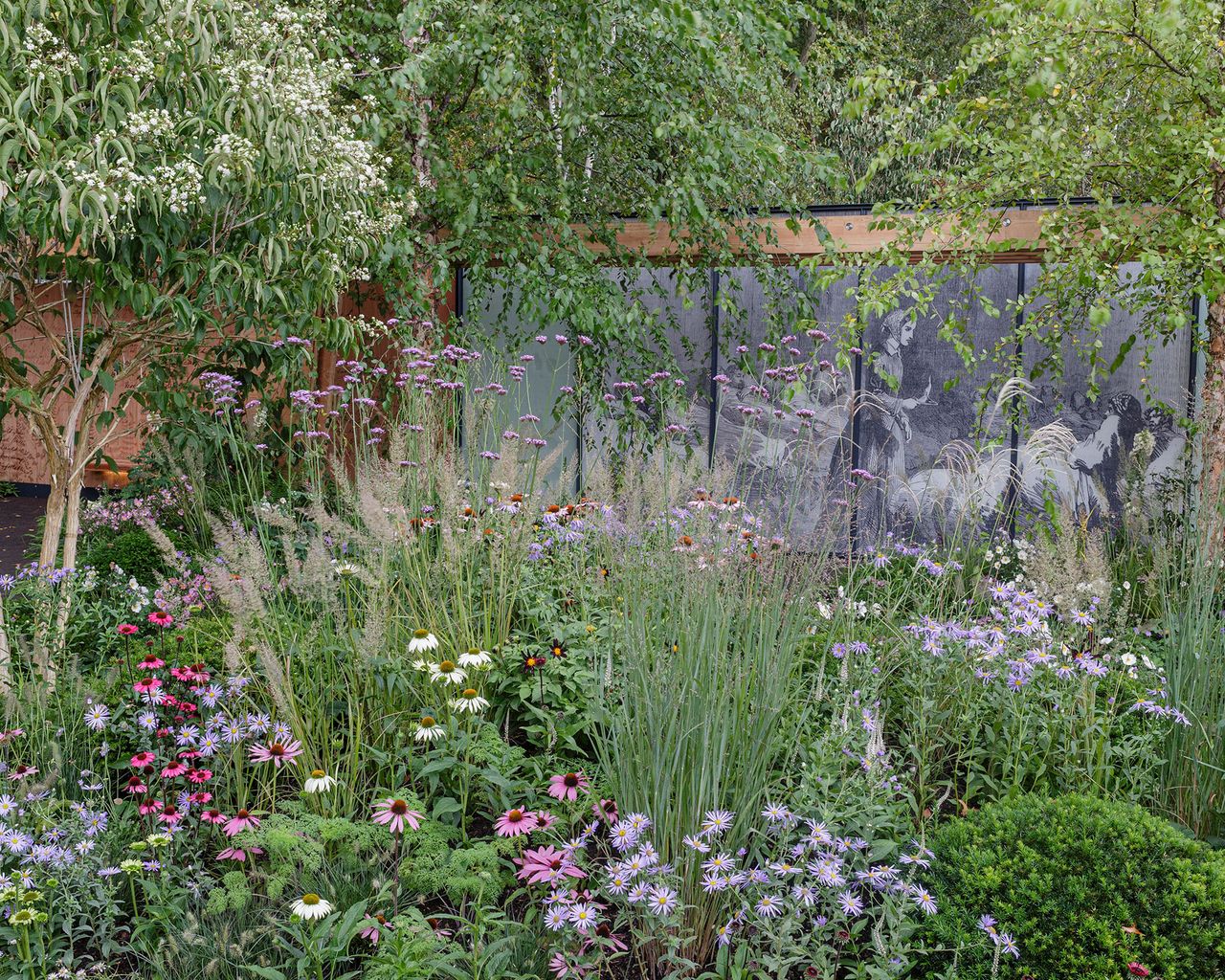 One thing this year's autumn Chelsea Flower Show proved is that gardens can still look beautiful and interesting outside of the main spring/summer flowering season. Successional planting, which we can all do on some level in our own gardens, is one of the new garden trends that's here to stay. It means that there will always be something interesting to look at, to show off as part of your front garden ideas, and is never more important than now with the new emphasis on outdoor living.
"The key to successional planting, particularly in smaller urban gardens which are often on immediate show all year round, is a good evergreen structure," says garden designer Fiona Lamb, who is known for her stylish bespoke outdoor spaces. "These plants will form the backbone of your garden and enable you to intersperse with 'pretties' that will add colour, movement and interest throughout the year."
So what are the best plants to use for successional planting? "Spring bulbs – camassia, tulips, narcissus, alliums and early flowering plants like hellebores get the year off to a great growing start. These make way for summer perennials to shine. They hand over to late bloomers like anemones, rudbeckia and hylotephium. Grasses, seedheads, coloured bark and brave winter flourishers then carry us through until the cycle starts again."
Garden trend 8: Connection to the natural world
Gardening lets you be part of the natural world and this connection is cemented by the planting you choose. The current trend is very much for loose and naturalistic swathes, and rewilding projects are big news.
Award winning landscape designer and horticulturalist Dan Pearson is known for his painterly naturalistic planting, and has worked with everyone from Juergen Teller and Paul Smith to the National Trust and the Garden Design Museum. His recently launched online course with Create Academy focuses on naturalistic garden design trends.
"Never more so than now has it been this important that we think about our connection to the natural world and not set ourselves apart from it," says Dan. "Gardens and gardening allow us a way in to this connection and it's no surprise that a more naturalistic approach to making and tending our garden spaces is now so embraced and embedded.
"A naturalistic garden provides sanctuary for not just us, but a richness of biodiversity where a lighter hand on control is applied. A naturalistic garden is not just an aesthetic, it's an approach and a way of life."
10. Making your space work harder
The work of design duo of the moment and Chelsea gold medallists Harris Bugg encapsulates the design trend for gardens that have spirit of place and are in keeping with their surroundings. One recent commission was a modern parterre design in Chiswick for Cara Delevingne, and they have also worked with the new RHS Bridgewater garden and the National Trust.
"The past eighteen months have seen a huge trend towards us all enjoying and valuing our gardens, and spending more time in them right through the year," says one half of the duo, Hugo Bugg. "Making spaces work harder for longer seasonal use, from fire-pits to outdoor furniture, is the current trend and that goes hand in hand with the planting and how we keep visual interest going through the seasons."
Planting palettes should ensure there is always something new to explore and enjoy, whatever the season. Over to Charlotte Harris: "By selecting trees and plants that keep on giving, whether spring blossom, summer flowers, a crescendo of autumnal leaves and berries, or the beauty of frost on seed-heads, both improves our experience of our gardens but also helps wildlife, often providing important food and shelter sources when they need them most."
So what should we be planting to tap into these garden design trends? "Trees such as crab apples, hawthorns and Amelanchiers are perfect for even the smallest of gardens, and offer much in terms of longevity. On a smaller scale, grasses like Miscanthus hold their structure long into winter. Amsonia enjoys a mass of small star-shaped blue flowers in early summer before the plant slowly turns a rich ochre in September with stunning bronze seed heads."
11. Celebrating small gardens
Balcony gardens are booming when it comes to strong garden design trends. How to get the most out of small garden spaces is getting a lot of attention currently and small backyard ideas were big news at this year's Chelsea, where the focus was very much on how to max up your growing space for balconies, terraces and roof gardens.
"It's key to make small outdoor spaces practical,' says John Wyer, whose team of expert landscape architects, designers, builders and horticulturists won a medal at the Chelsea this year. "In our own designs we've been experimenting with using planters on castors, to make a space that is truly flexible to use. Just push them out of the way when it's party time."
There is a growing trend for sedum roofs on balconies and small roof terraces too. "Recently we've been seeing people experimenting," says John. "With only 12-15cm of lightweight specialist growing mix, you can grow an amazing range of grasses, herbs, perennials and even small shrubs. And if you don't want to do the whole balcony or roof like this, why not drop in trays of planting in between the decking or paving to create a stunning effect."
12. Vertical pocket gardens
Don't just think of the floor. Look up and try a living wall to green up a small space. "Living walls or green walls are simply vertical gardens, where plants are rooted into a structure that is attached to a wall, creating lush panels of green," says Isabelle Palmer, founder of thebalconygardener.com, which specialises in products for small urban outdoor spaces.
"Living wall systems are sold as kits, and can be scaled up or down to suit your space and budget. They're incredibly easy to construct and you can get them up and running in a weekend. They are an excellent screen idea for more privacy if you live in an apartment block."
Why not tap into these garden design trends and make a great focal point on a balcony or terrace with a green wall as centre stage. "It will also naturally purify the air in your space as well as attracting wildlife, so it's ideal for city living," adds Isabelle.
Amazon sells a great selection of pocket garden holders here.
Go large with pots and planters on roof gardens, terraces and balconies. "Using statement pots gives you a real focal point and that sense of lush greenery en masse," says Isabelle. 'Make sure you keep to a simple design and use materials and colours that complement each other so your plants stand out. Gardening is beneficial, however small the space. So give these garden design trends a try."
Lifestyle journalist Sarah Wilson has been writing about gardens since 2015. She's written for Gardeningetc.com, Livingetc, Homes & Gardens, Easy Gardens and Modern Gardens magazines. Her first job on glossy magazines was at Elle, during which time a visit to the legendary La Colombe d'Or in St-Paul-de-Vence led to an interest in all things gardening. Later as lifestyle editor at Country Homes & Interiors magazine the real pull was the run of captivating country gardens that were featured. Having studied introductory garden and landscape design as well as a course in floristry she is currently putting the skills learned to good use in her own garden where the dream is establishing a cutting garden.