This changes everything - the only charging cable you'll ever need that also declutters your entire life
Throw away those tangled cables and have clutter-free drawers once and for all thanks to this universal charger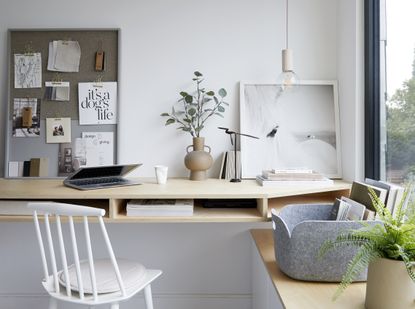 (Image credit: Anna Stathaki )
When it comes to organizing your space, keeping on top of cables and chargers is possibly the biggest challenge of all. For a serene and calming home office, most of us adopt the 'out of sight, out of mind' approach, stuffing all those unsightly wires deep inside a drawer only for them to quickly become a tangled mess of knotted cables, no matter how hard we try to avoid it. Finding one you need without unraveling a never-ending mass of cords is impossible.
If you're still holding out hope for a universal port from all those different tech brands, it's time to be realistic. To banish cluttered cables for a more organized space and way to start decluttering, multi-pin power adaptors claim to be the answer. And yet no one enjoys fiddling around trying to find the right one every time they want to charge a device.
Now imagine a world where those different charging pins were permanently fixed to the port inside your cell, laptop, games controller and such like, with one simple charging cord that magnetically attaches to every gadget. Well, that's exactly what the Statik 360 charge does, and it might just be the only charging cable you'll ever need.
Lilith is an expert at following news and trends across the world of interior design. She's committed to sharing articles that help readers find the best budget buys and hacks that make home life easier. For this piece, she takes a look at the universal charger that banishes the need for multiple cables to give you clutter-free drawers
Like many of us, the drawer of my bedside table has become the repository for every charging cable I own; cell, laptop, watch, portable speaker - you name it, it lives here. I can at least attest to the fact I know where all my cables are, but what fills me with shame is the state of the drawer in question. No matter how much time I spend diligently winding the wires around their power adaptors, they end up entwined in a mess of knots.
Not only do these webs of wires take up my entire drawer space, but they make finding a charger (usually prompted by a 'battery dangerously low' message) a frantic event of pulling seemingly endless cords out of my drawer. Determined to claim back my space and stay on top of my storage I've tried drawer dividers, multi-pin cables, wireless chargers, the lot. But nothing compared to this clever $30 Amazon buy - the Statik 360 magnetic charging cable (opens in new tab)- a universal cord that's banished my need for multiple chargers and helped me to tidy my entire life.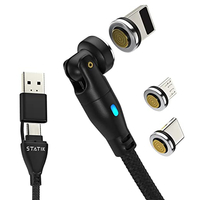 (opens in new tab)
Statik 360 magnetic charging cable, Amazon (opens in new tab)
Banish the need for multiple cables and declutter your drawers with this magnetic universal charger. Besides charging your device it also supports super fast 480MB/s data transfer rate, making it perfect for music streaming, listening to podcasts, and powering up your GPS navigation system. You'll never need to buy another charger again - this one cable fits all.
So how does it work? Well, the cable includes three rotating magnet heads to charge all your devices - the micro USB, the USB C, and the lightning connector. The idea is, you place the pin inside your device (where it can be left if you choose) and the nylon cable then magnetically connects to any of them whenever you need some power. No more desperately searching how to tidy cables when you can use the same on for all your tech.
If you have multiple devices that take the same pin, or you're worried about needing to charge multiple devices at the same time, you can buy bumper packs with extra pins and cables, also available from Amazon (opens in new tab).
Besides decluttering that notorious cable receptacle, this clever piece of kit also eliminates the risk of torn or turtlenecked cords that no longer work properly. We've all been there - a damaged plastic cable from continuously pulling your charger from your device, revealing the wiring underneath. To overcome this, the 360-rotating head of the Statik cable can be moved out of the way to avoid bending for prolonged periods, and it protects your power port from any damage caused by accidental pulls or trips. As I said, it really is the only charging cord you'll ever buy again.
For just $30, this is a gadget worth investing in, especially since you won't ever have to buy another charger. Honestly, you won't know how you've lived without one for so long.
Lilith Hudson is the Junior Writer on Livingetc, and an expert at decoding trends and reporting on them as they happen. Writing news articles for our digital platform, she's the go-to person for all the latest micro-trends, interior hacks, and color inspiration that you need in your home. She discovered a love for lifestyle journalism during her BA in English and Philosophy at the University of Nottingham where she spent more time writing for her student magazine than she did studying. Lilith now holds an MA in Magazine Journalism from City, University of London (a degree where she could combine both) and has previously worked at the Saturday Times Magazine, ES Magazine, DJ Mag and The Simple Things Magazine.