The 5 garden design mistakes people make - and how to avoid them
Our experts reveal the most common garden design mistakes and how to get your own design right from the get-go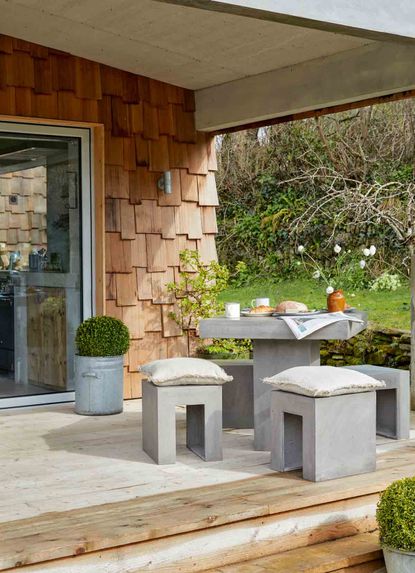 (Image credit: Future)
It's so easy to get things wrong by making basic garden design mistakes when planning your outdoor space. Before you start, always stand back and take an overview. Take a look at our guide to modern garden design ideas if you need design inspiration before you start.
One of the most important things is to link the garden with the style of the house and its interior. Think about flow and connecting the spaces. Over to the Inchbald School of Design's Andrew Duff: 'Treating the house and garden as two separate elements is one of the most common errors in garden design. You need to create a relationship by using the architecture of the house to influence the garden.'
Look at the bigger picture too by factoring in the climate and conditions where you live. Be realistic. Don't try to force plants into an environment where they can't thrive. 'If you see plants on holiday you like such as bougainvillea or stephanotis don't assume they will grow well in the UK climate,' says RHS gold winning garden designer Charlotte Rowe. 'Make sure you understand where particular plants thrive.' Hard landscaping also needs to be right for the location. Repurposed industrial concrete probably won't cut it for the garden of a Georgian town house.
Plants should take centre stage. 'Fundamentally gardens are about plants and as much as the 'accessories' have changed over the years the plants are still the stars,' says award winning garden designer Kate Gould. 'Refine a palette and do your research. A happy garden is a garden that has the right plant for the right place.'
Now read on to find out what the top 5 mistakes are...
Mistake 1: Trying to cram in too much
It's one of the most obvious garden design mistakes. We go minimal with our interiors but throw the kitchen sink at the garden. But the trick is to keep it simple – in all things. When it comes to materials, surfaces, colours and style, pare back.
'Don't try to fit everything in,' says garden designer Charlotte Rowe. 'People try to introduce too much into their gardens. Two hard landscaping materials or surfaces is enough. And be very careful using colour in your hardscaping, as you need to allow the colour of the planting to "sing" and not be fought with. Less is more.'
The same goes for plants too. For a garden to look and feel natural you need to think about planting a variety of different sized plants and arrange them in repeat patterns rather than adopting the 'one of everything' style of planting. Packing in plants may give you an instant garden but as they grow you will have to reposition or even remove them when your patch turns into a jungle.
Mistake 2: Aiming for perfection
Another common mistake is designing something perfect and expecting it to stay that way. When perfect planting and pristine surfaces start to demand constant maintenance to keep them true to your original scheme it can be overwhelming.
'When you consider that even the hardest materials have a degree of porosity and are continuously exposed to the weather then you realise that it's an impossible demand,' says garden designer Adolfo Harrison. 'A white rendered wall in this country will not remain white for long.'
Always ask what the expected lifespan of a material is and how it needs to be maintained. Even better, accept imperfection and design it in. 'We're always looking for materials that will age gracefully,' says Adolfo, 'so that the garden of tomorrow is even better than the garden of today.' Keep this in mind and plan for the long-term, creating a garden you can enjoy for years to come.
Mistake 3: Throwing everything out
Feel the urge to create a blank canvas by starting from scratch? You're not alone. People often assume they need to remove all existing shrubs and features, replacing them with something new and starting all over again.
Don't rush in. It can be tempting to get rid of established trees but they add maturity to a garden and can easily be incorporated into a new design. Likewise removing or hard pruning mature shrubs can expose a garden that previously felt secluded.
Often existing materials can be repurposed too. 'Even the most unattractive concrete patio can be broken up and turned into hardcore that can be laid down as a base for a new path,' says garden designer Lucy Conochie. 'If you're lucky enough to inherit something old and interesting like Yorkstone flagstones, try incorporating them into your new design.' Take advantage of the spaces between old flagstones and choose the right flowers to turn it into a free form planted patio.
Mistake 4: Not going large to create impact planting
Skinny planting beds bordering a lawn and a hotch potch of randomly sized containers will never cut it. Instead, a couple of modern raised beds are a great way to add height and interest to your garden. Think about what you hope to achieve and the types of plants you want in your planter before deciding on the size and specification.
'A common mistake is to undersize planters,' says garden designer and BBC's Your Garden Made Perfect favourite Tom Massey. 'If they're too small or too shallow the soil will dry out quickly and won't sustain the plants in them.' In terms of size, 300mm depth should be a minimum for smaller plants and shrubs. For larger plants or trees you would need 600mm or more. If you're planning to include mature trees or shrubs check rootball sizes to ensure they will fit.
'The other consideration is creating impact,' adds Tom. 'If planters are too small you won't be able to fit enough plants in them to achieve a rhythm and flow to the scheme. Choice of material is also important. Corten steel is good, as it rusts to an attractive deep orange brown.'
Mistake 5: Lack of a wow factor moment
So many people end up playing it safe. Keeping the rectangle of lawn, cutting down on planting in the hope of creating a low-maintenance design, leaving too much 'creative' space when you don't know what to fill it with. You really want a complete redesign but you end up keeping too many features to make any significant change.
Instead include something in your design that stops people in their tracks. When it comes to framing a view, it could be as simple as directing their gaze towards a stylish raised seating area, eye-catching architectural planting combination or fabulous piece of sculpture.
'We can all remember a moment in our past when, wandering through a landscape, we were stopped in our tracks by a piece of sculpture,' says garden designer John Wyer. 'That moment of surprise, then rapt attention and pondering. Sculpture in garden design is often overlooked, but is a unique form that interacts with both the viewer and the landscape.'
Whether you start with the design or the sculpture, this should be something very personal to you. In doing so, it is also likely to make the biggest impression on others. And this is what will give your garden design real standout appeal.
For easy ways to add statement design and practicality to your outside space, take a look at our guide to the best garden furniture and fuse form with function.
The Livingetc newsletter is your shortcut to the now and the next in home design. Subscribe today to receive a stunning free 200-page book of the best homes from around the world.
Lifestyle journalist Sarah Wilson has been writing about flowers, plants, and garden design and trends since 2015. Having already studied introductory garden and landscape design as well as a course in floristry she is currently adding to her list of qualifications with an RHS Level 2 course in the Principles of Plant Growth and Development. In addition to livingetc.com, she's also written for homesandgardens.com, gardeningetc.com, Modern Gardens and Country Homes & Interiors magazines.