6 of the best evergreen trees to stop your yard looking so bare during the winter months
Choose beautiful evergreen trees to fill gaps and add interest and it will give your winter yard (or balcony) a designer look so you won't miss last season's blooms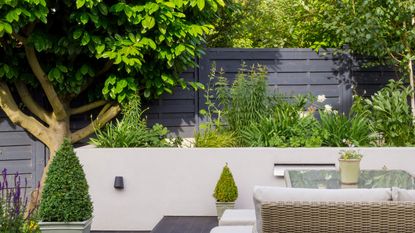 (Image credit: Mike Jarman/Alamy Stock Photo)
If your outdoor space is looking a little sparse after the non-stop excitement of summer blooms and fall color it's time to think about how best to fill the gaps. Choose easy evergreen trees that will add year-round structure and interest to your yard. They will provide a constant framework when other plants fade, which makes them especially important over winter.
Every garden (or roof garden) should include some evergreen trees as they will really earn their place in your design. Fall is the best time to plant them, as the soil is still warm and this will give the roots time to get established before the weather gets cold. The main thing to remember is that if the weather stays dry you will need to water your new trees regularly to get them off to the best start.
If you love the idea of evergreen trees but think your urban backyard is too small the good news is there are plenty of compact varieties to choose from that will be happy planted in containers for your courtyard, balcony, patio or porch.
We asked tree experts to nominate their favorite evergreen trees to stop your yard looking so bare and here is what they recommended.
1. 'Little Gem' Magnolia
USDA growing zone: 7-8
Height: 15-20 feet
Spread: 8-10ft
Botanical name: Magnolia grandiflora 'Little Gem'
'My favorite specimen evergreen tree is the 'Little Gem' Magnolia,' says Blake Watkins, a certified master arborist and operations partner at Monster Tree Service. 'It's a dwarf cultivar of the flowering magnolia native to the coastal Southeast. Like its larger relative, it has large, waxy evergreen leaves and big, fragrant white flowers. It can be grown in a variety of soil types and is commonly available in nurseries across the US. It prefers full sun but can tolerate some shade.'
The dark green glossy foliage of this compact evergreen is a big plus, as are the standout cup-shaped flowers, which can reach up to 8 inches across. The red, cone-like fruits in fall are another attraction. The narrowly columnar habit and modest height of Little Gem Magnolia, available from Fast Growing Trees, make it the perfect privacy tree for small backyards, especially when used as a specimen plant.
This low-maintenance tree is easy to care for too, and is drought tolerant once established. It will add an exotic look to your landscaping, makes a good screening choice and can be grown in a container too.
2. Dwarf Alberta Spruce
USDA growing zone: 3-6
Height: 6-8 feet
Spread: 7-10ft
Botanical name: Picea glauca 'Conica'
Gardeners in cold climates can still enjoy lush greenery all year with the Dwarf Alberta Spruce. Able to withstand temperatures as low as -40° to -50°F, this cold-hardy conifer can grow throughout most of the US, with the exception of the deep south, Arizona and the western coastline of California.
'With a pleasing conical shape and dense, fine-textured vibrant green foliage, the Dwarf Alberta Spruce will brighten your landscape during the dull winter months and provide a backdrop of greenery for other flowering plants during the growing season,' says Fern Berg, gardening expert and founder of TreeVitalize.
Minimal pruning is required to maintain the shape of this tree, and it's great for topiary in a low maintenance garden. It has moderate water requirements and will benefit from a balanced, slow-release fertilizer in early spring. The Dwarf Alberta Spruce is generally quite disease-resistant and low-maintenance but should be planted in well-drained soil as waterlogging can lead to root rot.
Great as a single specimen, planted as a pair to accentuate an entranceway or in a row to create a privacy screen, you can't go wrong with the lovely Dwarf Alberta Spruce.
3. Arborvitae 'Emerald Green'
USDA growing zone: 2-7
Height: 12-20 feet
Spread: 3-10ft
Botanical name: Thuja occidentalis
'Emerald Green Arborvitae is a popular choice for evergreen trees because of its vibrant green foliage and compact size,' says landscaping expert Mark Buskuhl, founder and CEO of Ninebird Properties in Dallas, Texas. 'It's a great option for small yards or to use as a privacy screen. This tree does well in full sun to partial shade and is tolerant of various soil types. It also requires minimal maintenance, making it ideal for those with a busy lifestyle.'
If you're looking for evergreen tree landscaping to stop your yard looking so bare, fill gaps and add interest, put this green beauty at the top of your tree wish-list. It will give your winter yard (or balcony) a real designer look so you won't even miss last season's blooms. Planting them in the fall is ideal too as it gives the roots time to establish before winter arrives. Add a couple of inches of protective mulch to the surface but be sure to keep it away from the stem of the tree.
Also known as 'American arborvitae' they are native to the eastern US. Tall and elegant with a narrow, pyramid shape this tree requires almost no care when used as a hedge or screen. Use a pair of them to make a great accent for doors and garden gates.
5. Eucalyptus 'Baby Blue'
USDA growing zone: 8-11
Height: 8-13 feet
Spread: 4-8 feet
Botanical name: Eucalyptus pulverulenta
'If you live in a warmer region and are looking for evergreen trees to stop your yard looking so bare consider Eucalyptus 'Baby Blue'. The standout feature of this tree is its aromatic silver-blue leaves, which are arranged around the stem in a geometrically pleasing manner,' says Fern Berg.
This slow-growing, compact evergreen is much more suitable for growing in small backyards than many other eucalyptus trees, which can reach great heights. The intense silver-blue foliage means it's much in demand for flower arranging too.
It will thrive in a sunny position in your yard, and is relatively drought-tolerant and low-maintenance once established. 'Baby Blue' will flower in late winter through to spring with fairly inconspicuous creamy-white flowers, and will benefit from a light pruning after flowering to encourage new growth,' says Fern.
Plant a single specimen tree and enjoy the fresh, menthol-like fragrance and eye-catching foliage of the 'Baby Blue' all year round.
6. Dwarf Hinoki cypress
USDA growing zone: 4-8
Height: 6-8 feet
Spread: 5-6 feet
Botanical name: Chamaecyparis obtusa 'Nana Gracilis'
'Dwarf Hinoki cypress is a great choice if you're looking for evergreen trees to stop your yard looking so bare,' says master gardener Janet Loughrey of Garden Design. 'It produces layered branching with dark green needles that add texture and depth to beds and borders.
'This slow growing evergreen conifer is particularly suitable for smaller spaces and urban yards. Its elegant look makes it a popular choice for Zen landscapes and mixed borders. Dwarf Hinoki cypress ('Hinoki' means 'fire tree' in Japanese) is hardy in most growing zones, and is virtually maintenance-free.'
The dense dark-green fan-shaped foliage forms twisting, tiered layers that also work well in small-scale plantings such as container gardening. It's a great choice for those of you who don't like to prune too.
There are also cultivars available with golden foliage such as 'Nana Lutea' and 'Nana Aurea' if you prefer lighter foliage.
The Livingetc newsletter is your shortcut to the now and the next in home design. Subscribe today to receive a stunning free 200-page book of the best homes from around the world.
Lifestyle journalist Sarah Wilson has been writing about flowers, plants, and garden design and trends since 2015. Having already studied introductory garden and landscape design as well as a course in floristry she is currently adding to her list of qualifications with an RHS Level 2 course in the Principles of Plant Growth and Development. In addition to livingetc.com, she's also written for homesandgardens.com, gardeningetc.com, Modern Gardens and Country Homes & Interiors magazines.