There's a new couch style that makes living rooms more joyful – it's the one time I'd recommend investing in a trend
Embrace this patterned couch trend for a living room that's both effortlessly on-trend and sure to be timeless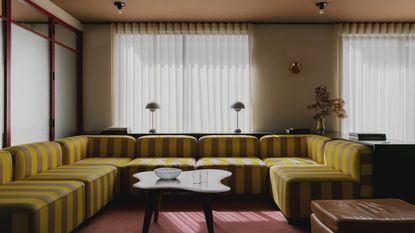 (Image credit: daytrip.studio)
With over eight million tags on Instagram, #stripes are trending ahead of summer in both interiors and fashion alike. I for one have been enjoying wide stripe upholstery since summer 2021, when Buchanan Studio swept Instagram with the launch of the Studio Chair with its iconic thick vertical candy stripes. Originally, only the chair was available in three striped colorways - Ruby, Rose, and Indigo, but the collection has evolved to include an ottoman and a cozy sofa.
The look has spread from Buchanan, with many more accessible brands replicating the look with chunky stripes. It can be a risk to take such a big swing with an investment piece like a couch, but it's fair to say that stripes are a timeless enough pattern that these striped sofas will be adaptable for years to come.
I speak to designers to find out why the wide colorful stripe interior design trend has such an allure.
Why are stripe couches trending?
So why is everyone loving the striped look? There is something joyous about thick, cabana stripes, and as summer looms, we're looking for playful colors, bright shades and that dramatic contrast that comes with a simple stripe motif. Deckchair stripes for backyards are a popular look, but we encourage you to take the stripe inside, bring an element of fun to your living room and go for a big-ticket item upholstered in the motif.
The popularity of stripes is also linked to the fashion world, says Marie Goodwin, a head designer at a luxury fabric specialist. 'There's no slowing down for stripes when it comes to interiors for SS23. We are seeing a huge focus on vintage styling and pattern work in particular at the moment, with a variety of stripe and floral motifs displayed across fabrics, soft furnishings, and upholstery pieces.
'London Fashion Week proved that stripes are just as influential in fashion design too, with menswear collections, in particular, incorporating the pattern.'
It's also a nod to nostalgia that we like to see in our homes. In this office space, the design was an hommage to Hollywood glamor and Californian clubhouses, explains Iwan Halstead of daytrip.studio. 'The vibrant mix of furniture and joinery take their cues from different eras. There are eclectic influences, key Mid-century pieces along with seventies vintage finds. There is an inherent cinematic undertone that runs throughout, a nostalgic nod to the film industry, yet on closer examination, there is contemporary design and details throughout.'
How to use stripes in a design-forward way
Stripes can be cleverly used to give the illusion of more space and help a small living room look bigger. With vertical stripes, the eye is drawn to the ceiling and creates an optical illusion that can help a room feel taller. Taking a big ticket item and reupholstering in stripes is a clever way to use the illusion that comes with this print to your advantage.
While wide stripes are the go-to, using a variety of stripe widths and different scales can help you use the pattern throughout a room. Pinstripe cushions on a wide stripe sofa, for example, are a nice way to mix and match.
When it comes to other patterns that go with stripes, florals and stripes used together can create a country feel. To achieve the look, Marie advises offsetting a statement piece like a striped sofa against curtains finished in a trailing floral design. 'Opt for designs in a similar palette and tone to ensure that your scheme remains balanced. This allows for an inviting space that doesn't feel too overwhelming.'
What color combinations are popular?
I love the candy stripe look, and red and white is a classic that brings a bit of candy stripe fun to your living room - just be sure to style it right to avoid anything too festive. I also like black and white for something a bit more moody and dramatic.
It's not just mixed with white either, and the candy stripe is making way for other combinations. This orange and brown manifestation is from Dutch interior brand, HKLiving. This taps into the wider 70s nostalgia aesthetic that homeowners are looking to create. 'The print and color combination is inspired by retro vibes and the 1970s - that was our inspiration for this 2023 collection,' says Maxime Taconis from HKLiving.
4 striped couches to buy now
Livingetc content editor and design expert
Oonagh is a content editor at Livingetc.com. Previously, she worked on a London property title, producing long-read interiors features, style pages and conducting interviews with a range of famous faces from the UK interiors scene, from Kit Kemp to Robert Kime. In doing so, she has developed a keen interest in London's historical architecture and the city's distinct tastemakers paving the way in the world of interiors.