It's official – stripes are the biggest interiors trend right now and print-clashing is the best way to elevate them
Don't be afraid of a little mix-and-match! Stripes work well when combined with these patterns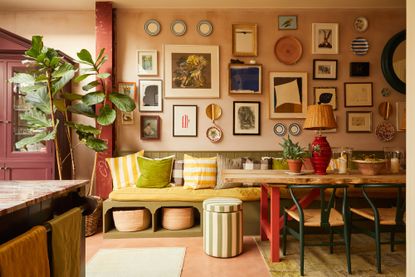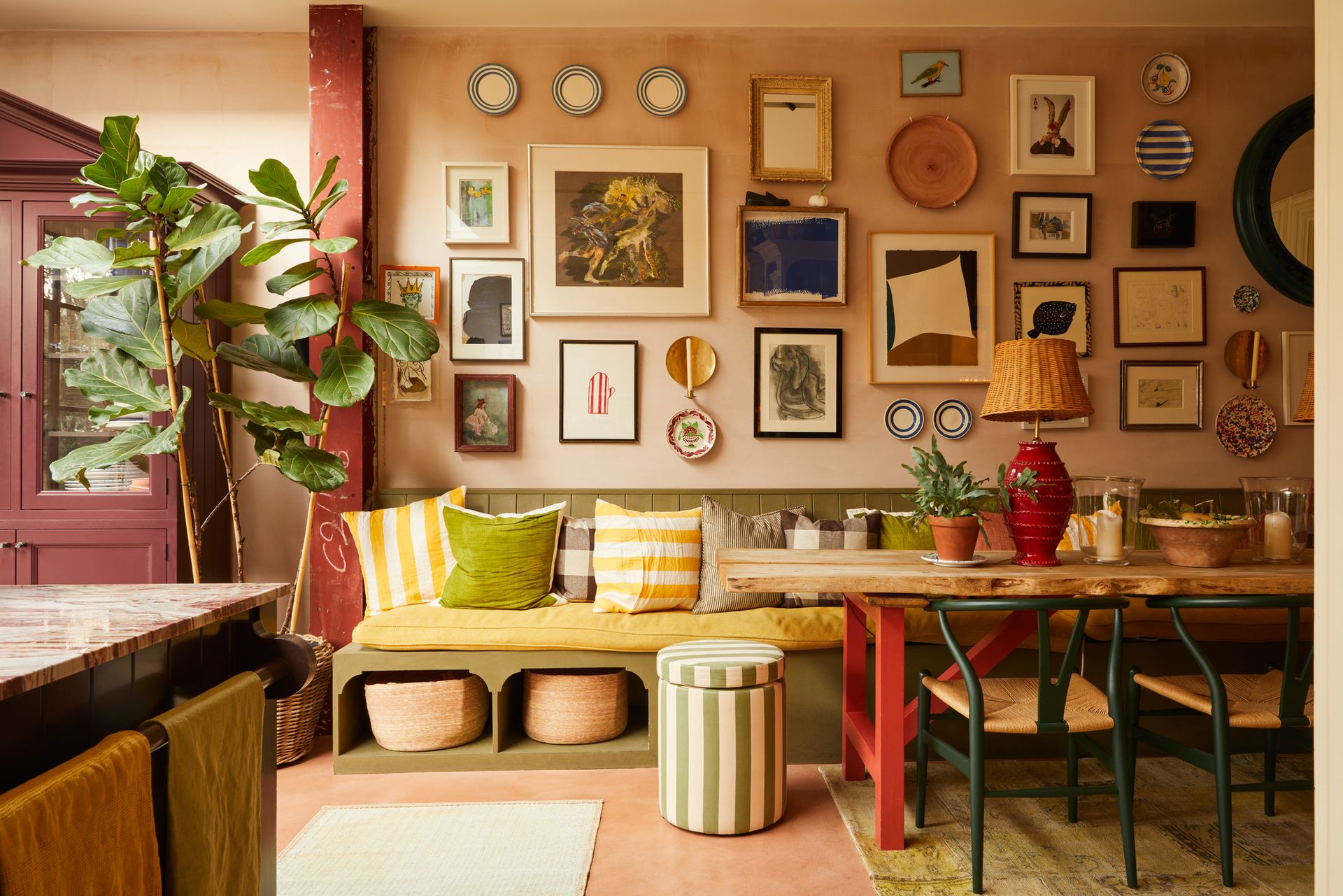 (Image credit: Alicia Waite. Design Sarah Corbett-Winder)
The Livingetc Newsletter
For style leaders and design lovers.
Thank you for signing up to LivingEtc. You will receive a verification email shortly.
There was a problem. Please refresh the page and try again.
I adore the trend for stripes mixed with a bold and contrasting pattern. It's playful, full of personality, and can help you create a touch of wow-factor. More timid interior decorators might be aware of the clashing potential of mix-and-matching stripes with pattern, looking instead to play it safe, but daring to be bold in your interior design is the best way to express personality.
Really, almost all patterns work with stripes. It's not about the pattern itself, but learning to look closely at the color combination and the scaling to make sure the stripes and pattern work proportionately to create a seamless look. 'Patterns and stripes work well together by using mixed scales, colors, and materials emphasizing the high contrasts,' says Sydney-based stylist, Lucy Montgomery.
But mixing your stripes and patterns can be somewhat of a balancing act, and should be approached with caution. Getting the combination wrong can create a look that is jarring. To make sure you set the scene perfectly, we've spoken to the designers to find out exactly how to emulate this modern interior design trend.
Oonagh is an interiors writer and editor, and expert at keeping up with trends. She's also a keen online shopper, with shopping baskets full of decor must-haves that reflect wider trends from the world of interior design. For this story, she's spoken to the designers to find out exactly how to balance stripes and pattern in the most stylish way.
How to approach mixing pattern and stripe
So how best to approach mixing stripes with patterns? It's a lot more complicated than simply throwing it all together and hoping for the best.
Firstly, it's about color theory. 'Make sure the color palette works well together,' advises stylist and keen interior renovator, Sarah Corbett-Winder. If your pattern and stripe combinations are complimentary and sit on the opposing side of the color wheel, even if the patterns don't traditionally match, your colors will, which will help achieve a harmonious scheme. If you're going for a complex pattern, you might want to dial down the number of colors used - try three colors at most to avoid the final look being too visually stimulating - the 60-30-10 rule is a good place to start.
You might want to try using the same color family to make it more of a seamless finish. Dylan O'Shea knows a thing or two about color and pattern, with designs from his artisan textile brand A Rum Fellow making him a mastermind in mixing pattern and color. 'Use similar tones of color to form a relationship when mixing different patterns such as stripes and geometrics,' he advises.
Another way is to neutralize the background as per the example styled by Lucy Montgomery (above), allowing the pattern to come to the fore without it being too visually jarring because of the neutral color scheme. 'Pulling back in other elements of the design and using solid tones help showcase the patterns and allow them to work together,' says Lucy.
Consider scale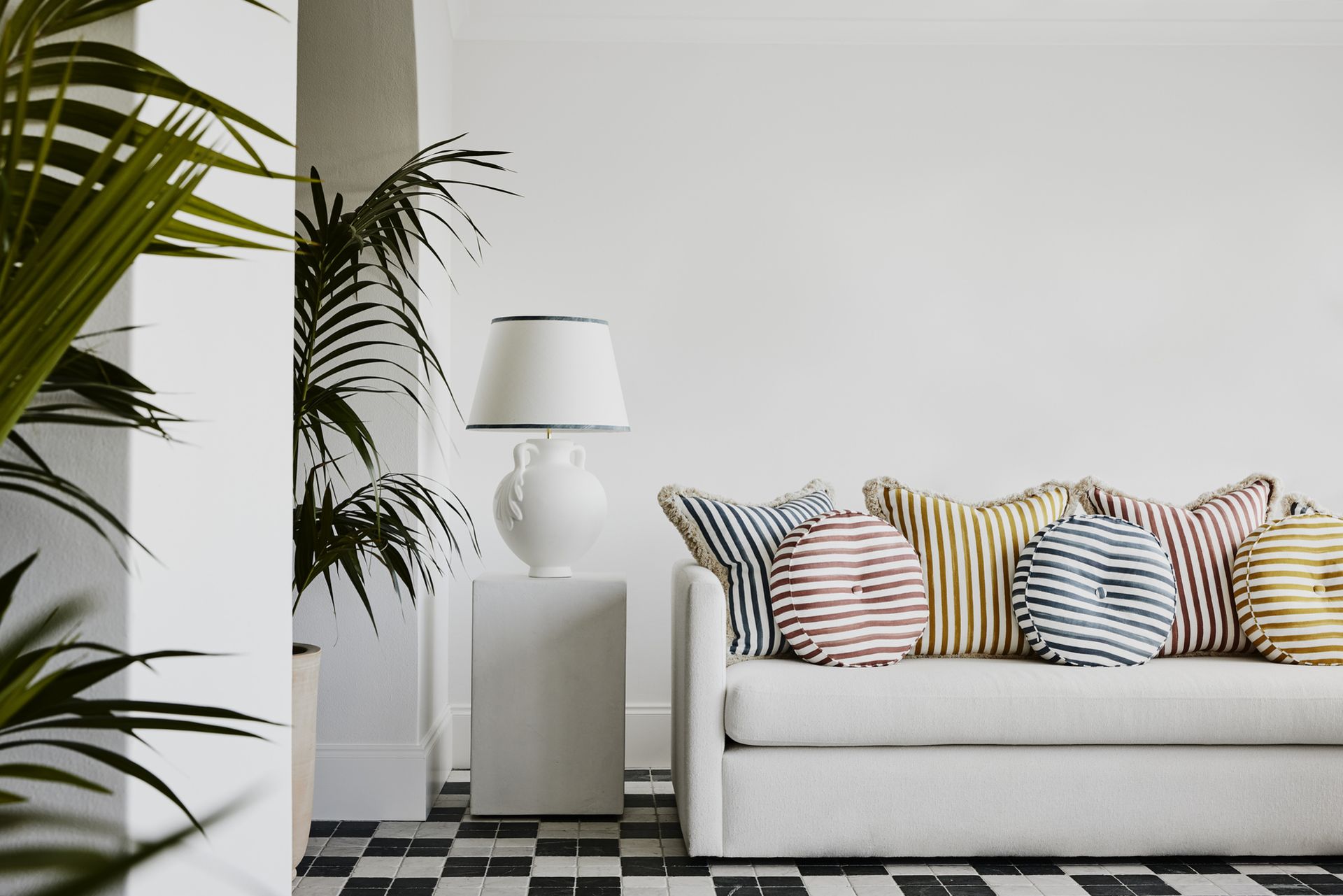 Secondly, it's a matter of expertly mixing the scale of the pattern. You might want to choose a large pattern, a medium pattern, and a small pattern so as not to overwhelm the space.
'The trick when mixing pattern on patterns such as stripes with florals and geometrics is making sure to use different scales – something large, medium, and small and to try to have a common color thread carried throughout,' says Dara Caponigro, creative director, at the fabric and wallpaper studio, Schumacher.
Create contrast with varying textures
By using different materials and textures, the two patterns won't be competing for attention, helping to make your stripes less of a statement and more of a neutral, with the pattern taking center stage. Lauren Sullivan of Well x Design. 'Stripes are classic, versatile, and timeless—and almost serve as a "neutral" pattern. Always remember to layer different textures.'
What patterns work well with stripes?
1. Florals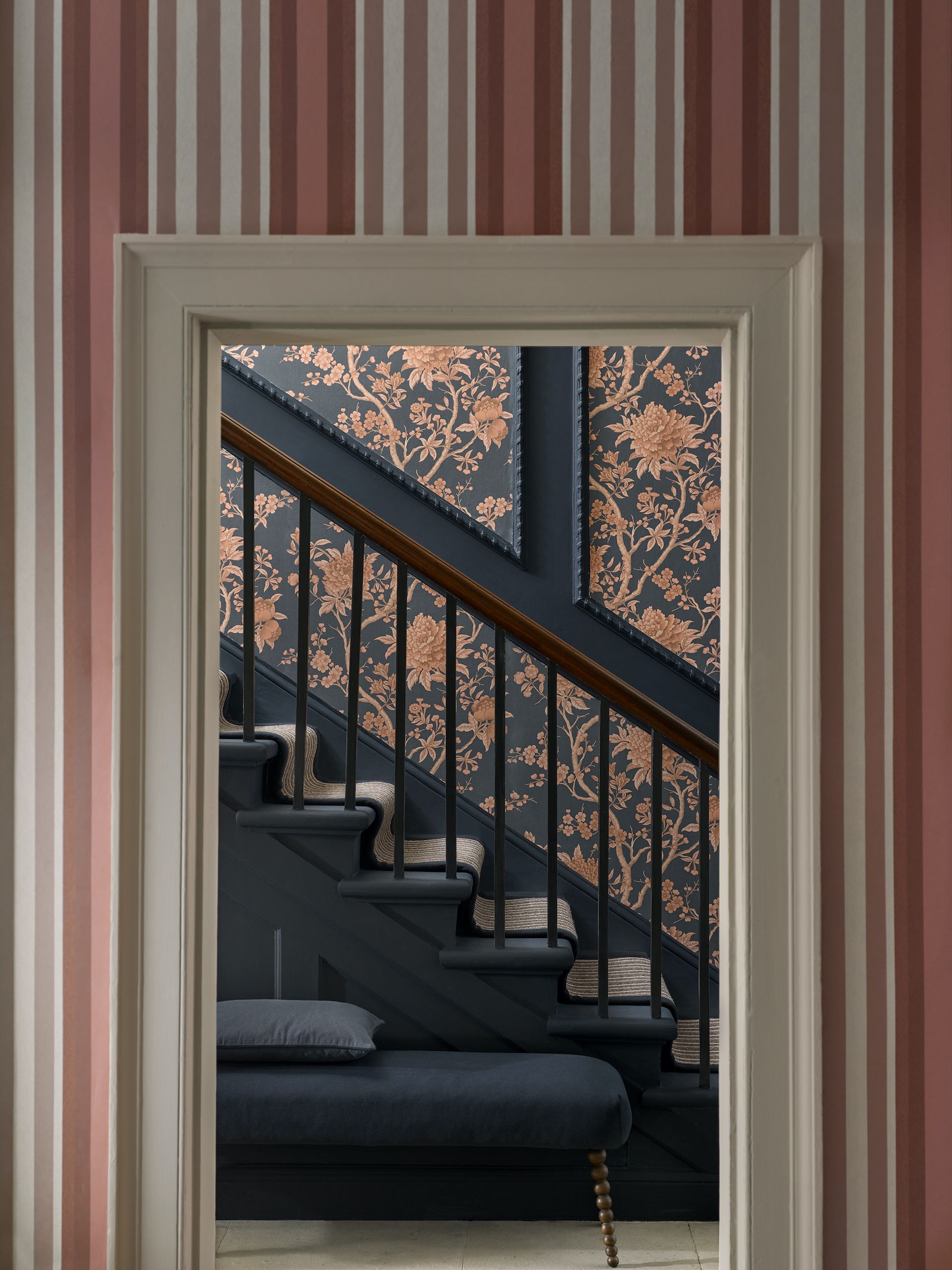 Tread carefully when using floral pattern. All too often, too much floral used as wallpaper and upholstered fabric can look traditional and fusty. Stripes can help dial down this style and bring a contemporary feel to florals, like this staircase example from Liberty Fabrics.
'On the stairway, the rich lacquer red stripe is paired with a very grown-up classic design Porcelain Trail – a tonal rich floral bloom that has a very sophisticated feeling,' says Genevieve Bennett, head of design at Liberty Fabric.
'In the same way that plain fabrics and solid paint colors, the stripes can frame and anchor a scheme – giving it a calmness and modernity.'
'When pairing patterns with stripes, make sure the pattern is more abstract like florals,' adds interior designer Bethany Adams. 'A bold stripe can really ground a space and that's why I love a striped rug. Pull the same colors into an abstract or floral pattern and you have a can't-fail combination. Just be sure to use both the patterns and stripes as accents to other solid-colored pieces or the whole thing can start to feel topsy-turvy!'
2. Try stripes with geometric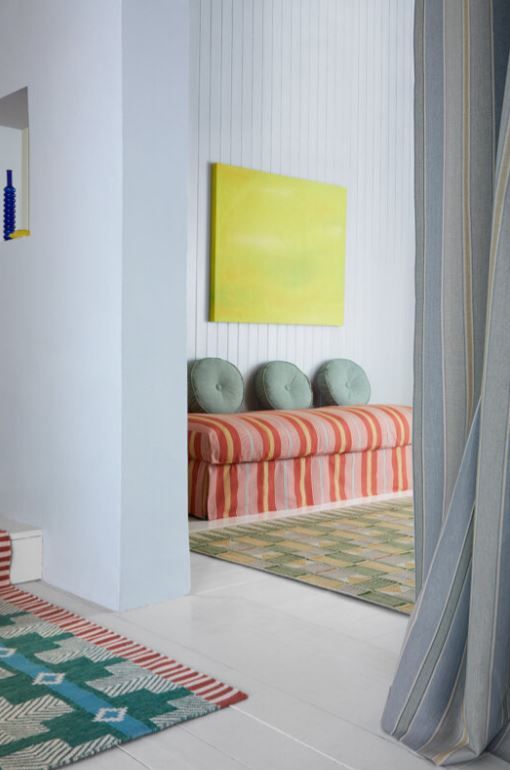 Geometric prints mixed with stripe is another way to bring two patterns into one scheme. It is a great combination that can look striking and modern and almost mimics what you might find on a patterned Kilim rug. It's pattern-on-pattern, but with structure and clean lines that stops it from being too overbearing. Just remember to balance color, scale and texture for a cohesive finish to this pattern clash.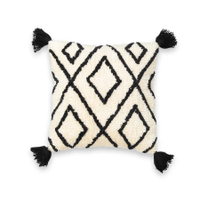 Cali fluffy geometric cotton cushion
This geometric-style cushion cover has a monochrome diamond print and is finished with corner tassels and a fluffy feel. This piece would look great on a sofa upholstered in thick stripes.
3. Stripe on stripe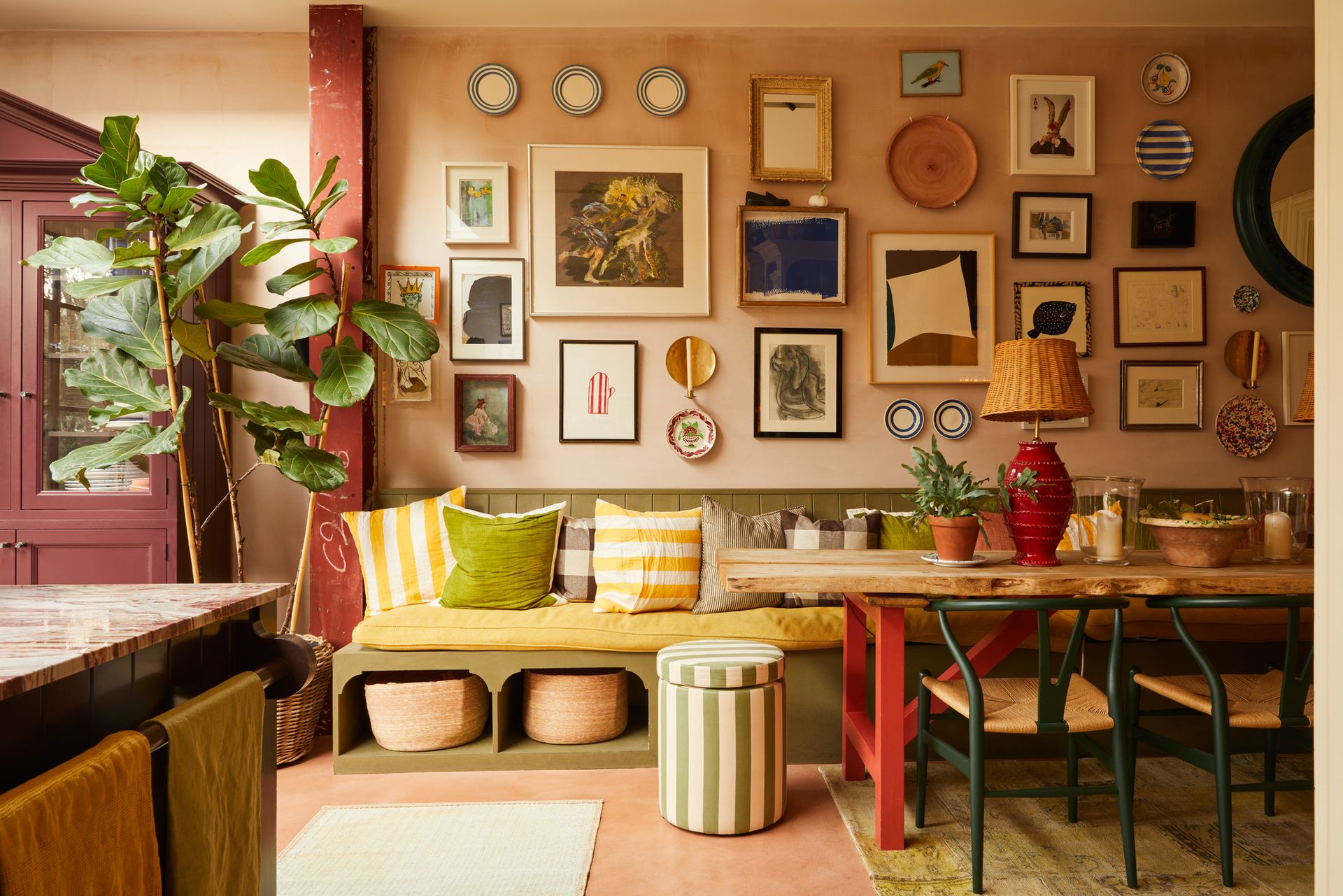 A nice way of creating harmony is by going stripe on stripe, and thick, deckchair stripe patterns are really in at the moment. I love Buchanan Studio's bold, wide striped sofas, and paired with thinner pin stripes, some stripes horizontal and some vertical, the effect can be beautifully rich and textured. 'When mixing stripes I think the key is to mix with more stripes,' says Sarah. 'The more stripes you add the better. Stripes are a forever trend that you won't get bored of.'
This design from Sarah has striped details throughout the room, which keeps it patterned but not too visually cluttering where florals or polka dots might make for a cluttered feel.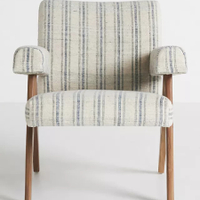 For style leaders and design lovers.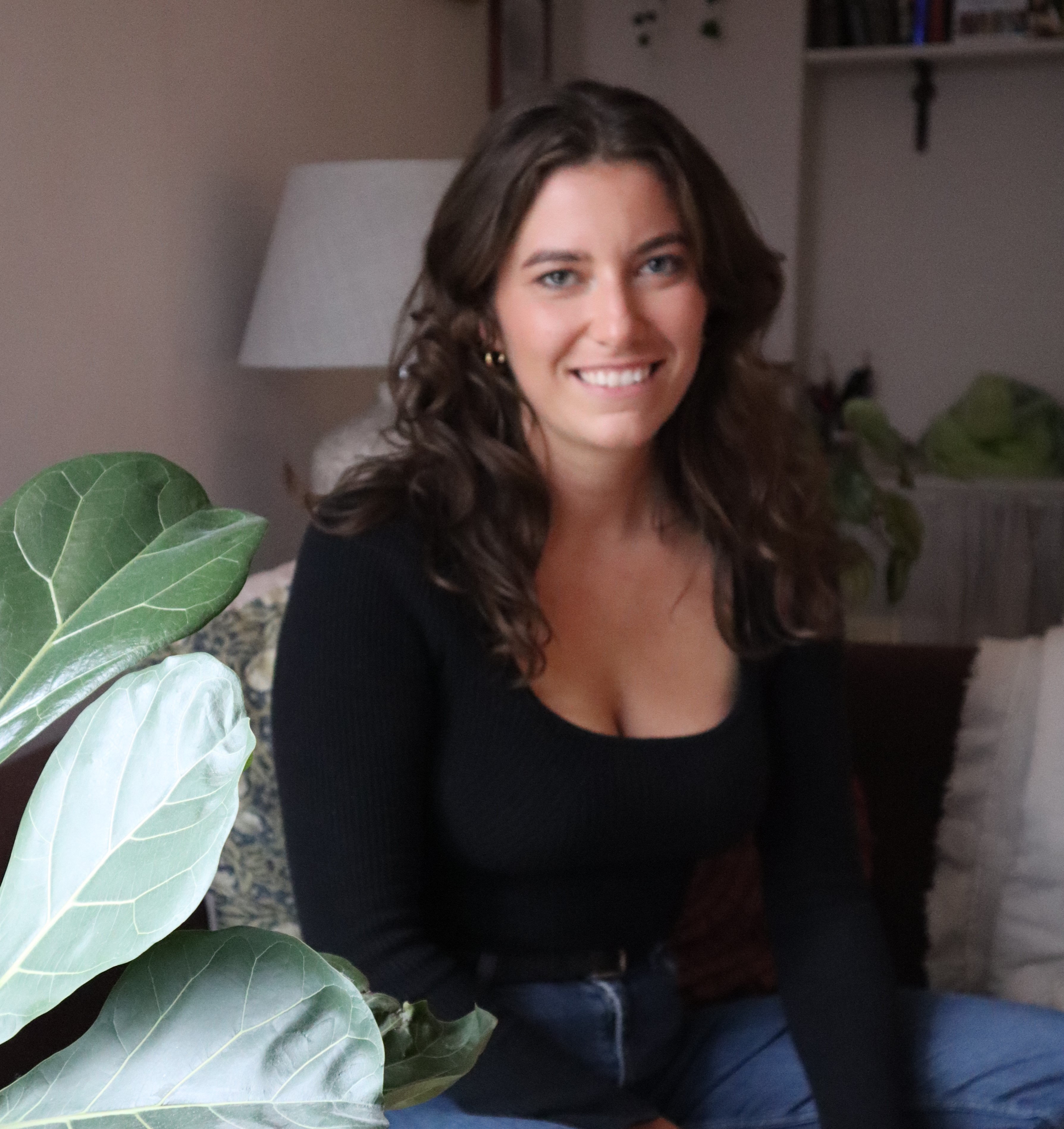 Livingetc content editor and design expert
Oonagh is a content editor at Livingetc.com. Previously, she worked on a London property title, producing long-read interiors features, style pages and conducting interviews with a range of famous faces from the UK interiors scene, from Kit Kemp to Robert Kime. In doing so, she has developed a keen interest in London's historical architecture and the city's distinct tastemakers paving the way in the world of interiors.