This unexpected kitchen trend for 2024 has surprised us into liking it (we're blaming it on The Bear)
Beyond just countertops and cabinets, cool-toned metals like stainless steel remain a designer-approved material for every inch of sleek kitchens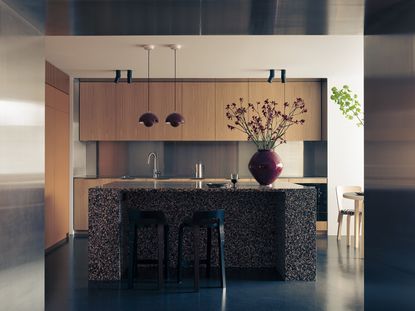 (Image credit: Felix Forest. Design by Studio Prineas. Styling by Atelier Lab )
The Livingetc Newsletter
For style leaders and design lovers.
Thank you for signing up to LivingEtc. You will receive a verification email shortly.
There was a problem. Please refresh the page and try again.
As far as most modern kitchen designs go, metal doesn't exactly make the cut – cooking spaces have long embraced the shiny and easy-to-clean material (most notably stainless steel) across appliances, countertops, and cabinetry. But today's designers are flexing cool-toned metal a touch further, applying it across more architectural features, incorporating even more sophisticated finishes, and highlighting its ability to amplify natural light.
Part of this has to be down the success of the TV show The Bear. In it, chefs sweat in a stainless steel (commercial) kitchen, light glints beguilingly off the surfaces. It looks....good. And there are practical reasons metals like stainless steel work well in modern kitchens: they can take the heat, literally, and are easy to clean. While scratches and patina are part of their charm, they can achieve striking clean lines, and a growing interest in this hardworking material goes beyond just durability.
'In the past, they had this futuristic, almost sci-fi look, but today, manufacturers have introduced new surface finishes and combined them with warmer materials, giving them a more modern and inviting feel,' says Andrea Harbeck, founder of Germany's .PEAM, who made brushed stainless steel cabinetry the centerpiece of a recent kitchen project.
New textures and softer finishes upend the cold, sometimes sterile nature of conventional sheet metal, allowing designers to add gentle dimension to projects while also brightening the cooking area by reflecting light, an especially useful trick for tiny kitchens. And at the same time, designers are applying the kitchen trend for metallic accents across more architectural features than the everyday counters – we've even seen it applied across ceilings and floors.
'Today, steel is detailed in a more architectural manner, offering a broader range of application options and enabling it to serve multiple functions,' notes Eva-Marie Prineas, Principal of Sydney' Studio Prineas, who recently used steel across countertops but also as a sleek trim for kitchen cabinetry and even an edgy kitchen doorway.
And while cool metallics are having a moment well beyond the kitchen, it seems no area in the cooking space is off-limits for steely accents. Whether to bring a streak of minimalism or a ray of light into the heart of the home, here are a few ways metals are upping the ante in home kitchens.
1. Take steel to the ceiling
Metal is practical for kitchen countertops thanks to its durability. But in the apartment above, designers chose one particular metallic accent for its beauty: a mirrored aluminum system shines across the ceiling. It's an aesthetic choice that happens to almost double the perception of space while bouncing natural light throughout the home. 'Although conventionally reserved for commercial spaces, we recognised its potential within this apartment,' notes Rodney Eggleston, Director and Principal Architect of Melbourne's March Studio. 'A helpful hint: donning white gloves during installation prevents unsightly fingerprints from marring the surface.'
The kitchen wears plenty of other metals throughout, too – even a few golden accents pop throughout the space for good measure alongside stainless steel features. "Metal aligns perfectly with our preference for robust surfaces," adds Rodney, noting aluminum and stainless steel as go-to kitchen materials for their studio. "Furthermore, our affinity for industrial architecture further fuels this choice. Take a stroll through any commercial kitchen, and you'll find stainless steel as the predominant material, a testament to its enduring appeal in such settings."
2. Pair steel with natural materials
Your first association with stainless steel might be of utilitarian spaces or industrial interior design – anything from professional kitchens to industrial facilities and laboratories – that require easy-to-clean surfaces. But for Guillaume Fantin, the co-founder of Paris-based studio Le Cann, stainless steel is more than just practical. "This material is no longer confined to technical spaces, it is now widely used in noble rooms as a decorative element," says Guillaume.
For Le Cann's latest project, an apartment dominated by natural finishes like clay paint and sisal, the designer needed another element that could cut through the soft palette. "We therefore designed and had this stainless steel kitchen insert made to measure, which plays on the codes of the professional kitchen or the lab but also brings sophistication, depth and vibrancy to the place," explains Guillaume, noting the beautiful contrast it creates in the space. "It is a strong material that visually refreshes spaces and reinforces the surrounding space by reflecting it subtly."
3. Flash steel on the backsplash
A little metal can go a long way, and some designers opt for a one-two-punch: a stainless steel countertop and backsplash. In the Milan apartment above, the steely combo slices through floor-to-ceiling cabinetry like a cool streak in this minimalist kitchen.
'Architecturally speaking we needed a reflecting material to interrupt the light blue monolith,' says Lucrezia Calvi, founder of interior architecture firm LCatelier. The contrasting steel element, according to Lucrezia, helps emphasize the geometry and height of the sky blue cabinetry – all while creating a sterile counter for cooking.
n this design, stainless steel offers contrast while also a vibe for the cool and calming nature of the blue kitchen space. "Steel indeed has a feeling of a cold and clean and pure environment," explains Lucrezia. "Though, it isn't always that feeling that it gives once utilized inside a complete space."
4. Opt for affordable cladding
Steel certainly affords a certain amount of worthy visual weight. And while the kitchen above centers on a 13 foot steel counter, there's a designer-approved way to pull off a similar look with less. 'A significantly more cost-effective option is front cladding with stainless steel foils,' suggests Andrea Harbeck, founder of Germany's .PEAM, noting that foils are often only a few millimeters thick and are easily applied to cabinet doors. 'The advantage is that they are lighter in weight and give a more airy appearance.'
For Andrea, pulling off the metallic focal point (the kitchen is in an open plan space) works because of the surrounding soft palette. "For us, it's essential to incorporate plenty of wood in other elements of the space, such as wall cabinets or kitchen flooring," she says. "The current trend is all about creating a relaxed atmosphere at home, with a preference for natural materials, moving away from a cold and overly polished feel."
5. Maximize your light
One brilliant reason to use metallics? Especially if you're renovating a small kitchen where every square foot counts, materials like stainless steel can help maximize light. So was the case in the galley kitchen above, where owners opted to install a lustrous design by Copenhagen's Reform. 'REFLECT is our newest launch of metal kitchens, and because of the shiny stainless steel the natural light is reflected (hint, name of the kitchen), which makes it very beautiful,' says Michael Andersen, the company's co-founder and CSO.
It's just one of several metallic kitchen designs the company has produced, and the concepts go beyond aesthetics – as they hold up better to wear and tear, they're built to last. "We believe there's a growing interest in metal as it is long-lasting and more sustainable in the sense that it can last for many years: so a very modern, contemporary material that speaks to the modern world and fulfills a wish from many customers," adds Michael.
6. Add a brushed finish
Mixing up the sometimes sterile look of metal sheets, many designers are opting for 'brushed' surfaces that are slightly more soothing. 'Brushed finishes are really forgiving and sealing them in this way allows for an even finish without a lot of marks from olive-oil soaked fingerprints,' says Loren Daye of New York's studio LOVEISENOUGH. 'A brushed finish also has a dusty, ghosty quality to it that translates as 'soft' to me and I believe it manifests beautifully in many metals – aluminum, steel, brass, copper. Cold to the touch but warm to the eye!'
And while metals stainless steel can achieve preternaturally sharp lines, Loren's studio chose to smooth over the metallic doors in the cabinetry above. 'We kept corners 'soft' by using the rounded edges on the drawers,' she explains. 'As a studio, we often talk about one thing being a 'foil' to another: round shapes to soften steel, utility hardware to balance a deeply custom cabinet, a loud marble to compensate for a quiet monochromatic grey.'
7. Cover doorframes in steel, too
Metal makes sense on high-touch surfaces throughout modern kitchens. But some designers are broadening the scope, applying it across architectural features that are beyond reach. In this layered kitchen, countertops are just the beginning: architects outlined terracotta-toned cabinetry with a metallic border, and stainless steel frames a contemporary doorway nearby. 'We carried the stainless steel surface through to line the portal between kitchen and living, creating a sense of depth while reflecting and bouncing natural light throughout the apartment,' says Eva-Marie Prineas, Principal of Australia's Studio Prineas.
Designers picked stainless steel, in part, because cooking is both a priority and passion for their clients; the hardworking kitchen surface can actually get better the more it's used, according to Eva-Marie. "Stainless steel will lightly scratch and patina with age and with use," she says. "We see this is a key part of the beauty of the finish and encourage those using it in their home to embrace these changes with open arms."
8. Dimple the stainless steel
Perhaps a result of sharpening our collective culinary skills during the pandemic, home cooks are behaving more like pros in the kitchen – and some recent designs reflect their curiosity. "The kitchen is definitely becoming more of a site for experimentation with materials traditionally used in hospitality settings taking centre stage at home," suggests Alex Holloway, co-founder of London's Holloway Li. In the kitchen above – the designer's own – Alex used circle brushed stainless steel to create a nostalgic space inspired by childhood outings to local chippies and kebab shops.
And while contemporary kitchen tend to stress clean, straight lines, Alex chose a more varied approach with subtle curves and textures. "A takeaway lesson would be to lean into the unexpected and to embrace texture to elevate visual interest," recommends Alex. "The dimpled quality of the circle brushed stainless steel gave our kitchen that added dimension."
9. Use metal to shield wooden joinery
If your dream cooking space includes wooden kitchen cabinet ideas, incorporating metal can help protect your soft wooden joinery. In the East London kitchen above, DGN Studio flexed a material-first palette. "The client had generally wanted warm finishes to the home such as timber," says Geraldine Ng, co-founder of London's DGN Studio. "The kitchen is essentially a beautifully assembled piece of timber joinery – all solid ash – with the steel as a thin shell protecting this piece of furniture below."
This worked, in part, because steel is a rather versatile material. "Thicker pieces can be used in plate form, or thinner steel sheets can be wrapped around other materials," notes Geraldine of the wooden joinery. "It can be made in large lengths and sinks – and sometimes hobs – can be welded into the countertop meaning fewer joins to get [dirt, food, or liquids] stuck in!"
For style leaders and design lovers.
Keith Flanagan is a New York based journalist specialising in design, food and travel. He has been an editor at Time Out New York, and has written for such publications as Architectural Digest, Conde Nast Traveller, Food 52 and USA Today. He regularly contributes to Livingetc, reporting on design trends and offering insight from the biggest names in the US. His intelligent approach to interiors also sees him as an expert in explaining the different disciplines in design.