This traditional detail is the last trend we thought we'd see return in 2023 – but we're surprisingly on board
We're seeing this design element, often seen in more traditional schemes, given a new lease of life by contemporary designers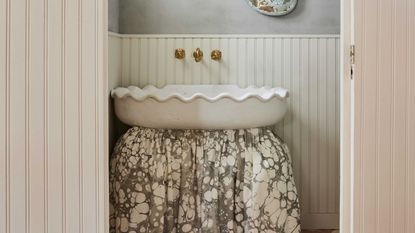 (Image credit: Nicole Franzen. Design: The 1818 Collective)
The Livingetc Newsletter
For style leaders and design lovers.
Thank you for signing up to LivingEtc. You will receive a verification email shortly.
There was a problem. Please refresh the page and try again.
If there's one idea I didn't think I'd be writing about for Livingetc, it's the sink skirt. Lining a bathroom or kitchen sink with a bustle of fabric has never really appealed to my modern design sensibilities before, but it's an idea I've started to see emerging in more contemporary spaces as I scroll Instagram and portfolios of interior designers.
If you watched the home tour of Stranger Things star David Harbour and singer Lily Allen, you'll also have seen their incredible curtain-lined kitchen island created by Plain English for their eccentric New York home, beautifully designed by interior designer Billy Cotton. It's a design that highlights the sink skirts traditional leanings, while also bringing a fun and playfulness that's the secret to modern interior design trends.
'Sink skirts are a great way of softening a room and adding character, especially when used in more functional spaces such as utility rooms or pantries,' Will Eaves, International Design Coordinator at British Standard by Plain English, tells us. 'Playing around with color and pattern allows you to instantly inject personality into the space - creating a playful yet practical room.'
But, could a sink skirt really have a place in a modern home? We asked the experts how they'd approach giving this classic design detail a modern twist.
Luke is a design writer and award-winning blogger with a speciality in luxury interiors. We asked him to look into the re-emerging trend for sink skirts through the lens of modern interiors, here's what he found out.
How do I make a sink skirt feel relevant for 2023?
They say that you can never really finish the internet, but when it comes to finding examples of cool, modern sink skirts, you'll find that you exhaust your searches quite quickly online. The traditional sink skirt is a more period-inspired design detail, often in a more classical-leaning textile with fussy pinch pleats. However, by shifting some of these details to incorporate more contemporary kitchen and bathroom trends, you can completely change the outlook of sink skirts.
'Often considered as traditional or quaint, fabric skirts are something we are seeing more and more in contemporary interiors, and they are anything but twee,' says Louisa Tratalos, founder of textile brand Colours of Arley. 'Bringing a touch of cottage chic to modern living, fabric skirts are a great way to introduce a splash of pattern in a space that often lacks decorative details – and color.'
This example of a sink skirt, utilizing Colours of Arley textiles, draws on the trend for wide deckchair stripes as a way to connect the tradition of this design element with a modern reference. 'Generally, thinner stripes tend to give a more classic look, so for a contemporary update opt for a bold, thick stripe in a vibrant colorway to add a fresh new take on an old-time trend,' Louisa suggests. 'Choosing a vibrant color for a sink skirt can offset the natural materials and neutral tones that are common in kitchens, adding an element of playfulness to the overall aesthetic.'
Lucy Sear-Barlow, interior designer and founder of Barlow & Barlow agrees: 'Adding a sink skirt is a great opportunity to incorporate some fun prints into your bathroom. Adding color and texture can really make a smaller space sing, plus it's a great way to conceal a storage space.'
However, if you want to use a sink skirt in a more modern, minimalist space, there are options, too. 'Floral or patterned sink skirts are typically associated with more traditional interiors,' says Will from British Standard by Plain English. 'When hoping to achieve a more contemporary look, we would recommend pairing with fabrics that are simple and pared back - linen is a great option for this as it softens the space and adds a textured contrast to the wooden cupboards.'
An alternative way to update a sink skirt is to look at the type of curtain you choose. More traditional styles, like pinch pleated curtains, will automatically date the look, where simpler header types like grommet or rod pocket curtains will create a more modern aesthetic.
Alternatively, you could try a style that's a little more unusual to create a design feature with a wow-factor, like in this tiny powder room created by The 1818 Collective.
'This sweet tiny powder room deserved something fun,' Kristin Fine and Analisse Taft-Gersten, cofounders of The 1818 Collective, tell us. 'The skirt actually matches the pattern on the ceiling in an adjoining room, but we love that it feels like a crazy bustle.'
Is a sink skirt a good idea?
Some people might cringe at the thought of a sink skirt in a bathroom, not for aesthetic reasons, but in terms of practicality. Textiles in a bathroom have the potential to become magnets for moisture, which can in turn cause issues like mold. However, in reality, if your bathroom ventilation is up to scratch, this won't really be a problem for a standard bathroom. They're also preferred in spaces like powder rooms and guest bathrooms, which aren't used so frequently, or don't have a shower to create moisture in the air.
Sink skirts can be an effective choice for a small bathroom too. 'Creating a cupboard or under sink fabric skirt is an inexpensive, easy update that will hide away clutter and soften a space,' says Louisa Tratalos, founder of Colours of Arley. In a small space, it means you don't need the clearance to open doors on storage too, helping you to organize a bathroom without sacrificing functionality.
Will from British Standard agrees: 'While a sink skirt is often used as a decorative feature in a room, they also offer practical qualities such as concealing unsightly but necessary things. When used in a pantry, a sink skirt is a great option for hiding plates, bowls or serving platters that can often look messy and precariously stacked.'
They can also be used as an alternative to integrated appliances to disguise unsightly elements in your kitchen. 'You might also consider using a sink skirt to hide white goods such as washing machines, tumble dryers or dishwashers,' Will says, 'which often make the space feel cold and utilitarian.'
For style leaders and design lovers.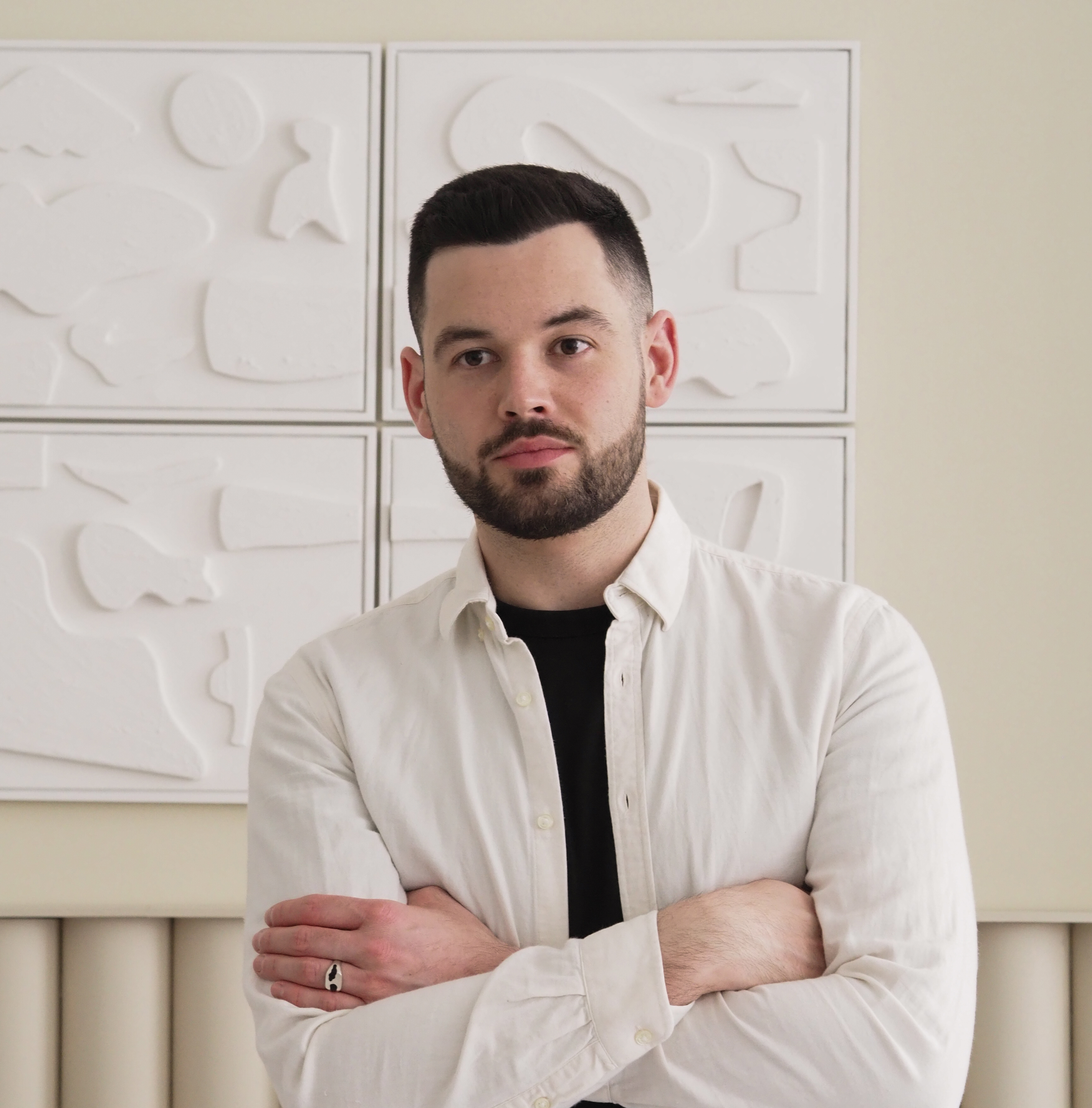 Luke Arthur Wells is a freelance design writer, award-winning interiors blogger and stylist, known for neutral, textural spaces with a luxury twist. He's worked with some of the UK's top design brands, counting the likes of Tom Dixon Studio as regular collaborators and his work has been featured in print and online in publications ranging from Domino Magazine to The Sunday Times. He's a hands-on type of interiors expert too, contributing practical renovation advice and DIY tutorials to a number of magazines, as well as to his own readers and followers via his blog and social media. He might currently be renovating a small Victorian house in England, but he dreams of light, spacious, neutral homes on the West Coast.