Experts agree Julianne Hough's clever towel-folding trick is an easy hack to give any bathroom spa vibes
Folded towels, though a subtle touch, have the power to transform your bathroom into feeling like a luxury hotel. Designers tell us how to do it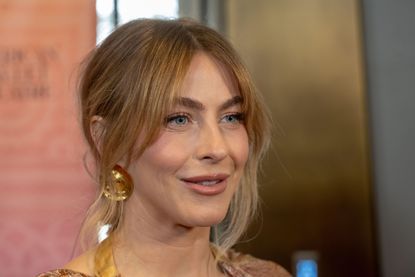 (Image credit: Alamy)
The Livingetc Newsletter
For style leaders and design lovers.
Thank you for signing up to LivingEtc. You will receive a verification email shortly.
There was a problem. Please refresh the page and try again.
Feeling like we have entered a luxury hotel is something most of us dream of when we step into our bathroom, but in a recent Instagram post Julianne Hough shows us that small details can create this opulent effect, minus the cost.
The actor and dancer, best known for her roles in Footloose and Safe Haven and as a professional on Dancing with the Stars, describes her minimalist bathroom set over an incredible leafy view as her 'own little oasis' and this couldn't be closer to the truth.
The modern bathroom features a large freestanding bath, rustic wood cabinetry above a square mirror and floor-to-ceiling windows for a feeling of being at one with nature. The dancer has also opted for off-white linen blinds and a rattan light shade for a natural feel that epitomizes relaxation. And yet, it is the folded towels which are an inexpensive and easily mimicked feature which give the bathroom a touch of luxury that could almost fool you into thinking you're in a gorgeous hotel bathroom.
And it's all thanks to the towels
It is the extra time spent rolling face cloths or hand towels which elevates the ambience of a bathroom according to Emma Kemper of Emma Beryl Interiors in Brooklyn, New York.
'We don't often have the time to roll our towels when they come out of the wash,' she says. 'They usually end up folded as neatly as possible when moving quickly to get all the cleaning done around the house.' But they make all the difference to a bathroom vanity. 'When you have that little extra touch of a rolled towel ready on the counter it makes your space feel more luxurious since that is usually an amenity we get from a nice hotel.'
Neatly folded and accessible clean towels is also a feature which creates an inviting space for hosting guests. Kemper says: 'The saying "it's the little things that count" is true, especially in this situation.
Many people can't tell how luxurious your faucet is but they can tell the extra time and effort put into making the space feel comfortable and usable by having fresh clean towels rolled up nicely like a spa bathroom. Luxury is about having those extras you don't get at home.'
This is particularly important for a bathroom, as a space which beyond its practical function as a washroom, will be the space most go to to unwind. Madison Popper, Founder of Chill Casa, summarizes the feeling clever little touches like folded towels create perfectly. 'It elevates the bathroom transforming from a nice space to a high end retreat,' the designer says explaining that a calm atmosphere allows for thorough self-pampering.
Recreating Julianne's clever trick successfully is all in the towels you choose. Kemper says: 'The easiest size to roll is a hand towel. Cotton hand towels will be large enough that they keep the shape but don't look too small like a face towel would and they will be soft on your hands or your face after washing.'
Turkish cotton towels work well
Julia Longchamps, Principal at Julia Longchamps Design located on Maryland's Eastern Shore personally recommends a Turkish cotton blend for the perfect roll, but you can find a towel which suits your esthetic and try rolling it provided it is the right size. Getting the fold right is also key to recreating the touch of luxury in Julianne's bathroom. Kemper tells us 'the best way to fold your towels to achieve this is to fold it into three sections width wise and then roll it up length wise until it is all tucked in.'
Keeping the amount of towels you put out to a minimum and storing them properly will also ensure the sink area doesn't start to look untidy and will keep towels fresh.
Popper says 'to create a luxurious bathroom atmosphere without clutter, design a visibly and easily accessible area for displaying folded towels. The number of towels displayed can vary, but the rule of three is a good start. To achieve this without feeling cluttered, find a designated area that is not needed for storage. It doesn't have to be extensive but it should be accessible.'
We can see that Julianne keeps hers on a tray in front of her vanity area and in a wicker basket to keep the towels clean and looking like an accessory with a function rather than a mess.
Julianne's towels are the kind of feature which effortlessly capture the simple beauty of quiet luxury - they are not a feature which jump out at you when you enter the space, but they add a subtle touch of luxury and make yourself and your guests feel indulged when you come in to relax. It is also a detail which can be achieved regardless of budget and cleverly conjures a spa feel without any hassle.
For style leaders and design lovers.
Katie is a freelance lifestyle writer who has recently finished an MA in Magazine Journalism at City, University of London. Before writing for Livingetc, Katie has gained bylines with The Caterer and The Telegraph and has interned at several lifestyle magazines including Grazia and Red. When not scrolling through Pinterest for interior design inspiration, Katie can be found writing about women's issues, trying out new beauty trends for her blog or seeing a West End show.