The Japandi style trend is the perfect marriage of East and West – here's how to use it in your home
The Japandi style is the new minimalism with a big heart – use these top expert tips to incorporate it into your interior decorating scheme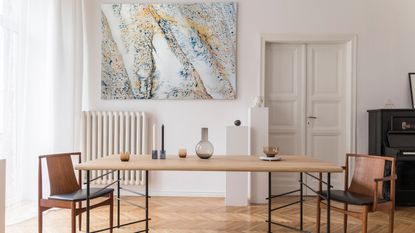 (Image credit: NAT MAKS)
The Japandi style trend should be on your radar if you're looking for a new way to do minimalism. Scandinavian style was one of the biggest interior design trends for the best part of the past decade, until we were all a little fatigued by it. However, Nordic minimalism is experiencing a revival – by being injected with the Japanese approach to interior styling.
At a very basic level, Japandi is about bringing the warmth and detailed approach of a Japanese home to the ordered elegance of Mid-century Scandinavian design. The resulting style creates spaces that are calming but not cold, uncluttered but never generic. It's also surprisingly easy to incorporate elements of Japandi style into any modern home – here's how.
1. Less is more
Japandi style is a marriage of two minimalisms, albeit coming from two very different traditions. It does away with excess and clutter and uses decorative elements very sparingly. Owen Pacey, the Founder of antiques specialist Renaissance London (opens in new tab), said: 'The Japandi trend sits between western and eastern ideas of minimalism. It allows designers to amalgamate and cross-reference visuals, materials and colors from two geographies that share similar outlooks.
Layering objects from two styles is a good way to create a Japandi look in your home, Owen suggests: 'One of the best ways to explore Japandi style is through looking for vintage pieces in Mid-century silhouettes, combining wood with harsher materials like stone, and layering up the scheme with soft furnishings, throws and cushions to create a warm atmosphere.'
2. Embrace imperfection
Richard R. Powell, author of Wabi-Sabi Simple (opens in new tab), explains the Japanese concept of Wabi Sabi: 'The Wabi Sabi cultivates all that is authentic by recognising three simple realities: nothing lasts, nothing is complete and nothing is perfect.' At its core, Wabi Sabi is a bittersweet feeling provoked by witnessing the passage of time, and that feeling can be provoked by an object. In interior design, Wabi Sabi can be incorporated by choosing furniture that celebrates the irregular shapes of wood, or decorative accents that emphasise the process of making things, whether it's a vase, a plate, or a hand-carved bowl.
3. Use colors present in nature
Japandi style does use color – unlike the most minimalist versions of Scandinavian design that favor all-white or monochrome schemes. But the colors you're most likely to see in a Japandi palette are the soft, warm tones of earth and nature. Warm wood tones are prominent, although brighter colors do appear in wall art, wallpaper, or murals that tend to borrow from traditional Japanese painting techniques. These colorful interjections soften the Scandinavian side of the design, helping to achieve a more delicate look.
Lean towards warm-toned paint colors to transform a Scandinavian theme into a Japandi one: choose warm-toned beige instead of white, earthy olive instead of sage green, and always let the natural colors of wooden furniture and flooring stand out. It's all about affection for natural materials and forms.
Anna is Consumer Editor across Future home titles. She contributes to Livingetc, Homes & Gardens, Ideal Home and Real Homes, and she has a background in academic research. She is the author of London Writing of the 1930s. Not just an expert in consumer shopping trends, she has also written about literature, architecture, and photography, and has a special interest in high-end interior design.