These are the 6 bathroom organizers professionals always recommend for a more organized, calming space
Never worry about finding space for your products again with these six expert-approved organization ideas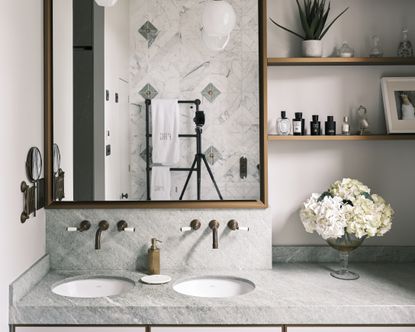 (Image credit: Future)
Organizing a bathroom can feel like one of life's biggest challenges. As a small yet functional space, it can be difficult to stay on top of all the different products and toiletries stored in this room, especially if it's used by the whole family, but there is a solution. Professionals rely on handy organizational tools, and there are a few that you absolutely have to know about.
If you're anything like me, organizing your bathroom is a pet peeve. Once you finally tidy up and put everything in its rightful place, it's a total mess again by the next morning - towels lying on the floor and bottles littering every surface. To keep your modern bathroom in check, you'll want to invest in some practical organizers that make sorting your life simple.
To find out which ones are worth your money, we spoke with professional organizers and declutters to get their two cents. Here are the six best bathroom utensils they recommend.
Melissa Gugni is a San Francisco-based organizer who pairs her vision for clutter free homes with a clean, fresh aesthetic. As a mom, she recognizes the importance of creating a space that you're proud of but can live in, too. Alongside her work, she's contributed to many decluttering and organization articles sharing her expertise.
Drawer organizers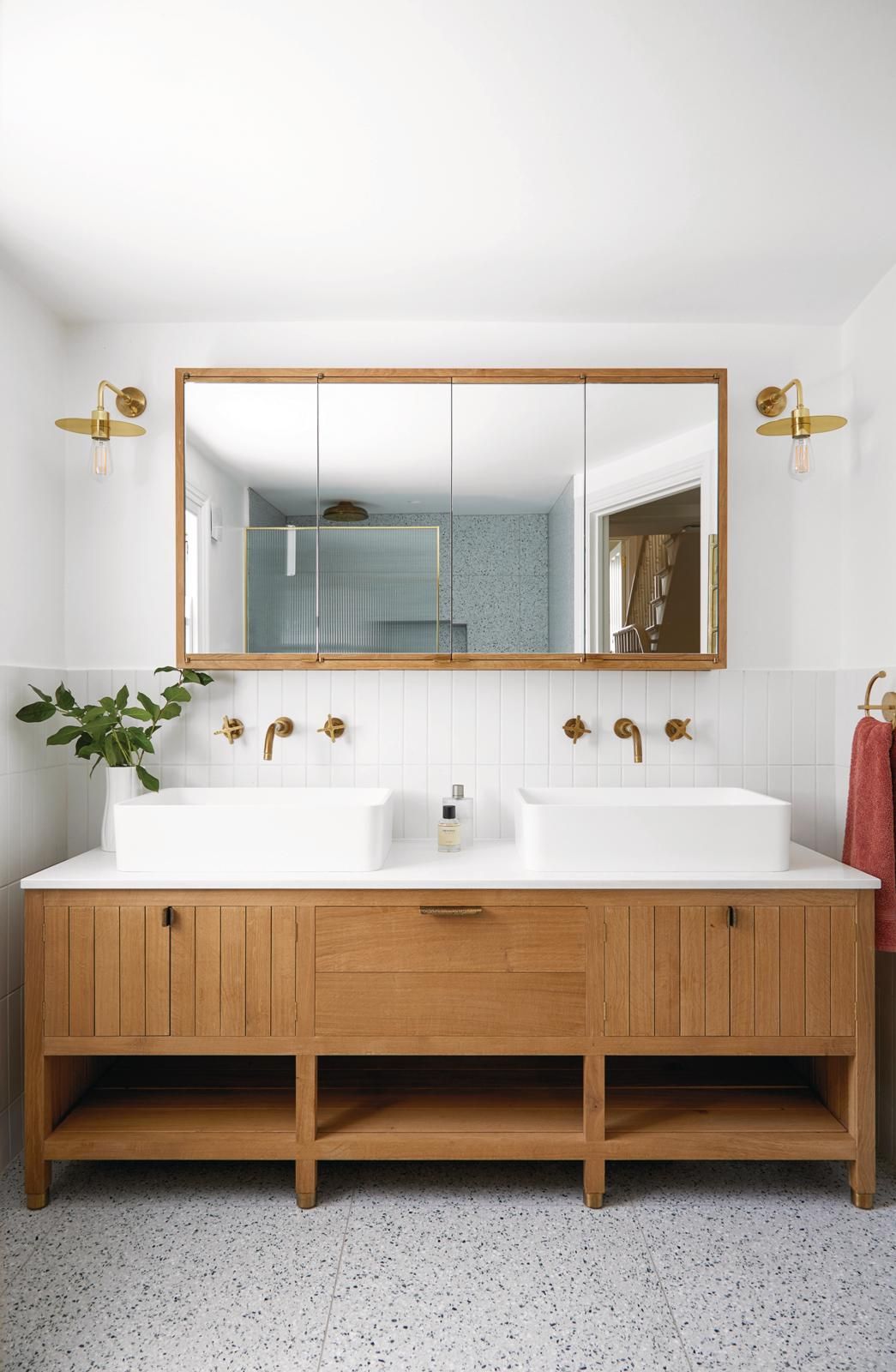 It's likely you have drawers somewhere in this space. Whether it's your bathroom vanity or free-standing storage, drawer dividers are an absolute lifesaver when it comes to sorting your stuff.
In the world of organization, an 'out of sight, out of mind' mentality just doesn't cut it. No one wants to rummage through a mess of products every time they open their drawers. 'The best way to keep them tidy and useable is with simple drawer organizers,' says Lucy Milligan Wahl, professional organizer at LMW Edits (opens in new tab). 'You can mix and match to fit your space and find room for all the items you need to store.'
If you don't want to buy modular storage for your drawers, you can buy dividers and grip liners instead. Extendable dividers like these ones from Amazon (opens in new tab) will fit in any sized drawer up to 17.5 inches. 'They're super affordable, easy to clean, and look great,' says organizer Melissa Gugni. 'They will always create the right configuration for any sized drawer and for whatever your supply needs are.' Pair them with grip lining material like this, also from Amazon (opens in new tab), to prevent your things from knocking around every time you access them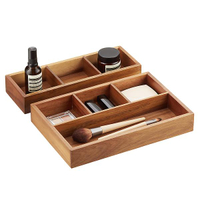 (opens in new tab)
Acacia Drawer Organizer, The Container Store (opens in new tab)
Stay on top of your stuff with this modular acacia drawer organizer from The Container Store. Place the dividers into your drawers to hold your soaps, razors, moisturizers, and washcloths. The warm tones of the wood make your organization aesthetically beautiful, too.
Clear storage bins
Ask any professional organizer and they'll tell you that clear storage bins are the best thing since sliced bread. Use them in your cupboard or stack them under the sink to maximize your bathroom storage.
'Not only does a clear container set a limit on the items you own but it allows for quick inventory checks to cut down on multiple purchases,' says Ben Soreff from H2H Organizing (opens in new tab). 'Deep cabinets and linen closets create black holes, but containers keep items from disappearing.'
According to Melissa, it's a good idea to store like with like. Use one bin for soaps and shower gels, another for washcloths and exfoliators, and another for dental products like spare toothbrushes, floss, and mouthwash. If you want to, you can label these too. 'I like having a bin labeled "backstock" for all those bulk purchases that can easily be forgotten,' says Melissa. 'It's also nice to have a "travel" bin for sample-sized things that can be grabbed quickly in a rush.'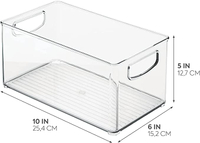 (opens in new tab)
Clear bins, Amazon (opens in new tab)
Whether used in your fridge for food storage or in your bathroom vanity, these clear bins are an organization staple. The clear plastic and integrated handle make it easy to find what you're looking for, especially on those busy mornings while you get ready for work.
Under-the-sink storage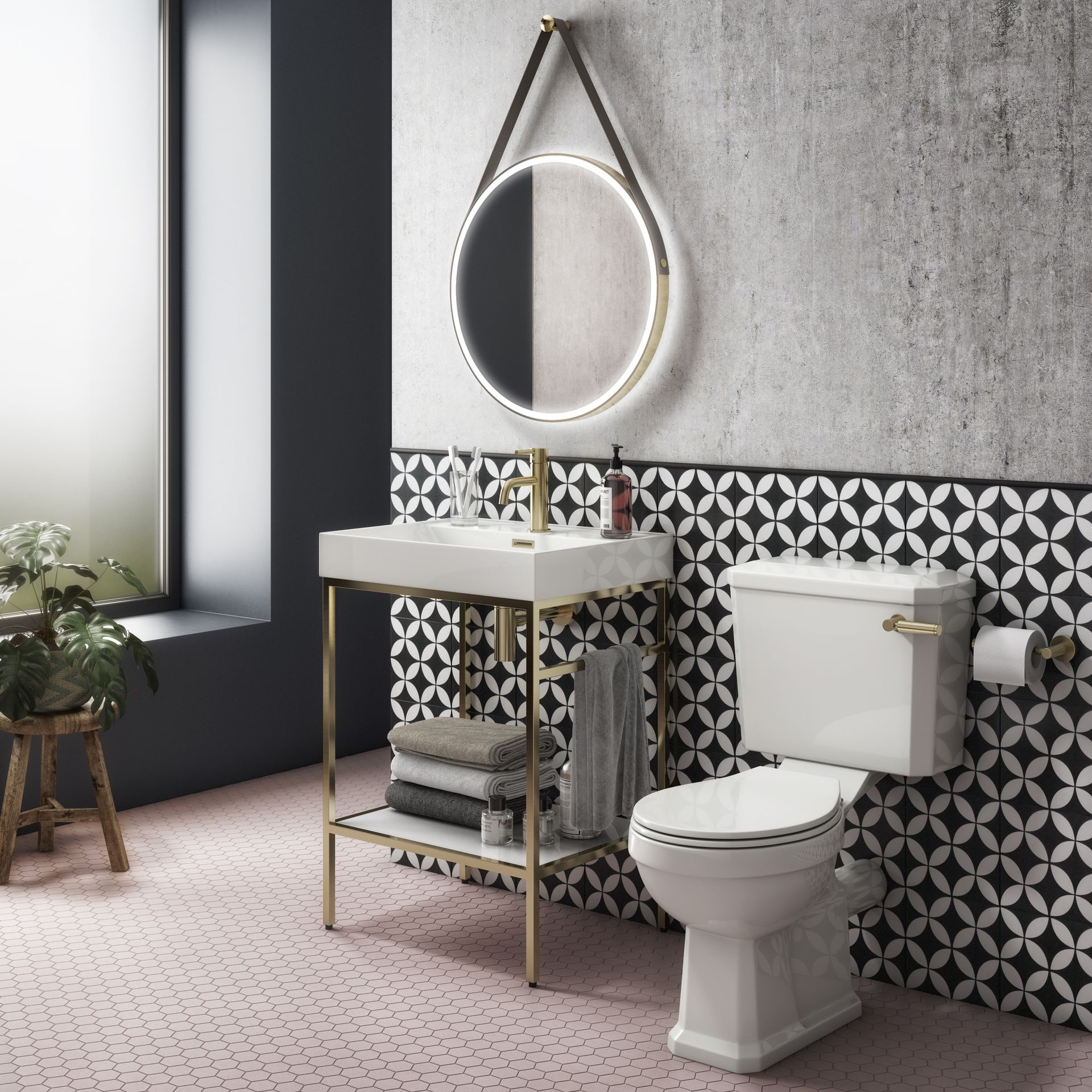 If you have a vanity cupboard under your sink, maximize space with pullout drawers or shelving systems. The best bathroom organizers will be modular, allowing you to fill your space and build around plumbing fixtures as required.
'Pull-out drawers can be a lifesaver since it is so easy for things to get pushed to the back never to be seen again,' says Melissa. 'A pro trick for under the sink is the old "measure twice, cut once" since it can be very easy to buy the wrong-sized drawers without taking into consideration the plumbing behind it.'
You can also buy pull-out containers like this one from Amazon (opens in new tab) that can be adjusted to fit hair dryers, straighteners, and brushes. As Melissa notes: 'There's nothing like a tangle of cords to turn a cabinet into an unusable mess.'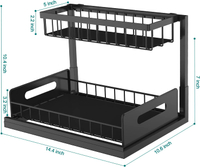 (opens in new tab)
Pull-out cabinet organizer, Amazon (opens in new tab)
Organize the space under your cabinets with this 2-tier under-sink storage. The slide-out system makes it super easy to access what you need, be it cleaning products or toiletries. It's also fully adjustable - the top rack can be installed on the left or right, giving you the flexibility to work around plumbing and organize more efficiently.
Over-the-toilet shelving
If you have a small bathroom where space is at a premium, free-standing shelving systems are your best friend.
'When it comes to bathrooms, most have awkward storage,' says Ben. If you lack shelving but don't have space on the wall, I can almost guarantee you have space above the toilet. If that's the case, utilize it. You can buy over-the-toilet shelving to house fresh towels, toilet rolls, and cleaning products to free up space elsewhere.
Before you move everything to your shelves, you should declutter your products. 'Group the categories and review,' says Ben. 'Once you discard expired or dysfunctional items then you will have the typical categories of dental, hair care, medical/first aid, make up, shaving and more which will all fit on your shelves.'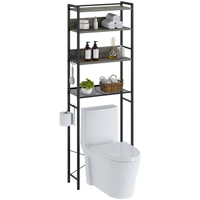 (opens in new tab)
Freestanding Over-The-Toilet Storage System, Wayfair (opens in new tab)
If space is at a premium, try a freestanding storage solution like this one, from Wayfair. The 4-tier open shelving also features a toilet paper holder and four multi-purpose hooks for all your bathroom essentials. The industrial style also comes in three different colors, so there's one to suit your style.
A shower caddy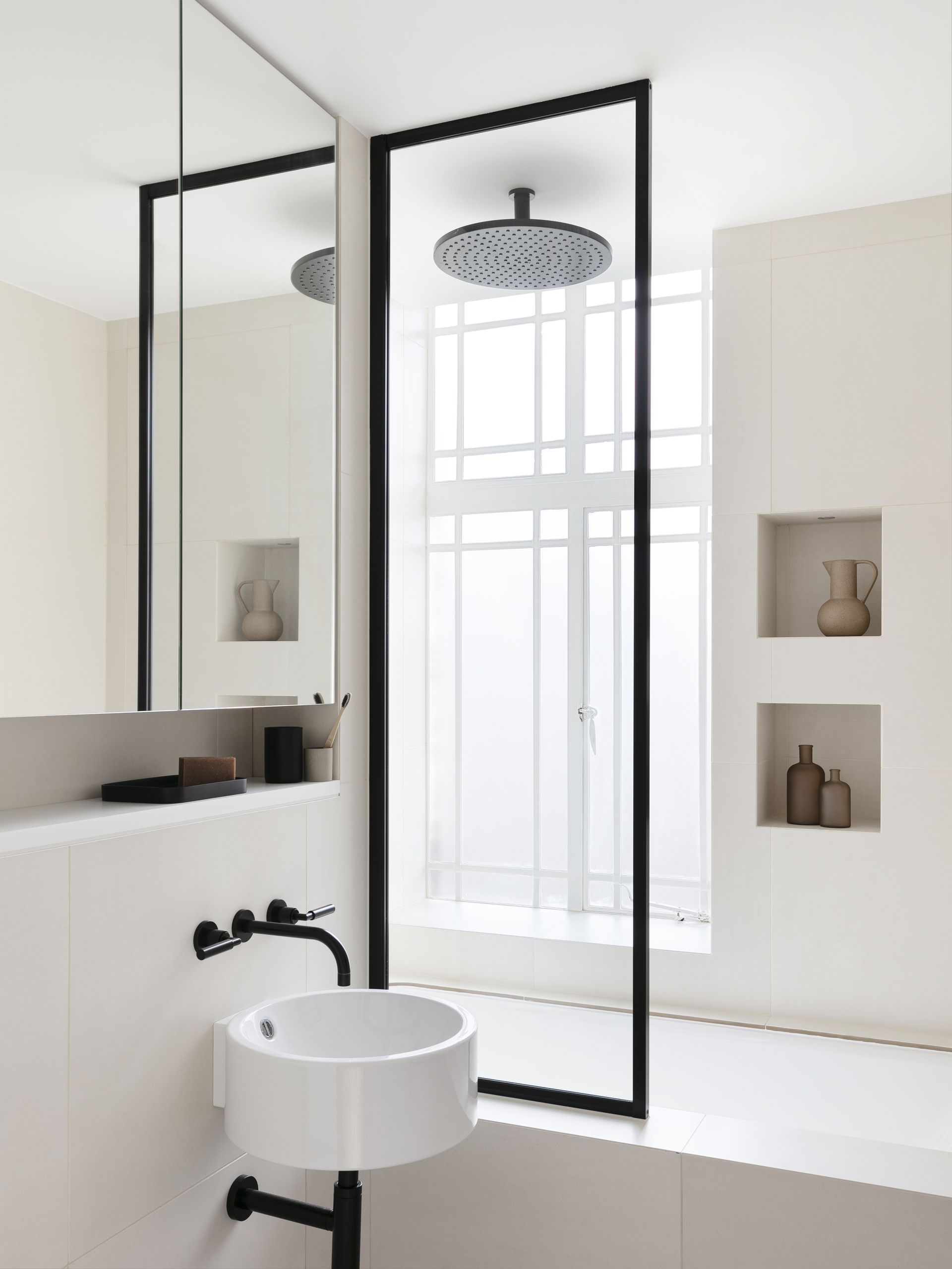 No shower room is complete without a caddy. These nifty little organizers keep all your daily items such as soap, shaving gel, and shampoo in one place and within easy reach.
You can purchase suction cup caddies that stick to your tiles and placed at whatever height you need them, although they do have a tendency to come unstuck over time due to the steamy conditions. 'I like a tension rod setup because it's much more sturdy and will store more items than a classic caddy that hangs over a shower head,' says Lucy.

(opens in new tab)
Tension pole shower caddy, Amazon (opens in new tab)
For the inside of your shower, a caddy is a must-have. This adjustable tension pole version from Amazon is ideal as it fits any shower, no matter how high your ceilings are, and it doesn't rely on suction cups or adhesives which often come unstuck. The stainless rods effectively prevent from rusting as well.
Use door hooks
If there's one place where you can never have enough hooks, it's the bathroom. One of the best ways to hang bathroom towels is with over-the-door hooks. Not only do they remove the need for power tools and screws that leave holes in your walls, but they can be moved from room to room as necessary. The best part is they're also renter-friendly.
'In a small bathroom, go vertical,' says Lucy. 'Use any available wall space and the backs of doors for storage.' If the gap between your door and the frame isn't big enough for one of these organizers, try an adhesive towel bar and hooks like these, from Amazon (opens in new tab).
Never worry about finding space for all your toiletries again with these six budget-friendly organization ideas. Your guests feel like they're receiving five-star treatment the next time they step foot in your bathroom.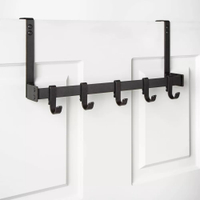 (opens in new tab)
Over-the-Door hooks, Walmart (opens in new tab)
There's no need to drill holes in your walls to have hooks in your bathroom. This over-the-door storage solution comes with five metal hooks for all the family's towels and it simply fits over the top of your door - no power tools necessary. The slim design means it's still easy to close the door, too.
Lilith Hudson is the Junior Writer on Livingetc, and an expert at decoding trends and reporting on them as they happen. Writing news articles for our digital platform, she's the go-to person for all the latest micro-trends, interior hacks, and color inspiration that you need in your home. She discovered a love for lifestyle journalism during her BA in English and Philosophy at the University of Nottingham where she spent more time writing for her student magazine than she did studying. Lilith now holds an MA in Magazine Journalism from City, University of London (a degree where she could combine both) and has previously worked at the Saturday Times Magazine, ES Magazine, DJ Mag and The Simple Things Magazine.