5 things that are making your bedroom look "cheap", say designers
Is there something bringing down your bedroom design? You might be making one of these common mistakes designers always spot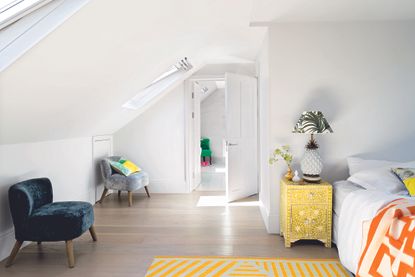 (Image credit: Future)
The bedroom should be an oasis – a place of rest, rejuvenation, and peace, but it should also be a place that reflects your style. However, there are some pitfalls that are easy to fall into when designing a bedroom - and they can make your space look, and feel, cheap rather than luxurious.
We asked top designers to tell us about finishes, colors, and materials that may be bringing down the look of a modern bedroom - these are the 5 they warned us against.
1. Overly glossy paint finishes
Whether you're doing a bedroom accent wall or the entire room, along with choosing the right color, it's important to also choose the correct paint finish. 'Be very careful of glossy finishes,' says Bethany Adams, founder of Bethany Adams Interiors. 'They have to be applied to a perfect substrate (think brand new drywall or freshly installed millwork) to look good since the glossier a paint is, the more it will show any imperfection. If you live in an older home, stick to pearl or satin for your trim instead.'
But what happens when a wall is textured, and you want to give it a fresh look?
'In some of the older, builder-grade homes, there is texture on the wall,' says Laura Williams, founder of ATX Interior Design. 'Since this has become the norm in many areas, it puts a limitation on what you can do to your walls without smoothing the walls down. When walls are textured, you should keep the sheen to a minimum while still allowing them to have some wipe-ability. For instance, I always recommend the walls be in an eggshell finish in these cases. If the walls were to be painted in a satin or semi-gloss finish, the texture would be magnified exponentially.'
2. Synthetic bedding
The answer to the question: how to get a good night's sleep lies in the bedding. The quality of the sheets, the thread count, the softness of the duvet, and the firmness of the mattress, all play a key role. So while selecting these essential elements, remember to choose ones that aid sleep and also look stylish.
'Synthetic fabric is a big no-no when it comes to your beauty sleep,' says Saba Kapoor, co-founder of Nivasa. 'Some of the synthetic fabrics including polyester or rayon might mask themselves as sumptuous fabrics but don't fall for it. When it comes to your bedding the feel of the fabric is crucial. Your bedding reflects your personality so it's time to embrace natural fabrics including rich cotton such as Egyptian cotton, pure linens, pure silk, and cashmere. Additionally, the year 2023 is all about bold hues for beddings so think deep blues, purples, and greens and steer clear from the muted beige tones.'
3. Viscose and polyester curtains
While speaking of fabrics, give the bedroom curtain materials a thought too. Choose ones that look plush while also efficiently moderating light in the room.
'Don't choose viscose curtains with the hope that a nice fall will do the trick,' says Saba. 'This semi-synthetic curtain usually gives a cheap look and feel to the room. If you want your curtains to look light and flowy, go for lace or breezy cotton. Another curtain fabric to steer clear of is polyester. Though cheap on the pocket, this material takes away the sumptuousness from a room and can never give a rich look, however beautiful the design is. Contemporary interior designing trends are veering a lot towards sustainability and eco-friendly fabrics so think pure silks or linens. And if it's a plush luxurious feel that you're looking for, go for sumptuous velvet curtains.'
Another thing to keep in mind before selecting curtains is the formality and application of the space. 'If I'm installing in a luxe New York City apartment, I'm probably not going to select a heavily textured linen, whereas if it's a country house, I'd do that chunky linen any day,' says Joshua Smith, principal designer and founder of Joshua Smith Inc. 'There's also a level of softness that's desired through organic textures and patterns, bringing trends away from the very tailored, traditional window treatments such as solid colors with a different leading edge.'
'It's important to not go overly heavy with your drapery, staying to a style like a European pinch pleat and simple rods, to keep it modern and classic,' says Joshua. 'When you're working with a busier pattern, fold the fabric and imagine it as a stacked curtain panel. What you get is a lot of movement and color without being overwhelmed by the pattern. If you were to use the same pattern for a Roman shade, you'd see the full pattern more dramatically; something you may not want for the space.'
4. Strong geometrical patterns
Your choice of prints can also change how expensive your bedroom looks. 'We've noticed a shift away from strong geometrical patterns like chevrons and squares,' says Joshua. 'There's been a strong migration to organics and clean designs in terms of fabrics and patterns.'
Do keep in mind that if you do end up using large prints, keep them limited to very few pieces, like the pillows which you can always swap with another on-trend print later, or a bedroom rug that's easy to change. Balance out the prints with solid tones to prevent the room from looking too busy and cluttered with design.
5. Too much furniture
And finally, when it comes to modern bedroom furniture, you want to ensure that all the pieces in the room serve a purpose and are not crowding the room, making it feel cluttered and chaotic.
'Measure the size of your bed and select a wall that fits both the bed and one or two night tables keeping in mind that a small night table can attach to your wall if your space is limited,' says Julia Mack, founder of Julia Mack Design. 'Add a modern bedroom furniture piece such as a vertical dresser instead of a long, low horizontal version to maximize open floor space and include a chair of any size.'
3 products that will elevate your bedroom
The Livingetc newsletter is your shortcut to the now and the next in home design. Subscribe today to receive a stunning free 200-page book of the best homes from around the world.
Aditi Sharma Maheshwari is an architecture and design journalist with over 10 years of experience. She's worked at some of the leading media houses in India such as Elle Decor, Houzz and Architectural Digest (Condé Nast). Till recently, she was a freelance writer for publications such as Architectural Digest US, House Beautiful, Stir World, Beautiful Homes India among others. In her spare time, she volunteers at animal shelters and other rescue organizations.