10 summerhouse trends that will turn your outdoor build into a heavenly hideaway in your backyard
These irresistible summerhouse ideas add living space as well as offering endless possibilities for how best to use them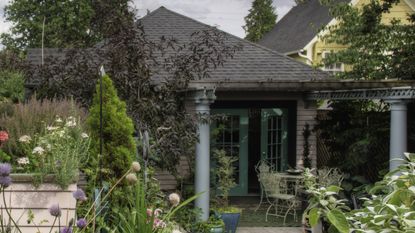 (Image credit: Mint Images/Getty Images)
The Livingetc Newsletter
For style leaders and design lovers.
Thank you for signing up to LivingEtc. You will receive a verification email shortly.
There was a problem. Please refresh the page and try again.
This year's summerhouse trends are all about creating a relaxing and inviting space that's truly the best possible extension of your home in the backyard. Whatever your style browse our recommendations from interior designers to find inspiration for your own bijou summer retreat.
It's the dream to have a secluded spot in the garden away from the daily grind of urban life. Perhaps you like the idea of a summerhouse retreat for reading, painting or other reflective pursuits. Or perhaps you'd prefer to add a daybed for vacay style lounging or turn your summerhouse into a listening room for music. Either way it's a great time to be nailing the best new summerhouse trends.
Modern or traditional, in muted neutrals or bold colorways, whatever the summerhouse of your dreams looks like why not take inspiration from our edit of favorite new looks to create your very own special place.
Sarah has been writing about backyards for over 8 years. Having studied introductory garden and landscape design as well as a course in floristry she is currently putting the skills learned to good use in her own garden where the dream is establishing a cutting garden. Here, she looks at the latest summerhouse trends.
1. Natural materials
This year's summerhouse trends are all about creating a relaxing and inviting space that blends seamlessly with the natural environment. 'By embracing natural materials, playing with color, and mixing soft and hard furnishings, you can create a summerhouse that is both stylish and functional,' says Keely Smith, lead interior designer at JD Elite interiors.
Mixing soft and hard furnishings is another popular landscaping trend this year that's inspiring summerhouse decor. 'Designers are pairing comfortable sofas and chairs with more utilitarian and practical pieces like wooden tables and chairs,' says Keely. This helps to create a balance between form and function, and it also creates a more interesting and dynamic design.
Mix in modular designs too as they allow for greater flexibility if you want to customise the space. Then pieces can be easily reconfigured to suit the occasion.
2. Glass walls
Whether you want your summerhouse to echo the design of your home or you wish to create a focal point in your backyard, a modern glass aesthetic works really well to create the sense of bringing the garden right inside the summerhouse, in addition to maxing up your views out to the garden.
'When it comes to summerhouses, the key is to create a space that seamlessly blends the indoors with the outdoors,' says Young Kim, head of design at awning.com. 'A simple yet effective way to achieve this is by incorporating large windows or sliding doors that bring in natural light while also offering stunning views of the surrounding landscape.'
Minimal backyard architecture trends are inspiring designs like this summerhouse in Chappaqua, New York are a good fit for urban areas. 'In recent years, we have observed an increased trend towards more modern and contemporary designs for summerhouses,' says Jason Farr, founder of design and outdoor living specialists Aviara Pavers. Two of the biggest summerhouse trends this year are sleek lines and minimalistic design features.
3. Aesthetic lighting
To switch up your summerhouse into a place where you and your guests will want to linger long into the night look at the latest modern garden lighting ideas to create the right mood. Adding a magical glow means you can stay outside for longer but make sure you choose deflected light to achieve the right ambience.
Think of ambient lighting as a way of enhancing the best points about your summerhouse. It can be used to highlight key features such as the planting around the summerhouse or the porch, or simply provide light to sit or eat at a table. Never underestimate the charm of candles and lanterns either, especially when combined with draped fabric for a sense of cocooning.
4. Light and bright colors
One of the key backyard color trends this year is muted colors like taupe, cream, and white. These natural shades, so popular in our interiors too, are perfect for creating a calming and soothing atmosphere in your summerhouse.
'Homeowners increasingly want their interior design style aesthetic reflected in their outdoor living spaces,' says Sam Toole of The AZEK Company. 'If you have designed bright and airy spaces inside, you want that to seamlessly flow outdoors too.'
Summerhouses are very much about extending your living space and maximising even the smallest area. A place to linger between the interior and the garden, a compact summerhouse terrace or balcony can become a self-contained seating space to enjoy. The key is to choose light and bright furniture and accessories to nail the look.
5. Flexible spaces
This year, one of the top trends for summerhouses is versatility. Use the space cleverly and it can be switched around to become multi-functional for easy indoor-outdoor gatherings.
Many homeowners are looking for a structure that can be used for multiple purposes 'The biggest trend I'm seeing in summerhouses is maximizing and "tricking out" pool houses, gazebos and other outdoor structures,' says New York-based interior designer Erin Lichy of Homegirl. 'People are getting very creative in what they include and how they're designed. Bolder molding paint colors are in and how cool is it to use an unexpected color? It's a subtle way to add depth to a room.'
Additionally, homeowners are opting for summerhouses that can serve as multi-seasonal spaces too, offering shelter from sun and rain so they can be used right through the year. That way your summerhouse can be turned into a year-round party or dining venue.
6. Sustainable design
Another trend for summerhouses that's seeing an uplift in 2023 is the decision to choose sustainable living and eco-friendly materials for their design and construction. This trend is driven by our growing concern for the environment.
'The use of materials such as bamboo, reclaimed wood, and recycled plastic for furniture, flooring, and cladding is becoming increasingly popular,' says Daniel Smith, interior designer at Ledask. 'In addition, the incorporation of solar panels and rainwater harvesting systems to further enhance sustainability is another one of the summerhouse trends this year.'
This trend not only provides a more environmentally responsible approach to design but also enhances the aesthetic appeal of the summerhouse, which will work in harmony with its surroundings.
7. Vacay vibe
For those who want to make a statement with their summerhouse, bold and bright colors are a great way to do it. Think vibrant yellows, blues, and greens that reflect the freshness and vitality of the summer season.
'When it comes to furnishings, the summerhouse is all about creating a comfortable and inviting space where you can relax and unwind,' says Young Kim of awning.com. 'Soft cushions, throws, and rugs in natural materials like linen and cotton are also perfect for adding texture and warmth to the space.'
Natural wood is a great choice for creating a warm and inviting atmosphere in a summerhouse. 'Whether you opt for a rustic or modern look, the beauty of wood is that it can be styled to suit any taste or preference,' says Young. 'Adding touches like potted plants, wall art, and statement lighting can really bring a summerhouse to life and make it a space you'll love spending time in.'
8. Revamping
If you have an existing summer house that is looking a little faded it could be time for a revamp. Making good the wall panelling, updating the interior and exterior with fresh paint, and fixing up drapes is an easy way of adding a fresh and contemporary feel.
Rethink the space too. Can you squeeze a sofa on the terrace? How about a co-ordinated color theme throughout? And would some new accessories help to bring the look up to date?
'For summer 2023, summerhouse decor trends are going to be all about creating a sense of calm and evoking the organic beauty of the natural world,' says interior design expert Kathy Kuo of kathykuohome. 'The Coastal Grandmother trend from last summer remains popular, so summerhouses are still going to feature plenty of slipcovered sofas, rattan baskets, and throw blankets.' Easy options that are perfect for reworking the look of your summerhouse.
9. Smart design
One of the most successful recent summerhouse trends is painting weatherboards in heritage blues or greens. Paired with pale wood, stone and other organic materials it creates a timeless aesthetic with a coastal feel. It's so calming too.
'Summerhouses are no longer just an outdoor shelter,' says Raf Michalowski of Meble Furniture. 'With a little creativity, they can be transformed into an extended living space that maximizes the use of a small area. Smart design features like built-in seating and storage can make the most of a small area without compromising its aesthetic appeal.'
10. Wraparound planting
Think about the way your summerhouse blends into your existing space. Weaving planting around a retreat is a trend we love as it creates a feeling of seclusion.
'Privacy is a big concern for many homeowners, so summerhouses with tall walls, trees or shrubs can provide a great way to enjoy the outdoors without compromising the comfort of your living space,' says Raf Michalowski of Meble Furniture. 'Think of it as creating a sanctuary away from the hustle and bustle of everyday life.'
Many of the most sought-after summerhouses are based on traditional designs like this one. If your home is a period property you could think about picking up architectural features from your house to continue the theme by matching the style of windows or the color of the exterior paintwork.
Everyone needs a quiet space intended for peaceful unwinding so why not use the latest summerhouse trends to style up an inviting retreat in your own backyard.
For style leaders and design lovers.
Lifestyle journalist Sarah Wilson has been writing about gardens since 2015. She's written for Gardeningetc.com, Livingetc, Homes & Gardens, Easy Gardens and Modern Gardens magazines. Her first job on glossy magazines was at Elle, during which time a visit to the legendary La Colombe d'Or in St-Paul-de-Vence led to an interest in all things gardening. Later as lifestyle editor at Country Homes & Interiors magazine the real pull was the run of captivating country gardens that were featured. Having studied introductory garden and landscape design as well as a course in floristry she is currently putting the skills learned to good use in her own garden where the dream is establishing a cutting garden.