Staircase lighting ideas – stylish ways to illuiminate your stairs
Proof that well-considered staircase lighting ideas can turn one of the most poorly lit spaces in your home, into a striking focal point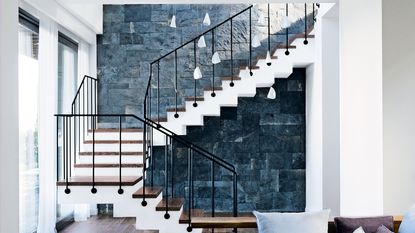 (Image credit: James Merrell)
Staircase lighting ideas might not sound like the most thrilling of interior design decisions, but as all these looks prove, the right lighting can transform these dull, light-starved spaces into a real focal point. After all, staircases are potentially the most seen and most used parts of our home, and therefore deserve the attention we give to the other rooms of our home.
Elegant chandeliers that drip down the stairwell, recessed spotlights that illuminate each tread, ornate sconces that lead you up the stairs – staircase lighting is so much more than just a safety measure.
Chic and practical staircase lighting ideas for all styles
'The choice of staircase lighting can have a significant impact on the entrance of a home, which is why it is important to consider the overall look you want to achieve.' explains Dusk Lighting's Design Consultant, Jamie Moxey. 'Statement lighting has become a popular choice for those who want to add a wow-factor for guests upon entrance to the home. Multi-drop pendants and intricate chandeliers are great options to draw the attention and set the tone for elegance and grandeur in the home.'
'Alternatively, for a more minimalist, practical approach - recessed low-level lighting is a popular choice for staircase lighting, because it focuses the light directly onto the step to ensure visibility and safety. They are perfect for easy, subtle lighting that does not detract from the wider design of the home."
So be inspired by these staircase ideas to give this often neglected space a new lease of life.
1. Hang a cluster of pendants through a light well
If you want to create a dramatic look then placing decorative pendant lighting in the stairwell is the best way to achieve that and create layers of light along the stair path. Plus it doubles as a stylish hallway lighting idea too. Pick a design that has multiple lights and various levels so it lights up the entire height of the staircase.
Pendants are a beautiful option for ambient lighting, as 'the indirect light casts a beautiful glow all the way up the stairs to the top floor,' explains interior designer Heather Hilliard. 'It makes the stairs feel like a sculpture in the middle of the house.' But to complete the lighting scheme be sure to pair it with stronger task lighting to eliminate any darker corners.
2. Brighten dark stairs by illuminating the treads
A stylish and practical staircase lighting idea, illuminating the treads with recessed lighting is sleek and minimalist and ideal if your staircase isn't enclosed by walls, as with this design, so you can't rely on wall lighting as your source. Choose LED strips for a seamless light for an unbroken stream of light along the staircases, or opt for recessed wall lighting to put a spotlight on every few steps.
'Warm LED lighting under each step looks more visually impactful and works well with a contemporary interior,' says Elliot Barratt of Elliot James Interiors. 'It also works well for external staircases as it highlights stonework beautifully.'
3. Guide the way with recessed handrail lighting
Such a striking and unique way to light a staircase, add LED lights underneath the handrail. An ideal solution for narrow or enclosed staircases as you aren't cluttering the walls with lighting that protrudes into the space and don't have the tricky task of working out how to safely hang a pendant. 'Ambient down-lighting under a handrail illuminates the banister,' continues Elliot. 'Whilst looking impressive, it also helps to highlight features and is especially impactful on standalone staircases.'
Just be sure to check how the lighting looks from all angles, you don't want a strong glare from above as you walk up the stairs.
5. Or add recess lights underneath the stairs
If your staircase isn't enclosed, consider this staircase lighting idea and light the space from below. Look closely at each of the stairs on this lovely rustic design – they have LED's discretely built into them, so when illuminated not only does it have a really striking effect when looking from the hallway, it also adds enough light to the stairs themselves too.
'Hallway, stairs and landings don't have to be bright but it is best to use discreet, recessed downlight for a change of direction or change of level.' says Piero De Marchis of Detail Lighting. 'It's better to have an even illumination for any tricky corners, lighting up things such as handrails and step lights. Low-level lighting is perfect for staircases as they also double up for safety night lights for family and guests.'
6. Create a dramatic look with a chandelier
Nothing adds drama like a chandelier. They create glamour and grandeur even in the smallest spaces, and look wonderfull hung through a stairwell. And if space is tight, scale back on the size and choose a couple of similar small designs that can hang on each landing adding a touch of sparkling and connecting each floor. Or hang a more contemporary design closer to the ceiling as can be seen here, you still get all the glamour of a chandelier, it's just more practical in heavily used spaces like hallways, landings, and staircases.
7. Introduce decorative wall lights
As well as providing function, wall sconces are a quick and easy staircase wall idea that can also double as decor. And in a space where often every inch counts, double-duty pieces are a must. Just be sure to pick designs that are to scale with your space, ensure they don't protrude too far from the wall as this is only going to make an already tight space feel smaller.
Wall lights can also be a nice way to create a connection between the different floors of your home. Space them evenly all the way up each staircase, and use them in the hallway and on the landing to for a cohesive look that leads around the house.
8. Light up a landing space with a single pendant
We'd always recommend using that extra height you have on a stairwell or landing to make a statement and go for a dramatic pendant light. It's a look that can work even with smaller spaces and will provide all the background lighting needed to illuminate connecting staircases. 'An overscale hanging lantern, whether traditional in style or modern, is always my first choice but this works best if it can sit in the well of a staircase,' says interior designer Birdie Fortescue.
9. Create a soft glow with a floorlamp
You don't often think of floor lamps as a staircase lighting idea, but positioned in the right spot they can fill both hallway and stairs with a lovely soft glow. Placing a lamp on the landing at the top of the stairs is a great alternative to installing lighting fixtures in walls and on ceilings. By positioning a lamp at the top of the stairs, the light will travel down and illuminate part of the staircase as well as lighting up the landing.
If you like the softer look and light of a floor lamp, but practically speaking will need a brighter light at certain times of the day, layer your lighting. Mix a floor lamp with a stronger overhead lamp as can be seen in this space with the chandelier. That way you can switch up the mood quickly and easily.
'With stairs, you need to be careful with the area as it should be sufficiently lit to avoid falls. If you have huge-half landings, then a beautiful table or floor lamp and shade adds extra warmth alongside a beautiful scatter of wall lights lining your stairs.' advises Rohan Blacker founder of Pooky. 'We recommend placing wall lights in even sets of two depending on how much ground you have to cover, visually it's the best way start when thinking decorative balance mixed with practicality. If it's a more modest affair then keep the light lower, perhaps knee height downlighters or hidden and diffused LED strips to provide sufficient lighting'.
What are the best lights to use for staircases?
The best lights for a staircase will mostly depend on your personal style and the style of your staircase. Is your staircase enclosed or open within the hallway? Are the treads open or do you have a more traditional design? Do you have the height to hang a pendant? Is the space wind enough for wall lights? Do you have a stairwell you can hang a light through? Do you want your staircase lighting to be discreet or statement? Answering these questions should help you narrow down your choices and start figuring out the best lights for your space.
In terms of popular choices, pendant lights are often a go-to. They work best in open staircases or if your staircase is enclosed the would have to be hung on a landing either at the bottom or the top of the stairs (or both). Recessed LEDs are increasing in popularity too as they offer a very discrete but effective way to light a staircase at ground level and don't require any head height or wall space.
Where should lights be positioned on a staircase?
The three obvious places to position lighting on a staircase is on the wall, on the ceiling and at ground level, i.e within the staircase themselves or recessed into the walls. If opting to hang lights from the ceiling on a staircase landing, you pendant or chandelier should come now lower than around 8 feet from the landing's floor.
If your ceilings are too low for this, consider wall lighting if you want that lighting doubled as decor effect. Again just be sure they work with the space, you don't want them protruding too far from the wall so they become a safety hazard or make an already small space feel smaller. And if going with recessed lighting within or near the treads, just consider their placement, do you want them within the riser or on the sides? Or in an open staircase, you could position them underneath the rise so each step illuminates the one below. Also consider whether you need a light on every step or can you alternative with every few for a less intense light.
The Livingetc newsletter is your shortcut to the now and the next in home design. Subscribe today to receive a stunning free 200-page book of the best homes from around the world.
Nicky Morris is a freelance journalist specialising in interiors and design. Covering everything from staircase lighting ideas to Ikea hacks to outdoor kitchens to tips for hiding radiators, she writes for Livingetc and Homes & Gardens and has previously written for Tempus Magazine. She also covers TV writing, and has written for Hello! magazine.