7 big - huge! - decor mistakes most people make in small bedrooms and how to avoid them
From the colors to avoid, to the layouts that are never going to work, interior designers let us know what not to do in a small bedroom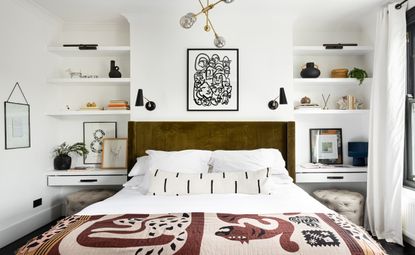 (Image credit: Interior Fox)
The Livingetc Newsletter
For style leaders and design lovers.
Thank you for signing up to LivingEtc. You will receive a verification email shortly.
There was a problem. Please refresh the page and try again.
We are all for playing fast and loose when it comes to design 'rules', but in smaller spaces, we are slightly more inclined to listen to these tried and tested approaches. Because in a tight space, you don't only want it to look lovely and reflect your own personal style, but you also have the added task of needing to make the space look bigger, lighter, loftier. So maybe it is best to play by just some of the rules.
We spoke with designers who have a ton of experience when it comes to getting the most from small bedrooms to find out what decor mistakes you could make, and more importantly, how to avoid them. From colors to steer clear of, to the furniture designs that are a no-go, these tips will make it much simpler to create a space that gets the basics right (then you can go ahead and add in your own character and break the rules that you need to break).
1. Not painting the ceiling
This should be a rule of thumb for any room of any size – never paint your ceiling white. Unless the walls are white. Always either match your ceiling to the wall color, or go for a softer, warmer neutral. In a small bedroom, this painted ceiling idea is particularly important. You may be under the impression a white ceiling is going to make the room feel lighter, and loftier, however, by creating that stark contrast between wall color and ceiling color you really highlight the dimensions of the room. Instead, embrace the interior design trend for color drenching and take the same color all over the surfaces – walls, ceilings, and woodwork.
'In a small bedroom, a bright white ceiling can draw attention to the line where the walls meet the ceiling, emphasizing the size of the space,' adds designer Irene Gunter. 'An easy solution to create a more unified space is to use the same color on the walls, woodwork, and ceiling. Eliminating color contrasts that distract the eye can make a room look and feel bigger. And this idea isn't limited to lighter, brighter colors. Wrapping a space in a darker hue can create a cozy and cocooning atmosphere.'
2. Relying on white
And just carrying on from that, avoid white completely. We know it's been hailed the small bedroom color forever, but a pure brilliant white is a stark and clinical color. And contrary to popular belief, we think it needs a large and lofty room, with huge windows and high ceilings to cope with its cooler tones.
'We almost never use white in a small bedroom,' agrees Melissa Lee, founder of Bespoke Only. A small space needs more to feel warm and cozy – trying to force an airiness often results in a bland or even sometimes clinic feeling.'
If you do want to go for a white, just avoid a pure white, or any whites that have a slightly blue or grey undertone. You want to be looking to the warmer end of neutrals – pale creams, beiges, even the palest of pinks. These colors will still give you all those light-enhancing and space-expanding effects, but the overall space will feel far softer and more inviting.
Ivy candle by Loewe
Price: $230

A scented candle in the bedroom is an easy way to create a relaxed environment. And based on the advice above this particular beauty from Loewe will help amp up the soft color, too.
3. Under or over furnishing the room
You neither want to cram a small bedroom full of furniture, nor do you want to take the approach that the more floor you can see the better, and choose only a couple of pieces. You want the room to feel full but not overly so.
'Don't be afraid to include the right amount of furniture in the room. While it's essential to leave enough clearance between each piece, filling the room with what you need will enhance its functionality and style.' advises designer Kati Curtis.
But, Kashi Shikunova, Director of YAM Interiors rightly adds, 'When dealing with small bedrooms, a subtle and thoughtful approach is essential to prevent them from becoming overwhelmed by an excess of items. For example, a bed with a large number of cushions – can dominate the room and create a sense of clutter. Similarly, an excessive number of furniture pieces, or those that are disproportionately large for the space, can actually magnify the bedroom's small size.' Floating nightstands are a good option, as they take up less floor area.
'In order to optimize the small space, it's wise to focus on the core essence of decoration,' Kashi continues. 'Be discerning in your choices, incorporating only those items that genuinely enhance the room's value and function.'
4. Going too small with the rug
Doesn't sound like it would make a big difference, but it does. A surefire way to make a small room feel smaller is to pick a small rug. A rug surrounded by a sea of empty floor space just emphasizes the small dimensions of the room. You want to go big with your bedroom rug, fill the floor space, and tuck it under furniture so you only catch a glimpse of the floor at the edges of the room. The best rugs will cover everything.
'Using rugs that are too small, is a big mistake in a small bedroom,' says Kati Curtis. 'Instead of opting for small scatter rugs, choose a rug that covers the entire room. This will actually make the room appear larger and more cohesive.'
5. Not utilizing the wall space
Definitely don't crowd your walls, but do put some of them to use when it comes to adding bedroom storage. And where you can (bedside tables and dressing tables are easy options), wall mount your furniture so you free up the floor space below and create the allusion of a bigger footprint.
'One mistake that I see in small bedrooms is in not utilizing every inch of space—including vertical space! You can really open up the room by using your walls instead of the floor. For example, use a wall-mounted mirror instead of a floor mirror, add wall shelves where you can, and use them for both storage and for housing styled vignettes,' explains designer Kathy Kuo.
'When you're shopping for nightstands for a small bedroom, get the absolute most out of them by looking for styles that have several tiers of shelves as well as a drawer and surface space up top. It's ultimately the same amount of floor space as a less storage-friendly piece and you get so much more use out of it.'
6. Hanging your window treatments wrong
If you are adding bedroom curtains to a small space, never use the actual window as the guide to where to hang them. Always go a few inches above with the curtain rail, and take it out longer than the edges. That way when the curtains aren't in use they are totally out of the way, allowing for as much light as possible to flow into the room. And never stop the curtains where the window stops, take them all the way to the ground, it looks far more elegant.
'Never hang your window treatments too low,' says Kati Curtis. 'To create the illusion of height, hang your curtains from the ceiling or just underneath the crown molding. Avoid hanging them at the window frame, as it can accentuate the room's small size.'
Irene Gunter agrees that 'to create a feeling of more space in your small bedroom, allow as much natural light in as possible. Pull back curtains or raise blinds during the day, and clear clutter from windowsills. Keep windows clean and trim any trailing plants that might block your view.'
7. Thinking you have to play it safe
Just because it might be limited in proportions, doesn't mean it has to be limited in style. We read so much about how you should keep things simple in small spaces, and while there does have to be an element of restraint here, you can still go bold with colors and patterns.
'It's better to choose a limited palette or print for a smaller space. Either choose one fabulous print and use it extensively on a bed, curtains, etc, or choose one or two complimentary colors. You can still have fun and take some decorating risks, just not too many of them at once!' is Tiffany Duggan's advice.
Patrick O'Donnell of Farrow & Ball gives the promising advice of 'Don't avoid anything! If you truly love a color then go for it, but as with every room in your home think about how it will respond to the natural light in your bedroom, if chilly & north facing err towards warmer tones and remember, true yellows can be quite an 'energy' color so not necessarily what you want in a place of calm but if yellow is your thing, look towards browner caramel shades or deep ochres.'
Essentially, when it comes to adding color and pattern to a small bedroom, do so with aplomb, but just pair back on the amounts of shades and prints you bring in.
For style leaders and design lovers.
Hebe is the Digital Editor of Livingetc; she has a background in lifestyle and interior journalism and a passion for renovating small spaces. You'll usually find her attempting DIY, whether it's spray painting her whole kitchen, don't try that at home, or ever changing the wallpaper in her hallway. Livingetc has been such a huge inspiration and has influenced Hebe's style since she moved into her first rental and finally had a small amount of control over the decor and now loves being able to help others make decisions when decorating their own homes. Last year she moved from renting to owning her first teeny tiny Edwardian flat in London with her whippet Willow (who yes she chose to match her interiors...) and is already on the lookout for her next project.