4 paint colors to make your bedroom feel cooler the paint experts swear by (and three to avoid)
The colors that will make your bedroom feel cooler during the warmer months, picked by the paint experts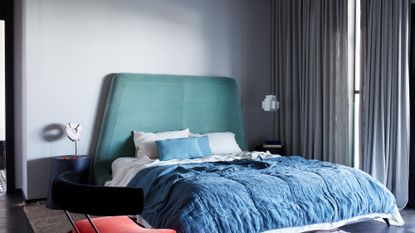 (Image credit: Isabel Parra. Design: Crina Arghirescu Architecture)
The Livingetc Newsletter
For style leaders and design lovers.
Thank you for signing up to LivingEtc. You will receive a verification email shortly.
There was a problem. Please refresh the page and try again.
The summer season can mean frequent hot, sleepless nights, but have you considered using design to your advantage to help you cool the space down? It's not just about the light, cotton sheets or sheer curtains, and a key part of designing for the warmer weather is also about the paint shades you pick for your walls, with some colors working hard to cool down your space. Look to the color wheel, taking your cues from the warm and cool sides of color theory.
While your chosen paint color is hugely important for cooling you down, it's about striking a balance, Patrick O'Donnell, international brand ambassador for Farrow & Ball reminds us. We don't want to create rooms that feel cold and sterile and we need to remember that these bedrooms need to keep us feeling warm in winter too, 'None of us want to live in a space that feels uninviting and too chilly,' says Patrick. 'Creating a cool and ambient environment is all about nuance. The lighting needs to be right to pull it off so you won't want something too cooling come those long, flat-lighted winter months, especially in north-facing bedrooms.'
To help you select the perfect paint ideas for a bedroom that is in need of dropping a few degrees, we've spoken to the paint experts to find out their favorite color picks.
1. Shades of blue
Blue in all shades is a great option for cooling you down. It belongs on the cool side of the color wheel, meaning theory and color science is behind why it's number one on our list of cooling bedroom colors.
Some blues are warmer than others. If you look at traditional color theory, more vivid blues are closer to violet, which is closer to red, while others have hints of green, keeping them cool. Use this knowledge to your advantage, picking the blues that are more on the cooler side. Alternatively, give your white a hint of blue for pale blue or off-white walls with a cooling tone. I love Farrow & Ball's Yonder for something packed full of energy, or this bright blue selected by New York-based designer, Ashe Leandro for this relaxing bedroom.
The color wheel aside, color psychology also impacts how we perceive temperature. 'Trying colors with cool undertones like blues and greens create an illusion of a cold room psychologically,' says James Greenwood, color expert at paint brand, Graham & Brown. 'These tranquil shades also reflect nature and create a relaxing space to wind down in,' says James.
'Few colors impart a sense of tranquility and coolness like shades of blue,' adds Artem Kropovinsky of New York-based interior design studio, Arsight. 'The psychological link between blue and elements of nature such as the ocean and the sky lends an instant cooling effect. Indigo, teal, or a soft pastel blue can beautifully radiate calmness.'
2. Grey
Grey paint has had quite a lot of bad press recently, as we move away from gloomy grey bedrooms that were so synonymous with noughties interior design, and embrace more muted neutrals as our bedroom paint. But there is no doubt that grey has its benefits. For one, it's also magically cooling. 'A light gray or muted charcoal can give your bedroom a cooler feel,' says Artem. 'These tones of grey, with their understated elegance, carry a contemporary touch while maintaining a sense of tranquility.'
Remember that some greys have warmer tones to them, so pick wisely to avoid a warm color scheme. Warm greys have more brown tones - think mushroom grey or greige - which might work in the winter months too when you want your wall color to warm you up. Meanwhile, cooler grey has those undercurrents of blue running through them.
'The choice is broad when it comes grey,' says Patrick O'Donnell, international brand ambassador for Farrow & Ball. 'From soft greys like those with a little brown note through them.'
3. Greens
Similar to blue, green carries ties to nature and tranquility, while belonging on the cool side of the color wheel. 'Green hues create a serene, soothing ambiance that mimics the outdoors,' says Artem. 'For a green bedroom, consider soft mint or a deep forest green for a cool, refreshing aesthetic that instantly lowers the temperature.'
In the bedroom, a pale green can also feel warm in the colder months. Think sage green that in the right light will feel more yellow, like this design from San Francsico-based design collective, Studio Ahead. For this reason, pale green is a perfect tone for the bedroom.
'Alternatively, try soft, minty pastel greens,' says Patrick. 'These colors will bring character, a softer look and ultimately, the big need of all bedrooms, a look that will enable relaxation and calm. For a cooler look, do avoid anything overtly yellow or red-based as these shades will naturally bring added warmth, particularly to south-facing rooms flooded with sunlight.'
4. White
Finally, look to the Mediterranean climate and take your cues from the sugar cube houses in the likes of Greece that embrace a bright, dazzling white.
'Bright colors like white help reflect the heat away, which will work best for keeping your bedroom cool,' says James. If you don't want anything too dazzling, go for slightly off-white with undertones of other colors from the colder side of the wheel, this will create the perfect cool color scheme. A warm-white neutral that leans towards being a soft grey rather than cream is a great option too, easy-to-use and delicately pigmented.
'An all-time classic, white gives off a crisp, cool aura that's difficult to ignore. Its purity and simplicity provide an undisturbed and calm atmosphere, turning your bedroom into a serene retreat,' says Artem.
What colors should I avoid for a cooler room?
So if we're aiming for a cooler bedroom, what are the colors we should be avoiding? Again, theory is your best friend so look to the color wheel for a guide when picking your paint. Sitting opposite those blues and greens are purples and burgundies, reds, oranges, yellows - a stimulating selection of colors that should be avoided for wall paint.
Like how cool colors also make a psychological impact, warmer colors too have psychological effects, explains color expert, Suzy Chiazzari, a holistic interior designer and color therapist.
'For example, yellow reminds us of bright sunny days, while orange creates the feeling of warmth and comfort we feel when watching the flames of a fire.'
These are colors that make you feel happy and energetic though, so they shouldn't be discredited completely, just used wisely. If you do want to bring brighter pops, use these colors for bedroom decor instead of wall paint.
For style leaders and design lovers.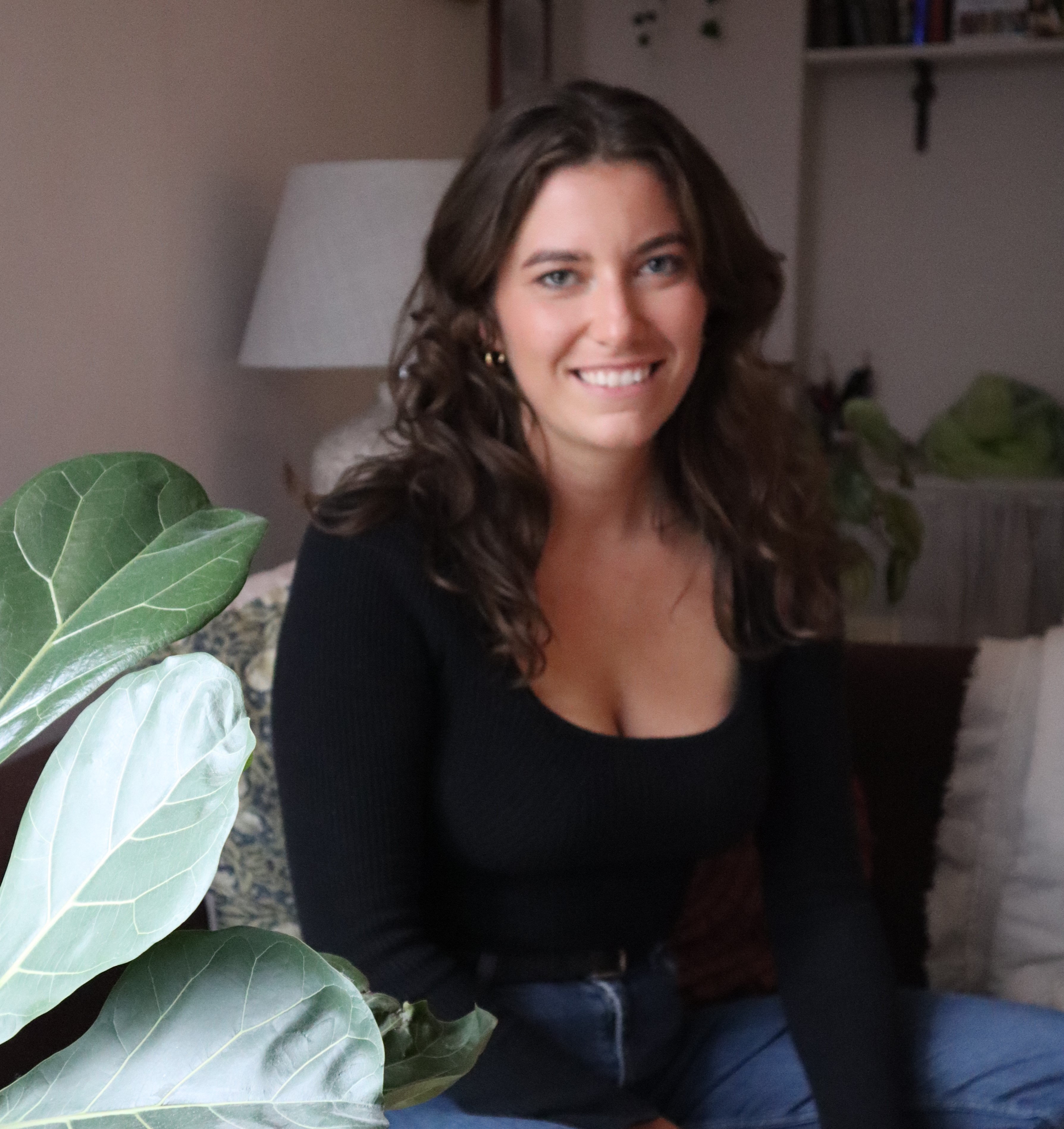 Livingetc content editor and design expert
Oonagh is a content editor at Livingetc.com. Previously, she worked on a London property title, producing long-read interiors features, style pages and conducting interviews with a range of famous faces from the UK interiors scene, from Kit Kemp to Robert Kime. In doing so, she has developed a keen interest in London's historical architecture and the city's distinct tastemakers paving the way in the world of interiors.