Modern small patio ideas – 14 looks to transform even the tiniest of gardens
From clever hacks to expand your space to quick ways to decorate a tiny outdoor area, these modern small patio ideas prove that small can still be stylish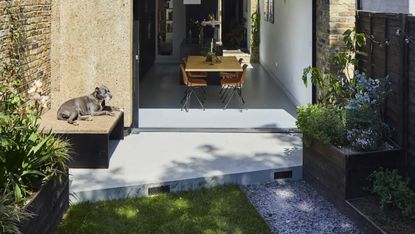 (Image credit: Future)
Looking for small patio ideas that will help freshen up your space, encourage you to get out there with your morning coffee or your evening tipple, have it looking beautiful for future alfresco garden parties? Well good, you are in the right place because we know that small patio gardens are a common predicament amongst city dwellers. But there are plenty of designs and clever styles that can really transform even the smallest of patios into a space you want to spend long warm evenings entertaining and sunny mornings relaxing.
So whether you want your small patio to be a dining area for hosting, a cozy outdoor living room complete with a fire pit or the perfect spot for your expanding collection of potted plants, let these stylish modern patios inspire a refresh...
1. Transform a small patio into a banquette seating area
How dreamy is this small patio idea? Those gorgeous summery colors, the outdoor coffee table, the cozy fire, it's got it all just on a small scale. There's even planting in the raised beds behind the seating so you don't have to give up all your green space to the banquette.
Designs like these, with seating, build around the perimeter of the patio really make the most of the space. There's still plenty of floor space visible so it doesn't feel too cramped, but by having the planting above the seating area, it creates almost a sunken patio area and gives a really cozy, intimate feel to the space.
2. Soften up boundary walls with greenery
You obviously need fences around a small patio for privacy, but when space is at a premium, towering fences and walls can feel quite overbearing and become a real focus of the space. The simple solution is to soften up those boundary walls in an urban garden by using greenery. Use climbers to disguise an imposing fence, or plant something tall and fast-growing like bamboo in front, or you could even add a living wall.
By using your walls to add greenery, you free up floor space too and forgo borders or bulky potted plants, giving you more room for stylish furniture.
3. Make a small patio more interesting with tiles
If you aren't the most green-fingered so plants aren't key for your small patio, just ditch the greenery and opt for a stylish, functional design. But you'll want to add interest in other ways right? Tiles are the perfect way to bring in pattern and color without the needs for lots of plants.
In this patio garden, the once dark and imposing brick walls have been covered in lighter tiles, instantly making the space feel lighter, brighter and just a nicer space to be in. The patterned floor tiles have a similar space-enhancing effect, plus the casually strung-up festoon lights and olive tree add a on-trend Mediterranean vibe.
4. Embrace small proportions for a cozy atmosphere
As can often be the case with small rooms, sometimes when it comes to designing and decorating and small patio it's best to embrace the small proportions. Create a space that feels cozy and intimate, with lots of low seating or floor cushions, plenty of soft, glowy garden lighting, and complete the look with a fire pit.
5. Throw down a rug for an outdoor living room feel
Outdoor rugs have been a huge garden trend as we all aim to make our gardens feel more like outdoor living rooms. So bring that trend to your small patio by adding a large area rug – go as big as your space can handle as there's nothing like a small square of fabric floating in a sea of patio slabs to shrink a space – then place your outdoor furniture on top. Check out our guide to the best outdoor rugs of the year for the Livingetc teams' top buys.
6. Transform a light well patio garden
Loads of modern small patio ideas to take from this tiny but perfectly formed courtyard garden. Whitewashed walls and pale floor tiles turn it from what could be a dark and dingy space with overbearing brick walls, into an area you'd actually want to spend time.
Note the use of just a few large plants rather than lots of small pots, there's an elegance to the towering tree ferns and palms combined with the Victorian-style spiral staircase and vintage bistro set. With small patios sometimes the more is less rule is worth following.
7. Don't always think small for a small patio
But sometimes more is more, and in fact going bigger and bolder in a modern small patio can really pay off. Case in point with this space, filled with large ferns and a stylish pergola, you don't notice to small portions which are disguised by all the lush greenery.
8. Add levels to a small modern patio
When there's not much space at ground level, go vertically and add multiple levels to your patio. Build seating into the walls like in this modern patio, for a very relaxed, laid-back feel and then the floor space can be used for a more formal dining space.
Also, take inspiration from the lovely light colors used here too. The marble floor tiles and metro wall tiles add texture, interest and elegance. Plus they keep the space feeling lighter, brighter and bigger.
9. Expand space with outdoor mirrors
We all know of the space expanding abilities of using mirrors indoors, but they can have exactly the same effect when used in patios too, and can instantly make a small garden feel bigger.
Depending on the look you are after, you could add a large simple mirror to the back wall of your garden to 'double' the space, opt for a statement oversized vintage mirror, as can be seen in this small patio like, or opt for something more subtle and traditional and cover a mirror in climbers.
10. Mix material to zone a small patio garden
Even a small patio can be split into zones, by using a mix of materials to distinguish different areas. In this small garden, half the patio is decked in a lovely pale wood, ideal for bringing out a dining table and creating an outdoor dining space, or for the family to play on. Then further into the garden, the patio flooring turns to textured brick, which blends much more naturally into the planting and could be used for a more relaxed seating space.
11. Turn a small patio into an outdoor dining area
Small patios lend themselves so well to be transformed into stylish outdoor dining areas. Pick a compact dining set that won't totally fill the patio as you still want to be able to move easily around the space and let light flow in too - you'll find some great options in our guide to this year's best garden furniture - then fill the edges with billowing plants to soften up the boundaries. And don't worry if borders aren't an option, opt for raised planters or group together pots for a similar effect.
Really up that indoor/outdoor feel with the decor – add throw cushions and blankets to the back of the chairs. Hang pendant lights or string lights above for overhead lights and dot lanterns at floor level for even more of a glow. You could even add a rug for some softness under foot and to ground the dining table.
12. Mix textures to add interest to a small modern patio
As with smaller indoor rooms, when it comes to small patio ideas texture can be key. It's texture that will add interest to your space can be used to blur the edges of your patio, making it feel less penned in.
Plants are the obvious way to bring in lots of different textures, so when choosing plants for a modern garden be sure to pick an array of sizes and shapes. But if you, as this space proves, you can bring in texture with materials too – your choice of decking or patio paving, fences, trellises even furniture can all add to creating a gorgeous patio.
13. Float your outdoor furniture
No room for a traditional six-seater dining table? Create the ultimate vacation feel and opt for a hammock instead. They might sound like an impractical modern outdoor furniture solution but hear us out. They take up zero floor space, add no visual bulk and there are some really cool designs out there that will add a stylish, relaxed vibe to your garden. Complete the look with large potted plants – try palms, bamboo, tree ferns and banana plants for a real boho feel.
14. Create a seamless flow between indoors and out
Expand a small patio by blurring the lines between indoors and out, making your outdoor space just feel like an extension of the room it leads on from.
The simplest way to do this is to run the same flooring between the two spaces – picking a decking in the same tone of wood as the wood used inside your home, patio tiles that match the indoor floor, or copy this small modern patio idea and choose a smooth polished concrete to create that seamless flow. Plus, you won't notice the small proportions of the patio area because it feels just like an extension of the room it has led on from.
How can you make a small patio look bigger?
You can make a small patio appear bigger by ensuring the boundary walls or fences don't feel too dominant. Do this by either softening them with climbers and greenery or you could paint them in a lighter color so they don't appear so obvious. Tiling your walls can be a fun, stylish option too to disguise the edges of a patio.
Make sure you choose patio furniture that is to scale too. Don't totally fill the space with a large table or bulky outdoor sofa, pick slimline pieces that won't overwhelm the patio and fill still allow light to flow around the area.
And don't always go small either – avoid using just small plants and small pots as this can make a small patio feel cluttered. Instead, pick just a few large plants in large pots that will make more of a stylish statement.
The Livingetc newsletter is your shortcut to the now and the next in home design. Subscribe today to receive a stunning free 200-page book of the best homes from around the world.
Hebe is the Digital Editor of Livingetc; she has a background in lifestyle and interior journalism and a passion for renovating small spaces. You'll usually find her attempting DIY, whether it's spray painting her whole kitchen, don't try that at home, or ever changing the wallpaper in her hallway. Livingetc has been such a huge inspiration and has influenced Hebe's style since she moved into her first rental and finally had a small amount of control over the decor and now loves being able to help others make decisions when decorating their own homes. Last year she moved from renting to owning her first teeny tiny Edwardian flat in London with her whippet Willow (who yes she chose to match her interiors...) and is already on the lookout for her next project.