10 living rooms with brilliantly minimalist couches that prove pared-back living doesn't have to be uncomfortable
Think minimalist living means austere, uncozy interiors? These couches prove that this design principle can be comfortable, too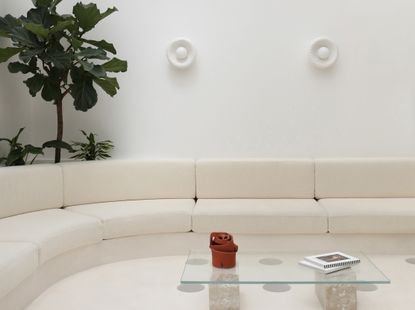 (Image credit: Heju)
The Livingetc Newsletter
For style leaders and design lovers.
Thank you for signing up to LivingEtc. You will receive a verification email shortly.
There was a problem. Please refresh the page and try again.
Minimalist couches are the defining elements of the new modern home – the perfect blend of pared-back forms mixed with understated luxury. While many people envisage minimalist homes as monastic and bare, designers are embracing a new, more comforting form of minimalism in 2023 - we call it Minimaluxe.
A good, but pared-back couch design is at the heart of a Minimaluxe scheme. Simple, but comfortable, these ideas prove that you can be comfortable in a modern minimalist home. If you want to live in a more minimalist space and want a living room that is clutter-free, well-curated, and warm, take a look at these 10 living rooms all with minimalist couches.
1. This couch with straight, crisp lines
Living room furniture that follows straight, clean lines are a shortcut to a modern minimalist look. In this home designed by Norm Architects, the form of the sofas gives the living room an ordered feel.
The neutral color scheme too adds to the minimal and crisp look of the space. A cream and off-white palette ensures the room is warm and welcoming, yet always orderly.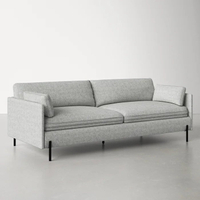 Add a touch of elegance to your living room with this super-stylish piece with a compact frame, upholstered in neutral tones.
2. This modern, sculptural couch
This living room sofa is an unusual bespoke piece that almost feels like a sculpture in the room.
'This sofa was made by a local craftsman that the client knew, and it is designed fully in linen fabric, for a clean look,' says Andrew Trotter, founder of Studio Andrew Trotter. Its minimal form evokes interest, and its linen design adds a touch of elegance to the space. In a room that may feel a little cold with a few furniture pieces, this linen sofa adds movement with its folds and tactile form.
3. This double-sided sofa
Minimalism doesn't mean compromised functionality. This sofa is a great example, where the simple, non-bulky form makes room for several people to be seated on it, along with two different socializing spots that are created. If you're redesigning a modern living room, this piece could be a winning one.
'This is the Domenico Modular Daybed by RH (inspired by a 1970s Italian design by Jens Juul Eilersen) that we reupholstered in a custom black velvet to fit with the aesthetic of the space,' say Fanny Abbes and James Davison, founder of The New Design Project. 'We wanted to create a double-sided seating area, without the visual heaviness of two back-to-back sofas. The two weighted cushions can be rotated to allow guests to either sit facing the same direction, thereby creating one 4-person and one 2-person seating area, or sit facing opposite directions to create two 3-person seating areas.'
4. These sofas with soft curves
There's something so soothing and appealing about a curved sofa. Just like arched windows and doorways, a curved sofa defines a softer, squishier aesthetic. When built into a minimalistic design like in this project, its organic, sensual, and wonderfully nurturing look complements this modern style of interior and creates a welcoming look for a person to lounge around in.
'We worked carefully with the selection of the furniture in the living room to create an evocative yet calm and welcoming atmosphere; a comfortable yet sophisticated setting for daily life featuring warm and natural materials,' says Anne-Marie Buemann, managing partner at OEO Studio.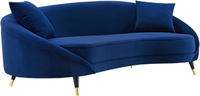 Bring in this mid-century-inspired sofa featuring organic lines, asymmetric shape, and gold accents.
5. This couch with a sleek, metal frame
For an elegant living room, choose sofas made in solid, sleek frames that add a symmetrical look to the room. Also creating a minimalist room like this one offers plenty of flexibility for bringing in seasonal elements or flowers when you want to add some variation to the aesthetic without renovating the whole room.
'A custom-designed bench from our Building Blocks collection in silver powder-coated metal with off-white leather upholstered seats continues the emphasis on balance through material and form, hovering between weight and weightlessness,' says Jialun Xiong, founder of Studio/ JIALUN XIONG.
'Bookending the central dining zone is this lounge area,' says Jialun. 'The semi-open lounge area contains a graphic, curated collection of sofas, benches, and tables designed by us, all combining natural and industrial materials into forms that artfully balance positive and negative space.
6. This built-in banquette
This neutral living room is anything but vanilla. The long, custom, and beautifully cozy white couch complements the pared-back aesthetic of the room and creates ample space for plenty of people to sit around. Its curving design ensures that conversations between people sitting side-by-side or even on two ends of the seater are easy.
'This space is inspired by vernacular Mediterranean architecture with its curves, raw materials, and masonry furniture,' says Hélène Pinaud, founder of Heju. 'In the majestic living room with a glass roof, the diffused light adds a soft look to the room. We wanted to design a curvaceous and enveloping masonry bench in white that fits the space perfectly. We focused our approach on sensations, designing an immersive, minimal, and intimate place. This loft is thus embodied by an interaction of volumes, shapes, and colors that highlight the void.'
7. This small couch that fits in an alcove
A one-piece-fits-all, this multifunctional couch perfect for the living room corner offers several functions yet has a light visual, that does not overwhelm the space. Its tones match the walls, making it almost merge into the alcove it is designed for.
'Geometry, balance, and comfort were the design touchstones for this modular system comprised of several components: bench, lounge chair, ottoman, armless lounge, chaise longue,' says Jon de la Cruz, founder of DLC-ID. 'Each piece can connect with the other to create an infinite amount of options, while also addressing the needs for durability and versatility.'
8. This couch perfect for a corner
This curving sofa custom fit to hug the space beneath the mirror creates a seamless look that contributes to the cozy living room's minimalist feel. Its tones work well in the space and add to the soft palette of pink and warm gold tones that make it feel comfortable with a minimum of effort.
'We love minimal couches that go all the way to the ground,' says Kristen Pena, founder of K Interiors. 'When you are looking to simplify things taking away elements (like feet) that draw your attention away from the form to a different material or shape limits visual noise and distraction. In this space, we love the small footprint of this chaise along with the fun wraparound curve that is both playful and feminine.'
9. This couch with a seamless design
This rather Scandinavian-style piece is ideal for a room that serves many functions. This family room/living room/games-space is one where there is less need for a whole seating paraphernalia. The long, single-seater provides ample space for socializing without overwhelming the floor area.
The sofa also doubles as a wonderful guest bed when too many people decide to stay in it. Its lounge-like form is easy to stretch in and its close-to-ground height is ideal for guests of all ages.
10. This curving couch with a breezy form
This small living room furniture is all about playfulness. And a small, minimal design can offer a clean aesthetic and lots of use.
The rounded piece on the left works as a daybed, a chair, a sofa, an ottoman, and even as a reading spot. Its simple form adds a relaxed, calming vibe to the room, making the dweller want to lie or lounge on it all day long.
'This Eichler's grounded central room, known as the Atrium, acts as the dynamic hearth of the home,' says Gustave Carlson, founder of Gustave Carlson of Gustave Carlson Design. 'It is where the family gathers for reading and lounging, and it offers views and connectivity to the rest of the house. We custom-designed a skylight to open the room to the sky, and the reading sofa by Jessica Davis was brought in to float in the space.'
For style leaders and design lovers.
Aditi Sharma Maheshwari is an architecture and design journalist with over 10 years of experience. She's worked at some of the leading media houses in India such as Elle Decor, Houzz and Architectural Digest (Condé Nast). Till recently, she was a freelance writer for publications such as Architectural Digest US, House Beautiful, Stir World, Beautiful Homes India among others. In her spare time, she volunteers at animal shelters and other rescue organizations.