How to simplify a small living room – 10 designer approved tips for instantly more calming decor
A fail safe formula for designing a space that's chic, simple, and makes the most of your living room no matter how small - designers explain how to simplify your space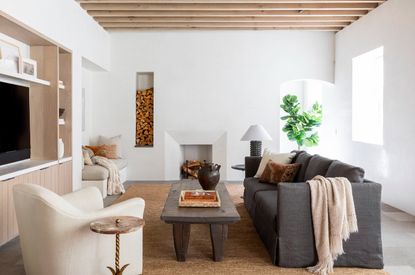 (Image credit: Julie Soefer)
Now when we say 'simplify' a small living room, we don't mean playing it safe, or striping back, or even being overly minimalist. What we are talking about is designing small spaces that just look... right. Nothing's over-complicated or trying to hard to get more from the space. They are well thought out, easy on the eye, everything makes sense and as a result you don't notice the smaller dimensions, just the beautifully chic living room before you.
But how do we achieve these effortlessly simple spaces? We've asked top designers to talk us through their tips for designing a simple, chic, always-on-trend small living room, and this is what they said.
1. Stick to a simple color scheme
'My biggest piece of advice to simplify a small living room is to stick to a neutral color story,' suggests designer Leanne Ford. 'I have always felt like white paint is an easy win for all styles, all homes, all projects. It gives you a blank canvas to play with and it adds lightness and brightness to the space. I believe pops of color will come into your space naturally, with the things you love. So I prefer to start with white paint to make the room a blank canvas and then use texture and interesting shapes to add oomph!'
An all white living room is a classic, and always works in a small space. And as Leanne says, you'll naturally find ways to add interest and depth as you start to bring in decor that you love.
2. Create a layout that reflects how you use the space
The right layout is key to designing a small living room, and the best layouts really lend themselves to how the space is used. So as well as of course considering sizing and what can physically fit where, it's equally important to think about where it most makes sense to position your furniture, and where you want the focus of the room to be.
'When deciding on a small living room layout, it's important to think about what the focal point of the room will be. I try to avoid making the television the main focus, and instead, arrange the furniture so that whoever is sitting there can enjoy a stunning view or a beautiful wall of joinery. Alternatively, an open fireplace could make for a great focal point,' explains designer Irene Gunter.
'It's important to ensure that you can move effortlessly through the room without furniture getting in the way. Consider the seating arrangement and whether the room is comfortable for conversation. Are people close enough or too far apart? Is the room flexible enough to accommodate different types of gatherings, from small family get-togethers to larger groups? Consider how you like to use your living room and plan accordingly.'
3. Simplify a small living room with large furniture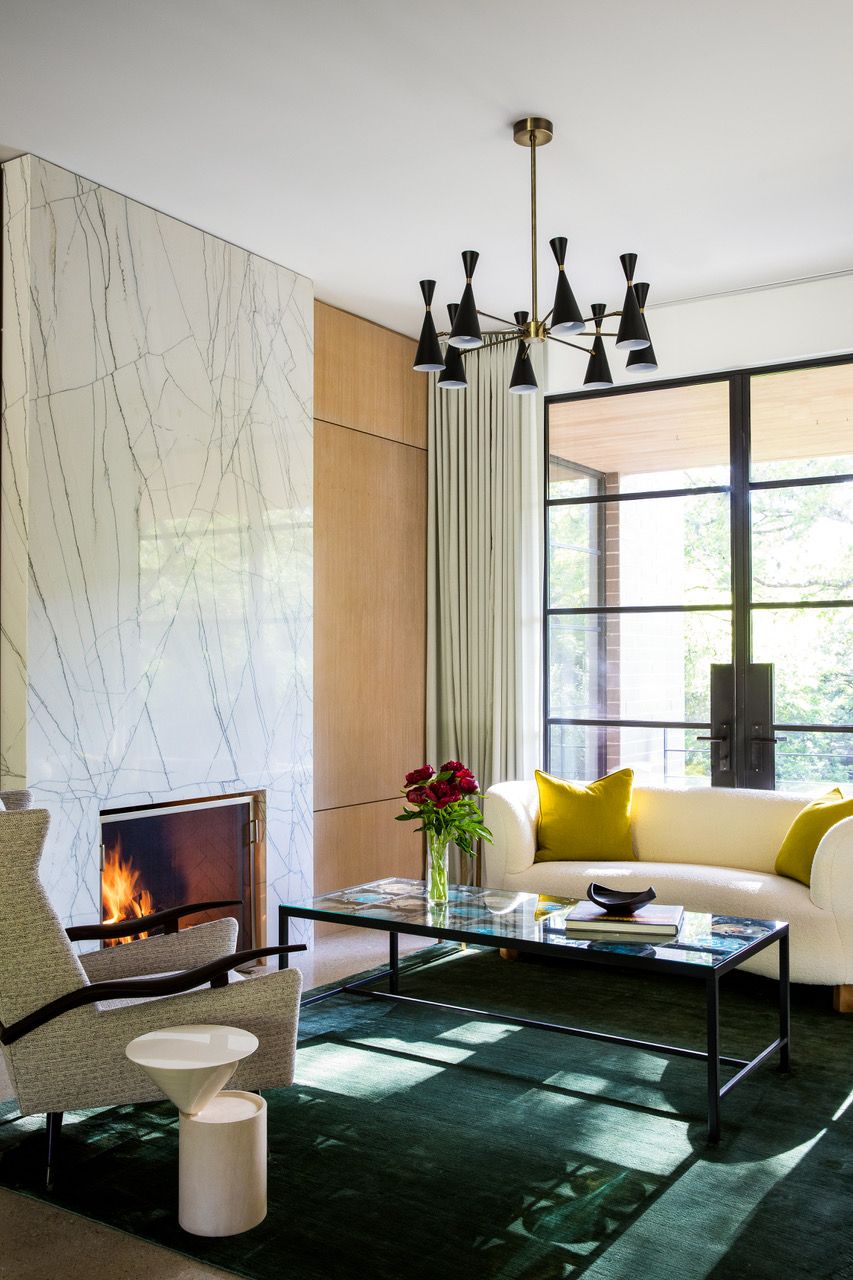 With small rooms, the natural approach is to think small with your furniture and decor. But in fact, the last thing you want to do in a tiny space is fill it with lots of small pieces of furniture – you'll clutter up the room and make it feel so much smaller. Instead, go against instincts and pick larger pieces that really comfortably fill the room. Less furniture with bigger proportions will make a living room look far simpler and more stylish.
'Counterintuitively, we believe that a small space does not require small furniture exclusively,' says designer Kacy Ellis. 'Each piece in this living room was carefully selected for its scale and form. The chairs are fairly large, which help to fill the space, but the legs keep them feeling light. We balanced them with a petite sofa with tight upholstery and a thin, glass-top coffee table. It's important to limit the amount of furniture and visual clutter in a small space.'
Designer Sarah Rosenhaus agrees, 'We suggest getting the largest sofa you can in a smaller space, but there are a few details that are important to keep in mind. In a smaller space, select a couch with open legs, this keeps it from feeling heavy. Choose a low-back couch that lends a feeling of openness while keeping sightlines open. And in a smaller space, we typically opt for a simpler shape with clean lines when it comes to couches.'
4. Go easy on the eyes with symmetry and repetition
A really easy way to simplify a small living room is symmetry and repetition. Both of these things are easy on the eye, they instantly make sense to us. And that doesn't mean you have to design boring, flat, overly considered spaces. See how in this space designed by Maestri Studio there's a really satisfying balance created with the matching chairs and lamps, but the interesting shapes and mix of styles and finishes keeps this simple layout feeling modern.
'Repetition is a good thing,' says Sarah Rosenhaus. 'To keep a small space from feeling cluttered, use a pair of matching chairs that feels cohesive and allow the eye to rest. Keep the color palette simple and repeat variations of the color theme throughout the pieces used in the space. This will create cohesion and a sense of balance.'
5. Stick to a single piece of large scale artwork
When simplifying a small living room you want to reduce the visual clutter, so along with choosing larger pieces and less of you, take the same approach to your living room wall decor. Stick with large-scale prints that really fill the wall, rather than a gallery of smaller prints that are going to feel too fussy in a smaller room.
'This living room was designed for a client who was drawn to a simple and minimal aesthetic, so we tried to give it a bit more character with the use of form, texture and some touches of color. We brought in a touch of playfulness with the large painting by local artist Kori Girard, plus some colorful pillows to give it an inviting and lived-in feel,' explains designer and founder of Studio Roene Julia King.
'Scale is always important. Instead of filling a small room with tiny furniture, go for a bigger sofa to visually make the room appear larger. And for art, in small rooms I always opt for a large statement piece on the wall, to create a central focal point that grounds the space. A backdrop of lighter wall paint can help make the room feel brighter and more open.'
6. Consider all your seating options
If your room can't handle a practically sized sofa (we love the look of a vintage love seat but are they practical as your most used seating?) then maybe consider ditching the couch altogether. Instead, opt for an array of comfortable armchairs – they and less bulk and you can be more creative and flexible with the layout too.
We love the sociable layout of this neutral living room designed by Lisa Sherry. Instead of a single sofa, four armchairs allow for just as much seating and fills the space nicely too.
'Think outside the sofa!' says Lisa Sherry. 'Of course, seating is essential in a living room, but chairs, settees, loveseats, and daybeds might be perfect couch alternatives in space-challenged rooms. Think instead about what you want the space to accomplish. This small living room, for example, is all about intimacy. Four chairs come together in a friendly face-off with a cocktail ottoman in the center. In smaller rooms, this arrangement facilities conversation and connection, a beautiful and functional alternative to a sofa.'
7. Disguise the TV
You can pick out as much beautiful furniture as you like, get the color palette spot on and pick out the perfect decor, but in a small living room, you are always going to instantly notice the TV. Unless you make a conscious effort to disguise the big black hole that most living rooms are focused around.
'If you only have one living space, I recommend hiding the living room TV to create a more aesthetically pleasing environment. There are several options available. You can conceal it behind an automated wall panel that moves aside when you turn the TV on, or a sliding painting. Alternatively, incorporate the TV into a dark-colored shelving unit so it won't stand out,' suggested Irene Gunter.
This space gets it spot on, the wall on which the TV sits is still the focus of the room, but rather than standing starkly against a contrasting background, the screen blends into the stunning marble accent wall. The marble becomes the focus, not the tech.
8. Keep lighting low both in intensity and positioning
Living room lighting can always double up as decor, especially in smaller rooms where you don't want to have too much visual clutter. So consider pieces that don't just light the room with a lovely soft glow, but look beautiful or make a statement too.
'Having lighting at a lower level, such as table lamps and floor lamps, is important to be able to set the mood for a space. If there isn't a lot of room, I would choose a smaller floor lamp or reading lamp with a small shade, or get a beautiful wall-mounted plug-in sconce that provides accent lighting and added decoration without taking up too much floor space,' suggests Julia King.
Having lighting at eye level will of course make it more noticeable, but it also works well in a small living room, or any living room for that matter, as you avoid any harsh overhead lighting that's going to prevent that soft ambiance that layered lighting creates.
9. Add interest with unusual silhouettes
'Consider the profile and texture of each piece. Make each count, but also work to complement each other so that the overall look is greater than the sum of its parts. Adding in eclectic elements such as a vintage rug, greenery, and artwork will provide a layered look that brings the space to life. And use natural materials generously - jute, linen, wool blends...these will ground the space,' says Kate Marker who designed this gorgeous small living room.
Julia King agrees that 'in a small living room, you won't have that much furniture, so ideally there should be a nice balance of shapes and materials and every piece should add something interesting to the room. For example, if you are going with a simple boxy sofa, choose lounge chairs that are curvier with legs, or a sculptural side table that can be a conversation piece.'
'Always use color and texture to create some visual interest. A good way to do this is with a few contrasting throw pillows, a colored rug, or a vintage woven chair. A simple room with no contrast will feel unfinished and in a small space these little elements matter. Opt for a mix of unique vintage pieces with new – you want to have a few pieces that feel special.'
10. Minimize the amount of furniture with built-in storage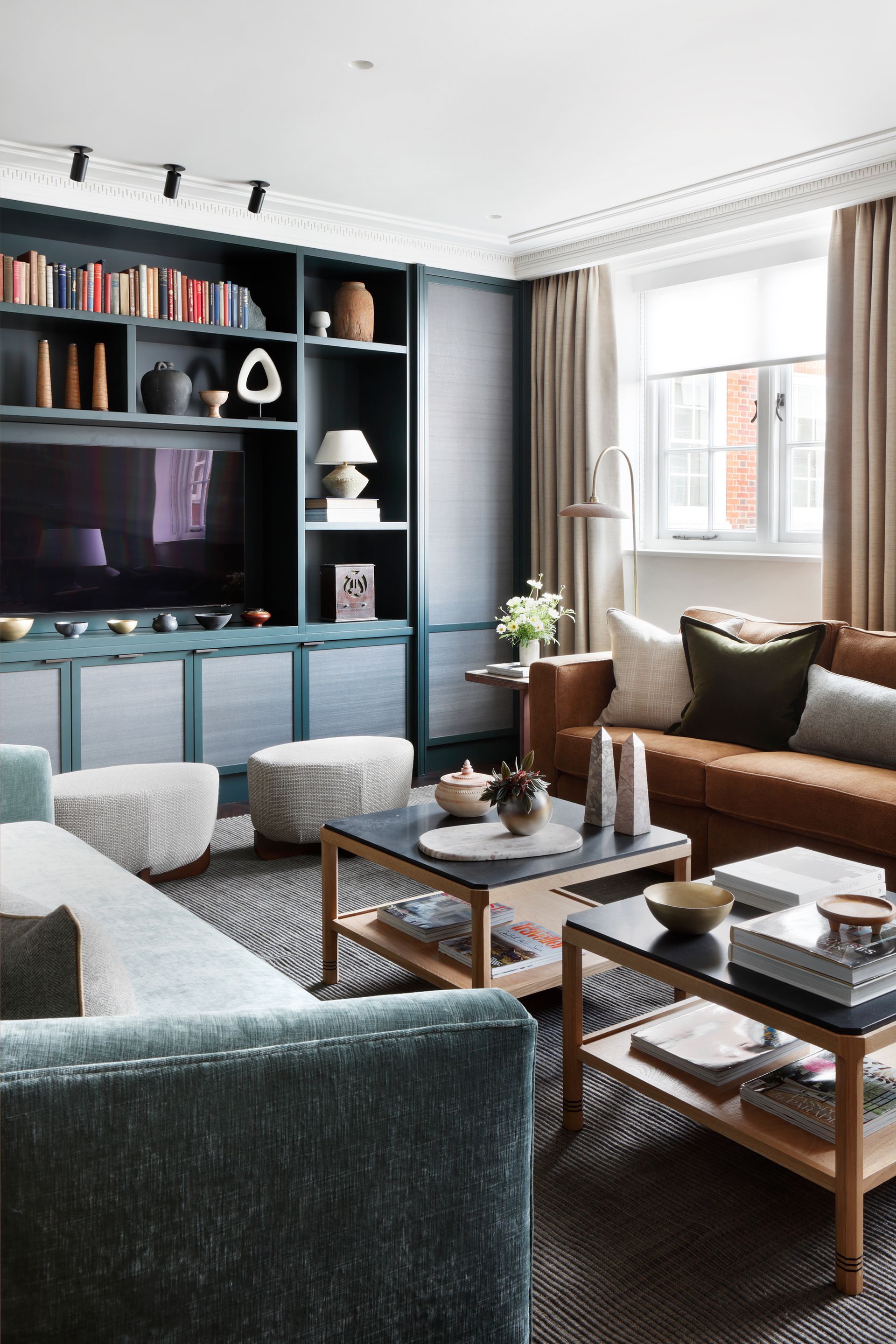 Built-in storage options are ideal for simplifying a small living room as you won't be adding any extra pieces of furniture and visual bulk. Plus living room shelving can become a beautiful feature in their own right and give you plenty of surface space to add decor.
'A built-in bookcase is a great option for a small living room because it can be customized to fit the exact dimensions of the space. This means that it can maximize storage while taking up minimal floor space. Additionally, built-in bookcases can be designed to blend seamlessly into the room's decor, creating a cohesive and polished look,' suggests Irene Gunter.
'And don't forget to light your shelves. Unlit joinery looks like a dark hole in your room, which is such a waste when you could create something that becomes a real highlight. The conventional way to light joinery is with recessed LED lighting. However, if LEDs leave you a bit cold, there are plenty of innovative alternatives. One great solution is to have sockets installed within the shelves at intervals, so you can plug in lamps without having wires trailing. This is a simple solution that allows you to change the look by switching out lamps and moving them around.'
The Livingetc newsletter is your shortcut to the now and the next in home design. Subscribe today to receive a stunning free 200-page book of the best homes from around the world.
Hebe is the Digital Editor of Livingetc; she has a background in lifestyle and interior journalism and a passion for renovating small spaces. You'll usually find her attempting DIY, whether it's spray painting her whole kitchen, don't try that at home, or ever changing the wallpaper in her hallway. Livingetc has been such a huge inspiration and has influenced Hebe's style since she moved into her first rental and finally had a small amount of control over the decor and now loves being able to help others make decisions when decorating their own homes. Last year she moved from renting to owning her first teeny tiny Edwardian flat in London with her whippet Willow (who yes she chose to match her interiors...) and is already on the lookout for her next project.