How to organize a pantry – top tips to make your food storage more effective
Follow this comprehensive guide to how to organize a pantry to maximize space and get it looking its best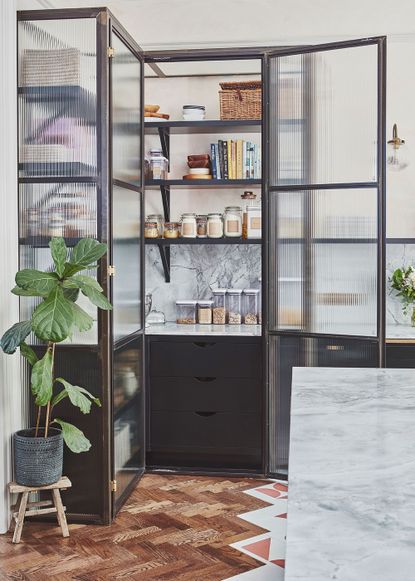 (Image credit: Blakes)
As the New Year quickly comes into focus, it's the perfect time to give your house a big clear-out and clean. And, once you have eaten all of your festive food and gotten annual use out of your special Christmas plates, what better place to start than the kitchen, and more specifically with organizing the pantry?
'The kitchen is where many families spend most of their time, so getting everything in order here first will help to regain a sense of control after the mayhem of Christmas,' says professional home organizer Vicky Silverthorn.
'It's not about putting things in little baskets, but more about having simple solutions that will keep the kitchen clutter-free for years to come,' says Vicky.
Read on for a step-by-step guide on how best to organize your pantry, plus plenty of useful tips and tricks to make your food storage as effective as possible. If you don't have a pantry, don't worry: these tips are useful for general kitchen storage ideas too!
How to declutter your pantry in 6 easy steps
1. Have a precursory look inside your pantry
'Before you do anything, open up all the cupboards and take a good look!' recommends Vicky Silverthorn. 'Why? Many people start a kitchen clear-out by taking everything out of the cupboards and putting on the countertops. Trust me this will fill the space quicker than you think!'
Instead, working with the cupboards open – but not emptied – is a good way to start decluttering. Look through your cupboards or shelving and take out anything that you know should not be there, like Christmas plates or an appliance that does not get much use. Move them out of the kitchen straight away so they don't clutter up the space any longer.
2. Empty the shelves one by one
Now that you have gotten rid of the obvious clutter, empty the kitchen cabinets and shelves one by one, throwing away any food that is out of date (or donating any food you don't want) as you do. Consider any appliances or crockery that's stored in your pantry too. Be ruthless at this point, have you used it in the last year? Can you think of a reason you will be using it in the coming year? If not it goes.
3. Clean your food cupboards and shelves
Once you have totally emptied your shelves, give them a thorough clean with soap and warm water. Ensure the shelves are totally dry before you start putting anything back.
'Wiping down the surfaces will be more surprising than you think when it comes to dirt,' says Jake Colwill at Kutchenhaus. 'Don't forget to wipe the contents of what was inside the cupboards before, especially those sticky jars!'
4. Organize – or reorganize – your food into groups
Your food might already have been in useful groups as you removed it from your cupboards but, if not, it is time to implement a food organizational system.
To start, 'Organise food into sections' says Katie Thomas, founder of interior designs company KTM Design. 'For example, sauces, spices, baking ingredients, etc., to make it simpler to find the item you are looking for when cooking.'
5. Decide where your food will go
Now you know what you have, it's time to decide how you want to arrange it in your pantry.
'Where things are stored in your pantry may be dictated in part by the space, like the height of shelves,' says Lizzie Grant, founder of Declutter on Demand. 'However, as far as possible, designate an area for each group of items according to how often they are used.'
'If baking is a once-a-month occurrence then these ingredients should go on the higher shelves. Frequently used foodstuffs should be at waist level so you don't have to bend down too low or reach up too high to find them,' recommends Lizzie.
You could also take this opportunity to make some structural rearrangements in your cupboards or pantry.
'Why not really take advantage of the vertical space in your cupboards and rearrange your shelves to fit better-suited items,' says Vicky Silverthorn. 'Even if you don't have huge amounts of storage, rearranging the kitchen shelves will help your kitchen live up to its full potential and will rid yourself of clutter anxiety for good.'
While rearranging, consider how you would like to use your space. 'Kitchen storage is personal,' says Alex Main, director of bespoke kitchen provider, The Main Company. 'Every household will differ, so it's important to firstly consider what you will be storing before you design your larder or pantry.'
'If you need space for wine, for example, think about integrating some dedicated wine shelving into your larder,' says Alex. 'If you would like to keep your small appliances out of sight, consider space for your toaster, kettle and/or coffee machine to be neatly tidied away.'
If you would like to adopt a new kitchen organization technique – like using glass containers, baskets, or a Lazy Susan – you should also use this time to take measurements to ensure that you buy the best organization products for your space.
'Rather than going out all guns blazing and buying cute storage baskets for your kitchen, look at the space you have and think about sizing, practicality and which products you actually need to store,' says Vicky. 'Declutter, then measure up, and only then buy your storage.'
6. Put the food back into the pantry
'To create a kitchen pantry that is both functional yet aesthetically pleasing, organize your foods into labeled, glass jars to create a uniform and elevated look that makes it easy to find what you are looking for,' recommends Katie Thomas.
Or, like Vicky Silverthorn: 'Re-use old jars to create a rustic feel. If you've got old food jars lying around you can give them a wash and use them as cute storage pots for leftovers, dried food or snacks.'
Before you label everything, however, consider how useful labels actually are: 'Only label containers when absolutely necessary,' cautions Lizzie Grant. 'For example, to differentiate between types of flour or gluten-free foods. This allows you more flexibility on what foods you store in them.'
'Label the shelf rather than the box so you know where items belong,' recommends Siân Pelleschi, founder of Sorted!. 'If you've just done a shift around, it's a great way to help people locate what they want – and they can always be taken off once everyone can remember.'
Expert tips for keeping food fresh in a pantry
The majority of what you store in a pantry is going to be food, so we've asked the experts for their top advice for ensure you're storing and organizing food effectively, so things stay fresher for longer and nothing is wasted.
Organise your food in a way that makes sense for you and your family
'Putting things in places that 'make sense' for your family is so important,' says professional organizer Kathryn Lord. 'What you use all the time must be in reach, and those less frequent ingredients can be placed higher.'
'When organizing your pantry, it's crucial to think about what you'll need to access frequently – to make life easier, more than anything,' agrees Val Stones. 'I put frequently used ingredients (like rice and pasta) on a shelf at eye level, herbs and spices above this, then heavier tinned items on the bottom shelves.'
Keep everything in your pantry visible
'Pantries and larders give you the opportunity to have some open kitchen shelving without worrying about everything being on display,' Alex Main points out. 'Open shelving is ideal for easy access and storage, and hidden behind a larder door ensures that your kitchen remains clutter-free.'
'Making sure everything is visible and color-coordinated, helps you and your family know where everything is,' says Kathryn Lord. 'This makes cooking and baking easier as you're not searching around for that ingredient you think you might have in the back of the cupboard.'
'I like to store my pantry food items in containers, but they need to be airtight in order to keep their freshness,' says home organization expert and cook Naheeda Khan. 'You can purchase storage jars or recycle your food jars (i.e. pasta sauce jars) for a zero-waste pantry.'
'Spices and herbs are easy and fun to organize,' says Naheeda. 'Full of rich colors and textures, a nice seasoning display is achievable no matter how big or small your space is. To really 'spice' things up, add customized labels to your jars (unless already labelled of course).'
Reduce food waste with the food rotation method
'When you come home from a trip of grocery shopping, and you're putting food away in your pantry, make sure you always pull the older items forward,' advises Margaret. 'Then, put the newest items in the back. This works for things on shelves, like canned goods, as well as for items in baskets or bins.'
This helps to reduce food waste, because you use up the old produce first. If you keep food like cereals, grains and spices in jars, make sure that you pour out the contents first, refill with your new food, and then replace the old contents on top.
The Livingetc newsletter is your shortcut to the now and the next in home design. Subscribe today to receive a stunning free 200-page book of the best homes from around the world.
Olivia Emily is one of the most exciting new talents in consumer lifestyle journalism. Currently finishing off a Masters in Journalism at the City University, London, she has quickly proved herself at being adept on reporting on new interiors trends. A regular contributor to Livingetc, she is brilliant at being able to decode information for our audience.