How to make your backyard feel more private - 13 ways designers create a hidden oasis
From flower-covered trellises to clever fire pit screens, these stylish ways to make your backyard feel more private are the perfect way to create an outdoor sanctuary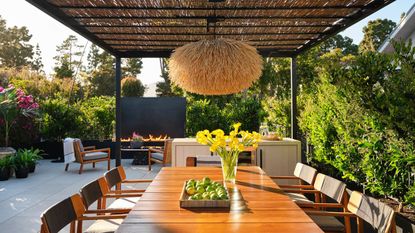 (Image credit: Kathy Taslitz)
Knowing how to make your backyard feel more private means your outdoor space can be where you go to relax, socialize and enjoy some quality alone time. A few designer tricks and you can ensure a restorative, serene experience every time you step outside.
'A backyard, at its best, acts to ground us in nature, and this is simplest to do when you can relax in a comfortable, private setting,' says landscape architect Janice Parker.
There are plenty of ways you can ensure your privacy ideas are also in line with your aesthetic expectations, so you have the ideal blend of form and function.
How to make your backyard feel more private
Below, a host of designers let us in on their secrets for creating a private retreat for a tranquil escape right on your doorstep.
1. Dot potted plants along the fence line
Add extra height to a fence - and make it look a little prettier - by dotting potted plants and trees along the boundary line.
This beautiful backyard and swimming pool area is made to feel like more of a private retreat with the addition of always-appealing olive trees - one of the best trees for privacy as they grow so bushily.
Kate Anne Gross and Ryan Gross, of Kate Anne Designs, who created the look, say: 'Lining a combo of tall and low potted plants or trees creates an interesting privacy backdrop.
'Some examples I like to use are olive trees, silversheen hedges, westringia shrubs, boxwood shrubs and olive shrubs.'
The best trees to grow in pots also work to give a visual break from the hedging, which provides privacy along the first half of the fencing.
'Beautiful fencing, layered plantings, and artful fountains strategically placed either along a property line or around a specific area in your garden, can work together beautifully to create a sense of seclusion and peaceful serenity,' confirms landscape architect Janice Parker.
$191.40
Large terracotta planters
2. Design a fire pit with a privacy screen
A fire pit is a cozy addition to any backyard, stretching those long lunches and sunny days into balmy evenings by the warming flames.
But as well as turning your backyard into a haven and adding ambiance to a space, a cleverly designed fire pit can also double up as a privacy backdrop.
Designer Kathy Taslitz created this outdoor fire pit area at her Santa Monica home. She says: 'I designed the blackened steel fire pit to provide privacy and hide the neighbor's home, but also to bring warmth and create another social space in this corner.'
3. Plant tall perimeter hedging
Hedging is a traditional go-to for creating privacy in a backyard that also has an organic aesthetic that adds to the feeling of getting back-to-nature in your very own retreat.
'Our clients always want to have a feeling of privacy, which we accomplish in a variety of ways,' says Kate and Ryan Gross. 'First is with tall perimeter hedging. Depending on the budget, we may use mature hedges that give instant height, or less mature hedges that grow quickly over time.
'We also use canopy trees in strategic locations to block views from neighboring windows.'
Andrew Gaumond, horticulturist and editorial director at Petal Republic, says: 'As a general rule, hedging tends to grow more rapidly and is easier to train to create the required level of privacy you seek. Many varieties of hedging are also evergreen, so you'll have a natural spectacle to admire throughout the year.'
Any tips on what to plant? Andrew advises: 'Some of my favorites types of hedging for privacy are:
'Forsythia 'Lynwood Gold' - this rapid growing shrub can reach up to 12 feet tall when mature and will thrive in a range of growing zones. They produce a stunning array of golden yellow blooms throughout spring and summer each year.
'Photinia Red Robin - is a very popular option for hedging, boasting deep scarlet red leaves in spring and summer that transition to lush green leaves from late fall through winter. They also grow pretty quickly - anywhere up to 50cm a year from experience.
'Common laurel - the go-to for many looking for a low-maintenance, hardy evergreen hedging solution. They'll thrive in a range of growing conditions and pack dense foliage once mature, making them ideal for a privacy screen.'
Andrew adds: 'Hedging plants are typically sold potted in various sizes (usually up to 50 inches tall or so), though more mature plants are potentially available as well if you're looking to get ahead.
'Instant heading solutions that are already lined up in a trough (typically up to 80 or 120 inches in length) are another good option.'
Add string lights, comfortable outdoor seating, an outdoor kitchen, and you've got yourself a dreamy backyard sanctuary.
4. Create a flower-covered trellis
is there anything prettier than a bougainvillea-bedecked trellis in the backyard? We think not. Bonus? It creates a rather nifty privacy screen, too.
Kathy Taslitz, who created the piece, says: 'I designed custom steel planters to contain a dense curtain of bushes to make the space feel secluded.
'A backdrop of magenta bougainvillea flanking the outdoor bed adds striking splashes of color and makes the area feel tropical and bright.
'I then created a DIY canopy with a willow branch ceiling for added insulation so there could be a hanging fixture for cozy ambient lighting over the dining table.
'Lighting in the planters and the standing lamp adds to the nighttime drama and makes the space glow.'
5. Enjoy a 'living wall'
Cover a privacy fence in vines or ivy to create a 'living wall' that's more beautiful to look at.
'A wall or partition of greenery is, of course, the natural strategy when aiming to create privacy in a garden,' says Margaret Naeve Parker of M.Naeve. Some of the best plants to cover a fence include climbing hydrangeas and honeysuckle - you can definitely have flowers here.
'And, of course, I would be remiss not to suggest relying on large antiques that will sing in any outdoor environment.'
6. Pair a white wall with hedging for a fresh look
The effective privacy combo of white garden wall and hedging allows for a modern look that also seamlessly sits in the wider landscape beyond.
'I love the hedges peaking over this brick wall because it adds another layer to the beautiful landscape while shielding the backyard from those nearby,' says Joshua Smith, Principal Designer and Founder of Joshua Smith Inc. 'The green hedges blend with the natural background, whereas raising the brick wall to achieve the same level of privacy would have felt too abrasive and enclosing.
'We chose to paint the bricks white for a clean, airy look while reflecting the style of the home, making the outdoor and indoor areas cohesive.'
7. Put up a traditional fence (but paint it black)
There's something about a lick of black paint that brings a garden fence bang up to date, ensuring it's up with backyard color trends.
Fencing is an effective and affordable way to make your backyard feel more private, and painting it a different color gives it instant edge.
'We love modernizing a yard using grey, charcoal or black fence stains,' says Kate Anne Gross. 'It makes a great sitting area backdrop or a nice blend with the surrounding views.
'For this project (above), it was also a great opportunity to add a few low voltage down lights to give the fire lounge more ambiance.'
$44.95
8. Use stylish shade structures
'Another way to make your backyard feel more private is the use of shade ideas for patios, be that with slide-on-wire fabric shades or wood pergola structures,' says Kate Anne Gross.
The fabric shades in the backyard above give respite from the sun's rays as well as offering extra privacy to one part of the backyard.
Paired with white fencing, potted olive trees, string lights and pendant lighting, it all combines to create an easy breezy yet warm and inviting outdoor oasis.
9. Place vine-covered latticing on a brick wall
Vine-covered latticing is a way to make your backyard feel more private without blocking out too much more light.
Speaking about the backyard above, Evelyn Pierce, of Evelyn Pierce Design Studio, says: 'We added the brick walls instead of a traditional fence and then added the trellis at the top to increase the overall height to be 10'-0" of privacy from the adjoining neighbors.
'The lattice helps the space not feel closed in, but it also helps you feel like you are in your own oasis in the city.'
She adds: 'The natural wisteria and ivy help to soften the brick and lattice and create a secret garden.'
Landscape Architect Janice Parker agrees that a trellis is a brilliant way to add privacy as well as visual appeal to your outdoor space. She comments: 'Hidden areas create interest in the garden when they are made up of different elements.
'Trellis and lattice will produce shadow lines, which are always changing during the day and the seasons.
'Vines growing on and through open fence designs, provide a great opportunity to add color, flowers, and seasonal interest.'
10. Install shutters on architectural features
Shutters aren't just for your living room windows... They're also an ultra-elegant way to add a privacy option to your backyard space.
This project by Fowlkes Studio showcases intelligent design by adding wooden shutters to outdoor archway features. A wonderfully chic idea that allows prying eyes to be kept out or the sun's rays to be let in depending on your inclination.
VW Fowlkes, of Fowlkes Studio, says: 'Shutters are a threshold and a screen at the same time. They offer flexibility, but even when they are closed, light spills through the louvers and there is a suggestion of something visually worthwhile on the other side. They are visually engaging in a way that a fence or a row of arborvitae aren't.'

11. Add sliding doors to a balcony
If your outdoor space is more balcony than backyard, you'll immediately want to add sliding doors to yours after seeing this design-smart project.
'This area was meant to become a part of the library when the sliding glass doors completely open and are hidden away inside the wall,' says Kathy Taslitz.
'I wanted to let the light in but to ensure privacy, so I put in custom wooden louver shutters that match the house exterior. The center ones can be slid open to either side or shut together for total seclusion.
'It's a lovely way to add the outside into the interior space yet not make someone sitting there feel exposed.
'Adding some potted plants softens the hard surfaces and makes it feel more like a terrace garden.'
12. Hang curtains around an outdoor structure
Adding curtains to an outdoor structure, whether it's a pergola, cabana or permanent building, will provide instant privacy in your backyard.
Whether you opt to create a DIY canopy or have structure professionally built, curtains will ensure you can shut out the world and enjoy your private space.
Lindye Galloway, Founder and Chief Creative Officer of Lindye Galloway Studio + Shop, designed the backyard pool space above.
She says: 'We created this covered pool for a boutique feel that provided privacy and allowed for usage year-round.
'The sheer curtains are great for ensuring privacy from all sides, but can be left open to allow more natural light and a light breeze for that perfect indoor-outdoor feel.'
13. Build a pool cabana
If you're lucky enough to have a pool in your backyard, a pool cabana is the perfect way to shelter from the sun and enjoy some privacy at the same time.
From simple structures like canopied daybeds to luxurious permanent structures with sumptuous outdoor living rooms and kitchens, a pool cabana provides a space for you to relax solo or somewhere for friends and family to gather. But it also offers that extra level of privacy where you can shelter from the sun, and enjoy a little out-of-the-way downtime.
The pool cabana above, by Joseph Richardson of Richardson & Associates Landscape Architecture, offers bathroom facilities and a lounge area, as well as being a design-led build that elevates the garden's aesthetic.
He says: 'Cabanas and privacy screens are smart investments to any outdoor space. Not only are they great places to hangout and relax, but they also offer protection from the elements, and, depending on how the structure was designed, can help screen neighbors, particularly in tight suburban neighborhoods.'
The Livingetc newsletter is your shortcut to the now and the next in home design. Subscribe today to receive a stunning free 200-page book of the best homes from around the world.
Ruth Doherty is a lifestyle journalist based in London. An experienced freelance digital writer and editor, she is known for covering everything from travel and interiors to fashion and beauty. She regularly contributes to Livingetc, Ideal Home and Homes & Gardens, as well as titles like Prima and Red. Outside of work, her biggest loves are endless cups of tea, almond croissants, shopping for clothes she doesn't need, and booking holidays she does.