How to have a low maintenance living room that won't age – 10 ideas for an elevated room that needs no effort
The secrets to a low-maintenance living room that won't age are like the holy grail of design, creating a designer-approved scheme that looks good for years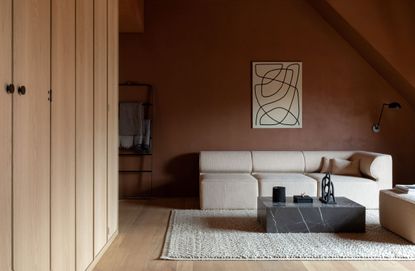 (Image credit: Norm Architects)
Imagine a living room you never have to repaint. A flooring you never have to replace. A space where children and pets can run wild. Who wouldn't want a home that requires no work, yet looks timeless, beautiful, clean, and sleek? The good news is, that isn't as far-fetched as you might think. Today there is a growing trend and need for a low-maintenance home that practically takes care of itself. And for that, there are materials and products galore in the market.
We spoke to top experts from the field to guide us in designing a living room that's durable, and long-lasting.
10 ways to have a low maintenance living room that won't age
From the right finishes, furnishings, furniture, lighting, and more, we have it all mapped out. Experts explain how to create the perfect space.
1. Choose polished natural stone for flooring
The living room flooring is the first thing that gets dirty the fastest. From food, spills, dust, and more, the surface can very quickly look shabby and requires constant cleaning. Consider a flooring material (with a protective sealer), with minimal seams so it's easy to sweep or mop, and pretty much impervious to anything that may spill. Also, it may be prudent to go in for large format tiles, as these will have lesser grout lines, hence lesser cervices to clean.
'Consider natural stone for flooring,' says Antonin Hautefort, founder of Atelier Pendhapa. 'The stone must remain non-porous for better durability, so you just need to seal it once a year. With yearly polishing, you will be able to have an ever-lasting surface material that will last even a generation.'
Light-toned marble has a natural allure, and dust usually doesn't show on it as much. Plus, it will give the living room a feeling of luxury and plushness. Other great flooring options are laminate or vinyl tiles in a wood-look plank. A good dust mop and sponge mop are all you need for all of the above.
2. Go for performance fabrics
'Performance or easy-to-clean fabrics are a good choice for a low-maintenance living room,' says Laurane Nudd, founder of NW Interior Design. 'A brilliant fabric that is completely stain-resistant and water-repellent and is available in a wide range of colors is a faux suede from Chase Erwin.'
'Although for a durable home, a curtain may be something you'd want to give a miss, if you really would want one in your living room, choose fabrics that can be washed or steam-cleaned, as over time they can get dirty,' says Kashi Shikunova, director at YAM Studios. 'Some fabrics like linen can fade in the sun which again can make them look tired so when considering fabrics for an especially sunny room think about ones that can keep their color for longer.'
For a low-maintenance home, consider deep or darker-toned fabrics that will hide stains and scuffs more easily. Microfiber ages better and looks smart. It is completely stain-resistant, and can even withstand coffee stains. Washing it is as painless as a damp towel and a bit of blotting with soapy water.
3. Opt for recessed lighting
'Lighting is an integral part of the overall design scheme of your house, as you walk from space to space,' says Julia Mack, founder of Julia Mack Design. 'The lighting should feel appropriate to the function of the space and should be easy to clean and maintain. Higher-level ceiling lights that are also dimmable will give you general illumination, creating a warm and comfortable feeling on gloomy days and into the evenings. Since recessed lights are hidden, they do not collect dust that easily, and since being out of harm's way, rarely get damaged by indoor accidents.'
These living room lights can be cleaned with regular dusting. Once you switch off the power, you can carefully remove the bulb, and using a damp cloth, wipe the interior of the recessed area. Also, with a dimmer system, you can always reduce the lighting in your home to cover all the tiny flaws the room might have!
If you do want to add a more decorative piece, that looks timeless but is durable, you could go for a simple glass ceiling pendant too. 'Using a modern glass ceiling fixture to ground the space is a great way to provide additional lighting that will remain timeless, durable, and not feel dated in years to come,' says Vanessa Rome, founder of Vanessa Rome Interiors.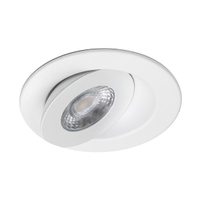 Consider this adjustable recessed kit that provides uniform illumination throughout the room.
4. For sofas, choose leather upholstery
Leather is one of the more durable, low-maintenance surfaces, and can even help you have an elegant living room. Whether you upholster a sofa, chair, or ottoman with leather, the material can make your space always look clean, smart, and well-maintained.
When choosing the type of leather, true genuine leather is too thick and tough for an animal's claws to puncture, so ideal for homes with pets and even children. It'll remain a comfortable surface most climates and is overall a good investment.
When it comes to cleaning leather, keep it simple and avoid DIY remedies. A store-bought leather cleaning solution would be ideal to use once every six months. Otherwise, you can simply vacuum it or even wipe it with a damp cloth.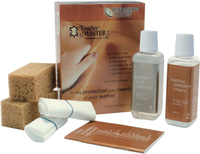 Consider purchasing this leather kit to thoroughly clean, protect, and moisturize your sofa. This cleaner and protection cream are essential to add to your cleaning supplies.
5. Plaster paint is long-wearing
When it comes to living room paint ideas, you'll be surprised by how long-lasting and durable Venetian plaster paint can be. It can stand up to heavy use, and the colors don't fade over time, so you won't have to repaint. All you'll have to do is to apply a fresh coat of wax every couple of years to keep it looking fresh. Dust and dirt don't permeate the walls and ceiling, and you can clean them easily by wiping them with a dry cloth.
'For paint, I like plaster paint or lime wash, as it naturally has texture and any scratches and marks easily blend into the texture which adds to the character,' says Kashi. 'It's subtle texture and soft shades give it a timeless look. The paint colors change with the light as the day goes on and works well with old or new furniture styles making a very versatile and timeless.'
6. Choose vinyl wallpaper
Although vinyl wallcoverings may not always be your first choice when it comes to living room wallpaper ideas, this tough material is notable for withstanding endless bumps, wear and tear, and looks fresh and timeless.
This wallpaper is made with a vinyl layer that provides additional protection that traditional papers do not. The role is developed with a backing that is a dense fabric like a scrim, osnaburg, or drill. Since it's usually difficult to print intricate details on its surface, this fabric-back wallpaper is typically solid in color or textured.
Interestingly, most people think of vinyl wallcovering only for high traffic and hardy areas such as the kitchen, but for a long-lasting, self-maintaining living room, this is a good choice.
'The benefits of vinyl versus other papers like silk, or grasscloth, is that they are very durable and cleanable,' says Jennifer Morris, founder of JMorris Design. 'They have typically wider fabric lines so there are less seams to look at, making them appear neat. They are generally less expensive, and easy to clean with a cloth. This wallpaper lasts decades without the need for a fresh roll.'
7. Instead of curtains, install blinds or shutters
For living room window treatments that are easy to clean and look great for years to come, there's no better choice than blinds or shutters.
Unlike curtains that are prone to staining, tearing, fading, or even burning, blinds and shutters require less maintenance. For blinds, instead of fabric, consider wood, bamboo, or vinyl ones that can be easily wiped and cleaned with a damp cloth. Shutters largely are wooden, and have the same, low-maintenance needs.
If you want your window treatment to stand out, you can always paint it, and the good news is, it'll still require little-to-no maintenance.
'Window blinds and shutters can be great functional additions to a space, as they allow plenty of ventilation while also offering light control and privacy; and they are easy to wipe down with a universal Venetian blind cleaner or a microfiber cloth,' says Jennifer. 'If you are still keen on having curtains, remember that they will trap dirt and smog, and will need constant cleaning but if you use a liner, they might last longer.'
8. Rugs with high wool content are easy to maintain
When it comes to living room rugs, the most frequently used ones are flat-weave rugs, such as dhurries and kilims. These are generally more affordable than wool or silk and wear well over long periods.
Another great contender is wool. 'Generally, high-quality furnishings tend to last longer as they age gracefully and look good for a very long time,' says Kashi. 'For rugs, I always suggest using a high wool content. Wool is naturally stain-resistant and can withstand higher traffic, so it will look good for a longer time.'
'Rugs that are washable are also a good choice to soften a wooden floor,' says Laurane. 'There are also many companies that offer carpets that are easy to clean such as Unnatural Flooring Company who produce carpets and rugs that look and feel like natural materials such as sisal and wool.'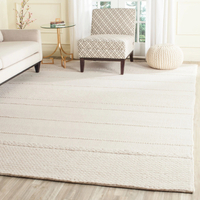 9. Artificial plants are no-maintenance and ageless
A great way to fill up a living room corner or to update a room is with plants. But no matter how adept you may be at maintaining greenery, the fact is that keeping plants healthy (and alive!) takes time and effort. If you feel you don't have green fingers, then consider artificial plants. These days, with better designs in the market, it is difficult to distinguish between artificial and real plants, and the former can add an equal amount of freshness and liveliness to a room.
The best part is, no need for pruning, watering, fertilizing, etc. Every once in a while, you can wipe the leaves down with a damp cloth if the plant starts gathering dust.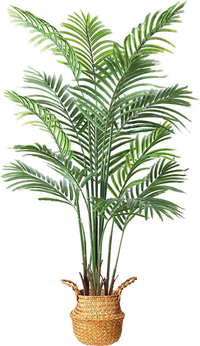 Artificial areca palm tree, Amazon
This artificial palm is designed with lush branches and leaves that mimic a real palm tree, thanks to the life-like details and natural shapes.
10. Consider a central vacuuming system
For the most easily-maintained home, a great way forward is with a central vacuuming system. This, of course, would be a great thing to keep in mind if you're either building a new home or renovating your interiors.
'A central vacuum has a simple covered outlet hardwired into a main wall in your home with all mechanisms carefully concealed within the wall,' says Julia. 'The Bagless Central Systems are easy to use and do not require much maintenance at all. Instead of purchasing a traditional vacuum that requires a storage closet, a central vacuum requires only a wand and a few accessories, plus can be stowed in a garage or small laundry room. The dirt accumulates in an easy-to-access cylinder allowing for carefree maintenance. Long considered a must-have upgrade for any modern home, new technology now makes it an affordable convenience for any home owner or remodeler. If you want a home that requires minimum effort for cleaning, this is the way forward.'
All the dirt and debris collected goes into a central trash unit, which you can clean once a fortnight. Imagine your living room, and all other spaces cleaned without much effort!
The Livingetc newsletter is your shortcut to the now and the next in home design. Subscribe today to receive a stunning free 200-page book of the best homes from around the world.
Aditi Sharma Maheshwari is an architecture and design journalist with over 10 years of experience. She's worked at some of the leading media houses in India such as Elle Decor, Houzz and Architectural Digest (Condé Nast). Till recently, she was a freelance writer for publications such as Architectural Digest US, House Beautiful, Stir World, Beautiful Homes India among others. In her spare time, she volunteers at animal shelters and other rescue organizations.