7 houseplant trends for 2024 - the plants, pots and placements that designers love and we're ready to buy into
From statement trees and trailing vines to methods of display, find the look that works for you and your home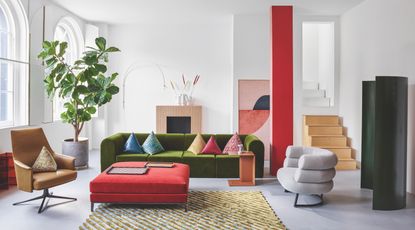 (Image credit: Future / Jake Curtis)
The Livingetc Newsletter
For style leaders and design lovers.
Thank you for signing up to LivingEtc. You will receive a verification email shortly.
There was a problem. Please refresh the page and try again.
Like everything there are trends in houseplants. From cacti and succulents to kokedama, certain species and display techniques gain more traction that others. And as much as we think all foliage is fabulous, certain looks take off, while others start to wain after a while.
Whether it's the method of display, the style of planter or the plant itself. Today's indoor garden terrariums will eventually become tomorrow's thrift shop drop offs - or worse, trash.
So what are the current houseplant trends? And how can we stay ahead of them, without turning foliage and fronds into fast fashion?
7 houseplant trends
So what are the current houseplant trends? Experts explain how we can stay ahead of them, without turning foliage and fronds into fast fashion.
1. Statement trees
Whether it's a black olive tree (bucida buceras), a fiddle-leaf fig (ficus lyrata) or a parlour palm, a modern interior is not complete without a simple, statuesque tree standing proud as part of the design scheme.
As the beautiful projects on the pages of Livingetc testify, a single, statement tree in a room packs a punch style-wise. The best indoor trees can emphasise the lofty heights of an impressive ceiling, create a connection to nature, or simply add a splash of color in a beautifully neutral space.
As houseplant trends go, this is one of the more enduring looks, rooted in style rather than a fad. Trees in pots are here to stay.
'I love to use taller plants and indoor trees to add height and interest to the corner of a room, or next to or under a piece of art or furniture,' says New York and London-based interior designer, Sheena Murphy at Nune.
Plant expert and author of Living Wild, Hilton Carter succinctly states its case too, 'it only takes one plant to change the atmosphere in a room. I styled a towering Ficus lyrata in the bedroom of my studio to make a loud statement in this quiet space.'
2. Hanging planters
The jungle-effect made popular by taste-makers, such as Hilton Carter, has given rise to hanging and wall-mounted planters. Displaying plants in this way enables a layered look, much like the various canopies in a wild rain forest. This is also a good approach if you're wondering what plants are best for a lush indoor garden.
'It's good to play with plants at different elevations in a space, like using trailing plants on high shelves to add visual interest and soften a bookshelf or visually heavy cupboard,' says Sheena.
'My goal is always to have a variety of different types of plants in one home; for all our projects, we love having a mix of succulents, trailing plants, large scale foliage and more delicate species depending on the placement and space you have.
'It's fun to learn about what works in your specific conditions. It also gives you a narrower field to work within - otherwise, the amount of choice can get a little overwhelming.' And here is everything you need to know about hanging plants.
3. Pedestals and plant stands
Placing plants on pedestals has become a popular way to give them more prominence in a room. It's another chic method of display catapulted back into our consciousness by plant guru, artist and stylist Hilton Carter.
Whether you want to show off a prized specimen or create a lush layered effect, pedestals and plant stands are a stylish option. It's also a houseplant trend that can easily be repurposed when its time is up.
'To me, one person's side table is another person's plant stand,' says Hilton Carter. 'In fact, I'm over the term "plant stand." I believe it's about time that we elevate the way we see the plant stand and give it the recognition it deserves. The plant stand as you've previously known it is now the pedestal.
'There is a real art to styling a plant on a pedestal—it puts emphasis on the plant, the planter, and, of course, the pedestal. The pedestal's height, color, and material are all deciding factors when it comes to deciding on the type of plant you'll want to style on top and the impact it has in the room.
'Fortunately, the options are plentiful. There are so many well-designed structures on which you can place your plants to give your home an extra touch of creativity.'
4. 70s revival
From Swiss Cheese plants (Monstera) and Rubber trees to Spider plants and Boston ferns, there's a '70s revival going on in indoor gardens. These plants are easy to care for, grow fast and look good. So there's no surprise they are as popular now as they were five decades ago.
Bringing with them boho vibes and a carefree spirit many are yearning for, these plants chime with the '70s revival in interior trends. What better way to pay homage to mid-century style, than with some gorgeous greenery that will eventually go back to the earth.
Spider plants and Boston ferns are showing up in macrame hanging planters for a totally retro feel.
'Houseplants were all the rage in the 1970s, and then, for unknown reasons, they fell out of favor,' says Lisa Eldred Steinkopf, the houseplant guru and author of Creative Houseplant Projects. 'As you know, their popularity has returned.
'Imagine a plant so popular it has taken over social media one day a week. This is the plant that #MonsteraMonday is all about! This large plant was a fixture of mid-century modern decorating, and the lofty ceilings and open floor plans popular today have allowed this plant to come back into vogue.'
'And many people have sentimental feelings toward the ubiquitous spider plant. Perhaps your mother or grandmother had one in her window? They are exceptional hanging plants, but also make a great "hairdo" for a face-shaped pot.'
5. Kokedama
Kokedama is a Japanese technique, that translated, simply means moss ball. It's an interesting way to display foliage and can be a fun project for indoor (or outdoor) gardeners.
The plant has its roots wrapped in moss instead of being grown in a traditional container. Caring for kokedama requires a little more attention than regular pot plants, so it's a project for the dedicated plant parent, rather than busy people. You often see them in indoor zen gardens.
'Kokedama can be displayed by being hung or placed in a shallow dish. It's an interesting and unique way to display houseplants,' says Lisa. 'Any plant can be used for kokedama, but make sure the plant you want to use will grow well where you want to display it.
'Because the root system is only contained in moss, it will dry out more quickly than it would in a container. You'll have to water your kokedama more often than your plants in containers, so using a plant in high light, where the plant would require more water, may not be the best choice.
'If you are someone who likes to water, go for it. Otherwise, choose a medium to low-light plant to place in a lower light level so you won't have to water as often. I hang a trio of these on my front porch every summer.
'I only have to water them every few days. I take them down and soak them in a large pan of water until I know they have become completely moistened.
'They can drip on my porch, but when you water them inside, they'll have to be left in the sink or shower until they're done dripping. This is a project that is fun to do with friends. Gather all the supplies, have them bring a plant of their choosing, and make an evening of it.'
6. Living walls and vertical gardens
'The power of a vertical display of plants to transform a space and bring the outdoors in is just remarkable,' says Hilton Carter. 'Whether it's a built-in living wall with its own irrigation system or simply a wall styled with a selection of mounted plants, the "wow" factor is instant.'
'The simple fact is that you're taking what is typically a flat, hard surface and making it literally come alive. A living wall is an art piece that is forever changing, morphing, and becoming new.
'With the trend in biophilic design being more popular now than ever, you'll see more and more homes, offices, and commercial spaces applying living art to their walls.'
7. Terrariums
From simple glass dome cloches and compact orbs to ornate glazed structures, there's an array of terrariums available. As well as keeping humidity-loving plants happy and healthy, they're an attractive way to display them.
'Terrariums have made a resurgence,' says Lisa. 'They were popular in the Victorian times as homes were cold and coal fires left residue that affected plants. Terrariums protected plants from fluctuating temperatures and pollution.
'They again had a heyday in the 1970s and are back again today, more popular than ever. They create fascinating little worlds under glass. Almost any plant can live in a terrarium, except cacti and succulents. As they don't do well with extra humidity.
'Ferns, begonia, orchids and more will thrive in the environment a terrarium offers. Most plants that are appropriate for terrariums are medium-light plants. Your terrarium should be placed in a bright area, without direct sun, as this may bake your plants.'
For style leaders and design lovers.
Jacky Parker is a London-based freelance journalist and content creator, specialising in interiors, travel and food. From buying guides and real home case studies to shopping and news pages, she produces a wide range of features for national magazines and SEO content for websites
A long-time contributor to Livingetc, as a member of the team, she regularly reports on the latest trends, speaking to experts and discovering the latest tips. Jacky has also written for other publications such as Homes and Gardens, Ideal Home, Red, Grand Designs, Sunday Times Style and AD, Country Homes and Interiors and ELLE Decoration.