10 easy design tweaks for your backyard to make now so it's ready for spending time in this fall
These expert tips will ensure your outdoor space is a chic fall-ready retreat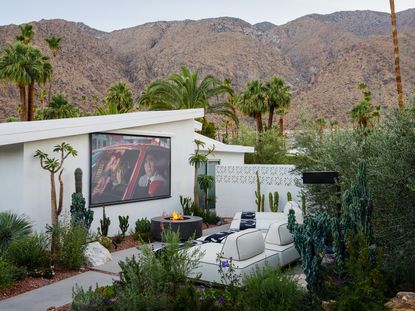 (Image credit: Ryan Saghian Interiors/Lance Gerber)
The Livingetc Newsletter
For style leaders and design lovers.
Thank you for signing up to LivingEtc. You will receive a verification email shortly.
There was a problem. Please refresh the page and try again.
Outdoor living rooms have become a truly desirable part of modern interior design, and offer extra space to host and relax in, as well as offering an opportunity connect with nature and grab a breath of fresh air.
And, just because summer is coming to a close doesn't mean you can't enjoy your backyard anymore.
There's a host of easy tricks you can employ to make your backyard ready for fall so you can extend the use of space and tuck into Smores and hot chocolates alfresco.
1. Update your planters
To make sure that your backyard is a pleasant space to relax in, swapping out your summer flowers for autumn-friendly perennials when container gardening.
'By the end of summer, the heat has stressed all your plants making them look rather scraggly - so most likely your planters could be looking better,' says Marci Bonner, an associate at Richardson & Associates Landscape Architecture.
'Once the temperature officially starts to cool off, swap out your summer annuals with cool weather annuals and perennials such as ornamental cabbage, ivy, pansies and mums.
'These are hardy options that can survive the dropping temps and provide color and texture to your yard. If you have outdoor furniture, you can also switch the pillows to harvest themes and add a cosy throw. Now you can sit back and watch the leaves fall with a hot cup of cider.'
2. Install a fire pit
'Adding a firepit to an outdoor space can dramatically transform its usability throughout the year,' says Ryan Saghian, principal of Ryan Saghian Interiors. 'This versatile addition serves multiple purposes, enhancing both aesthetics and functionality.'
'Firstly, a fire pit creates an inviting ambiance perfect for gathering around. The mesmerizing dance of flames adds a sexy allure that makes the space inherently more appealing. Moreover, the practical advantages of a fire pit are noteworthy; during chilly winter nights, it provides much-needed warmth allowing people to comfortably enjoy the outdoors even in colder temperatures.'
'Conversely, during warmer winter nights, the fire pit acts as a repellent against insects, contributing to a more enjoyable and bug-free experience. This versatility ensures that the outdoor space remains a welcoming haven regardless of the season.'
3. Invest in outdoor heaters
The best outdoor heaters are an excellent way to ensure you can enjoy your backyard come fall.
'The most important issue to tackle when transitioning your backyard from summer to fall is addressing the lower temperatures,' says Victoria Holly, Principal and Founder of Victoria Holly Interiors.
'You won't use your backyard if it's too cold outside! Especially in the evening. That's why you want to make sure it's optimized for cooler weather. This can involve more permanent solutions like wall-mount heaters or a fire pit with blankets. Wall mount (or standing) heaters are great because if you place them in the right location you can truly enjoy your outdoor area year-round.'
4. Introduce a fall color palette
When your outdoor living room reflects the seasons it becomes a more enticing and comfortable space to relax in. get your backyard ready for spending time in this fall, try creating a cozy vibe with a fall-friendly color palette.
Swap your summer cushions out for new pillows in rich hues like chocolate brown, rust, terracotta, chestnut and ochre to channel the falling leaves and warming mugs of hot cocoa.
'If you have outdoor furniture, you can switch the pillows to harvest themes and colors and add a cozy throw,' says landscape designer Marci Bonner. 'Now you can sit back and watch the leaves fall with a hot cup of cider.'
5. Bundle up on blankets
Feeling warm and cozy is one of the most important elements of being able to enjoy your backyard in fall. It's a good idea to have a collection of blankets to make sure you and your guests can sit outside comfortably. Choose throws in warming hues to add to the atmospheric fall feel and invest in blanket storage so you don't make your space feel cluttered.
'Outdoor throw blankets and cushions are a must to make it more likely you'll use the space in cooler temperatures,' says Victoria Holly. 'Especially when you have guests over - I like to have a bag of four matching blankets so that guests feel comfortable grabbing them.'
6. Set up a 'camping picnic' in the garden
'Enjoying a little outdoor picnic even in your own backyard is a nice way to honor the change in seasons,' says Amy Hovis, Principal of Eden Garden Designs.
'You can simply pack up dinner in a basket with your nice plates and glasses for a change of pace. Take time to be outside and witness all the ornamental fall grasses in bloom.'
Amy suggests using camping cookware and cozy blankets for a fun fall night outdoors. 'Bring out your favorite camping dishes and offer fixings for smores and hot tea for an afternoon treat outside,' she comments.
Amy adds that setting up near a firepit is the best idea for a cozy experience, saying: 'It's fun to celebrate the start of fall with a cozy outdoor fire snuggled up with blankets.
'A firepit, freshly stacked wood, and a basket of Mexican blankets ready to go - all good ways to get your outdoor space fall-ready. An evening around a firepit is easy and a great way to connect with friends. The conversations that happen outdoors around a firepit are the best.'
7. Opt for a chiminea
There are plenty of options when it comes to heating a patio, including different kinds of outdoor fireplaces and portable patio heaters.

A chiminea is a small, fireplace-like heat source with freestanding legs and an upright chimney. They're more compact than other types of outdoor heating, making them a great space-saving option for a small patio. They come in a variety of materials, such as cast iron, steel, clay, aluminium, and concrete.

'When choosing an outdoor heater, opting for a chiminea vs fire pit can be tricky if you don't know the differences between them,' says Wayfair's Resident Style Advisor, Dee Fontenot. 'Chimineas are loaded from the front while firepits are loaded from the top. This will affect where you place your heat source.

'In order for everyone to get a view of the fire, a chiminea must be placed in a corner, while a fire pit must be placed in the center of the group. Chimineas have smoke vents that direct smoke upwards while firepits do not – smoke will billow in the same direction as the wind. For a traditional fireplace style and better smoke control, a chiminea is an ideal choice for you.'
8. Hang lanterns and festoon lights for a cozy ambiance
Getting the garden lighting ideas right is a key step to creating a cozy atmosphere for fall evenings outdoors.
Hanging lanterns are a gorgeous way to create an inviting ambiance, while festoon lights are always a design winner. Try combining the two, as seen in the beautiful backyard above, for layered lighting that gives off a soft-focus, warm glow.
'Another way to create the perfect ambiance for fall is layering small jars and lanterns throughout your outdoor space to provide a soft glow of illumination come the evening, transforming your garden into a cozy haven,' says lighting expert Julia Barnes, ValueLights.
And, of course, outdoor tree lighting ideas, whether it's hanging a cool pendant from a branch or wrapping fairy lights around a trunk, is another pretty way to add ambiance to a backyard for fall.
9. Create a 'harvest' scene for a rustic aesthetic
From fall foliage bundles, wreaths and baskets to pretty piles of pumpkins, create a cozy harvest scene for an easy backyard update for fall with rustic appeal.
Jess Martin, decoration expert at Ginger Ray, says: 'Simple but super effective, arrange a variety of real or fake pumpkins in different sizes, shapes, and colors along your fence or by your outdoor sofa. Mix up the type of gourds and squashes for added variety and color.
'Fill rustic baskets with an assortment of apples, pears, mini pumpkins, and dried corn cobs for a pretty fall display. Or bundle together dried cornstalks or bunches of pampas and tie them with twine. Lean them against your side table or sofa to add a touch of rustic charm. Pair with a your piles of pumpkins for a display that includes all the warm autumn tones and textures.'
Lauren adds that haybale seating and unexpected rustic displays, like flowers in a wheelbarrow, can also help to create a cozy fall vibe.
She says: 'Place a couple of hay bales for a super impactful front porch display. Top them with cozy blankets and plaid cushions. It's a perfect spot for guests to sit and enjoy the crisp autumn air - just ensure that it is undercover to stop any bad weather from damaging it.
'For a decorative display, place a vintage wheelbarrow in your backyard and fill it with decorative gourds, pumpkins, and a cozy plaid blanket. It's a twist on the harvest basket display that will add a nostalgic and whimsical touch to your outdoor space.'
10. Give your outdoor furniture a paint refresh
Give your outdoor furniture a freshen up ready for fall, and protect it from incoming inclement weather at the same time.
'With autumn just around the corner, what better time to give your garden a boost ahead of the colder months by creating a cozy space?' says Helen Shaw, a color expert for Benjamin Moore.
'No matter the size, adding a splash of paint is a quick and relatively inexpensive update that can transform your space from drab to stylish.'
Helen continues: 'Backyard furniture such as benches or stools can be upcycled with a coat of your favorite hue to quickly and easily create a quirky, personalized look.
'Paint smaller accessories within the space such as plant pots in the same shade to tie everything together.
'Finally, opt for Benjamin Moore's Aura® Exterior, an exterior paint that protects against cracking, peeling and fading whilst also delivering rich, full color.'
For style leaders and design lovers.
Ruth Doherty is a lifestyle journalist based in London. An experienced freelance digital writer and editor, she is known for covering everything from travel and interiors to fashion and beauty. She regularly contributes to Livingetc, Ideal Home and Homes & Gardens, as well as titles like Prima and Red. Outside of work, her biggest loves are endless cups of tea, almond croissants, shopping for clothes she doesn't need, and booking holidays she does.