DIY outdoor bench ideas - 10 sociable seats you can make yourself to elevate your alfresco space
These chic DIY outdoor bench ideas will leave you with extra budget to spend on decking, tiling, accessories and - most key - entertaining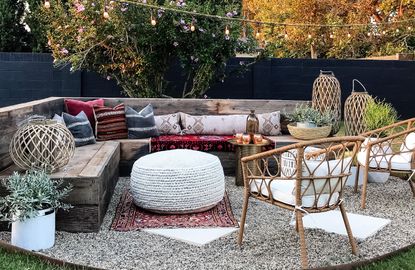 (Image credit: @katekeeseeoc)
The Livingetc Newsletter
For style leaders and design lovers.
Thank you for signing up to LivingEtc. You will receive a verification email shortly.
There was a problem. Please refresh the page and try again.
As this is going to be the year of gathering outside, of making sociable alfresco spaces in which to live your best life, it's timely to look at DIY outdoor benches.
An outdoor bench can offer a quiet spot to reboot and take in a breath of fresh air while you relax and reconnect with nature. But, as well as being a practical spot to take five, it can also make a design statement and elevate your outdoor space at the same time.
If you don't quite have the budget to splash on the best outdoor furniture brands, you can get creative and flex those DIY muscles to create your own version that's tailored perfectly to your patio, garden or terrace.
Whether you're looking for a space to socialize with family and friends, or simply a spot to grab some much-needed me-time, we've rounded up a host of DIY outdoor bench ideas so you can create your own stylish seating for your backyard.
DIY outdoor bench ideas
1. Craft a mid-century slatted wooden bench DIY
This gorgeous DIY outdoor bench has a Scandi-meets-mid-century appeal that's versatile and enduring.
It was created by Rachel Denbow of abeautifulmess.com, and was inspired by the mid-century design of George Nelson's slatted benches using building plans by Ana White.
Rachel says: 'I will always be drawn to mid-century furniture for its sleek, clean lines and how versatile and relevant so many pieces from that time still are today, so when I saw that Ana White had plans for a slatted bench (thanks, Pinterest!), I got a little giddy.'
She continues: 'I went with the basic premise of creating box joints to join the seat and legs together, but switched out the 2″x 4″'s for 1″x 4″'s to give it that mid-century bent. In the end, I had a beautiful bench that still cost less than anything I could have purchased in stores and could easily be put to use at my dining room table, the end of our bed, our on our front porch. Another bonus, you don't need to own a ton of power tools to make one of these.'
2. Create a stylish corner bench sofa
It's no secret outdoor furniture ideas can be very expensive, so why not try creating your own outdoor bench sofa for a luxe look for less?
The outdoor bench above was made by Kate Keesee (@katekeeseeoc) to accommodate her family as part of a larger outdoor project.
'We have a large sized family, and I decided after researching the cost for outdoor seating I would build a budget-friendly alternative,' explains Kate.
'The entire cost of the project was $617, but that included painting the cinderblock wall, pea gravel and pavers for the ground surrounding the seating area. The cost for the bench itself was roughly $325, which included the lumbar to build the frame, stain, weather sealer, screws and sandpaper.
'We did this project as a family and have the entire 15' area complete within 10 days. The first part of the bench was building the frame, then we salvaged reclaimed wood to lay over and build the outer area of the unit.'
As with this project (also pictured top), the styling of your outdoor bench will elevate the finished look. Add pillows, throws and lanterns for a chic and relaxing aesthetic.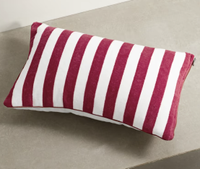 Linen pillow by Loro Piana, Net-A-Porter
Not technically an outdoor pillow, but if you don't leave this out in the rain you'll be fine. And it has the perfect on-trend stripes for this summer, speaking of beach parasols, folding chairs and good times to be had.
3. Reupholster an outdoor bench in a pretty printed fabric
New fabric and paint can give a tired outdoor bench a whole new lease of life, and offer easy way to refresh outdoor furniture.
Christy, of confessionsofaserialdiyer.com, decided to give her old glider bench a fresh facelift - with beautiful results. She took the cushions off and placed the bench in a spray tent before applying Oil Rubbed Bronze spray paint from Rustoleum.
Christy then used a pretty printed fabric to give the old cushions a much-needed makeover.
She says: 'I love it when I can bring a piece back to life, and this should be good to go for another three years now.'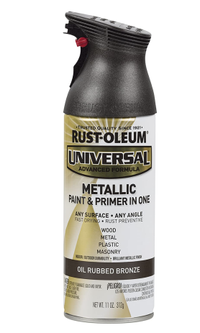 4. Fashion a curved fire pit bench
If there's anything more cozy and convivial than sitting around an outdoor fire pit, we're yet to hear about it.
Why not do it in style - and without blowing the budget - by creating your own curved fire pit bench?
Josh Rhodes, over at a beautifulmess.com, created this elegant piece, which instantly elevates the outdoor area, and offers a beautiful inspiration for your fire pit ideas.
He says: 'The build took about two days, which included the trip to The Home Depot for supplies, which came to about $125. I've seen similar benches in the $2k range, so it was a pretty good deal.'
Don't forget to add planters, pillows and lanterns to further create a warm and inviting space. The only question now is... Who's making the hot chocolates?
5. Opt for a built-in bench
Surround yourself with your favorite plants and flowers by integrating a wooden bench into a planter.
'This built-in bench is made out of ipe (pronounced ee-pay), a Brazilian hardwood with a very long life-expectancy of 40 years or more,' says custom landscape and garden designer, Amber Freda. 'Ipe is said to be nearly as strong as steel, which means it's very resistant to rot or weathering of any kind. It's also very insect-resistant. Because ipe is so dense, it can be harder to work with than softer types of wood like cedar, so you may want to look into having it pre-drilled as an added time-saver.
'We also had the wood drilled to allow for light fixtures, which are a beautiful nighttime effect.'
Amber contines: 'Ipe also does not take paint or stain well, so it's recommended to seal it using a water-resistant oil, like Penofin, instead.
'When designing a bench, the main questions will be the type of wood to use, the overall layout and dimensions, whether or not a backrest will be needed and should it be straight or slanted, and whether or not to include built-in storage for under the seats.
'In this case, we opted not to do the slanted backs or storage to create a slimmer, less bulky design, which is perfect for a small space such as this.'
If you're not a big DIY fan, you can make a simple planter bench by screwing wooden battens onto two planters at either end.
6. Set up a swing bench
Ever dreamed of whiling away a balmy summer's evening on your very own porch swing? You're not alone - it's the ultimate porch decor idea.
There's something ultra-romantic about the idea of a porch swing... And, guess what? Josh Rhodes at abeautifulmess.com says that, with some power tools and a bit of elbow grease, you can make your own in just a day.
Paint it white and add your favorite outdoor cushions for a super-snug and pretty perfect place to watch the sunrise or sunset.
7. Work up a West Elm-inspired outdoor bench
If you've spotted an outdoor bench that you're really coveting but don't quite have the budget, get creative and try making your own version.
That's exactly what Ursula at homemadebycarmona.com did with the West Elm-inspired outdoor bench above.
'There are times when you find an item you love and know would look amazing in your home, but it's just nowhere in the budget,' says Ursula. 'This bench was one of those moments... And it occurred to me that I might be able to DIY my own version of it for less.
'Even without real building skill, it seemed like a project worth trying. To my surprise, it was easier than I thought, and I was able to make several to grace my front porch.
'It was one of the first moments I realized that we can often do more than we think we can.'
8. Show off your skills with a chic outdoor lounge bench
'When my young family moved into a fixer upper in the beach community of Carlsbad, we decided to renovate our backyard first,' says Terra Vargas, of Terra Sol Interiors.
'Our backyard was pretty expansive and, after clearing out the koi pond, rocks and bushes, we were able to create our own little oasis. Since our budget was mainly spent on the structures, such as the dipping pool, fencing and decking, we needed a cost effective way to create seating.
'That's when I decided to build our outdoor lounge seating. I measured the space I wanted it to go and purchased wood from Home Depot. I used 2x8x12 for the bed itself and 4x8s for the cross frame, which gave it a slight elevation off the ground.
'For the bed itself, you should use an outdoor cushion that will come pre-treated against mold. I used a heavy duty silicone glue to attach to mattresses for one long bed. You can play around with the measurements here, it really depends on where your outdoor bench will go and how much space you have.'
Terra continues: 'The fabric is sewn and it's a good idea to include a zipper so you can remove the upholstery and wash it from time to time. Using a more expensive option, like a Sunbrella outdoor fabric, may cost more upfront but will go a long way for withstanding the elements. I highly recommend not skimping on the fabric. It will also feel good to lounge on.'
Finally, she adds: 'Ours was then topped with pillows, and we added a rug and other decor accessories, like lanterns and a cozy pouffe, and it became a perfect resting spot for our family and friends.'
9. Utilize landscaping materials to create an outdoor bench
An outdoor bench doesn't have to be a traditional slatted wooden style. Opt for a sleek, seamless look by creating an integrated bench with landscaping materials like stone or boulders.
The image above shows how the pavers are taken up into the surrounds for a flawless look that also offers seating for poolside reading, drinks and catchups.
If you're not feeling confident with the stone paving, you could always swap this out for a pretty printed tile to create a statement seating area that becomes a feature in outdoor oasis.
10. Put up a planter bench
A freestanding planter bench is a lovely option for a DIY outdoor bench, offering the perfect blend of form as well as function.
Brittany Stager, of My Daily Randomness, created the outdoor planter bench above for her front patio.
She says: 'For months I watched my front porch sit bare. I hate to admit it, but it was boring and plain. I feel about my porch the same way I feel about my entryway – it's the place where the first true impression of your home is made, so it's important that it's a good one.
'After weeks of researching, sketching, and planning, my husband and I built this beautiful cedar bench. Incorporating planters into the bench design allowed us to include some color, texture, and interest. I also envisioned something a bit more modern than your standard "boxy" wood planter.'
She continues: 'By alternating the boards on the planter boxes we were able to create a more modern and airy looking bench.'
What can I use for an outdoor bench?
There are a number of things you can use for an outdoor bench, but wood is the most common material.
To make a simple outdoor bench seat you can screw a handful of wood battens to a planter at either end. You can then paint it in a color of your choice, or seal it with a weather-resistant wax, oil or stain.
Another option is to use landscape materials as a bench seat, like stones or boulders, and simply add cushions and blankets to make it cozier.
And, if you're looking for easy-to-follow steps for your DIY projects, Ana White is a great source and has a host of outdoor plans.
For style leaders and design lovers.
Ruth Doherty is a lifestyle journalist based in London. An experienced freelance digital writer and editor, she is known for covering everything from travel and interiors to fashion and beauty. She regularly contributes to Livingetc, Ideal Home and Homes & Gardens, as well as titles like Prima and Red. Outside of work, her biggest loves are endless cups of tea, almond croissants, shopping for clothes she doesn't need, and booking holidays she does.