10 cozy grey living rooms that prove this shade can be the warm, comforting backdrop we're all craving right now
These cozy grey living rooms prove exactly why this color remains a go-to neutral for snug spaces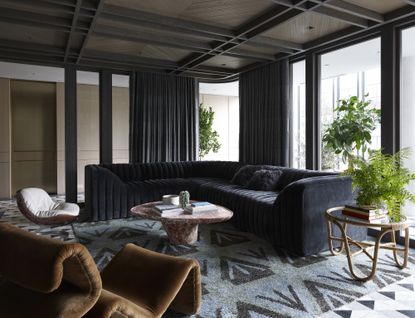 (Image credit: GRADE New York. Photo credit Richard Powers)
Do you sometimes feel grey can feel a little cold and flat? In isolation, grey might not be the shade you most associate with comforting, cozy living rooms, but used in the right ways, this hue can be used in appealing, warm, and embracing ways.
In my opinion, it's a challenge worth pursuing. Grey is an incredibly versatile color, after all, and it can be matched with any style of interior - a true chameleon. Grey also pairs effortlessly and beautifully with almost everything, from colors to natural materials and textures.
If you are in two minds about how cozy going all-out grey in the living room can really be, we asked some top designers to show us how to use this living room paint color in a way that feels both cocooning and timeless.
Aditi is an experienced homes writer and editor. She has written hundreds of articles for various international titles helping readers make the best home design choices, and spends her days interviewing interiors industry experts to bring the latest ideas to her readers. For this piece she spoke to the world's best designers to learn ways to design a cozy grey living room.
10 cozy grey living rooms and how to achieve them
1. Pair grey with jewel tones
When it comes to bringing warmth, there's no better color that goes with grey than a jewel tone, that has inherent coziness. These colors, derived from gemstones such as sapphire, ruby, and emerald, have a natural warmth and saturation which makes them a dynamic and eye-catching partner.
'This living room was for a young family who wanted to inject color and life into their new period home while still having a neutral backdrop to the spaces so they could evolve,' says Róisín Lafferty, founder of Kingston Lafferty Design. 'The base palette of the greenish grey jewel tone was used throughout the living space on the walls, ceiling, doors, and woodwork, and joinery so that the key features of the space like the bold pendant and colorful side tables could make a stronger impact.'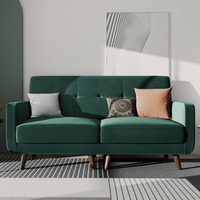 This jewel-toned, two-seater sofa is comfortable to sit on and easy to clean. The tufted back and the square armrest support elbow and the body well.
2. Embrace the comfort of a curvaceous couch
One great staple of a cozy living room is a curving sofa, that has an inviting, welcoming visual; a piece you want to curl up in and sleep. Add to that, a soothing grey color scheme, and you have a room that will make you feel incredibly snug.
'This living room is in a contemporary extension to a traditional property,' says Róisín. 'The clean lines and angled forms of the architecture are in a crisp white, and the dark charcoal grey was chosen to have a stark contrast to this and provide the perfect backdrop to the vibrant blue perspective sofa. The curves and bubble-like forms of the sofa create a dramatic focal point in the room, and the metal shelving blends perfectly with the wall so the only things your eye is drawn to are the deliberately contrasting items that are displayed.'
3. Create a cocooning feel with color drenching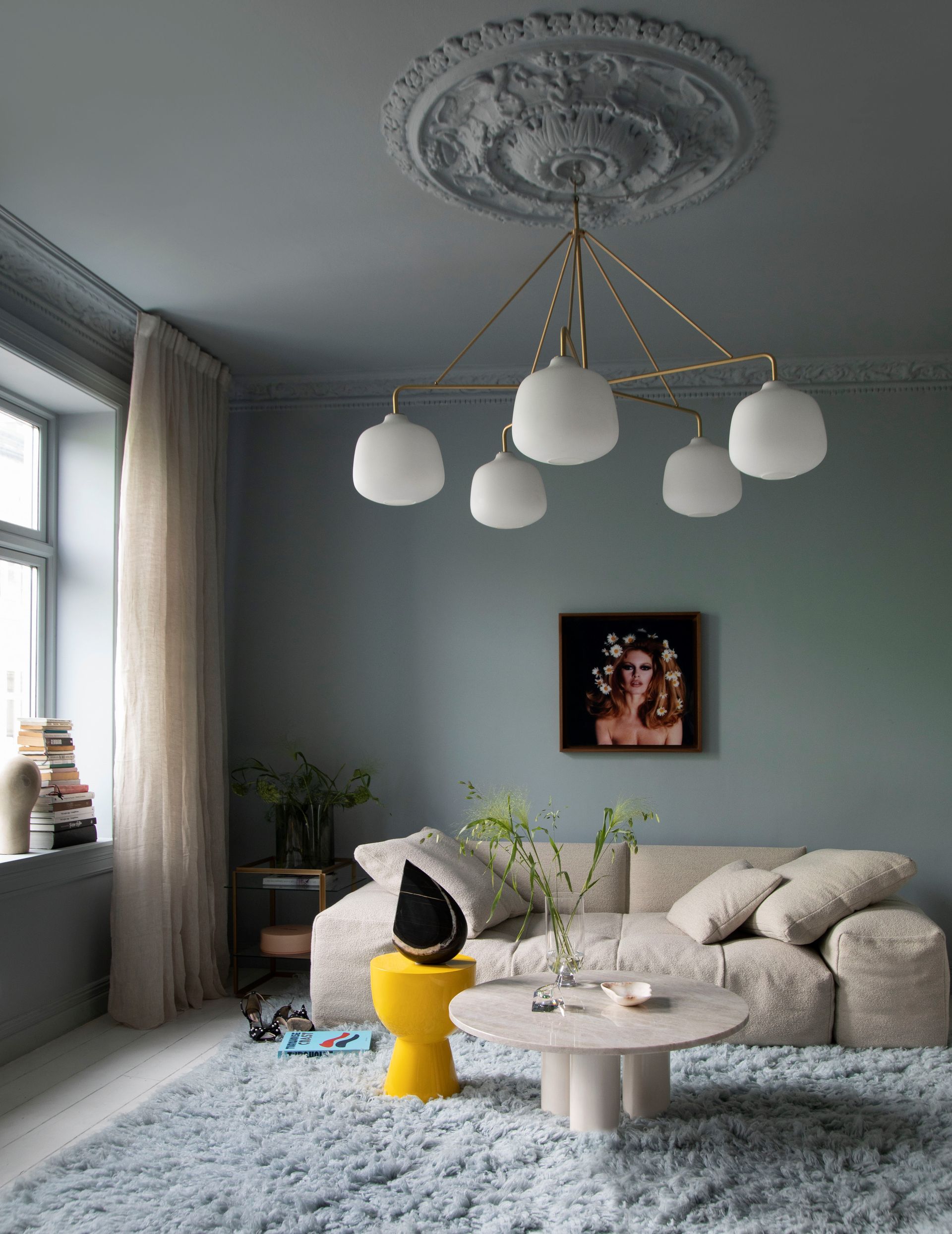 A color-drenched room creates an enveloping feeling as if you're wrapped with a warm hug. A warm tone of grey, with blue or yellow undertones, can make that magic happen.
The other advantage of painting the ceiling and walls the same color is that all key architectural details in your room get highlighted. The ridges and curves pick up light and shadow better, adding interest and depth to your space.
'Grey is the go-to color for many home renovations but do not consider a cool grey wall paint when the perfect warm grey is right there hiding in plain sight,' says Julia Mack, founder of Julia Mack Design. 'Warm grey offers a bright, off-white tone with a lively airiness during the daytime and cozy warmth at night. Elegant and sophisticated, walls shine bright with the versatility when paired with cool greens, blues, and black.'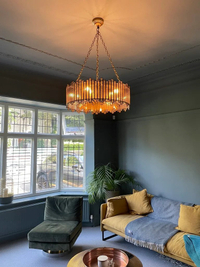 Want a paint that reads this stylish grey-teal? Consider this quietly elegant paint that feels wonderfully down to earth, yet has a fashionable, elegant feel to it. This color pairs well with earthy, wooden tones.
4. Cozy up a grey living room with warm metallic accents
Pairing grey with warm golds, brass and coppers brings a warm accent that also stops grey from looking too flat, dull, or lifeless. For an elegant living room, choose the coolness of grey with these metallics touches, used sparingly, to keep the space feeling more grounded than glamorous.
'We wanted to create a moody, tonal space for this client's living room,' explains interior designer Sarah Montgomery. 'For that, we used different shades of rich greys in the room, and pared it with pops of gold for a rich, elegant feeling.'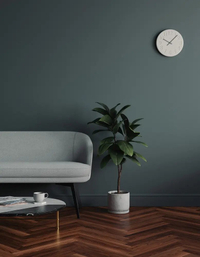 Choose this grey with subtle green undertones for a warm, cozy interior. This paint works well as a neutral and pairs with virtually any color and wood tone.
5. Consider sunken seating zoned with color
If you're planning on redesigning a modern living room, and have an open floor plan, then consider the sunken seating trend for a cozy space. This is a great and unique way to segregate a conversational space without solid walls. The U-shaped, curving design as well as the feeling of being cocooned radiates snugness.
To further add a soft distinction to this living room, designer Michelle Gerson used grey to zone this comfy seating area, helping the couch feel cozier within this large and lofty living space.
6. Play with the contrast colors
Usually, cool greys tend to have a very crisp, almost icy look to them. Of course, they are a better, warmer choice than bright white as they do not look clinical or create a glare in the interiors but it's always better to complement them with more earthy tones of browns and tans, and even black.
If you have light grey walls and a couch, consider a deeper color for the rest of your furnishings like the rugs or living room curtains. Perhaps add pop-colored cushions. Toss in the likes of yellows, pinks, and natural woods for a softer interior.
'Grey is a great neutral color for living rooms because it allows the flexibility to mix in color through accent pillows and accessories and even change out colors seasonally without changing the room's main aspects,' says Lauren Lerner, founder and principal designer of Living with Lolo.
7. Experiment with the warmth of grey through material tones
Grey can be a wonderful backdrop for earth-tone living rooms as a color that complements natural materials yet sets a modern tone that does not make the room feel too dated or too rustic.
'The palette for this room was derived through a skillful blending of disparate influences for which our client had a deep appreciation and desire to see incorporated into the interior design and decoration of her home,' says Edward Yedid, founder of GRADE New York. 'Raised in Tel-Aviv, our client was inspired by the aesthetic of Mediterranean/Middle Eastern baths which led to the muted range of blue, green, and grey along with the use of textured stones and geometric patterns.'
'Also relevant to the design (more so than the color scheme) for our client was to inject a cool, 1970s European design sensibility which came through in the more earthy tones and vintage furnishings,' Edward adds. 'Cerused oak millwork creates a unifying effect within the room and a harmonious complement against the overall deep color scheme.'
8. Warm up the living room with wood flooring
Pairing grey-painted walls with wooden living room flooring is a shortcut to giving this color a cozier edge. A deep palette of wooden accents can create a variety of styles and moods, and by layering it with grey, you double down on a feeling of timelessness, coziness, and decadence.
'The moody tone encapsulated the design thesis in a historic dwelling, manifesting the sophisticated atmosphere and rich detailing that belongs to a limestone in the Upper East Side,' says Melissa Lee, founder of Bespoke Only. 'The hue sets a sumptuous base, complemented with the wooden flooring, creating a calming presence.'
9. Highlight your color palette with cozy lighting
Your lighting scheme plays an important role in making a grey-painted living room feel cozier at nighttime. Consider uniquely designed living room ceiling lights for ambient lighting and draw attention to specific areas, features, and corners of the room with recessed spots. Consider wall washing, like in this project by YSG Studio, to give a vertical area some attention.
The warm, yellow lights will ensure the visuals are always cozy, so avoid cool light colors that will make a space feel stark and unwelcoming.
10. Bring down the roof with paint for a cocooning feeling
Sometimes too much of grey can make a room feel slightly uninviting. This neutral color works great in partnership, and with complementing tones and natural materials can work well to create the look you desire.
If you have a grey living room that feels a little too clinical, consider bringing the ceiling down to create a more cocooning feeling. This can be done by adding storage on the ceiling or even painting it a bright tone.
The painted ceiling will also highlight the architectural value of the room. In this project by Joshua Smith Inc, the coffered ceiling becomes even more pronounced with the white and orange tones. The color adds an umbrella effect over the dark sofa, and the feeling created is like sitting inside a den.
11. Add snugness with grey furnishings
Layering can help create a cozy interior, and warm up a grey space. Choose a light-toned grey for the walls, and complement it with darker-toned grey furnishings. Anchor the room with a grey living room rug, and give the room depth and character.
'In this living room we aimed to create a moody, layered space that was both cozy, yet welcoming,' says Kristen Pena, founder of K Interiors. 'The grey boucle textile from Holland & Sherry is the perfect shade of grey that reads neither warm nor cool, but when layered with the natural wood tones in the space and other greys, creates a vibe of accessibility and a cozy factor. The texture of the grey fabric also adds to that feeling.'
The Livingetc newsletter is your shortcut to the now and the next in home design. Subscribe today to receive a stunning free 200-page book of the best homes from around the world.
Aditi Sharma Maheshwari is an architecture and design journalist with over 10 years of experience. She's worked at some of the leading media houses in India such as Elle Decor, Houzz and Architectural Digest (Condé Nast). Till recently, she was a freelance writer for publications such as Architectural Digest US, House Beautiful, Stir World, Beautiful Homes India among others. In her spare time, she volunteers at animal shelters and other rescue organizations.