Bathroom sink trends – the 10 shapes, colors and styles to look for during your bathroom remodel
These 10 bathroom sink trends are what the best interior designers are specifying for their projects right now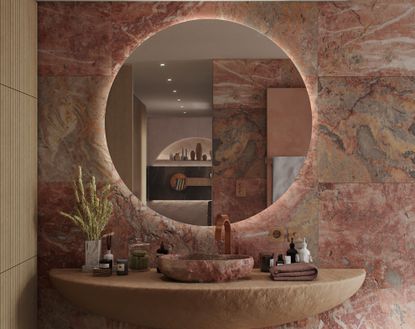 (Image credit: Studio UTKAN GUNERKAN)
The right bathroom sink can be the centerpiece of a bathroom, but with so many styles of basins to choose from, where do you begin to look? Looking to bathroom sink trends should be your first port of call – helping you to narrow down your options and ensure your bathroom doesn't date quickly.
These trends are informed by wider interior and bathroom trends in general, but bathroom sinks allow for a space where you can get really creative. Here are 10 of our favorite ideas right now.
10 bathroom sink trends you need to know
Bathroom sinks shouldn't really be an afterthought of your bathroom design. Whether you're building from scratch or renovating, homeowners are now devoting considerable planning and a generous part of their budget to their basin.
'In the past, sinks were just utilitarian ceramic bowls on a pedestal,' says Mike Fisher, founder and creative director of interior design practice Studio Indigo. 'Today, they have become complete pieces of furniture with storage for everything – from toiletries, towels, makeup, and hair dryers, and have become the room's focal point.'
From the types of taps to vanities and the basins themselves, here are 10 trends to look out for.
1. Brass hardware
Brass may have once been the trendy finish for bathroom taps, but it's now proven it has the staying power, too. 'Brass hardware will always be timeless as it works in so many color and material pallets, especially in combination with timber and other natural materials to bring extra warmth to your bathroom color scheme,' says Louis Hagen Hall, founder of Studio Hagen Hall. 'We prefer to use unlacquered brass, which patinas over time, to create more of an aged, imperfect finish, adding to that sense of timelessness.'
If the look and feel of brass is something you're inclined towards, then consider adding a brass bar pull, towel rack, and even towel rings.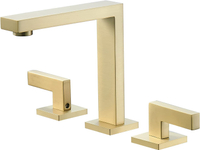 Choose this faucet design to add a touch of class and finesse to the bathroom. Plus the gold finish will add a pop of color to the space.
2. Sinks integrated into vanity
For the feel of a luxury bathroom, an integrated sink dropped into a vanity has a sense of bespokeness, while also providing a minimalist, space-saving solution for small bathrooms.
'To give a contemporary and luxurious element, we like to create sinks that flow seamlessly into the vanity to give a real architectural statement,' says Mike frm Studio Indigo. 'Hardware companies are also becoming more innovative by incorporating anything from precious stones to marble inlay or color glass insets which add flare to the vanity area.'
'When it comes to lighting these sinks, less is more,' says Shona McElroy, principal at Smac Studio Interior Design. 'Downlights are harsh and don't promote a calming atmosphere. A light above the countertop, whether that be a feature wall light or two, a strip light below the mirror cabinet, or wrapped behind a wall-mounted mirror can do well. We often like to do a strip light below the vanity.'
3. Sink with ledge
A big bathroom trend is having a sink with an accessory ledge, which makes this space a lot more functional, offering an area to keep more toiletries and soaps. Another advantage is that your bathroom sink has to handle a lot of tasks that are often not very sanitary, and the beauty of a ledge is that it ensures that none of the water splashes onto the ground or to other areas of the room, ensuring the bathroom remains dry.
'We're seeing some interest in the stone vanities, bull nosing and scalloping are popular at the moment, and also the full custom sink with a little ledge so cleaning and using the bathroom becomes a breeze,' says Shona.
4. Oversized sinks
Oversized basin are an on-trend, and a luxurious fixture, especially suited to high-end modern bathrooms. The oversized vessels are usually available in rounded designs to maintain bathroom ergonomics, allowing easy circulation space around them.
'In this project, the client wanted an interior design that reminded them of antiquity and Turkish baths,' says Jenya Lykasova, founder of JL Studio. 'Large sinks are often used in such baths. We found the most suitable option that looked modern and at the same time reminiscent of Turkish baths. The second aspect was the need to access the window. As the sinks are placed by the window, we needed to ensure easy access to them. Therefore, we had to choose a standalone sink, like a column. Behind it, there is a movable partition that scatters but does not obstruct light, and behind it, there is a window.'
5. Experimental materials
If you're wondering how to remodel a bathroom to make it truly stand out and be reflective of your experimental tastes, then a sink is a great place to start. Small yet significant, a unique, new material can truly uplift the room.
'We designed this sink in fiberglass and used pink marble and concrete around the room to give this bathroom a truly one-of-a-kind, hotel-like feel,' says Utkan Gunerkan, founder of Studio Utkan Gunerkan.
'Stone sinks are also trending,' says Kristen Pena, founder of K Interiors. 'We are seeing all stones – limestone, marble, colored, neutral, old, and new. People seem to be drawn to the organic nature of these sinks over porcelain at the moment.'
'Whether it's contemporary or traditional or a blend of both, the bathrooms will reflect the general direction of the home,' says Mike. 'However, we are seeing people be more creative with colorful marble and sinks that bring drama and a sense of surprise. We love using bold and non-traditional colors in key areas that 'frame' the sink.'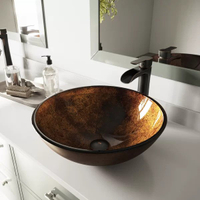 Want to add a unique touch to the bathroom? Choose this solid tempered glass sink that will not only lend an earthy touch to the interior but also add a layer of unique materiality.
6. Industrial style
A great way to bring a little more personality into the bathroom is with exposed plumbing around a sink that embraces an industrial style. It may point to a more rustic and industrial style of space, but when paired with a room that also houses high-end finishes, tiles, and paints, a wonderful visual can be created. Bathroom sinks aside, a little exposed plumbing in the shower room can help you highlight some flashy (or decidedly matte) finishes; consider chrome, copper to pewter pipes.
'We're seeing exaggerated tapware being used, with goosenecks, knurling, exposed copper, etc,' says Shona. 'We also love installing taps on the side of the basin for a little more interest.'
7. Colorful marble
Sometimes the most luxurious things come in small packages, and one of them is a veined or colored marble sink. Hand-carved from a single block of stone, a sink with unique veining can stand out in a big, small bathroom layout.
While Cararra marble is and always has been a big, go-to marble, for a true luxe space, think of Onyx, which is quickly becoming a rising star in the world of interiors. This stone is available in a wide range of hues from golden yellow and mint green to dusty pink and smoky grey. And since the marble is translucent in its make, it also can be backlit for dramatic effect, making its installation options more varied than marble.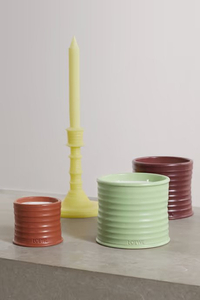 Loewe Home Scent, Net-A-Porter
Want to add a sensorial feel to your bathroom's design? Consider this juicy, cucumber scent that will refresh the room in no time.
8. Pebbled granite
For a truly peaceful, spa-like, eco-bathroom design, choose materials that speak of the outdoors, nature, and everything organic. Granite is one such material that not only looks wonderfully natural but is also extremely sturdy and long-lasting.
'This vanity and backsplash are custom fabricated out of black Marinace granite,' says Allison Lind, design director at Allison Lind Interiors. 'Marinace has a natural but playful vibe to it; sort of a mix between terrazzo and a hand-picked collection of unique pebbles. No square inch of the entire slab is the same as any other, which makes it such an art piece in itself. I'm noticing (or perhaps just selfishly willing) a trend toward a deeper connection with nature and textures. The peaceful, soothing moods found in nature can help us detach and unwind from our plugged-in, stressed-out digital existences. So why not fuse some of that concept into our home?'
'The Marinace felt perfect for this modern bathroom – it is well suited in a contemporary setting but doesn't feel as stuffy or stagnant (or simply formal) as many other natural stones and quartz options,' says Allison. 'And of course, I love that it's something that instantly catches your eye and makes you ask 'What is that?'
9. Stainless steel
While in kitchen design a stainless steel sink has been a long-standing winner, for a durable, hardy, and elegant bathroom, consider this material for a bathroom sink.
'To contrast the soft floor, and because of the reflective value of the material, we chose a brushed stainless steel sink, that also gives a modern appeal to the bathroom,' say Jonas Blondeel and Pierric De Coster, founders of Atelier Dialect.
This material is resistant to scratches and especially bodes well in a household with a lot of members or inside a shared bathroom space. Affordable, and easy to repair or replace, it's also a good budget-friendly option. Another great benefit is that it is easy to clean, as you simply need to wipe a damp microfibre cloth through it, and you have a shining sink.
10. Freestanding sinks
'Creating a vanity in the center of the room with the sink acting like a room divider helps zone areas, which works particularly well if the dressing room is incorporated into the bathroom,' says Mike.
The freestanding basin bathroom trend not only adds a decorative touch to the room, making the sink the focal point; almost like the crowning jewel of the space, but also adds function and style to the room. A vanity in the middle of the room allows for plenty of circulation space around the space, and leaves the walls and corners free, making the bathroom feel more spacious. Plus, these vanities have a small footprint and with the absence of a lower cabinet, can truly give the bathroom an airy look.
These also make the bathroom easier to clean, as they allow a majority of the room's floor space empty. These sinks are usually lighter in weight and are like a piece of utility and functionality rather than part of the room itself.
The Livingetc newsletter is your shortcut to the now and the next in home design. Subscribe today to receive a stunning free 200-page book of the best homes from around the world.
Aditi Sharma Maheshwari is an architecture and design journalist with over 10 years of experience. She's worked at some of the leading media houses in India such as Elle Decor, Houzz and Architectural Digest (Condé Nast). Till recently, she was a freelance writer for publications such as Architectural Digest US, House Beautiful, Stir World, Beautiful Homes India among others. In her spare time, she volunteers at animal shelters and other rescue organizations.