8 simple ways to elevate your backyard movie night so all you need do is add popcorn
These backyard movie night ideas will help you create a stylish, relaxing space to enjoy with family and friends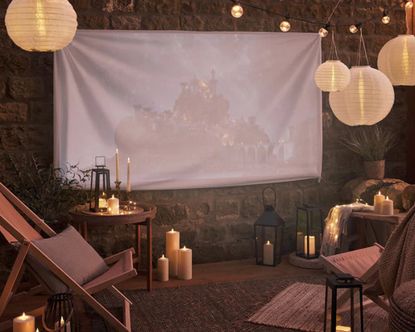 (Image credit: Lights4fun)
The Livingetc Newsletter
For style leaders and design lovers.
Thank you for signing up to LivingEtc. You will receive a verification email shortly.
There was a problem. Please refresh the page and try again.
You can't beat a summer afternoon in the backyard, perhaps enjoying a drink with friends of the remains of the cookout you had during the day. But nights can also be a fantastic time to snuggle up outside with the family and get creative with your own movie theater. There are so many amazing backyard movie night ideas to try, from decorating for the ultimate vibe to getting the very best sound and visuals.
It's actually surprisingly easy to set up your own luxurious outdoor cinema, repurposing existing seating and lighting around something like the best outdoor projector or even a garden TV to transform your space into something cozy and inviting once the sun sets.
We have listed some of our favorite backyard movie night ideas below, whether you're looking for something you can do yourself or you're ready to transform your backyard completely.
The best backyard movie night ideas to make your summer evenings even more special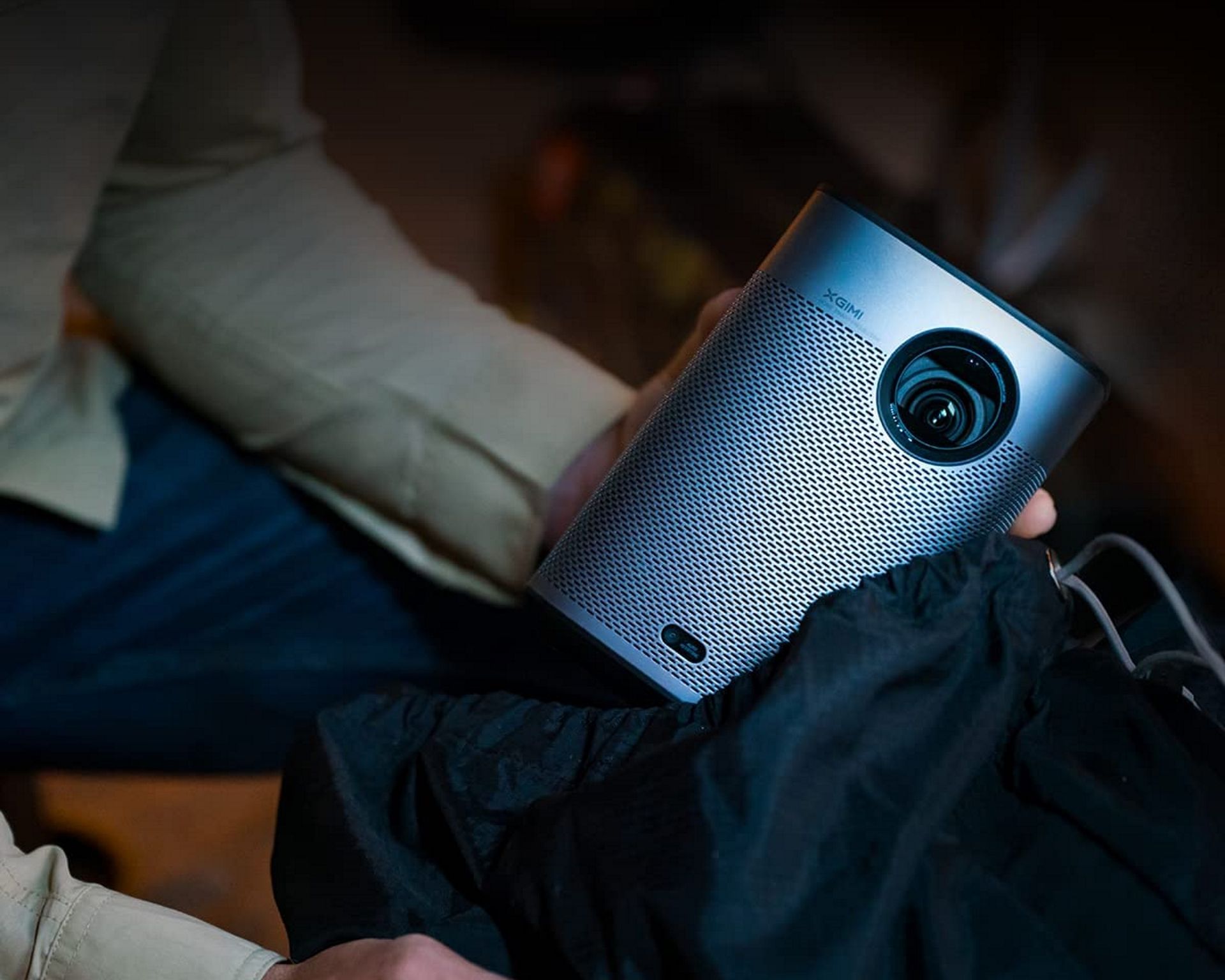 1. Fire up the entertainment with an outdoor projector
Outdoor projectors are absolutely the best and most cost-effective way to enjoy movie nights outside. Often totally portable and with some even weatherproof, they can easily be carried outside and set up in minutes. Add a screen (more on that later), and you're ready to curl up and enjoy whatever entertainment takes your fancy.
The best outdoor projectors vary in price, but you will want to look for one with as high brightness and contrast as possible. This is even more important if you plan to watch during the day, as projectors with fewer lumens will be hard to see in brighter conditions.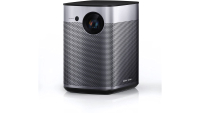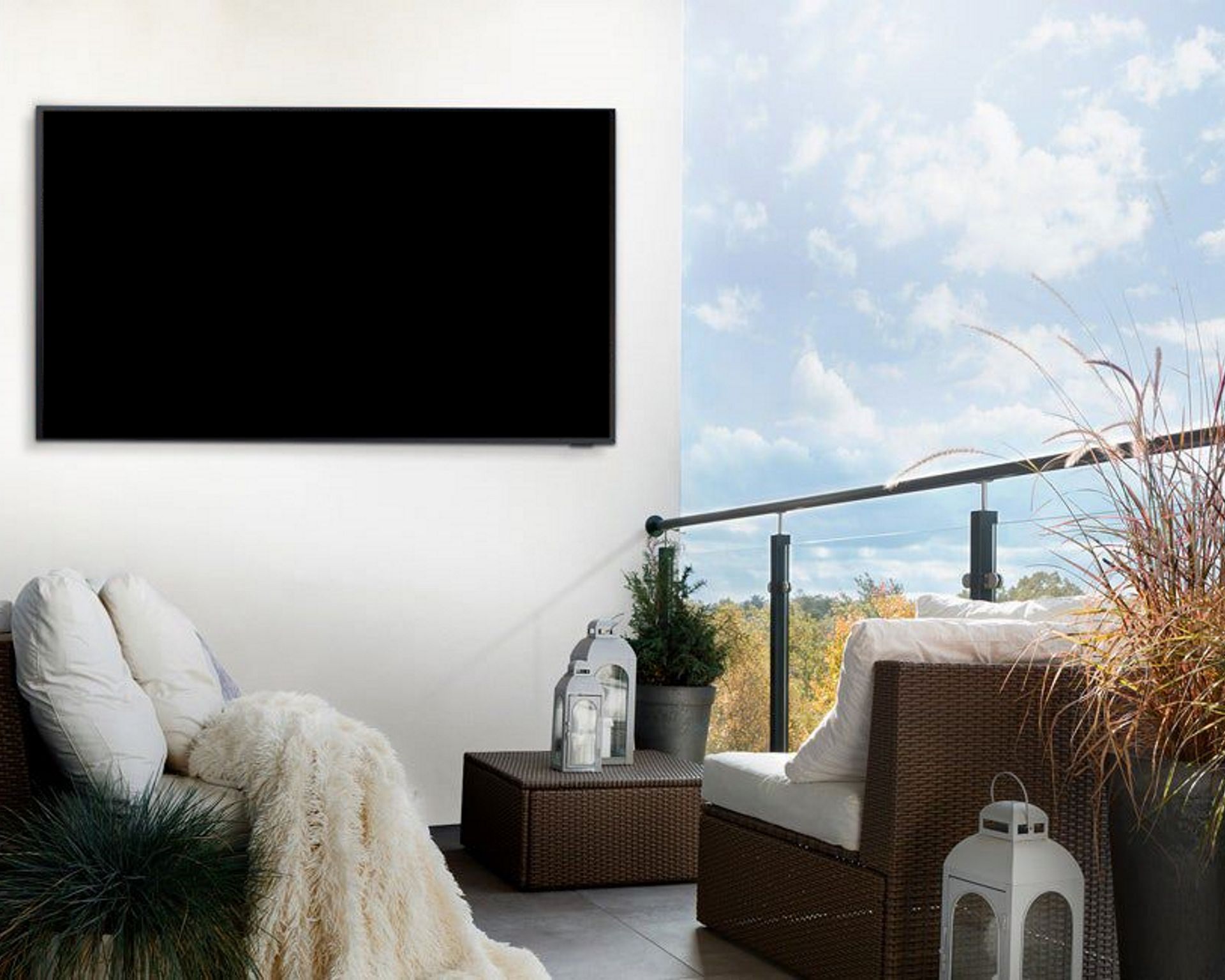 2. Get cozy with a stylish outdoor seating area
If you love spending time in your backyard, then you probably already have some seating. But there's an art to making a cozy space you can curl up in for a few hours of relaxation while keeping your space looking as stylish as possible all the while. There is no shortage of outdoor seating ideas out there, but some will suit the movie night vibe more than others.
'The key to creating a comfortable outdoor seating space is to design the space in the same way you would a living room,' says Rebecca Lorimer, owner of luxury outdoor furniture brand Coco Wolf. 'Think about the purpose you'd like the space to fulfil, and how you want to feel in it. Is there a focal point or a view you want to accentuate? And where does the light fall?'
Mixing built-in and standalone seating is one way to create an agile space that can be adapted for entertaining, or you can create a full outdoor living room with sofas, cushions, and comfy throws. Mix and match colors and textures to make things as fun and luxurious as possible - and you may need a backyard umbrella or outdoor shelter.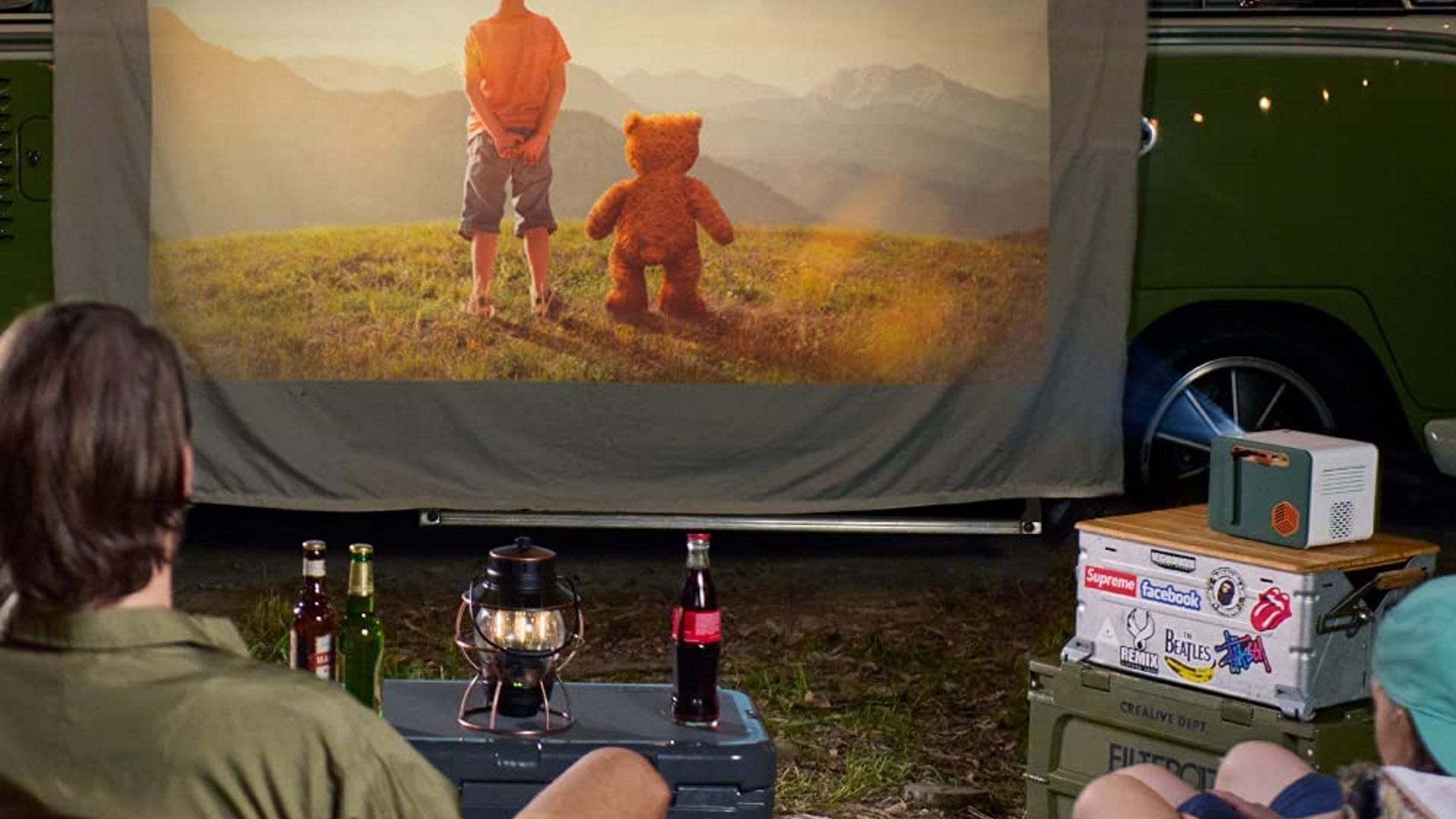 3. Find (or DIY) the perfect outdoor projector screen
You may be happy with a white wall to project your movies, but a dedicated screen will help you avoid seeing the imperfections. Projector screens are affordable and widely available, and you can opt for something wall-mounted or built-in or with a stand that allows you to change the position.
You can, of course, DIY a screen with something as simple as a white sheet, which may make it easier to get the perfect size. If you have a pool area and fancy throwing a pool party with added entertainment, you can even get inflatable screens.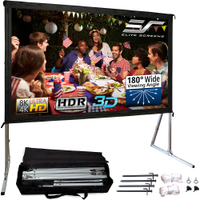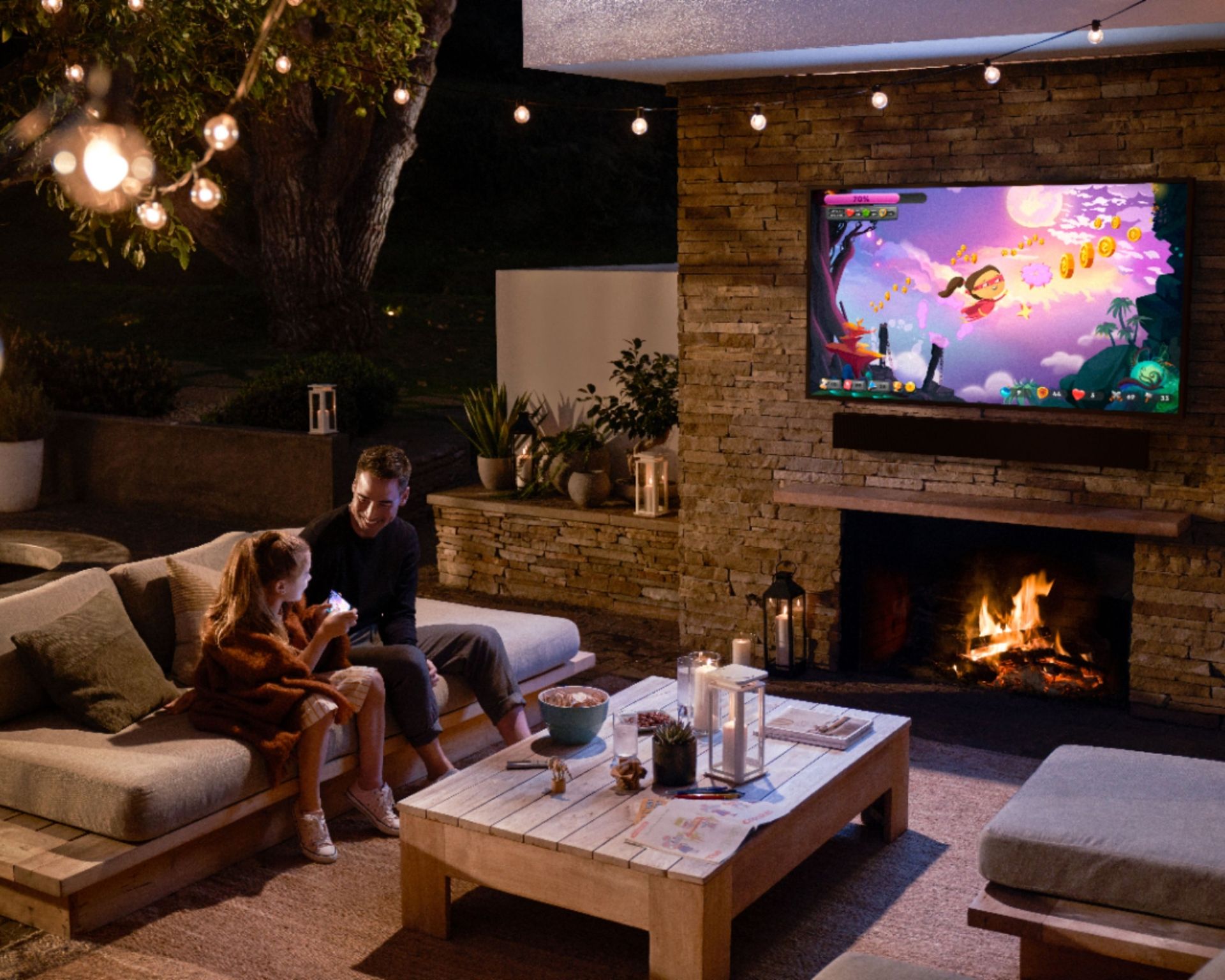 4. Consider an outdoor TV
Outdoor projectors aren't the only way to watch movies outside - there are also garden TVs. There are a few models available, but the most well-known is the Samsung The Terrace range, which is available in a few different sizes. Greater brightness and clever tech mean content looks great even in partially sunny conditions.
As you can get creative with positioning, as Greg Howarth, from home technology company GLO, told us: 'There are many different outdoor products that give a great deal of flexibility when it comes to where you place your TV.
'For example, we can wall mount it for all to see or provide a TV stand. Or we can place the TV in a marine-grade TV lift, so it is hidden when it isn't in use and revealed when you want to view it.'
These outdoor TVs are a lot more expensive than projectors, but you will also get a better result. For those who spend a lot of time outside, it could be an investment in something more permanent rather than a device that needs to be taken out of storage and set up before it can be used.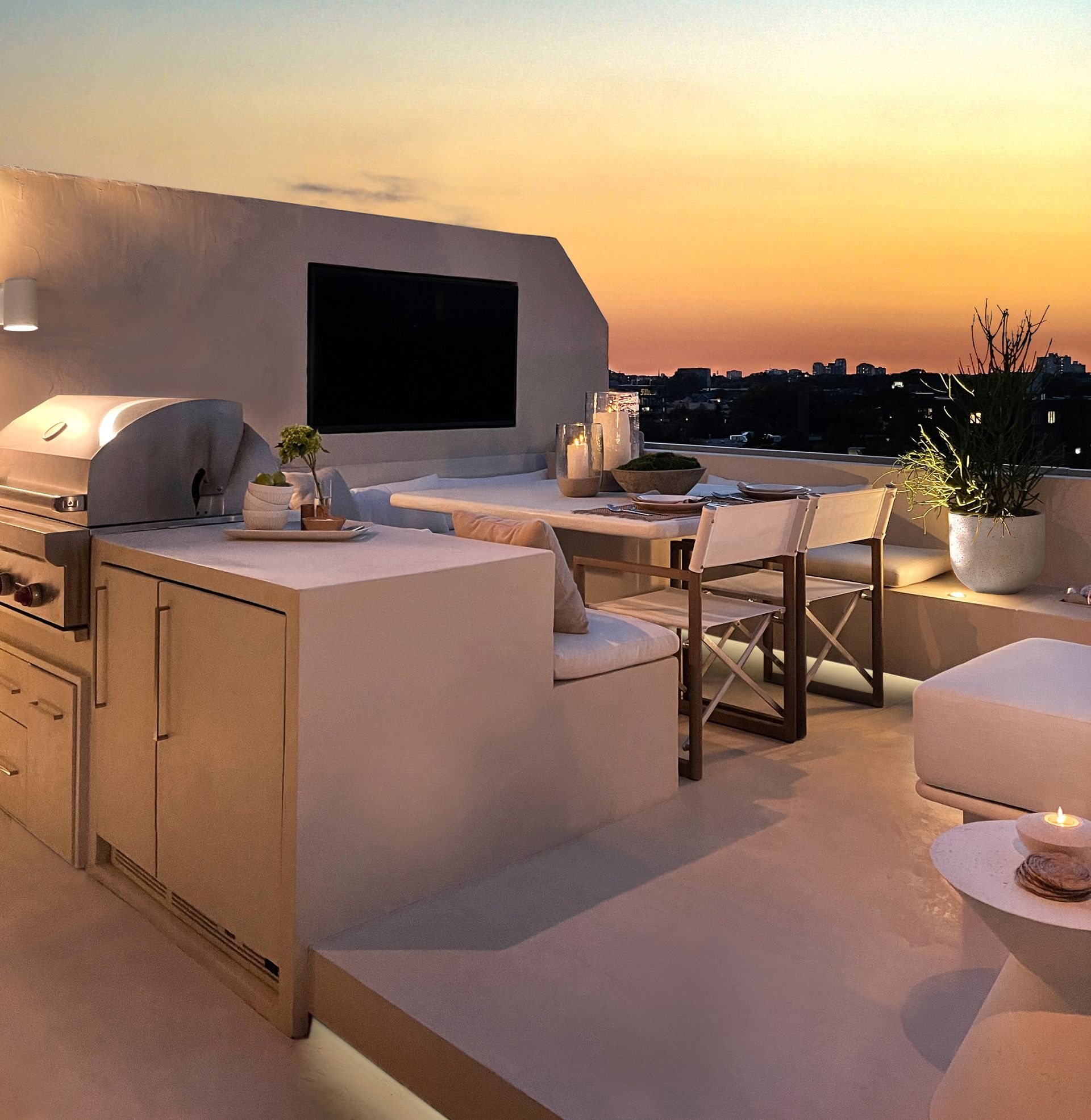 5. Skip the stale popcorn with an outdoor kitchen area
Unless you're a huge fan of stale, over-salted popcorn, you will probably want to shoot a little higher when you're in charge of the snacks. Thankfully, outdoor kitchens are a big trend right now, no matter your budget or the size of your backyard. Even if you just want a drinks cooler and counter for your movie theater-themed munchies, it can seriously upgrade the experience.
'Outdoor cooking and entertaining spaces require the same considerations of interior,' says Jennifer Morris, principal designer at JMorris Design. 'I start with the flow of functions. Walking through what tasks are performed, how to best support those with adjacencies, the layer in the furniture, and finishes.'
The best gas grills are a must-have for more ambitious al fresco dining, and what could be better than tucking into a freshly-grilled hot dog while you enjoy your favorite movie with friends and family on a Friday night?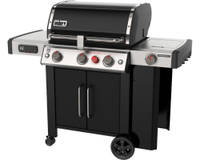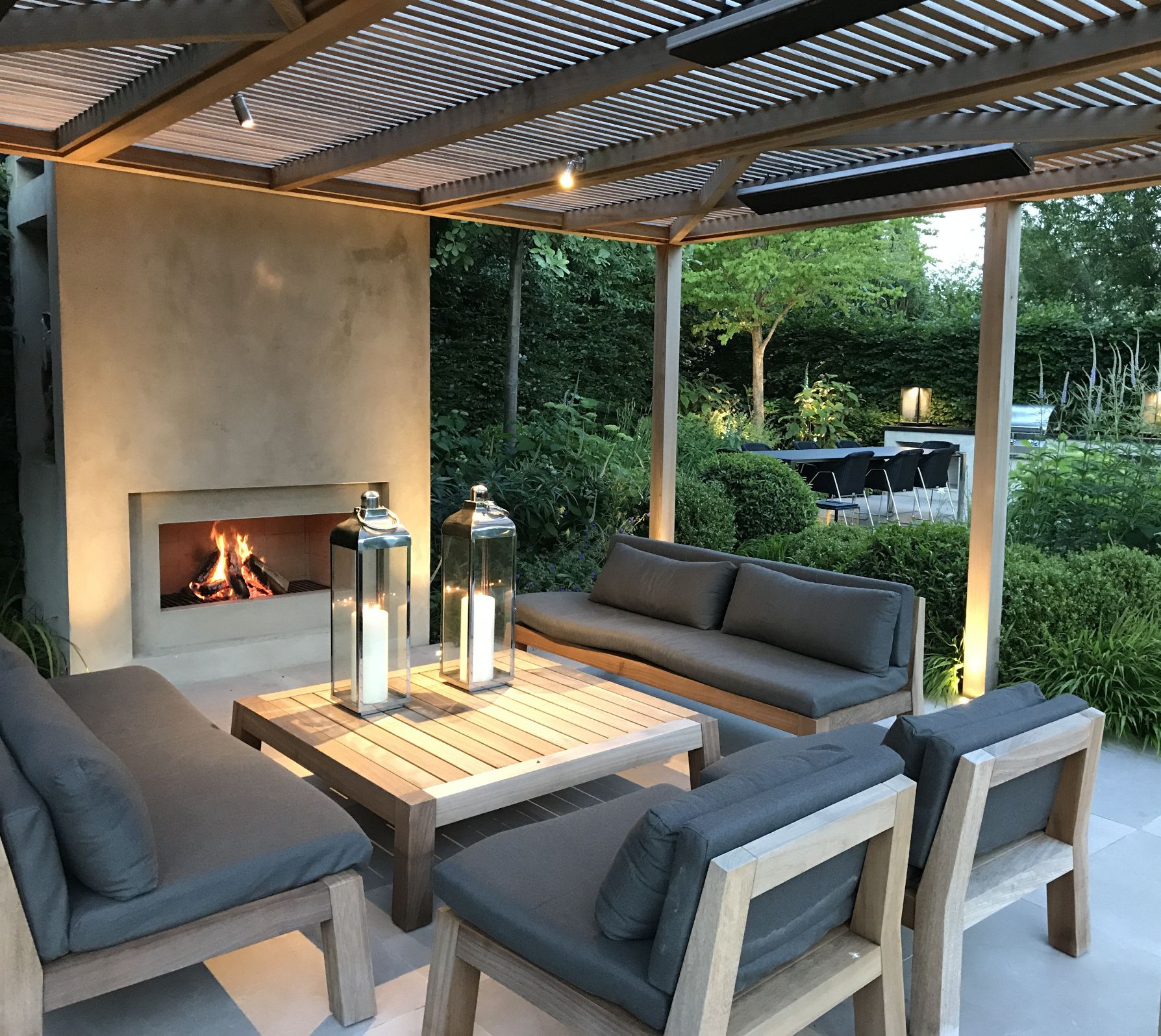 6. Remember heating for year-round movie nights
Unless you're lucky enough to live in a permanently-warm climate, you'll want to make sure there is heating available for those chilly nights. The best outdoor heaters aren't always the most stylish choice (though there are many that are!), but they'll make a huge difference once the sun sets, and that fluffy blanket just isn't enough.
Perhaps an even better idea is to include a firepit or outdoor fireplace like the one pictured in your outdoor living room. That way, you'll always have a way to warm up, and your seating area will look even chicer as you add ambiance at the same time as warming up.
As for positioning, Khai Foo, Director of firepit company Paloform, advises: 'Sit as close as you need to feel the warmth, or farther if you just want to enjoy the view.
'The pros are you have a beautiful centerpiece for your outdoor space that is a natural focal point for social gatherings and relaxation, but the con is that you may spend too much time whiling away the hours, staring at the enchanting flames!'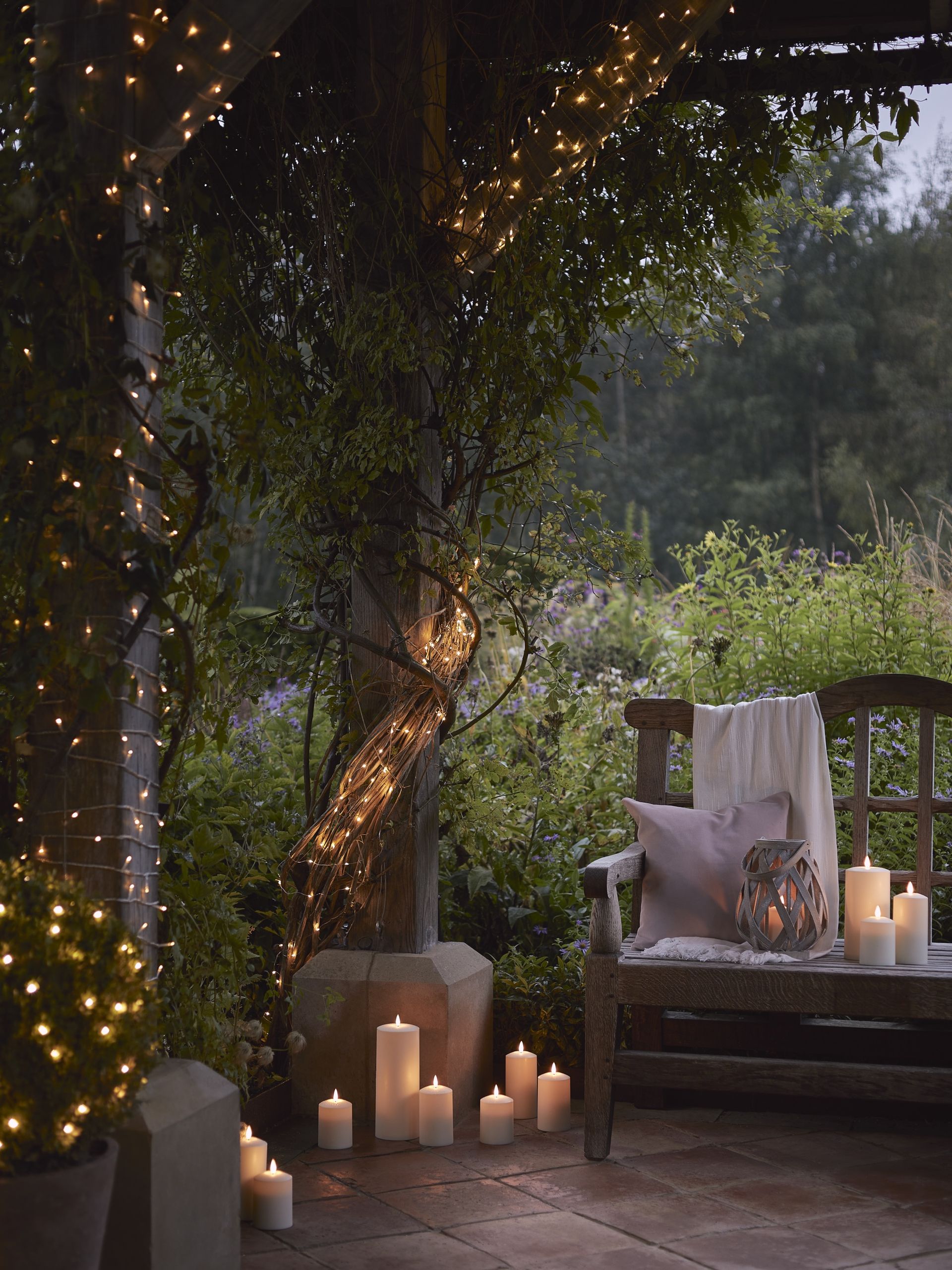 7. String lights create ambience
Firepits are a fantastic way of adding multi-purpose mood lighting, but a cheaper way is to enlist string lights. Inexpensive and versatile, the sky's really the limit for what you can do with them. Add them to beams if you have an outdoor shelter, or wrap them around shrubs and trees around your viewing area.
The great thing about twinkle lights is that they won't impact the screen like a harsh overhead light might, and you can even automate them using the best outdoor smart plugs. Ensure that your chosen lights are suitable for outdoors, and light them up for magical nights in your yard.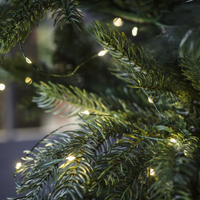 Lights4fun, Inc. 98ft 300 Warm White Micro LED Fairy String Lights | $24.99 at Amazon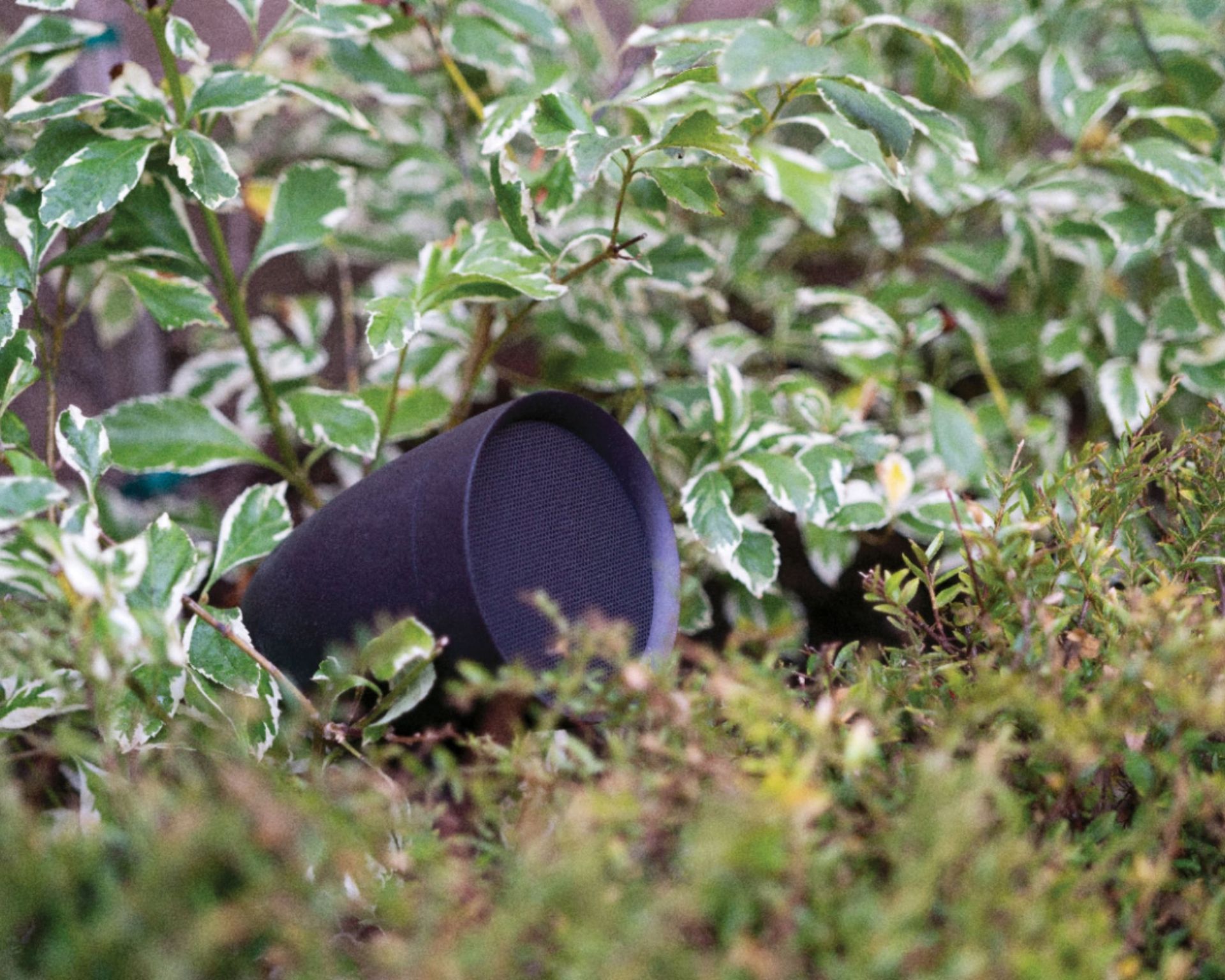 8. Don't forget the speakers
The best projector and screen are no good if you can't hear anything that's going on, but it's often easy to forget about audio when we're setting up an outdoor cinema. Speakers need to be good enough to cut through the added sounds from nature in and outside space but inconspicuous enough not to look garish in their surroundings.
'There are many options for speakers from weatherproof soundbars to full landscaping speaker systems,' says GLO's Greg Howarth. 'If you just want to hear 'TV sound', then the soundbar design works really well as a simple enhancement of the TV.
'If you want to listen to music and potentially hear the TV over the whole garden - football commentary being a common use case - then we would look at a landscaping speaker package that can be scaled to any size garden.'
You have a few options for outdoor speakers, from Bluetooth standalone devices and smart speakers to sound systems and the best soundbars. Complete systems can include wall-mounted speakers or satellite speakers hidden around the yard, or you can opt for something less permanent with something like the Sonos Roam.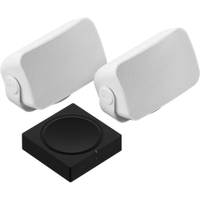 For style leaders and design lovers.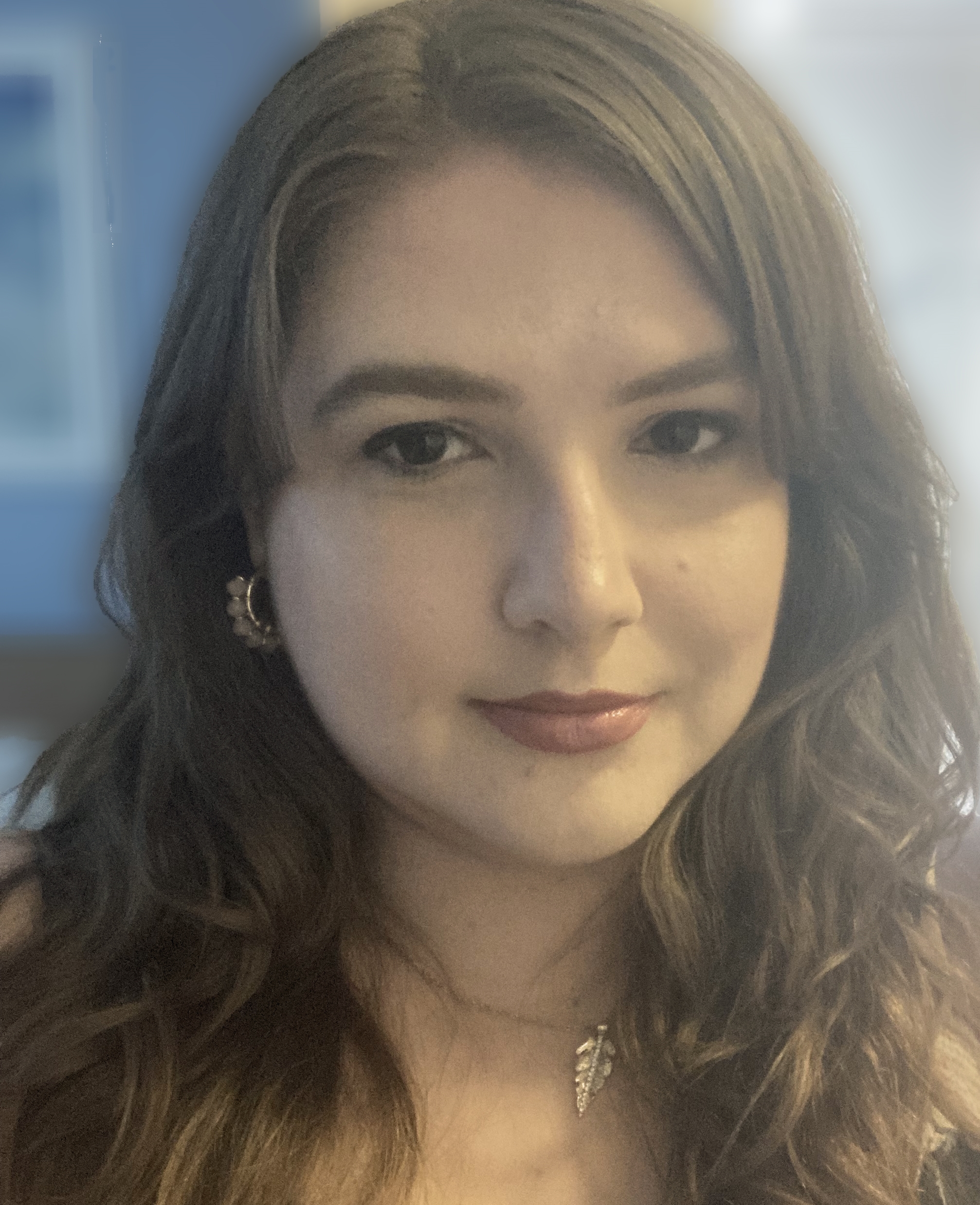 Smart Homes Ecommerce Editor
Caroline is the smart home ecommerce editor for Livingetc, covering everything tech for the home, from smart speakers to air purifiers and everything in between. She is passionate about the role that technology and smart devices can play in daily life, enhancing the home without sacrificing personal style and carefully chosen interiors. In her spare time, she can be found tinkering with bulbs, soundbars, and video doorbells in an effort to automate every part of her small home. Previously, she lent her expertise to the likes of Expert Reviews, IT Pro, Coach, The Week, and more.