Peruse our Amazon Prime Day Editor's Picks to see the deals we are buying
Don't miss our favourite Amazon Prime Day deals and get buying these editor's picks now – before they finish!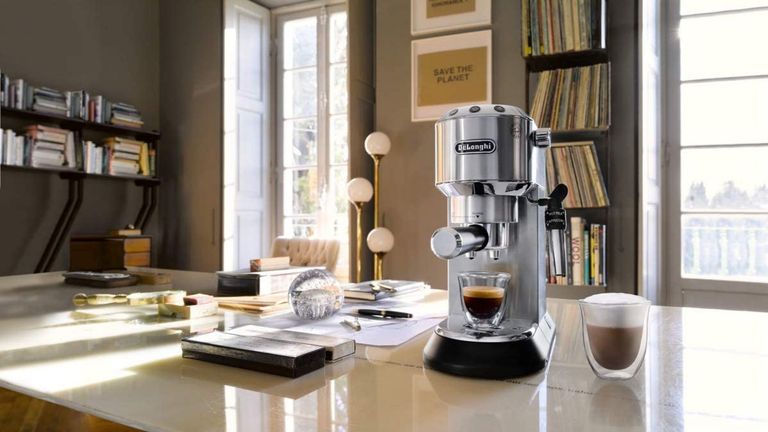 (Image credit: De'Longhi)
Welcome to Livingetc's editor's picks – these are the top-rated Amazon Prime Day deals we have found online, for the home. Yes, Amazon Prime Day is today and there are lots of deals out there. So, with this in mind, it's clearly time to treat yourself – and your home – to a few new pieces to spruce up your indoors, for guests to marvel at and for you to enjoy, too.
The Amazon home deals we picked below aren't just pretty but in most cases, they are practical, too. Not only that, they are all on sale – and the majority of them would make lovely gift ideas if you're stuck for inspiration. You might want to be quick as some of these finds may go off sale at midnight. Remember: Amazon Prime Day finishes tomorrow.
Head to our dedicated Amazon home decor page for more lovely finds that are on sale this Prime Day.
Our top Amazon Prime Day picks
Pip McCormac – Editor-in-Chief at Livingetc
Aingoo Simple Computer Desk | £49.99 £29.03 (save £20.96) at Amazon
Ideal for flexible living, this simple yet sturdy home desk makes it easy to turn a slim space into a home office. I particularly like the oak finish, which feels like it creates a soft, welcoming and creative space to work.
CUSIMAX Electric Infrared Burner | £52.99 £44.99 (save £8) at Amazon
As someone with a gas oven, I can't overstate how useful it is to have an extra, portable infrared electric hob, and I wheel this out all the time. It's so slim and fits easily in the drawer, and makes for a much more even heat - it's perfect for things like omelettes or fried eggs.
Bagotte BG600 Robot Vacuum Cleaner Mop | £189.99 £129.99 (save £60) at Amazon
The dream come true - my very own robot vacuum cleaner at last! And this also has a mopping function, which means my stone and wood floors will never have looked so sparkling, without me having to lift a finger.
Hebe Hatton – Digital Editor at Livingetc
RAJRANG BRINGING RAJASTHAN TO YOU Round Jute Rug | £63.99 £50.39 (save £13.60) at Amazon
Amazon rugs always surprise me. They are so affordable and even more so on Prime Day and yet the quality is just as good as other high street stores. I use this rug underneath the dining table to ground it in my open plan kitchen/living room. It's super durable, doesn't show any stains and is huge too.
De'Longhi Dedica Style, Traditional Barista Pump Espresso Machine | £219.99 £182.96 (save £37.03) at Amazon
I don't have all the surface space in the world to sacrifice to appliances, so this slim design was ideal. Plus it looks lovely so I don't mind having it on show. Despite its small size you still get a milk frother too. And it's so straight forward to use and clean.
Panda The Topper | £134.95 £94.47 (save £40.48) at Amazon
If you want to make your current sleep set up more comfortable but don't really need to fork out for a brand new mattress just yet, a good quality mattress topper can make your bed feel like new. I love the Panda topper because I love the brand in general (very eco-friendly, as bamboo is sustainable and organically grown ) and because the topper is so breathable, despite being memory foam I don't get overly hot or feel like the topper is too... squishy as I have done with other memory foam products.
Lindsey Davis – Editor in Chief of Ecommerce at Livingetc
Simba Hybrid Luxe | £1,599 £1,039.35 (save £559.65) at Amazon
There is 40% off Simba mattresses for Amazon Prime Day and that includes their newest release, the Simba Hybrid Luxe. Now done recoil too much at the price tag – even on sale it is just over £1,000. But you really should spend as much as you can on a new mattress as you spend a third of your life in bed (unless you have small children) and buying a bad mattress can cause all kinds of knock on issues like back trouble and insomnia. This is the ultimate in mattress comfort. I have been sleeping on it for over two months (not continuously I should add) and I have never slept better. It is well worth getting it in the sale so you can experience the dreamiest sleep, too.
Cuisinart Cordless On The Go Blender | £100 £69.99 (save £30.01) at Amazon
For under £70 you can pick up this small but mighty portable blender. It is cordless so easy to carry around and stow away. I have visions of using mine to make frozen cocktails al fresco, or if I am feeling extra boujee I could take it to my next picnic to whip up a fresh salsa verde – as you do...
It comes with a drinking cup lid too though if you want to use it for normal things like smoothies and shakes of course.
Annie Collyer – Shopping Editor at Livingetc
BESTonZON Glass Storage Jar with Wood Lid Ball | £36.99 £27.99 (save £9) at Amazon
I spotted these fancy glass jars on TikTok, and I am definitely going to get them for my tea bags, sugar and ground coffee to live in. I am obviously going to display them on my kitchen worktop, and I love that they have wooden balls as lids. Unique, super affordable and you could even use them for storing dried foods such as pasta, or in a bathroom for bath salts and cotton balls.
Woodwick Ellipse Scented Candle | £29.99 £18.99 (save £11) at Amazon
I am obsessed with candles, reed diffusers and pretty much anything that makes my home smell nice. These Woodwick candles are particularly nice as they have a crackling wick, to create a soothing atmosphere in your living room, hallway, bedroom – or wherever else for that matter. They also have a burn time of 50 hours and they make a failsafe gift. I'll be buying a few different scents to pop around my house.
BASE ROOTS Moon Phase Garland Wall Decorations | £18.99 £16.99 (save £2) at Amazon
I love the idea of hanging this moon garland either above my bed or above the bed in my spare bedroom. It's simple yet effective, and definitely has a boho vibe – it's very Urban Outfitters-esque.
Annie is Livingetc's Deputy Ecommerce Editor, and with a penchant for shopping and four years of ecommerce experience in her cart, she's more than equipped to advise when it comes to exactly the home decor you need to buy for your home. With a particular love of home fragrance, she always ensures her interiors emanate a luxurious scent to match her bijou residence. Annie and her team work to provide you with the best in-class content, whether you are searching for fluffy towels for your bathroom, clever drawer organizers for your kitchen or even a new dinnerware set for when guests come to dine. Whatever the season — or the latest trend — Annie and her team work to cover events for Livingetc, whether that be holidays or sale events, spanning Mother's Day to Black Friday.
Annie's knowledge has been sprawled across several homes websites, including Real Homes, Ideal Home, Homes & Gardens and Gardeningetc. She has also injected her ecommerce skills into the titles of Woman & Home and Country & Townhouse.
Annie lives in South East London in a sizeable two-bed apartment with her husband-to-be and her Pug called Doug. Annie's space, though surprisingly substantial, lacks storage space meaning that she's always on the lookout for things to buy to maximize space at home. She's currently redecorating this space whilst on a budget, and loves discovering a dupe or DIYing something to look triple its price tag. Next on her list of things to do at home are DIY crittal-style doors leading from her living room to her hallway.
You can follow Annie's home Instagram account at @athome.withannie.