This IKEA HAVSTA cabinet has been elevated into an elegant piece of bespoke furniture
A clever color palette and wooden dowels were the key to turning a lacklustre IKEA HAVSTA cabinet into a bespoke piece of furniture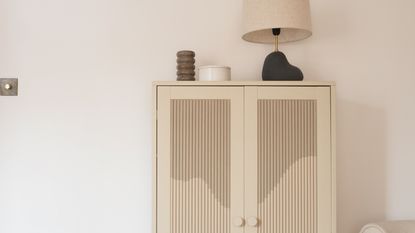 (Image credit: Luke Arthur Wells)
This IKEA HAVSTA cupboard makeover once again proves that IKEA hacks can make all the difference in creating a stylish home.
It is no secret that IKEA is one of our favorite places to snap up furniture. While some pieces of IKEA furniture are beautiful in there own right, what has us and other creatives trudging to IKEA every Sunday is the versatility of the flatpack pieces.
This incredible HAVSTA cabinet transformation by interior designer, influencer and stylist Luke Arthur Wells is the perfect case and point.
Luke transformed the sturdy IKEA HAVSTA cabinet into an on-trend piece of bespoke furniture filled with flowing lines and texture, in a delicious neutral color palette. Would you believe it if you told you that the secret to this makeover was some leftover paint and wooden dowels?
IKEA HAVSTA cabinet before
Truly stunning pieces of furniture hinge on their attention to small details, be that thoughtfully chosen legs, handles or design. So simply by adding some new legs from Pretty Pegs, some half dowels and paint, Luke has completely transformed the flatpack into a one-of-a kind piece of furniture.

To get the fluted effect on the front of the cabinet Luke started by measuring the inset of the cabinet door and cutting some half dowels to size. 'You'll need quite a lot, but you won't know exactly how many until you've got them all cut and on the door,' he explains.
'Place all the dowels roughly on the door and start to mark out your pattern with a pencil. Using a fine painter's tape, tape over your lines. I started on the outside of each line so that I could paint the centre section first.'
Luke opted for a wavey design in a neutral color palette using leftover paint from his COAT paints collab colour Well Grounded. He explains that you can easily use any paint you have lying around.
'Mine was a mix of random leftovers, but aim for all the same finish, preferably eggshell,' he says. 'Paint the centre section first. You'll need to be careful and do a few coats. I raised mine off the floor with a few pieces of scrap timber.'
One the first section was painted and dried, he removed the tape and re-taped over the now painted section for a crisp line when painting the other two ends. Luke recommends doing two coats of paint for each section for a deep rich color finish.
Once the dowels have dried it is time to stick them to the cabinet. Luke recommends starting on the inside edge. 'Start on the inside edge, and if you find that the dowels don't fit exactly, you'll need to sand down the edge on the last dowels to be fixed.'
When sticking on the half dowels speed is off the essence, so Luke opted to use spray adhesive. 'It's quick and you won't want these dowels shifting around while they dry,' he explains.
IKEA HAVSTA cabinet after
Once all the dowels are stuck down Luke gave the whole cabinet a once over with a clear, matte varnish for a velvety finish that is hard wearing. The last thing you want when you've lovingly revamped a piece of furniture to match your modern living rooms ideas is for the paint to start flaking immediately with use.
The final result is a statement piece of furniture that is worlds away from the original navy blue HAVSTA cabinet Luke started with. Nearly, everyone might have at least one piece of IKEA furniture in there home, but guaranteed no other home will have one of these.
Anna is a professional writer with many years' experience. She has special interests in architecture, photography, and high-end interior design. Her work has appeared in Homes & Gardens, Gardeningetc, and many other publications.