Shopping Edit: 10 unusual shaped candles to accessorise your home
Peruse these distinctively shaped candles we handpicked from Liberty London, Etsy, Amara, Selfridges and more...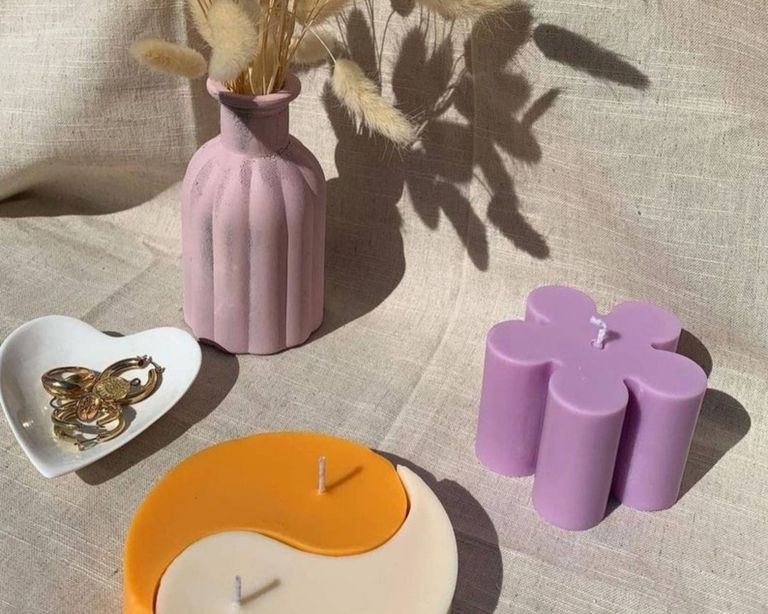 (Image credit: LeBonCandles)
Your search for quirky shaped candles is finally over. This trend, that has been taking over our Instagram feeds for quite some time now, doesn't seem to be going anywhere. Which is a good job since our Shopping Editor has been busy doing a little, well... shopping (of course!). On her hunt she has brought everything from bubble candles to body shaped candles and even tapered shaped candles to light – and you can see them all below.
Up your shelfie game and add some of these distinctive shaped candles to your sides to light up your home – in flame or in most cases, in style. Whether for sprucing up your coffee table, as an addition to an otherwise neutral bathroom or for placing in your hallway to greet guests, shaped candles are so in right now.
A word of wisdom: shaped candles aren't really meant for lighting. We know it seems strange, but if you do want to burn them, they will obviously loose their shape. If you do plan to ignite a flame, just make sure you do so on a heat-proof plate of some kind.
See our best candles guide for your normal-shaped candles that can be burned – all our top suggestions live here.
Shaped candles – 10 fancy finds
1. A bubble tapered candle from Liberty
MAISON BALZAC Volute Candles Set of Two
MAISON BALZAC Volute Candles Set of Two
These uniquely-shaped candles come in a set of two and they are subtly pink in colour – perfect for a neutral dining table. They are thick in width to make a statement, and to fit inside 2cm wide holders. These stearin wax candles are anything but boring, in fact, they are playful and they have an impressive burn time of nine to 10 hours. Not just good looking, clearly...
2. A flower shaped candle from Etsy
LeBonCandles Flower Shaped Candle
LeBonCandles Flower Shaped Candle
How sweet are these daisy-shaped candles? They are made of soy wax and there are six colourways to choose from, as well as nine scents. They are really made for design purposes only, so if you do want to light yours you'll have to pop it on a heat-safe surface. They're also surprisingly tall, and they would make a lovely gift idea. We say to style them on a chest of drawers or bedside table.
3. A sculpture like double candle from Anthropologie
Lex Pott Shaped Double Candles
Lex Pott Shaped Double Candles
Make a statement in the middle of your coffee table or on a console table with this grand – and funky shaped – double candle. It has a burn time of 10 hours in total and you may want to light it on a heat-proof plate (and don't burn the base!). It doubles as a sculpture at the same time as being a candle which is a win-win, and it comes in four pastel colours to complement your decor.
4. A blush pink bubble candle from ASOS
HOLM 'Bubble Butt' Candle
HOLM 'Bubble Butt' Candle
We're no strangers to the bubble candle, in fact we think they look great displayed atop a coffee table book, on a bedside or nestled on a tray with other home decor finds. This one is blush pink to add a pop of colour to your home, and thanks to being hand poured it has unique markings.
5. A body-shaped pride candle
alpha female club body pride candle
Alpha female club body pride candle | £20 from Missguided
The female body in the shape of a candle, in multiple colours to celebrate pride – what more could you want? This candle also comes in a male version, while it's made of unscented soy wax. Talk about make a statement – and add some colour – to your surfaces.
6. A hand shaped candle from Amara
'OK' Candle
Choose from green, yellow, blue or red and light this three-wick candle from the tip of its middle, ring and pinky fingers. Clever. It's colourful, 100% handmade from paraffin wax and life-sized. Should you want to burn it, it will last for two hours and it's unscented – we say leave it on display.
7. Six tapered spiraled candles
Hay Spiral candles set of six
Hay Spiral candles set of six
A reasonable price tag for six candles, let alone six tapered candles that are twisted – and different in colour. Two blue, two purple and two terracotta coloured candles come in a pack, while they are all made of paraffin wax, and in the UK. Place them in a holder and dot them around your home for maximum effect. Alternatively, they would definitely add some colour and texture to your dining table setup.
8. A knot candle
Ajouter Knot Candle | £16 £13 at Fy!
What about a knot candle? These are slightly confusing to get your head around, but they are definitely pleasing to the eye. This one from Fy! is made of 100% vegan soy wax, while it comes in a huge colour range. The perfect size for a bedside table or a side table, place this unique candle atop some reading material whether a book or a magazine.
9. A cone shaped candle
Danish Cone Candle | £6.50 each at Nordic House
This elegant addition has an impressive burn time of a whopping 28 hours, while it's made of 100% pure fragrance-free paraffin wax and it has a a 100% cotton wick. Simple yet striking, we think it would look lovely placed on a tray, similar to the above, and displayed in an entryway or bathroom.
10. A shell shaped candle
alpha female club beige shell candle
alpha female club beige shell candle | £12 at Missguided
Definitely one for your bathroom – en suite, family or downstairs, that is – this shell-shaped candle may be small but it will certainly add some texture to your four walls. It comes in three colours, one of which is a pink, and quite frankly: it's hard not to spot it! It's unique, impressively shaped yet dainty.
Annie is the UK Shopping Editor at Livingetc, with the majority of her time spent advising you on what to buy for your home – whatever the season, or the latest trend. Whether that be a design classic floor lamp for your cinema room, a comfortable new chair for your home office, or a high-quality exercise bike for your home gym. She's also our fitness guru, with hands-on experience with some of the best home gym equipment around. Otherwise, you can find her forever painting the walls and reorganising the furniture inside her modern London flat, or going on long walks with her pug.