Best smart speaker: the best smart assistants to help automate your home
The best smart speakers to upgrade everyday tasks, play music and get a (digital) helping hand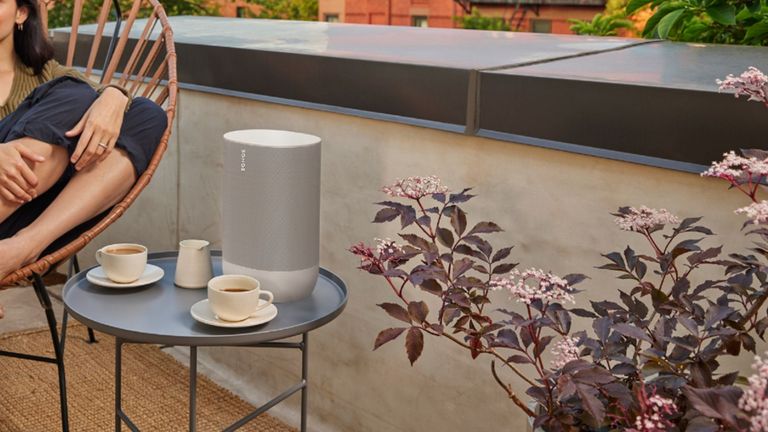 (Image credit: Sonos)
Smart assistants are the ideal helping hand, whether you're a complete newcomer to smart home technology or an expert. The best smart speakers will upgrade your home to become more organised, streamlined and just plain easier to live in.
The days of your heating, lights, alarms and music streaming needing to be manually controlled are way behind us, with these clever devices now allowing you to control pretty much everything in your home using just your voice (or a couple of taps on your phone if you prefer).
Choosing the best smart speaker for your household will depend on what you want out of it, whether that's excellent audio quality for playing music or just something sleek that fits into your existing home aesthetic. We know that there's sometimes nothing worse than technology that sticks out like a sore thumb on the mantelpiece, so we've included a dew different design options on our list.
And if you're looking for a bigger focus on audio quality, take a look at our ranking of the best soundbars - some of which also have smart features and compatibility.
To help make the buying process easier, we've ranked seven of the best smart speakers available right now. Keep scrolling to see what we thought.
The best smart speaker in 2021
1. Amazon Echo Studio
Best smart speaker overall
Specifications
Platform: Amazon Alexa
Dimensions: 8.1 x 6.9 x 6.9in
Weight: 7.7lbs
Reasons to buy
+Great sound quality+Dolby Atmos+Stylish design
Reasons to avoid
-Far more expensive than other Amazon Echo products
One of the main complaints people had of smart speakers when first launched was that audio quality hadn't been made more of a priority. Amazon has rectified this oversight with the Echo Studio, however, which is a speaker that combines all the usual Alexa smarts with sound that should meet an audiophile's standards.
The larger device creates a more three dimension soundscape with five interior speakers and Dolby Atmos getting you the closest to surround sound you'll get without a full multi-speaker sound system (for more on these, take a look at our guide to the best surround sound systems). The Echo Studio also senses the acoustics of its space automatically, optimising its output.
As with other Alexa speakers there are also lots of features designed to make it more useable. You can turn the microphone off with a switch when you don't want it to be listening, for example, and multiple Alexa speakers can be networked to create an at-home intercom system.
Livingetc rating: 5 out of 5 stars
2. Sonos Move
Best portable smart speaker
Specifications
Platform: Google Assistant, Alexa
Battery life: up to 11 hours
Dimensions: H24 x W16 x D12.5cm
Weight: 3kg
Reasons to buy
+Wireless+Automatic tuning to fit sound with space+Supports both Google Assistant and Alexa+IP56 Waterproof
Reasons to avoid
-On the larger side-Expensive-Bluetooth connection can be tricky when away from Wi-Fi
The Sonos Move gives you a lot for your cash with complete portability, support for both Google Assistant and Amazon Alexa, and access to all the streaming services you could imagine. And it's waterproof, so you can use it in the bathroom or outside in the yard with no problem.
Whether you want to put the Sonos Move in your largest room or your smallest, the onboard microphone will assess what kind of environment it has been placed in and adjust the sound levels to fit.
The best thing about the Sonos Move is the ability to use it outside, whether that's for backyard cookouts or just relaxing by yourself on the patio. Though the device is relatively large, it's not too heavy to carry around with you - the ultimate portable sound system. It even claims to be able to withstand extreme hot and cold temperatures.
3. Marshall Uxbridge Voice
Best smart speaker for classic music fans
Specifications
Platform: Alexa
Dimensions: 6.6 x 5 x 4.8in
Weight: 3.1lbs
Reasons to buy
+Lovely chic design+Good price
Reasons to avoid
-Sound quality doesn't meet expectations
Classic rock fans will get a kick out of the design of this Marshall Uxbridge smart speaker, which packs all of the modern tricks of Alexa inside a decidedly retro package. It makes sense given the popularly of smart speakers that classic brands would want to upgrade their own tech, and this is a great example.
The Uxbridge Voice is a multiroom speaker so you can hook it up to other Alexa speakers around the home, as well as use it as a standard Bluetooth speaker if you want to play music or a podcast. Of course you'll also have all of the features of Alexa, such as the ability to control your smart devices, heating and more.
Livingetc rating: 4.5 out of 5 stars
4. Bose Home Speaker 500
Best smart speaker for 'surround' sound
Specifications
Features: Clock
Platform: Alexa
Dimensions: W17 x D10.9 x H20.3cm
Weight: 2.15kg
Reasons to buy
+LCD clock display+Good voice command pickup+Control with voice or top buttons+App-controlled pre-sets
Reasons to avoid
-Expensive-No Amazon Echo multi-room support
A high-end smart speaker with a stylish design, the Bose Home Speaker 500 claims to fill the room with wall-to-wall stereo sound without needing an entire surround sound system. It also boasts eight-microphone voice pick-up to ensure it hears you even over loud music, and you can customize the settings more than some competing speakers.
While most of the time the LCD display on the front of the Bose Home Speaker will display a clock, when playing music it will pull in album art from your chosen streaming service. This might not be a deal breaker if you're more of a background music listener but, for audiophiles, it's a nifty little feature.
On top of the speaker you will find numbers 1-6. These are connected to the app and can be set to link to particular music playlists or internet radio stations so you don't have to ask every time you want to listen to something specific.
5. Amazon Echo (4th Gen)
Best budget smart speaker
Specifications
Platform: Alexa
Dimensions: W10 x D10 x H8.9cm
Weight: 3.38kg
Reasons to buy
+Automatic tuning to fit sound with the space+Connect with Fire TV+Voice calling+Low-power mode when idle
Reasons to avoid
-Sound quality still struggles a little
Amazon's 4th Gen Echo speaker can be used alone as a smart assistant for alarms, reminders, random questions and a whole lot more, but it really comes into its own when you connect it with other smart-enabled devices around the home.
Not only is the Echo brilliant for calling friends and family completely hands-free, when synced up with other Bluetooth speakers around the house you can instantly call members of the household for dinner or anything else you might need to announce. If you often find yourself with your hands full, then it's a feature that could transform your family routine.
If you're busy around the house, it can be annoying to leave music playing in one room but not the others. The Echo solves this by allowing multi-room music. Place a speaker in the rooms you need the most and you can have a song playing everywhere at once!
6. Amazon Echo Show 10 (3rd Gen)
Best smart speaker display
Specifications
Platform: Alexa
Features: 10-inch display
Dimensions: 9 x 6.7 x 5.6in
Weight: 5.6lbs
Reasons to buy
+Smart display perfect for video calls and streaming+Motion sensor moves with you
Reasons to avoid
-No wireless option-Quite bulky compared to other models
The original Amazon Echo Show has had a huge update in the form of this 3rd Gen model. The Echo Show 10 display boasts all of the brilliant features of other Amazon smart speakers, but with a 10" HD screen that follows your movement to boot.
This makes the Echo Show particularly good for those who use their devices in the kitchen to follow recipes (or listen to music and watch YouTube for entertainment), and makes calling friends and family that much simpler. All of this, completely hands-free.
We particularly love smart displays for their ability to integrate with any home security devices you have around the house. The best security cameras or smart doorbells can beam their footage to your Echo Show 10, where you can choose to speak with the person at the door without ever leaving the room.
Before you know it, you'll have automations set up for your heating, music, TV, air conditioning and anything else you'd rather not spend time thinking about every day.
How to choose the best smart speaker
How do smart speakers work?
Smart speakers are devices for the home that can be activated with a simple term like 'Alexa' or 'Hey Google', before being asked to perform a task. This could be anything from answering a general knowledge question, to checking the weather forecast, or pausing music or streaming without searching for the remote.
Because they're also billed as speakers, many people use them as their main device to stream music, play podcasts or, in some cases, enhance their home theater set-up. How you use yours is totally up to you.
Will my smart speaker be able to hear me over loud music?
Most smart speakers claim to be able to hear a voice command over even the loudest background noise, but it doesn't always work in practice. What we will say is that Google Assistant does have the option to turn up the sensitivity, and voice recognition goes a long way to making your smart speaker more compliant.
Google or Alexa?
This very much depends on personal taste, with many sticking with whichever assistant they encountered first. If you are new to smart speakers, then it's useful to look at what you already use. If you're a devoted Amazon Prime user, for example, then Alexa-enabled speakers may have a few more features for you.
Similarly, if you are an Apple devotee that doesn't mind being tied to Apple Music etc., then you could go for a Siri device like the Apple HomePod Mini.
We'll note that, should you be interested in hooking your smart display or speaker up with a Ring doorbell, Alexa is the way to go (check out our guide for more on the best smart doorbells).
Will my smart speaker spy on me?
It's a totally legitimate question, and one that many have asked since it became common knowledge that smart speakers from the likes of Amazon and Google are effectively 'listening' to every word you say, just waiting for a command they can fulfil.
Of course, these companies are quick to assure everyone that this data does not actually get stored long-term, and everything is done to ensure your privacy is not compromised. In any case, many speakers have switches that turn off the microphone when you don't want it listening in on your conversations.
Caroline has been a part of the Livingetc team since 2021, offering expert advice on the best smart tech for your home. Passionate about interiors and how technology can be integrated into daily living without sacrificing aesthetics, in her spare time she can be found shopping for the latest accent pieces for her own space.