Best charcoal grills: get grilling with our pick of the best charcoal BBQs
The best charcoal grills are the ticket to delicious, smokey food, and we've chosen our favorites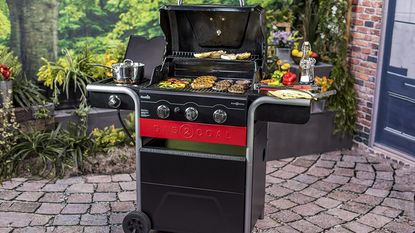 (Image credit: Char-Broil)
If you ask anyone who loves to fire up the grill in the summer months, the best charcoal grills will get you the finest flavor. That's because the way these appliances work is ideal for getting that gorgeous smokey taste that everyone associates with the backyard cookouts of their youth. And these grills are now widely available for a range of budgets.
But gas grills aren't all the same, and many excel in certain areas while some are great all-rounders. And you don't even have to restrict yourself - take a look at our guide to the best grills for even more options across charcoal, pellet, and gas.
We've rounded up the very best charcoal grills below to help make your decision a little bit easier, from portable options to hybrid models and much more besides. You can also see our star rating for those grills that we've had hands-on experience with.
The best charcoal grills in 2023: tried and tested by us
Why you can trust Livingetc Our expert reviewers spend hours testing and comparing products and services so you can choose the best for you. Find out more about how we test.
1. Weber Go-Anywhere Charcoal Grill
Best portable charcoal grill
Specifications
Dimensions: H15 x W19.5 x D11.5in
Weight: 13.5lbs
Reasons to buy
+
Great for camping trips
+
Compact and portable
+
Good size cooking area
+
Easy to clean
Reasons to avoid
-
Only available in one color
Compact, portable grills are brilliant for smaller families or those who don't want to spend a lot, so this Weber Go-Anywhere Charcoal Grill is a super-useful tool to have at your disposal for impromptu summer parties or for when you just fancy a perfectly grilled burger at the weekend. Because of its small size, it can be quickly and easily stored, too.
The lid makes it possible to grill - sometimes missing from portable models - everything from your basic kebabs to steaks and really anything else you desire. Its legs also fold in for super-secure transportation. We'd love it to come in more attractive colors, but that's really our only complaint!
Livingetc rating: 5 out of 5 stars
2. Everdure by Heston Blumenthal Fusion Charcoal Grill
Best compact charcoal grill
Specifications
Dimensions: H35 x W16 x L29in
Weight: 79.2lbs
Reasons to buy
+
Comes with adjustable stand
+
Uses electric ignition for easy use
+
Includes rotisserie function
Reasons to avoid
-
Needs power
-
We found the rotisserie a little unstable
-
No lid
-
Expensive
Charcoal grills are popular for a reason, and so many people are reluctant to switch to even the best gas grills (or fully electric) because of a perceived loss in taste. The Everdure Fusion Charcoal Grill attempts to solve this problem with an electric ignition system that makes your charcoal ready to go in about seven minutes.
The rotisserie function is a nice extra, and we were impressed with just how sleek and modern the grill looked. Assembly was also super-simple, and - though compact - the cooking area was actually big enough for us to feed around four. The lack of a lid loses the grill points, however, as it's difficult to keep anything warm.
Livingetc rating: 4.5 out of 5 stars
3. Char-Broil Gas2Coal Gas/Charcoal Hybrid Grill
Best hybrid grill
Specifications
Surfaqce area: 420 sq in
Dimensions: H47.5 x W52.5 x L24.6in
Weight: 110lbs
Reasons to buy
+
Side burner and warming rack
+
Easy to use and clean
+
Good price
Reasons to avoid
-
Arms can't be taken down for storage
-
Assembly took some time
The ultimate hybrid option that allows you to choose between gas and charcoal grilling, the Char-Broil Gas2Coal is ideal if you want more flexibility. During testing, we tried out various foods, including meat, fish, and veggies, and found that, while the charcoal mode took a little longer to reach the desired heat, the results were equally great.
A warming rack on the side is perfect for getting those burger buns toasted, and though the Gas2Coal isn't the most aesthetically pleasing grill on the market, it's versatile and easy to use.
Livingetc rating: 4.5 out of 5 stars
4. Everdure by Heston Blumenthal CUBE Charcoal Grill
Best portable charcoal grill (runner up)
Specifications
Surface area: 115 sq in
Dimensions: H9 x W16.7 x L13.7in
Weight: 15.4lbs
Reasons to buy
+
Available in a range of attractive colors
+
Compact and portable
Reasons to avoid
-
No lid
-
Needs to be stored indoors
Another super-chic offering from Everdure, the CUBE Charcoal Grill, is small and portable but will also look great in the yard. It will suit small families and couples that don't have space for a full-size grill, and its range of colors and sleek design earns it extra points from us. It would be even better with a lid, but this is a common problem with portable grills.
While testing, we cooked up burgers, sausages, and veggies and found ourselves loving the food tray and chopping board included. The carry handles also make it simple to pick up and move around. The surface area holds about four normal-sized burgers, which is great for such a small appliance.
Livingetc rating: 4 out of 5 stars
The best charcoal grills: more top products
5. Cuisinart COS-116 Vertical Charcoal Smoker
Best charcoal smoker
Specifications
Surface area: 16in
Dimensions: H40 x W19 x L21in
Weight: 27lbs
Reasons to buy
+
Suitable for smaller outdoor spaces
+
Barrel design better for even cooking
+
Lid and side handles
+
Good price
If delicious smoked food is your goal, then a charcoal smoker is what you want. The Cuisinart COS-116 Vertical Charcoal Smoker has a unique barrel-shaped design that, according to the brand, is better for getting an even heat distribution and cooking food perfectly. Get the best-smoked ham, cheese, and salmon of your life.
The same goes for its dual air vent system and precision temperature gauge, and though the grill is taller than others on this list, it's narrower and so might be better for storing in smaller outdoor spaces.
6. Everdure by Heston Blumenthal 4K Charcoal Grill
Best smart charcoal grill
Specifications
Surface area: 430 sq in
Dimensions: H45.3 x W21.7 x L27.6in
Weight: 211lbs
Reasons to buy
+
Attractive design
+
Bluetooth connectivity
+
Electric ignition
+
Pizza stone included
Yes, even the best charcoal grills are smart these days, and the Everdure 4K Charcoal Grill makes it possible to monitor your food from your phone - useful if you're also trying to entertain. We also love the grill's design, and a double-walled construction means it doesn't get too hot while cooking. A vent at the top allows you to control airflow, and the LED dial on the front lets you be precise.
The Everdure 4K is the most expensive example on our list, and with all the bells and whistles, it's one we'd recommend to experienced grillers. Still, it will look great on any patio, and a bevy of functions make getting the perfect burger easier than ever.
Annie is the deputy ecommerce editor for homes at Future Publishing, and offered her expertise (and backyard) to test review many of the portable charcoal grills in this guide. Living with just her partner and sharing an outdoor space, these more compact options were the perfect way to get into outdoor cooking.
Millie is our reviews editor and go-to for all things cooking-related, whether that be for a new appliance, a shiny grill, or a new cookware set. Helping to test and review products for this list, she's a self-made expert on outdoor cooking with everything from scallops and buffalo wings to wholesome veggie skewers.
How to choose the best charcoal grill for your home
Are charcoal grills any good?
It's fair to say that most people who are invested in grilling as a hobby prefer charcoal grills over gas or pellet alternatives, and this comes down to taste and flavor. The smokey deliciously associated with barbecued food is certainly possible without charcoal, but it's definitely harder to achieve. For this reason, beginners and experts alike often opt for the classic method.
What are the disadvantages of charcoal grills?
While charcoal grills allow you to avoid compromising on taste, there are some downsides. One of the main ones is the amount of pollution produced, which we investigate in our guide to determine whether charcoal or gas is better for the environment.
They also take longer and require more care than other grill types, as you need the charcoal to reach an optimal temperature before you can start cooking. It then takes time to cool down afterward.
Smart Homes Ecommerce Editor
Caroline is the smart homes ecommerce editor for Livingetc, covering everything tech for the home, from smart speakers to air purifiers and everything in between. She is passionate about the role that technology and smart devices can play in daily life, enhancing the home without sacrificing personal style and carefully chosen interiors. In her spare time, she can be found tinkering with bulbs, soundbars, and video doorbells in an effort to automate every part of her small home. Previously, she lent her expertise to the likes of Expert Reviews, IT Pro, Coach, The Week, and more.