Best charcoal grills: make delicious smokey favorites in your own backyard
The best charcoal grills are the ticket to delicious, smokey food, and we've chosen our favorites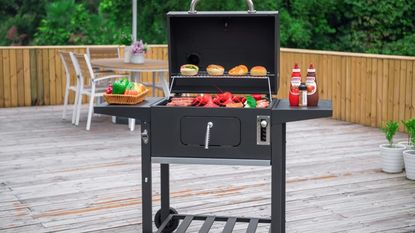 (Image credit: Royal Gourmet)
Best charcoal grills: Quick menu
The summer months are the best time to dust off that apron and indulge in the mouthwateringly smokey flavor of perfectly grilled food, and the best charcoal grills can help you do this. Ideal for creating that distinctive, authentic taste that we all associate with backyard barbecues, the good news is that there is an amazing choice of charcoal grills on the market today.
The models of this list cater to different needs and budgets, so whether you need a grill that's portable, budget-friendly, or with hybrid features, we've got you covered. Our comprehensive review process takes into account performance, design, and value for money, and we will provide star ratings for the grills we've had hands-on experience with.
As we all probably know, not all grills are created equal, and some are better suited for certain tasks than others. And if you're not set on using charcoal, the best gas grills can also be a great option, especially if you value convenience and control over maximum flavor. Then again, with so many different models available, why limit yourself? Fortunately, our guide to the best grills can help you narrow down your options across charcoal, pellet, and gas grills.
Best charcoal grills: Quick picks
The best charcoal grills in 2023
Best portable charcoal grill
Image 1 of 2
1. Weber Go-Anywhere Charcoal Grill
Best portable charcoal grill
Specifications
Cooking area: 160 in²
Ash catcher?: Yes
Portable?: Yes
Dimensions: H15 x W19.5 x D11.5in
Reasons to buy
+
Small, lightweight, and portable
+
Adjustable dampers for better temperature control
+
Good quality materials
Reasons to avoid
-
Limited cooking space
-
Lack of a built-in thermometer
-
Cleaning could be easier
The Weber Go-Anywhere Charcoal Grill is portable, compact, and lightweight, making it perfect for activities like camping, picnics, or tailgating. The adjustable dampers allow for precise temperature control, and the durable construction and quality materials ensure it will last for a long time.
The cooking space is limited compared to larger grills, however, and it lacks certain features you might expect, like a built-in thermometer. Still, it's large enough for about four average-sized steaks and comes fully assembled straight out of the box. Because it's portable, it's easy to transport, and the lockable lid and foldable legs make things more secure.
While testing, we found that the Go-Anywhere would be perfect for those who don't have much space. It was easily assembled and could cook pretty much anything a larger grill could, with a more generous cooking area than many other portable models. It was also easy to clean - though make sure not to scratch the plate by using a scourer!
During our time with the Weber grill, we cooked everything from burgers to chicken wings, and the meat was always succulent and crispy with an incredible taste. Users agree with us, too, as it has been praised for its simplicity and affordability, though some wanted more cooking space.
Livingetc rating: 5 out of 5 stars
Best compact charcoal grill
Image 1 of 2
2. Everdure by Heston Blumenthal Fusion Charcoal Grill
Best compact charcoal grill