The 12 Best Bedding Sets - Sleep in Style and Elevated Comfort
The Livingetc editors have chosen the 12 best bedding sets for how good they look, how great they feel and how well they wash. So a good night's sleep is only a click or two away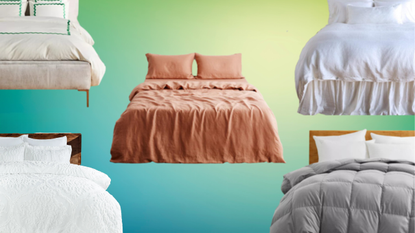 (Image credit: Anthropologie, Wayfair, Bed Threads, Kathy Kuo Home & Target)
Once you've made your bed, you have to lie in it. It's your first welcome in the morning and your last retreat in the evenings, the best bedding sets can instantly elevate your sleeping experience while adding an air of sophistication to your scheme. Bedding has come a long way from the stones adorned with leaves, straw, and animal hides humans looked to centuries ago. While the ancient Egyptians were the first to adopt bed linen, it was during the Renaissance that rich fabrics like velvet and silk were first seen adoring beds. Today, a library of materials like cotton, linen, silk, and polyester are seen across bedroom interiors across the globe.
When choosing your bedding, it can be difficult to know where to start. Terms like thread count, staple, and weave can feel like another language and it can seem like a maze deciphering which of these elements are most important to consider. Check out our FAQs at the bottom of the page for more info.
The best bedding sets
When selecting your bedding, remember to aim for the 300-thread count, consider an elevated staple length, and consider which weave works best for your room and budget. When it comes to bedding trends, Australian interior designer, Greg Natale champions "jacquard textured bedsheets in neutral colors with patterned cushion as a pop." Wisconscin-based interior designer, Amy Carman shares Natale's love for organic tones, saying she loves "simplicity, relaxed materials that easy to care for, and patterned sheets." The natural tones work to highlight the beauty of the detailed woven bedding. To help you discover your perfect bedding, we have curated an exclusive list of our top picks from our favorite décor stores.
What is the most long-lasting bedding material?
The worst thing that can happen when you invest in your bedding is to find it falling apart over the next few months. The secret to long-lasting bedding really lies in the quality of the product itself. By taking the time to research which fabrics and thread-count work best for your needs, you can ensure you choose a set that is not only beautiful but durable too. Award-winning Australian interior designer Greg Natale says, "High-quality fabrics made from natural materials, such as 100% cotton sheets, will last the longest if cared for properly." Taking Natale's advice on board, cotton is a fabric that washes well and is lightweight and breathable making it a natural material that stands the test of time. When choosing your cotton bedding, remember to consider the staple length and opt for pima or supima cotton to ensure maximum comfort and quality as not all cotton is the same. Interior designer Amy Carman shares her long-lasting bedding option and says opt for "washed and textured cottons and percale sheets."
One of the most commonly ignored pieces of advice when it comes to your bedding is to read the care instructions. Understanding how to look after your bedding is vital to ensuring it lasts. The levels of moisture, heat and detergent in your washing cycle will impact the fibers of your bedding, and taking the time to understand what works best is well worth it. For those with busier lifestyles, linen is a great solution as it doesn't need to be ironed after washing and softens with each wash. Bear in mind that fabrics with shorter fibers like polyester and lower-quality cotton may seem cost-effective but they can actually end up costing you more as they are far more susceptible to piling. Egyptian and long-staple cottons don't run this risk thanks to their long and soft fibers.
What does thread count mean?
The thread count refers to the number of threads per square inch in the fabric. The higher the thread count, the softer your bedding will feel and the longer it will last. The golden number is 300 and while 400-500 thread counts will deliver a superior experience, the law of diminishing returns comes into play with anything above 600.
What does staple length mean?
Staple length is another commonly mentioned term that essentially refers to the length of the cotton fibers in the bedding. The longer the fibers, the finer the bedding will feel. Egyptian, Pima, and Supima bedding all feature long staple-length cotton making them the creme-de la crème of the cotton bedding world.
What's the best bedding material?
While cotton is breathable and provides great comfort, Linen is considered incredibly long-lasting, cooling, and softens with washing. Silk is seen as the piece de resistance with its lustrous fibers and impressive sheen, it also is a great solution for those with allergies due to its hypo-allergenic nature. Polyester and cotton mixes are great for an affordable and comfortable option.
What's the best weave for bedding?
The weave is another aspect of your bedding to consider, Percale weaves refer to the plain weaves that are most commonly seen in bedding, cotton, silk, polyester, or rayon are woven in a crisscross manner. As the warp and weft are interwoven, a breathable and lightweight bedding is formed. The alternative is a jacquard or damask weave where the same fibers are woven in a series of intricate patterns giving the bedding an embroidered and decadent appearance.
The Livingetc newsletter is your shortcut to the now and the next in home design. Subscribe today to receive a stunning free 200-page book of the best homes from around the world.
Writer and design expert Faaizah Shah is the founder of The Interiors Consultancy. She has worked with designers such as Staffan Tollgard and design houses such as Sanderson to help them understand and communicate their narratives. She is known for crafting engaging stories and imaginative content, and understanding great decor from her years alongside some of the best creatives in the industry. She is also a contributor to Livingetc.