Best grills: from charcoal and pellet to the finest gas models
The best grills to transform your backyard cooking, from design-led gas models to electric alternatives and hybrid options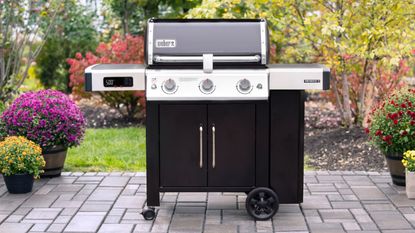 (Image credit: Weber)
The Livingetc Newsletter
For style leaders and design lovers.
Thank you for signing up to LivingEtc. You will receive a verification email shortly.
There was a problem. Please refresh the page and try again.
Best grills: Quick menu
Equipping yourself with the best grill for your backyard will ensure your cookouts are amazing year after year. While the height of grilling season comes just once a year, it's always a brilliant time to invest in a new BBQ appliance ahead of summer. But how to choose? Grills aren't one-size-fits-all, with gas, charcoal, pellet, electric, and even tabletop options to choose from.
Tested and approved by our own experts, we have assembled a guide to choosing the very best grill for your needs from top brands like Weber, Everdure, Char-Broil, and Traeger. And while grills are usually a significant investment, we've made sure to include products at a variety of price points to suit every budget.
Keep reading to see which products we rate as the best grills and if you want to narrow the search, you can head to our guide to the best gas grills.
Best grills: Quick list
The best grills in 2023
Best grill overall
1. Weber Genesis II Smart Grill EX-315 3-Burner Gas Grill
Best grill overall
Specifications
Type: Gas
Surface area: 669 sq in
Dimensions: H47 x W59 x L29in
Weight: 188lbs
Reasons to buy
+
Impressive cooking area
+
Smart functions
+
Side burner
Reasons to avoid
-
Assembly takes time
-
Not the easiest to store
-
Expensive
We've given this impressive grill from Weber full marks, after finding it super-convenient to use whether we were searing burgers or roasting an entire chicken. The smart grill takes out the hassle, plus it offers plenty of space to cook all sorts of food in comfort. The compatible app even allows you to get real-time alerts and reminders when it's time to flip.
Though sizeable, the Weber Genesis II EX-315 is compact considering everything it has on offer. It should fit nicely tucked into a corner of your patio, with heaps of storage underneath for your tools to live. Its sides, unfortunately, don't fold down, but a 'secret' side burner more than makes up for the space taken up.
Livingetc rating: 5 out of 5 stars
Best portable gas grill
Best portable gas grill
Specifications
Type: Gas
Surface area: 320 sq in
Dimensions: 42.7 x 22.1 x 14.7in
Weight: 49lbs
Reasons to buy
+
Good price
+
Portable and easily stored
+
Handy prep surface
Reasons to avoid
-
Not as compact as other portable grills
Grilling isn't just for the yard - the Weber Traveler Portable Gas Grill lets you make tasty food wherever you go. Easy to use and easy to clean, it's not as compact as other portable or tabletop grills, but its fold-up design means it can be stored and transported whenever you want. There's even a handy prep surface, and we managed to set it up in around five minutes.
As said, the Weber grill isn't lightweight, but it's perfect for tailgate parties or for transporting in the car. We were impressed with how uncomplicated the whole experience was, and we rate the Traveler as the best portable gas grill option that dispenses with some of the unnecessary fuss.
Livingetc rating: 4.5 out of stars | read our full Weber Traveler review
Best hybrid grill
3. Char-Broil Gas2Coal 3-Burner Gas and Charcoal Hybrid Grill
Best hybrid grill
Specifications
Type: Hybrid
Surface area: 420 sq in
Dimensions: H47.5 x W52.5 x L24.6in
Weight: 110lbs
Reasons to buy
+
Side burner and warming rack
+
Easy to use and clean
+
Good price
Reasons to avoid
-
Arms can't be taken down for storage
-
Assembly took some time
Designed to run on either gas or coal, the Char-Broil Gas2Coal Hybrid Grill is perfect if you want the benefits of both methods in one package. We cooked a lot of different foods on the grill to give it a fair shot, from meat and fish to veggies and found it simple to light and easy to use in gas grill mode. Charcoal needs 15 minutes to heat, and you'll want to open up the lid for 5 minutes before cooking.
A warming rack can be used to keep food warm, and we found it ideal for toasting our burger buns. It's not the fanciest-looking grill on the market, but its versatility could make up for the aesthetic shortcomings. Be sure you have space in your yard, though, as its arms don't fold down. It does, however, have wheels for easy movement.
Livingetc rating: 4.5 out of 5 stars
An ideal entry-level gas grill
An ideal entry-level gas grill
Specifications
Type: Gas
Surface area: 393 sqin
Dimensions: H43.5in
Reasons to buy
+
Striking looks
+
Even heat distribution and dual heat zones
+
Durable and easy to clean
+
Fold-down side tables for extra workspace
Reasons to avoid
-
Doesn't fold down for easy storage
-
Plastic look won't suit everyone
The Weber Q3200 gas grill is a perfect entry-level gas grill, cooking meat, veggie skewers, chicken, and more during our testing day. It's a small and lightweight gas grill with a kind of retro-futurist design that evenly spreads heat and creates excellent grill marks for that delicious charred flavor. A big drawback for us was that it didn't fold down, which meant we had to find space for it.
That said, we were impressed with how the two gas burners could be controlled independently, which is helpful for cooking meat on one side and veggies on the other at the same time. There's also a handy resting platform to keep cooked food warm until you're ready to eat. The porcelain-enameled cast-iron grates were easy to clean, and the built-in thermometer and grill handle make it easy to monitor food even when it's getting dark.
Livingetc rating: 3.5 out of 5 stars | read our full Weber Q3200 Gas Grill review
Best portable charcoal grill
5. BergHOFF LEO Portable Tabletop BBQ Grill
Best portable charcoal grill
Specifications
Type: Charcoal
Surface area: 5.4 sq in
Size: H8.7 x W13.8 x D13.8in
Weight: 11lbs
Reasons to buy
+
Sleek, lightweight, and portable design
+
The Cork lid doubles up as a heatproof mat
Reasons to avoid
-
Limited use
-
Expensive for its size
-
The carry handle isn't the best
Our second portable grill on this list, the BergHOFF LEO Portable Tabletop BBQ Grill, takes the label seriously with a carryable design and diminutive overall size. It doesn't offer as much space for cooking as others, but it holds its own when it comes to portable outdoor cooking. It also takes up zero floor space on your patio, balcony, or terrace.
Whether you're heading off for a relaxing day on the beach or a picnic in the park, the BergHOFF portable grill could become your favorite cooking companion. We tried it out with burgers, kebabs, chicken thighs, halloumi, corn, and more besides. Everything came out tasting good, but it was harder to achieve this without a lid. Chefs need not apply - this is made for basic cooking.
Livingetc rating: 4 out of 5 stars
Most stylish gas grill
Most stylish gas grill
Specifications
Type: Gas
Surface area: 452 sq in
Dimensions: H42 x W51.7 x L29.3in
Weight: 64.2lbs
Reasons to buy
+
Looks stylish and is available in 4 colors
+
Variable flame control
+
Heats fast
Reasons to avoid
-
Tricky assembly
-
We found it hard to clean
-
Expensive
A standout grill if you've been searching for something as pretty as it is practical, the Furnace - created by celebrity chef Heston Blumenthal - gets out seal of approval for powerful cooking. Tested by our editor-in-chief, Pip, he rated it highly for its convenience and precise heat control, as well as for its commitment to style.
Available in four colors, including mint, orange, cream, and charcoal, this design-led grill is the one you should pick if you are conscious of an ugly grill cramping your garden decor. Match it to the rest of your soft decor in your outdoor space and be ready to look the part, tools in hand.
Livingetc rating: 4 out of 5 stars | See our full Everdure FURNACE gas barbecue review
Choosing the best grill for your backyard
What are the different types of grill?
Charcoal Many of us have strong sense memories associated with the best charcoal grills. Whether it's at the beach or in our yard, the smells and tastes can't be beaten for some. They're also perfect for smoking, while other types of grill struggle to get the same flavor. Still, they're not the most eco-friendly, giving off far more harmful chemicals than gas alternatives.
Gas Because they offer easy ignition and give off a lot less smoke, gas grills are very popular right now. They typically offer anywhere from one to six burners, so there are many options for feasting in our guide. If you want to entertain this summer, gas grills are often the best pick.
Pellet Pellet grills are known for their ability to offer intense smokey flavors, burning man-made wood pellets instead of traditional charcoal. They're very easy to use and offer better temperature control for slow cooking. However, they run on electricity, so you need to be near a power point (or invest in an outdoor smart plug).
Hybrid A hybrid combines both charcoal and gas, which can offer great versatility for those who like to switch it up. Some have different burners for each option, while others allow you to pick a fuel type and utilize the entirety of the grill.
Other things to consider
Is it portable? Some barbecues are designed to be taken on the go. Whether you want to take it camping or simply make storage easier, opting for a lightweight grill with wheels or a removable base will make this easier. It's always handy if your grill has a handle and if it's going to be portable.
What is its price tag? The best barbecue could cost as much as $1,500. Sometimes you'll pay even more for a professional-level option from a top brand like Weber or Kamado Joe. They can come in for under $200, though, at the same time, so there really is a grill out there for every budget.
How large is it? Cooking for a crowd? The more burners, the merrier when it comes to entertaining. This will allow you to cook various dishes at once and cater to large groups all at the same time. Some grills come with warming shelves so you can still serve everything simultaneously, and others have side burners to prepare sauces and dips while you cook.
How many colors is it available in? Another thing you might want to consider is the look of your new grill. Especially if this will be on display whilst you grill for your guests. Selected products in this list come in various colors, but we must admit that the most stylish grill out there has to be the Everdure by Heston Blumenthal.
About this guide
Grills for the backyard are available in varying shapes and sizes, which are difficult to get a sense of when shopping online. This is why we like to get hands-on experience with all the products you see featured. We have currently tested all of the grills on this page, with a star rating added where relevant.
Whilst we grill our way through the products in this guide, in the interim, we've considered the opinions of other customers and utilized our barbecuing knowledge thus far to ensure you get the best grill for you this summer. Read about our reviews for a deeper insight into how we test products at Livingetc.
Millie is our go-to for all things cooking-related, whether that be for a new appliance, a shiny grill, or a new cookware set. Helping to test and compile products for this list, she's a self-made expert on outdoor cooking with everything from scallops and buffalo wings to wholesome veggie skewers.
You've reached the end of the page. Jump back up to the top ^