Best grill 2022: our top 6 picks for your backyard
We've been testing a load of the best grills, so that you can buy with peace of mind. From design-led gas grills to hybrid options to suit everyone, here's what's on offer for 2022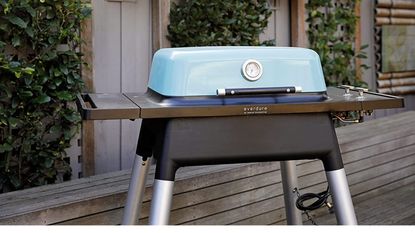 (Image credit: Everdure)
The best grill for your backyard will be something you use year after year. While the height of grilling season is past us, it is actually a brilliant time to invest in a new grill. With a drop in demand can often come some great deals that you'd never be able to find in the height of summer, and because each and every one of our top 6 picks have been reviewed by the LivingEtc team, you know that every model you'll find below has been used and approved by our own experts.
Below you will see a variety of charcoal, smoker and some of the best gas grills on the market from brands like Weber, Everdure, Char-Broil and Traeger. While a grill is usually an investment, we have also included a range of prices and sizes so that you will find something for you, whether you want a storage-friendly charcoal grill or a family-sized model that can be used for smoking and slow cooking as well as searing burgers for a group BBQ.
The best grills you can buy for your yard in 2022
1. Weber Genesis II EX-335 GBS
The best grill you can buy
Specifications
Type: Gas
Dimensions: L37" x W32.75" x H23.5"
Weight: 186lbs
Color: Black
Reasons to buy
+
Impressive cooking area
+
Smart
+
Made to last
+
Side burner
Reasons to avoid
-
Assembly takes time
-
Not the easiest to store
This impressive grill from Weber is rated our best buy, mostly because it's super convenient to use, whether you're searing burgers or roasting an entire chicken in your yard. This smart grill takes the hassle out of grilling, and it's comfortable to use, plus it offers all of the space you'll need whilst cooking up a storm.
We tested this great grill in a range of scenarios, cooking everything from sausages to an entire chicken, and even corn on the cobs and a whole pork shoulder. All of our food was cooked to perfection thanks to the compatible app which is self-explanatory no matter what you're trying to cook. With 3 steel burners and 2 shelves for storage and prep, it even offers a secret side burner that's protected from any gusts of wind.
After using this grand grill you can clean its grates, once cold, whilst they are still sitting on the grill. Use a wire metal brush for the best results. Empty the drip tray after each use and wipe down the exterior and hood if need be.
Though sizeable, this grill is admittedly compact considering everything it can offer. It ought to fit nicely tucked into a corner of your patio, and with heaps of storage underneath for your tools to live, it'll ensure that everything you use to grill is out of sight and mind when not in use. Just note that you'll need to store this grill away from the weather when not in use, to keep it in the best condition, otherwise you can invest in a cover. Its sides unfortunately do not fold down.
2. Char-Broil Gas2Coal Hybrid Grill
The best hybrid grill
Specifications
Type: Hybrid
Dimensions: L24.6" x W52.5" x H47.5"
Weight: 110lbs
Color: Black
Reasons to buy
+
Side burner and warming rack
+
Easy to use and clean
+
3 different sizes are available
Reasons to avoid
-
Arms can't be taken down for storage
-
Assembly took some time
Designed to run entirely on either gas or coal, you can switch out the Char-Broil Gas2Coal Hybrid Grill based on the dish you're cooking or simply your mood. Hence why it's rated our best hybrid grill that money can buy. Whilst testing, we noted plenty of advantages when it comes to cooking on this particular grill.
In order to come to a fair verdict, we cooked a lot of food on this grill, from meat to fish and also veggies. We found it super easy to use and simple to light when using the gas function. And when it comes to the charcoal side of things, it only needs to be left for 15 minutes after lighting, then you'll want to open its lid for 5 minutes before it's ready to use. We realized almost immediately, when comparing the two cooking methods, that the charcoal side of this grill retains heat much better than the gas side. It has a warming rack to keep your food warm, whilst this is also a great place to toast your buns, and there are two side arms (one with a side burner) to support you as you go
Available in 3 different sizes (the difference being the number of burners), this grill offers a pick for everyone, no matter the size of your yard. When it comes to how it looks, we will admit it's not exactly the fanciest looking grill out there, but it could be worth it. Do note that the sides of the grill that you can use for preparation won't fold down, so bear this in mind when considering storage and position. Oh, and it's on wheels for easy moving.
The best grill for pure style
Specifications
Type: Gas
Dimensions: L42" x W29.25" x H46.25"
Weight: 72.75lbs
Colour: Mint, Orange, Charcoal, Cream
Reasons to buy
+
Looks great and is available in 4 colors
+
Variable flame control
+
Heats fast
+
Pretty portable
Reasons to avoid
-
Tricky assembly
-
We found it hard to clean
A standout gas grill if you are searching for something that's practical and pretty, the Furnace was created by celebrity Chef Heston Blumenthal. This grill gets a seal of approval from us when it comes to powerful cooking, plus it gets full marks for looks. Our Editor in Chief Pip tested this grill and loved it for its convenience and precision heat control. However, he found the assembly instructions a little tricky when putting it all together.
This 3-burner grill offers ergonomic ignition and it's ready to use in around 4 minutes, meaning you can cook in a hurry and not waste your gas supply as it heats up. We used this grill to cook burgers, sausages, and an entire chicken.
The plates need to be cleaned in your sink with soapy water, then you can wipe down the interior and exterior of the grill itself. Everdure advises that you do this while the plates are still warm, but we found that the grill cooled down while we were still enjoying our barbecue, and by the time it came to cleaning it the residue from our feast was caked-on.
Available in 4 colors including mint, orange, cream, and charcoal, this design-led grill is the one you should pick if you are conscious of a grill cramping your garden decor. Match it to the rest of your soft decor in your outdoor space, and bear in mind that it's enamel coated too, meaning it's built to last and easy to keep clean.
See our full Everdure FURNACE gas barbecue review
5. Everdure by Heston Blumenthal CUBE Portable Charcoal Grill
The best portable grill
Specifications
Type: Charcoal
Dimensions: L13.67" x W16.73" x D9.05"
Weight: 19.55lbs
Colors: Orange, Graphite, Stone, Khaki
Reasons to buy
+
Stylish
+
Lightweight with carrying handles
+
Easy to use
+
Built-in food prep board and storage tray
Reasons to avoid
-
Difficult to clean the interior of the grill
-
No lid for use whilst cooking
If you're searching for a portable charcoal grill, or perhaps you want something to use on your tabletop, then this is your best option. The smaller sister of the Furnace, this grill by Heston Blumental might be compact, but what it lacks in size it certainly makes up for in features.
This tiny grill is ideal for smaller families, or for taking on vacation, otherwise, it's ideal if you rarely use your grill and only want something to use on special occasions. You can use it to cook 3 steaks at any one time, or around 6 burgers. When testing, we noticed that you can use it to batch cook, too, so if you do end up hosting more people, it will still be able to get the job done. Thanks to its flat base, you can position the charcoal in this grill so that you can directly cook your food, or indirectly cook your food. This makes it ideal for everything from fish to meat and veggies. You can also move all of the charcoal to one side once lit, using the non-charcoal side to keep food warm.
Thanks to its size, cleaning this tabletop grill is easy. Remove both grill grates and soak them in your sink. Do the same with the charcoal tray but empty the leftover ash first. Then, you'll need to wipe down the interior. This might take a bit of elbow grease to get it back to its shiny-looking self. Use aluminum foil underneath the tray to prevent this from staining.
This grill gets full marks from us for design. It comes in a range of colors and is more than simple to store. It's also equipped with a bamboo preparation board and a plastic food storage tray, for ease if you're using it out of the house. What's more? It all clips together to make for easy storing in a cupboard, or for when it comes to putting it in your car for the drive home from the beach.
5. Traeger PRO 575 Pellet Grill
The best smoker grill
Specifications
Type: Pellet
Dimensions: 27 x 41 x 53 inches
Weight: 128lbs
Colors: Black, Bronze
Reasons to buy
+
Perfect for smoking
+
Plenty of cooking space
+
Smart-control enabled
+
Straightforward assembly
Reasons to avoid
-
Using for long periods will require a lot of pellets (and electricity)
There is no rivaling a smoker grill when it comes to low and slow grilling, and creating melt-in-the-mouth joints of meat or roasted veggies. The Traeger PRO 575 Pellet Grill combines this specialist type of grilling with smart tech, which will allow you to control the entire process using a smartphone app. That means you're able to monitor your food as it cooks, completely remotely.
We found the assembly to be a breezy affair, with fully laid out instructions and all the tools we needed clearly labeled. Getting it fired up is as easy as assembling it, thanks to automatic ignition of your wooden pellets with no supervision needed. You can select the temperature you want, and it will automatically feed more or fewer pellets into the burner using a smart hopper at the back of the grill.
When testing we made everything from roasted asparagus to a whole slow-smoked chicken, which was wonderfully juicy and guess-free thanks to the included probe. The connectivity on our app was a little shaky at times, which could be down to our Wi-Fi, but we were pleased that we had no issues controlling the grill manually which means the app really is more of an optional extra.
6. BergHOFF Tabletop Grill
The best grill for apartment owners
Specifications
Type: Charcoal
Size: W13.75" x D8.75"
Weight: 11.02lbs
Colors: Black, White, Grey
Reasons to buy
+
Sleek, lightweight, and portable design
+
The Cork lid doubles up as a heatproof mat
+
Choice of three chic colors
Reasons to avoid
-
Limited use
-
Expensive for its size
-
The carry handle isn't the best
Take camp cooking to a whole new level with the BergHOFF portable grill. This miniature charcoal grilling machine may not pack as much of a punch in terms of grill space but it can really hold its own when it comes to portable outdoor cooking. Whether you're heading off for a relaxing day on the beach or a picnic in the park, the BergHOFF portable grill will become your favorite cooking companion. Otherwise, it's ideal for small families, couples, or anyone who lives solo. It also takes up zero floor space on your patio, balcony, or terrace.
We cooked everything from burgers to kebabs, chicken thighs, halloumi, and corn on this BBQ whilst testing. Everything we cooked came out tasting perfect, however, it was more difficult to ensure even cooking without a lid. This BBQ does have a lid but it cannot be used whilst cooking as it's made of cork. With this in mind, we'd stick to cooking veggies and smaller cuts of meat and avoid cooking a joint on this BBQ. It's made for basic cooking.
After use, cleaning this grill is a breeze. Dispose of the charcoal and ashes left in the fire basket and soak the grates in your sink. Give them a scrub and then you can pop them both in your dishwasher, along with the fire basket. Give the exterior of the grill a wipe-down if need be.
Available in three stylish colorways, this chic BBQ comes complete with a removable soft silicone carry strap as well as a cork lid that doubles up as a heatproof mat. It's ready to go on any adventure.
---
What is the best grill type for you?
Charcoal
Many of us have fond memories of charcoal grills. Whether it's by the beach or in your own garden, a charcoal grill is a favorite for its lightweight design and classic BBQ flavor. Gas grills have tried to replicate this with various grill adjustments, but if you want something simple that can cook for a modest crowd, a charcoal barbie will give you those chargrilled veggies, just how you like them.
While they're less budget-friendly, many people also enjoy a kamado barbecue for slow-cooking. These sturdy barbecues are less portable and more of a permanent fixture in any garden, but their thick walls are designed to insulate for efficiency and slow roasting.
Gas
Because they offer easy ignition and give off a lot less smoke, gas grills are very popular right now. They typically offer anywhere from one to six burners, so there are many options for feasting in our guide. If you want to entertain this summer, gas grills are often the best pick.
Hybrid
A hybrid combines both, which can offer great versatility for those who like to switch it up. Some have different burners for gas and charcoal, while others allow you to pick a fuel type and utilize the entirety of the grill.
How we review grills
Grills for the backyard are available in varying shapes and sizes which are difficult to get a sense of when shopping online. This is why we like to get hands-on experience with all the products you see featured. We have currently reviewed all six of the grills on this page, but across a range of our titles including GardeningEtc and Homes & Gardens of these grills. You can find more info about this at our dedicated how we review grills page.
You'll know that we have completed our testing when you see our Livingetc 'tried.loved' badge. How the products get this badge will mean that they have been set up, used, and cleaned by a member of our team. We'll also task into consideration the look and size of the grill since some a bigger yet not always better than offered. Those that made the cut would have received four-out-of-five stars as a minimum, so you know you're getting the best gas, charcoal, or hybrid grill for your dollars.
Whilst we grill our way through the products in this guide, in the interim we've considered the opinions of other customers and utilized our barbecuing knowledge thus far to ensure you get the best grill for you this summer. Read about our reviews for a deeper insight on how we test products at Livingetc.
What to consider when choosing the best grill for your needs
Is it portable?
Some barbecues are designed to be taken on the go. Whether you want to take it camping or simply make storage easier, opting for a lightweight grill with wheels or a removable base will make this easier. It's always handy if your grill has a handle if it's going be be portable, too.
What's its price tag?
The best barbecue could cost as much as $1,5000. Sometimes you'll pay even more for a professional-level option from a top brand like Weber or Kamado Joe. They can come in for under $200 though, at the same time, so there really is a grill out there for every budget.
How large is it?
Cooking for a crowd? The more burners the merrier when it comes to entertaining. This will allow you to cook various dishes at once and cater to large groups all at the same time. Some grills come with warming shelves so you can still serve everything simultaneously, and others have side burners to prepare sauces and dips while you cook.
How many colors is it available in?
Another thing you might want to consider is the look of your new grill. Especially if this will be on display whilst you grill for your guests. Selected products in this list come in a range of colors, but we must admit that the most stylish grill out there has to be the Everdure (opens in new tab) by Heston Blumenthal.
You've reached the end of the page. Jump back up to the top ^