4 alternatives to AirTags with cool features that might tempt you away from Apple
These AirTag alternatives will help you find your stuff, even if you don't have an iPhone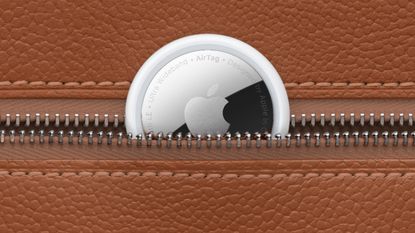 (Image credit: Apple)
The Livingetc Newsletter
For style leaders and design lovers.
Thank you for signing up to LivingEtc. You will receive a verification email shortly.
There was a problem. Please refresh the page and try again.
With AirTags, Apple made an exciting promise: you never need to worry about losing anything again.
The clever tracking devices connect to Apple's Find My network, meaning that if you lose something with an AirTag attached, hundreds of millions of iPhones, iPads, and Macs in use worldwide will start anonymously looking for the lost property. If one passes it, you'll be notified, letting your head to the location and pick up the search yourself.
But Apple didn't come up with the concept of Bluetooth lost-property trackers, and good as they are (you can read our Apple AirTag review for our thoughts on them), there are equally good reasons to look elsewhere.
For a start, they only work with iPhones, which isn't much use for Android phone users. On top of that, they miss out on some neat features of their rivals too.
So what are the best AirTag alternatives? You can check out our guide to the best key finders for our verdict, but here are four you should consider.
The best alternatives to Airtags, chosen by us
The jewel in the crown of Tile's range of Bluetooth trackers
Reasons to buy
+
Water resistant
+
Reverse find phone
Tile was in the Bluetooth tracking game years before the word "AirTag" appeared on the Apple website. The company makes trackers of all shapes and sizes, including a credit-card-shaped one called the Tile Slim and teeny-tiny Tile Stickers which can be attached to anything via their adhesive coating.
But the top dog of the range is the $34.99 Tile Pro which offers a 400-foot Bluetooth range, an IP67 water resistance rating and can be used in reverse to find your phone when in range.
Like AirTags, all Tiles lean on the community to find lost items, and the company claims over 40 million Tiles have been sold. Not as many Tiles as iPhones hunting for AirTags, granted, but Tile claims 90% of items marked as lost show up in the end.
The one downside? Some features — such as 30-day location history and smart alerts — are paywalled. Tile Premium is available for an annual subscription of $29.99 per year — or $99.99 if you want reimbursement of up to $1,000 for lost items.
2. Chipolo One
A budget friendly buy with great features
Reasons to buy
+
Long battery life
+
Remote phone shutter feature
Reasons to avoid
-
Lower Bluetooth range than competitors
Available in a range of cheerful colors, the $25 Chipolo One is the option for those who want to pop a tracker onto something and forget about it. Its two-year battery is twice the length of the Tile Pro and AirTag. On top of that, Chipolo has free separation alerts (something paywalled by Tile) and can be used as a remote shutter for your phone's camera, helping you take better selfies too.
Like Tile it has a community of users who will help track down devices when lost, but if you want a bigger community hunting on your behalf, for $4 more, the Chipolo One Spot from Amazon is compatible with Apple's Find My network. That's extremely unusual for a third-party tracker, and very helpful as it means any iPhone owner can help find the tracker if it's lost and out of Bluetooth range — though it does halve the battery life to a year.
At 200 feet, it has half the Bluetooth range of the Tile Pro, and it's only IPX5 rated, meaning it's merely capable of surviving a light splashing rather than a full dip. All the same, it's an excellent AirTag alternative.
3. Cube Shadow
A thin, lightweight tracker that's almost unnoticeable
Reasons to buy
+
2mm thin
+
Rechargeable battery
Reasons to avoid
-
Requires extra purchase for anything outside of the home
While none of the AirTag alternatives in this list is especially chunky, if you want something truly thin and light then look no further than the $35 Cube Shadow. It's just 2mm thin, meaning it can be stuck to almost anything without being too noticeable.
That thinness does come with a hit to battery life, which comes in at just three months. But unlike its rivals, it is a rechargeable battery, so keeping it topped up isn't too onerous.
With a range of up to 200 feet and a loud 100dB alarm for finding misplaced items, this is worth a look for items around the home. But without mention of a finding network for lost items, you probably need the GPS-powered Cube GPS ($30, but with a required $16.50 per month subscription) if you're shopping for protection of items that routinely leave the house.
4. Samsung Galaxy SmartTag
Samsung's version of the AirTag, if you own a Samsung phone
Reasons to buy
+
Can be used with SmartThings smart home system
+
Large Bluetooth range
Reasons to avoid
-
Only works with Samsung phones
First things first, just as AirTags only work with iPhones, Samsung Galaxy SmartTags only work with Samsung smartphones — with much less justification, given they run Android like every other non-Apple handset.
But if you happen to own a Samsung Galaxy handset this is a very solid choice, especially as the $30 tracker is often on offer. It packs the main functions of its rivals, has a range of up to 390 feet and rather neatly can be pressed to control smart home devices if you're into the Samsung SmartThings ecosystem.
For $10 more there's the SmartTag Plus, which is significantly more precise up close, including step-by-step AR directions to guide you to your lost SmartTag. But be aware this requires a Samsung device with ultra-wideband, such as the Samsung Galaxy S23 Ultra or Samsung Galaxy Z Fold 4 — basically the company's priciest smartphones from the last few years.
All of these are competent AirTag alternatives, but if you're an iPhone owner you certainly shouldn't discount Apple's own solution.

Not only does it work seamlessly with Apple's Find My network, but if you have an iPhone 11, 12, 13 or 14 it takes advantage of the U1 UWB chip to offer pinpoint detection when you're close enough. If you're short of inspiration as to why you'd want some in your life, be sure to check out some genius uses for AirTags.
Android owners need not apply, of course. For them, consider the four options above carefully.
For style leaders and design lovers.
Freelance contributor Alan has been writing about tech for over a decade, covering phones, drones and everything in between. Previously Deputy Editor of tech site Alphr, his words are found all over the web and in the occasional magazine too. He often writes for T3 and Tom's Guide. When not weighing up the pros and cons of the latest smartwatch, you'll probably find him tackling his ever-growing games backlog. Or, more likely, playing Spelunky for the millionth time.