10 things professional organizers say to declutter in November - it's the best way to get ahead of the festive season
Prepare your space for seasonal decor and easy entertaining with this expert advice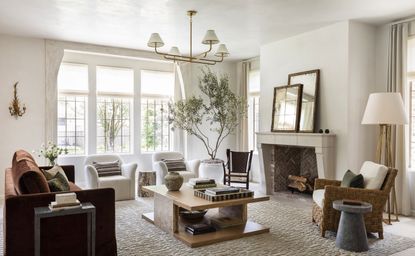 (Image credit: Julie Soefer)
Decluttering before the holidays is a useful exercise in freeing up space for the extra people, decorations and 'stuff' we'll be packing into our homes. Focus on these 10 things to declutter in November ahead of the holidays and you'll feel more organised. That way, it's easier for everyone to relax and enjoy themselves.
Coats falling off overloaded hooks, toys being tripped over and an avalanche of food spilling out the fridge every time the door is opened isn't fun for anyone. And it's easy to avoid.
So plan ahead and clear some space in advance of the festive season. Once you've figured out how to declutter your home, and where to start, with a little extra storage, surface and shelf space, entertaining can be a breeze and more enjoyable for all concerned. These are 10 things to declutter in November ahead of the festive season, according to experts.
1. The fridge-freezer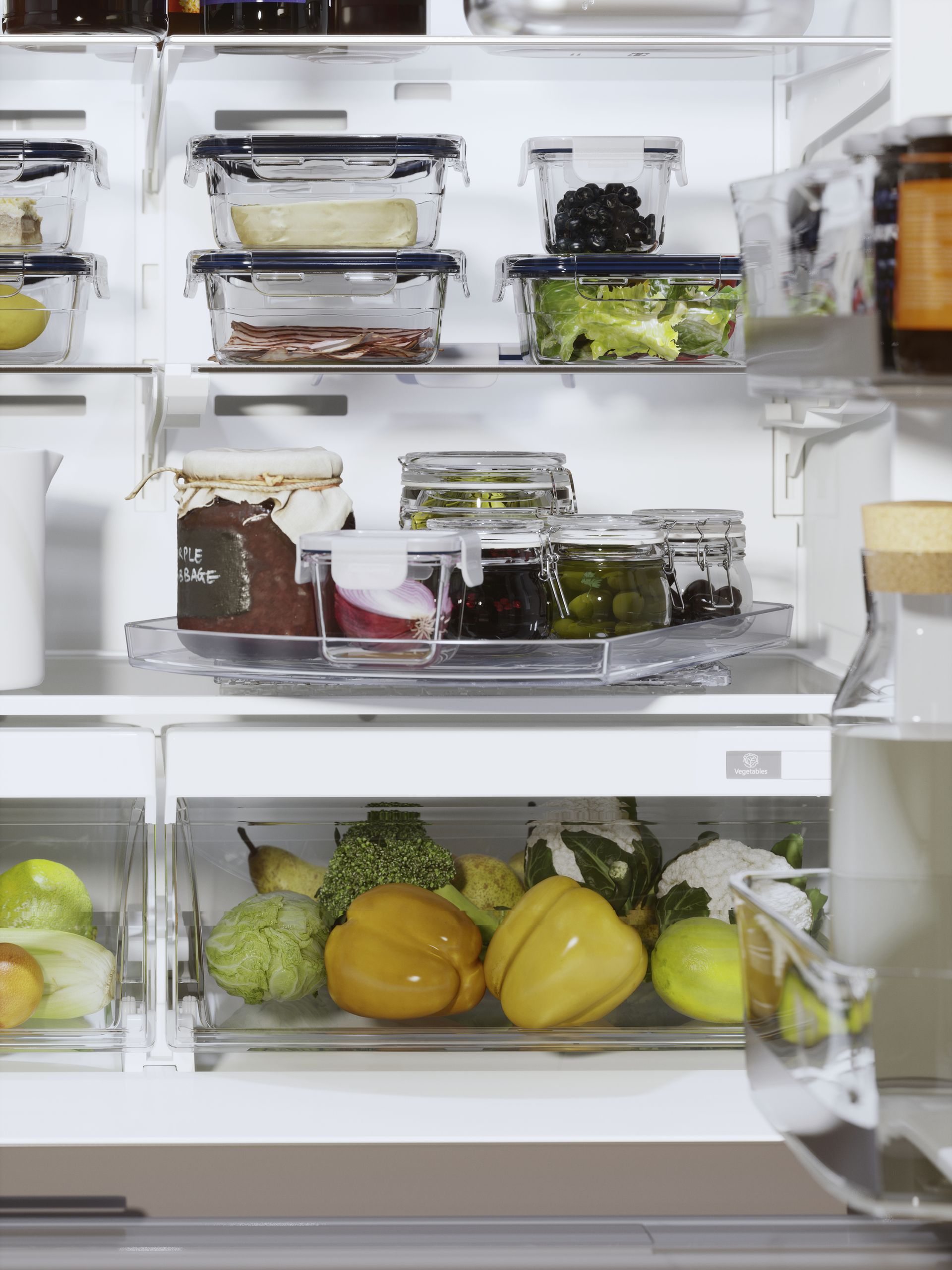 If you're going to be entertaining friends and family at your home over the holidays, you're going to need more fridge and freezer space to store the extra food. So start to eat up any batch-cooked meals, or leftovers stored in freezer drawers.
Do an audit of your fridge too and use up any sauces or items lurking at the back before they're forgotten about and wasted in the frenzy of holiday excess. Cheese close to its use-by date can be grated and frozen for ease of use. Don't forget to label items, so you know what's in any containers.
'Early November is the perfect time to go through everything in your fridge and freezer,' says New York-based professional organizer, Dawn Falcone, founder of The Chaos Liberator. 'Do you have unidentified things wrapped in foil? Containers of leftovers with freezer burn?
'Clear everything out of your refrigerator and freezer. Use as much as you can and toss what has expired. Give it a good scrub so it's ready to hold holiday food and beverages.' After decluttering, think how to organize a fridge more efficiently for the festive period, and pick up some helpful fridge organizers.
2. The pantry (or food cupboards)
For better pantry organization, check if any foods need to be eaten before the holidays and use them up, before they go out of date. Make sure items are grouped together and organized so you can easily find them when cooking for a crowd. Remember everyone gathers in the kitchen.
'Similarly to cleaning out your refrigerator, purging and organizing your pantry will provide benefits for you during the holiday season,' says New York-based professional organizer, Amanda Wiss, founder of Urban Clarity. 'Throw out anything expired or empty.
'Make room for all speciality items that you will be getting for your Thanksgiving and Holiday cooking. Check your spices and be sure you have the seasonings you will need for your upcoming holiday recipes. Replenish anything that is low or expired and set yourself up for streamlined success.'
3. Summer clothes and shoes
November indicates that we are now heading from fall to winter so any summer items are long past due to be put away. If you haven't done so already, work on your closet organization. Pack away sandals, sun dresses, shorts and lighter items you won't wear until next year.
'Store your summer items in a clearly labeled bin,' says Amanda Wiss, founder, Urban Clarity. 'Professional tip: have your storage bin do double duty. Use one bin for storing your summer items during the colder months and then take your summer items out when it gets warm and use the same bin to store your winter items.'
4. The coat rack and entryway
'Make sure all summer sandals, shoes and light jackets are out of your entryway to make room for your boots, snow shoes, heavier coats and winter accessories,' says Amanda.
'The holidays bring in a change in weather (depending on where you live, of course) so it's the perfect time to go through your hats, gloves, scarves, and heavier coats,' adds Dawn. 'Donate winter coats that you no longer wear to a local coat collection. Let go of items that have seen better days, (or have them repaired). Clearing coats and jackets you no longer wear, makes room in your entryway or coat closet, to hang your guests' items when they arrive.'
5. Halloween decorations
Any lingering Halloween decor needs to be packed away properly–or eaten, if you have pumpkins that haven't been carved.
'Once November hits, it's time to move from spooky season to festive season,' says Amanda. 'Compost your pumpkins and toss or recycle any decorations that are broken or too dirty to be salvaged.
'Review all remaining items before you pack them away and make a give away or donation pile of any fall decor that you know you don't want to use again next year.
'Pack your downsized collection away into a bin to be stored until next fall. Make sure it's labeled so you can find it easily next October. Now you're all set with a clean slate for setting up your festive holiday season vibe. Happy decorating.'
6. Toys
It pays to think ahead where kids' toys storage is concerned. If cupboards, shelves and boxes are already brimming with dolls, teddies, games and more, a quick inventory of what they already own and still play with is worthwhile.
Rather than add to the mountain of landfill, encourage them to donate or sell what they no longer use. 'Those with kids know that we can be bombarded with toys, games and lots of plastic stuff from well-meaning family and friends,' says Dawn. 'It's imperative to work with your kids in November to let go of broken, unused and outgrown toys.
'Let go of the old to make room for the new. Seriously, if you know your kids will get an influx of toys, you've got to make room for them and that means shifting some toys out the door.'
'Make a donation pile of any toys that are no longer used or they have outgrown,' says Amanda 'Make sure your kids have room to store and play with any new toys and gadgets that they are given for the holidays.'
7. The closet
The new year is often when we declutter, but November is a good time to review any winter-wear that no longer fits. Sell unwanted clothes on resale sites as well as making donations.
'Similar to toys, the holidays can bring us numerous gifts of sweaters, shirts and (dreaded) ties,' says Dawn. 'The average woman only wears 20% of her wardrobe. Men only wear 13% of theirs. Wouldn't it be nice to have more space in your closets and dressers?
'Clothing that's too tight, needs alterations or you simply don't feel great wearing, should be let go,' Dawn adds. To prevent giving or receiving unwanted (and wasteful) gifts over the holidays, consider circulating 'wish lists' within your family.
8. The linen cupboard
Don't be caught short if someone unexpectedly needs to stay over, or you have an extra guest for lunch. Check table and bed linens are clean and ready to use.
'Fancy gatherings usually mean you use items like tablecloths and napkins more,' says Dawn. 'It may also mean that you host more guest sleepovers. If that's the case, go through sheets, blankets, pillows and towels.
'Let go of anything highly worn. If you can only host a couple of guests at a time, there's no need for 20 towels or multiple sheet sets. Only keep those in the best condition. Animal shelters often are looking for used blankets and towels so that may be a great place to donate.'
9. The dining area
If you're going to be gathering around your dining table, ensure the area is cleared of anything you won't need over the holidays. So that space is freed up for everything you will need.
'During the year, your dining table may be the homework, craft and school project station,' says Dawn. 'It may not be used for actual dining most of the time. A sideboard may be filled with mail, school papers and art projects.
'With the holidays around the corner, now's the time to go through it. Clear a drawer or cabinet in the sideboard to house incoming mail. Photograph your kids' art and science projects then let them go. Or create a book (via Snapfish or Shutterfly) or a video photobook.
'Give each child a caddy or small tote bag with some pockets to house needed homework supplies. They can pack it at the end of the night and put it in their rooms. Reclaim your dining space in time for the holiday season.'
Once this is done, it's worth making sure glassware is free from dust and any table linen you want to use is clean and stored where it's easy to access.
10. The schedule
When we think of decluttering, we think of objects–and some objects will require clearing in advance of the holidays.
However, if you feel panic rising at the amount of tasks to do and events to attend. Dawn Falcone, The Chaos Liberator is an advocate for decluttering the family schedule or calendar too.
'This is a biggie,' says Dawn. 'We all take on too much over the holidays and many of us end up exhausted or sick by the new year. It's ok to say no. You do not need to attend every party you're invited to.
'In fact, you can ask friends if you can schedule some meet-ups in January after the holiday rush. This will give you something to look forward to in the new year.
'So take a good look at your calendar and add in some much needed time to just relax and recharge. Yes, actually schedule it weekly so it will happen.
'Next add in some family "memory making" time where you do things like bake, craft or watch holiday movies together. This is the good stuff that often falls by the wayside when all the other obligations fill our days.
'Add in shopping and wrapping days, food shopping and meal prep plus any holiday travel. Now step back and see what's left after work and sleep.'
The Livingetc newsletter is your shortcut to the now and the next in home design. Subscribe today to receive a stunning free 200-page book of the best homes from around the world.
Jacky Parker is a London-based freelance journalist and content creator, specialising in interiors, travel and food. From buying guides and real home case studies to shopping and news pages, she produces a wide range of features for national magazines and SEO content for websites
A long-time contributor to Livingetc, as a member of the team, she regularly reports on the latest trends, speaking to experts and discovering the latest tips. Jacky has also written for other publications such as Homes and Gardens, Ideal Home, Red, Grand Designs, Sunday Times Style and AD, Country Homes and Interiors and ELLE Decoration.