How to decide what color to paint the inside of your front door
Serving as the all-important entrance and exit for your four walls, decorating the inside of your front door shouldn't be an afterthought...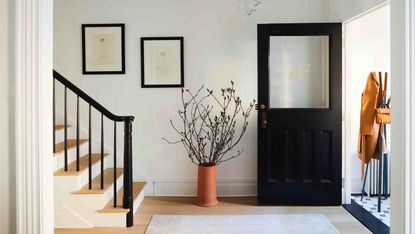 (Image credit: Nicole Franzen. Baxt Ingui Architects, P.C.. Photographer: Nicole Franzen)
The Livingetc Newsletter
For style leaders and design lovers.
Thank you for signing up to LivingEtc. You will receive a verification email shortly.
There was a problem. Please refresh the page and try again.
When you think about it, the inside of your front door is one of the first things you see when you enter your home. It's also one of the last things you see when you leave. So it's no wonder why many more of us are paying some long-awaited attention to them by decorating these doors with a lick of paint.
'Painting the inside of your door is a key part of your woodwork decorating and should always be painted,' Patrick O'Donnell, brand ambassador at Farrow & Ball tells us. 'But do be cautious should you have a UVPC door, as you will need a specialist primer.'
Picking a paint color is hard at the best of times. And deciding what color to paint interior doors is no different. So where should you start?
How to decide what color to paint the inside of your front door
Deciding what hue to paint the inside of your front door will, of course, depend on a few things. Experts say it's important to keep in mind your interior design preferences.
For example, do you have a minimalist space? Then opt for colors that reflect that. Do you want your door to stand out? Then be bold and choose a shade that contrasts to the rest of your four walls and helps create a divide. Or perhaps your entrance door opens straight into your living space, so you want a color that will blend in with your walls to help shut the hustle and bustle of the outside world out.
The latest interior design trends come and go, so it's important to pick a color you love now (and later). To help you come to a decision and whittle down your paint choices, we grilled experts for their advice on where to start and all the design inspiration you'll need.
1. Take inspiration from your surroundings
With thousands of different paint colors to choose from and even more shade variations available on the shelves — as is the case when it comes to picking any paint color — it can be difficult to know where to start. So where should you source your inspiration from?
'Consider other elements within your space that may give you inspiration for the interior of your front door,' Patrick recommends. 'For example, a hall runner or a piece of art in the space.'
Or, like in this example, a light shade might even spur your design choice into action and help you find a complementary shade that ties the rest of your design details and accessories together, creating a harmonious space from the minute you close the front door.
2. Be bold and consider an accent color
It can be tempting to paint the inside of your door the same color as the rest of your hall trim — and we're here for this. But while there is no reason why you can't do this, as Patrick explains, you need not be confined by this.
'Some of us are painting our stair spindles and newel posts in an accent color, so you could consider carrying this choice to the front door too,' Patrick explains.
Doing so can help you shine a light and draw attention to interesting architectural details. A contrast-painted door also helps mark out boundaries, drawing a line from the indoors and out. The go-to color to incorporate into your home? According to color experts, chocolate brown, blue and red are all tipped to be the best paint colors for 2024. So if you're looking for some paint color ideas, you know where to head. Or if you're wondering what colors make a home look more expensive, check out what experts had to say.
3. Continue the exterior color, inside
It's hard enough to choose one color you adore. Let alone picking out several for the different walls of your home, your ceiling, your front door and another for your interior doors. So, what's one of the easiest ways to help you pick a shade?
'If you have a colorful front door that you're happy with, consider continuing that color onto the inside,' Emma Bestley, co-founder & creative director for YesColours, suggests. But it's not just for ease. Doing so has a functional purpose too.
'By continuing that color to the inside you'll create a seamless transition that feels not only intentional but coherent,' Emma adds. 'Matching the inside of the door to the front in the same color will create an eye-pleasing harmony that makes maximum impact.'
Just take your color cue from experts with these front door color ideas.
4. Consider painting your door the same color as your walls
If you're stuck on what color to paint the inside of your front door, you could always make your room's entrance fade into the backdrop. This clever hidden door idea enables you to create a seamless transition between the outside world and your inside world by painting your door the same hue as the walls.
This is particularly advantageous if your front door opens directly into your living room and you want to disguise it. As Emma tells us, 'Doing so will create an illusion of continuity between the two spaces, effectively making the entrance disappear into the living room.'
It can also help to create the feel of a minimalist space, that feels well-balanced, uncluttered and ultimately larger.
For style leaders and design lovers.
Becks is a freelance lifestyle writer who works across a number of Future's titles. This includes Real Homes, Top Ten Reviews, Tom's Guide, TechRadar and more. She started her career in print journalism at a local newspaper more than 8 years ago and has since then worked across digital and social media for food, fashion and fitness titles, along with home interior magazines. Her own interior style? She's big on creating mindful spaces in every corner of her home. If it doesn't spark joy or happiness, it has no place here. When she's not writing, she's reading and when she's not reading, she's writing.