What color should you paint interior doors? The ideas to try, and what they say about your design personality
If you're wondering what color to paint interior doors, we've asked the experts for the best ideas for every kind of home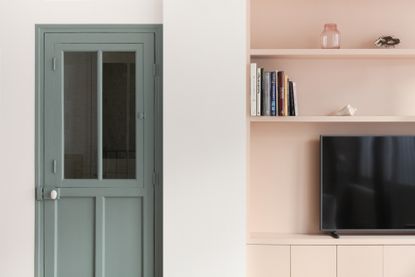 (Image credit: HEJU)
The Livingetc Newsletter
For style leaders and design lovers.
Thank you for signing up to LivingEtc. You will receive a verification email shortly.
There was a problem. Please refresh the page and try again.
It's easy to get caught up on deciding what color to paint the walls, but for the best, more effective design schemes, you need to consider what color to paint your interior doors at the same time, too. Doors shouldn't be an afterthought, and you don't have to leave them white.
There's a few options open to you when deciding on a color. You could paint the doors the same color as the walls, helping them fade into the background, while you could go for something bold and contrasting - a great way to show off architectural detail, make the room's dimensions more prominent or playfully inject color with less commitment than an accent wall.
Making a feature of interior doors is certainly a design trend that's on the rise, but what paint color is right for you and your scheme? We asked the experts to find out.
Aditi is an experienced homes writer and editor. She has written hundreds of articles for various international titles helping readers make the best home design choices, and spends her days interviewing interiors industry experts to bring the latest ideas to her readers. For this piece she spoke to the world's best designers to find out what colors are ideal for interior doors.
What color should you paint interior doors?
'Our architectural practice has an eclectic style,' says Nina Unger of Austin-based practice Hugh Jefferson Randolph Architects. 'We think that the interior door color should reflect the homeowner's personality and the overall character of the house. This design ethos leads each home we design to have its unique palette of materials and colors.'
'There is no right or wrong color for doors; it truly depends on the look you want to create,' echoes Kashi Shikunova, director at YAM studio. 'A traditional way is to paint doors white so it stands out against the colored wall,' Kashi adds, 'a familiar and timeless look.'
Largely, bright colors add energy to a space, while more muted tones help create a soothing and tranquil space. Think of the purpose of a room – in a kid's playroom, a brightly painted door will do well, but in a reading room or bedroom, you mightwant to go ahead with a lighter tone.
Choosing current but not too specific colors allows you to create an overall appeal in the home, and make it stand out without the fear of the door looking too dated in the coming years.
In terms of current color trends, white, grey, black, and even taupe work well as interior door colors. Remember though, when it comes to painted doors, don't limit them to only the back or the front door. Consider other doors around your home as they will add an unexpected and surprising element to the home decor.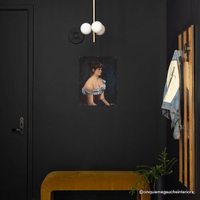 This water-based paint in a semi-gloss finish has an ultra-low odor, and high pigmentation, and is ideal to make your interior door stand out.
Why is the right color important for interior doors?
Painted doors are a great and creative new alternative to accent walls that allow you to introduce a color in a smaller form. A brightly painted door can inject all the hue a room needs. Want to have a subtler-looking space? Simply swing open the door wide enough that it is completely not visible in the room, or push back a pocket door. Painted doors look striking and dramatic, especially when paired with lighter walls.
This is also a good way to bring attention to your home's architectural features. Have a pitched roof above the door? Wonderful crown moldings? By painting the door, you encourage people to take a look at the entire height of the room, along with the features above it.
'Painting doors is also an easy and affordable way to make an old door look fresh and interesting,' says Kashi. 'Painted doors are easy to maintain as, if any damage occurs it can be easily repaired and painted over unlike a solid wood door, which once damaged, will show wear and tear immediately.'
You can also use doors to create a lovely landscape within the home by color-blocking walls with them. 'To make this door stand out in the room, we used Oval Room Blue from Farrow & Ball for the door,' says Hélène Pinaud, co-founder of Heju Studio. 'We created an interesting color block with Setting Plaster from Farrow & Ball for the bookcase.'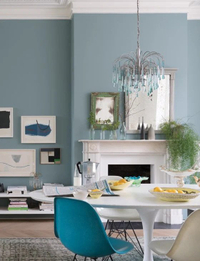 This blue with a slight black undertone has depth and balance and can add a grounded touch to interiors.
Should you paint interior doors the same color as the walls?
This depends on the look you want to create in the home. If you don't have to worry about creating the illusion of more space, and want to make a style statement, then a pop of color is more than welcome on the door.
In large homes and open plans, a contrast-painted door also helps mark out boundaries and can make an unusual room feel snugger and cocooning. Half doors or sliding barn doors, that act as room dividers too can be given a dose of bright color to show more bold segregation of spaces.
However, painting doors the same color as walls will make for a more minimalist space, that feels uncluttered and ultimately larger. 'For a contemporary, minimalist look, paint the door the same color as the wall,' says Kashi. 'I find this makes the space feel calmer and larger. This looks better when walls are mid to deep tones. Also, when spaces are small, it's best to paint the door the same as the walls, as it creates a more uniform uninterrupted look which gives an impression of a larger space.'
Another great reason for painting doors the same tone as walls is that if you have a door in an awkward spot, or one that breaks up a small space, painting it the same color as the walls will make it nearly disappear.
Should interior doors be lighter or darker than the walls?
There are several factors to consider. 'By painting doors a darker color than the wall, you can make a strong feature in the home, and it looks very effective in larger spaces where some contrast is quite important to make the space feel cozier,' says Kashi.
Also, if the door itself is a wonderful design feature with ornate detailing, moldings, and more, you can highlight its beauty by paintings its surface in rich, deep colors.
In the case you want to focus all attention on the room and not its boundaries, you can choose to paint the door lighter, so the walls and ceiling take the center of attention, while the door gives a nice, subtle support to the color scheme.
Another great idea would be if you have a room with multiple doors, and a dark interior scheme, paint all the doors a light color to break up the deep, moody room and provide some visual relief to the space. In this case, you could even go with a cream or an off-white, so the paint helps bounce more light around the room, making it brighter and airier.
What's the best paint finish for interior doors?
If you want to ensure a seamless, clean look in your interiors, then consider choosing the same finish as the walls. So if all walls are matte, choose the same for the doors.
However, by painting the doors and trims in semi-gloss paint, you can ensure that all stains clean easily and the door always has a subtle shine; like a glowing focal point in the room. If you want to go for a more shiny look use high-gloss paint, which when done well can look gorgeous, and also give the paint a deeper and more reflective quality.
For style leaders and design lovers.
Aditi Sharma Maheshwari is an architecture and design journalist with over 10 years of experience. She's worked at some of the leading media houses in India such as Elle Decor, Houzz and Architectural Digest (Condé Nast). Till recently, she was a freelance writer for publications such as Architectural Digest US, House Beautiful, Stir World, Beautiful Homes India among others. In her spare time, she volunteers at animal shelters and other rescue organizations.