'Live more happily' - 5 easy ways to turn your patio into a calm and relaxing oasis
Top tips from landscape designers to make your patio more relaxing and your life happier, as you just sit back and relax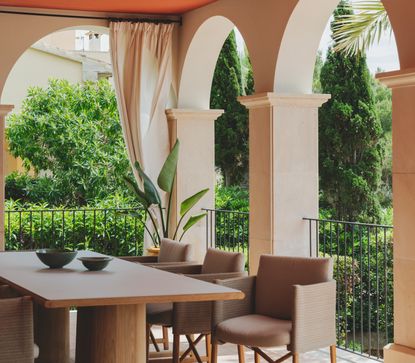 (Image credit: Bloomint Design)
The Livingetc Newsletter
For style leaders and design lovers.
Thank you for signing up to LivingEtc. You will receive a verification email shortly.
There was a problem. Please refresh the page and try again.
A patio is a popular addition to many backyards. The space provides a spot to socialize, host, and relax. However, after the initial novelty wears off, the patio is neglected. After a few family cookouts and late-night cocktails, we seem to lose interest in the area that suddenly becomes a soulless concrete hole.
It is sad to see so many patios not being utilized to their full potential. Especially when it only requires a few simple changes to turn it around. In less than a few hours, you can easily transform your patio into a relaxing haven in which you will want to spend all your time.
Landscape designers have revealed their top tips for creating a relaxing patio that you can replicate at home. From the best patio furniture to what plants to use, we have you covered. Once you try these changes there is no going back, you'll never look at your deck the same.
Outdoor curtains
Outdoor curtains are the simplest way to make your patio look more expensive, but they also help to create a calming environment.
'a white, veil-like muslin drape on the ends of your pergola can add a touch of gentle movement and elegance,' says Studio Arth landscape architect Rituparna Simlai. 'These elements go beyond the conventional practices/style and add a charm to the outdoor space, making it a personalized haven of relaxation.'
Aestetic-wise, outdoor drapery is a beautiful way to accessorize your patio. They provide a touch of chic that instantly elevates the space into something more intentional. The sheer fabric also provides soft shade from the blazing sun, making it the ideal relaxing spot.
Water feature
'This is certainly an indulgence, but there's nothing like the sound of running water from a small fountain,' says Landscape designer Jake Sebok, 'it can be incredibly relaxing.'
Whilst a water feature won't be for everyone, and they are an investment, they are a great modern garden idea. If you are really looking to find your zen and water feature can help you get there.
'In today's fast-paced world, there is an inherent desire to seek deeper meaning and moments of pure relaxation,' says Rituparna. 'With our landscape design, we try to curate immersive experiential landscapes that cater to all five senses. We design planting to create spaces that envelop users in a tranquil ambiance that calms the mind and draws them inward. The gentle sound of trickling water evokes a zen feeling.'
Incorporating something that appeals to the aural senses, like a water feature, can be an incredibly relaxing experience. If a water feature doesn't appeal to you there are alternatives such as windchimes. Outdoor speakers are a great alternative that boasts a dual purpose, which can be used to blast your favorite summer tunes or play soft relaxing melodies.
Aromatic flowers
Playing on the five senses is a key way to create a relaxing patio. Aromatherapy has long been a staple of the well-being community, praised for its calming effects. Therefore when we are creating a calming environment scent is at the top of our list.
Whilst in the home we may opt for candles and incense to keep your house smelling gorgeous, for the patio we lean towards natural solutions.
'Potted plants, especially those with calming fragrances like lavender or rosemary, can create a soothing environment,' says Jake. Depending on your patio set-up, potted plants may be the best way to feature aromatics. If, however, your patio is surrounded by greenery you could plant directly in the ground. Consider incorporating fragrant flowers such as Gardenia, Wisteria, or Magnolia. If you aren't an avid gardener there are low-maintenance plants options that do the job, such as lavender.
'The fragrance of flowers invites one to take a deep, refreshing breath and encourages moments of contemplation. We believe in a simple yet stunning design, framing views of the surroundings to offer a seamless connection with nature,' explains Rituparna.
Lighting
Good lighting is an essential element for turning your patio from a spooky dark abyss to a warm and inviting space to relax well into the evening. 'Soft lighting can enhance the ambiance,' says Jake, 'consider solar lanterns or string lights for a gentle, warm glow.'
There is almost nothing some fine fairy lights can't fix, and the patio is no exception. Including some outdoor tree lighting will also extend the life of your patio, taking it from day to night, and even more important as we approach fall where 4pm feels like 10 pm.
Comfortable seating
'To my mind, creating a relaxing patio involves a blend of comfortable furnishings, inviting aesthetics, and personal touches,' says Jakes. 'You want to make the space you're going to spend time in personal. Incorporate elements that bring you joy, whether that's a fire pit for cool evenings, a bird feeder to attract local birds or a space for outdoor yoga.'
Thankfully there are so many sleek, cosy, and minimalist outdoor furniture options to adorn your patio with. Investing in comfortable and weather-resistant furniture will be the best choice you make for your yard. If you really want to embrace relaxation consider something with movement. By that, we do not mean the type of rocking chair your grandmother would sit on all day on the porch. No, we have come a long way since then. 'To create a more relaxing atmosphere on your patio, consider adding a swing or hammock. It allows for quiet pause points in the landscape, where you can unwind,' says Rituparna.
We love the idea of a hanging chair on the patio. I can't think of a better way to start your day than having a coffee whilst taking in nature from my swing.
Top picks
For style leaders and design lovers.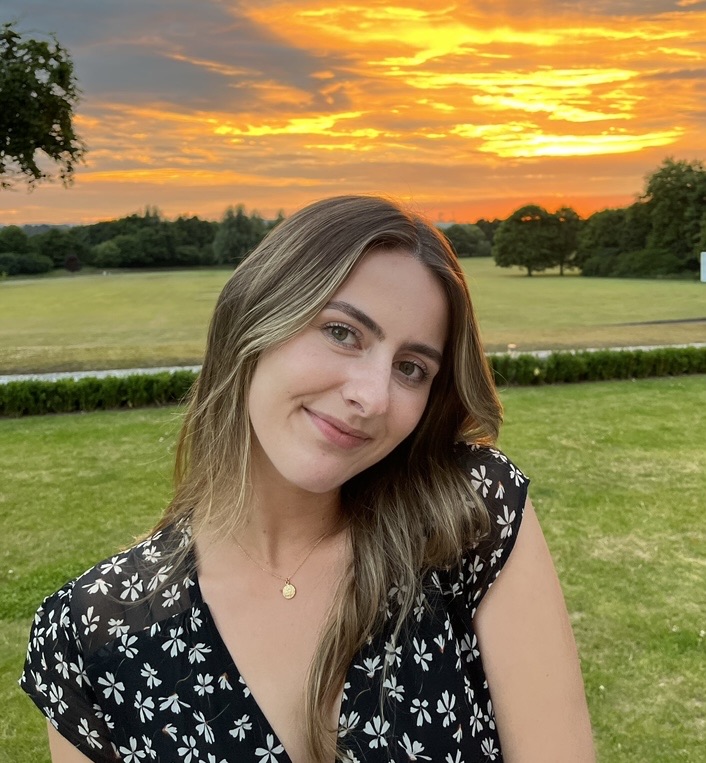 Amy recently completed an MA in Magazine Journalism at City, University of London, with experience writing for Women's lifestyle publications across arts, culture, and beauty. She has a particular love for the minimalist aesthetic mixed with mid-century furniture, especially combining unique vintage finds with more modern pieces. Her previous work in luxury jewellery has given her a keen eye for beautiful things and clever design, that plays into her love of interiors. As a result, Amy will often be heard justifying homeware purchases as 'an investment', wise words to live by.